Royal Standard Poodles E x B 2020
Royal Standard Poodles E x B 2020 pups born August 13, 2020, ready for homes October 8, 2020. 1 Male + 2 Females = 3 puppies; ALL Brown. These are going to be BIG spoos when grown! 
Picture updates to come: 7 wk 10/1/20; wkly tips and notes starting at 3 wks.
SOLD OUT!
Tracking stats for Large Standard Poodles G x D puppies:

2 wk Pyrantel deworming
1 wk nails clipped
DOB 8/13/20
*
Order your Nuvet supplements to keep us pups growing healthy and staying nutritionally balanced, especially our first year with you.
NuVet Plus​ Natural Dog Vitamin Supplements
Click Here To Order NuVetPlus Or Call 800-474-7044
#89093
*
NOTE! In that Enya only had 3 pups, Geo had 10, Geo had 2 girls that were still VERY small at 11 days old (going to be "Standards") compared to brothers and sisters. Tes placed them with Enya's pups who were born the same weights as the girls at 11 days, helping all around. Enya not to get mastitis, 2 small girls to not have to fight bigger brothers and sisters to get milk, and take stress off of Geo with soooo many pups. It's working GREAT, yet you WILL see the two girls named Lavender (black) and Sage (apricot) with Enya pictures. Enya x Bruno pups are ALL Brown :o)
The story board theme for Enya's litter will be the new movie release of Top Gun characters! Names chosen will be Maverick, Phoenix, and Captain (Tes wanted a female captain ;o).
Remember to start at the bottom of the web page and scroll up to watch us Royal Standard Poodles E x B 2020 grow up onto the page, as pictures are added upward every two weeks :o) Tes does her best to share what is done as a breeder in growing us up for you. 
*
1 Brown Male SOLD


MC = Micro-chip
| | |
| --- | --- |
| "Maverick" Brown Male 3 wks 5 lbs. | |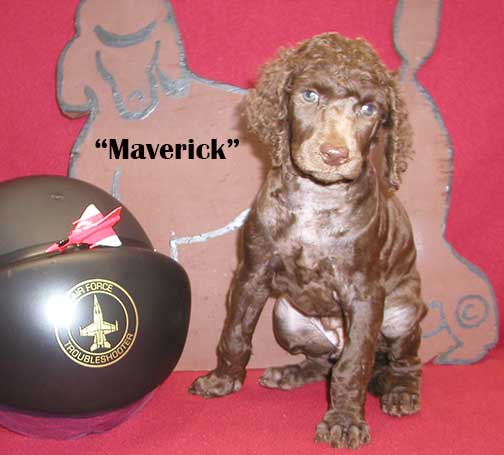 SOLD - "Maverick" Brown Male 5 wks 8.7 lbs, mc 3178. Tes looks to see I'm a solid color. Now I have developed a definite umbilical opening by 5 wks old...10 mm diameter, may close, may grow with ratio of growth. I'll be heading home to EM > Marfa, TX. Believing you'll enjoy the new movie where playing. I look forward to seeing it :o)

---
2 Brown Females SOLD
| | |
| --- | --- |
| "Phoenix" Brown Female 3 wks 4.3 lbs. | |
SOLD - "Phoenix" (keeping name Phoenix :o) Brown Female mc 7587 - 5 wks 7.4 lbs, Tes looks to see I have a tiny white, barely visible on chest. MC will come at 5 wks old. I'm going home to HD > Fort Worth, TX. I'll fly into their loving arms!
* Believing you'll enjoy the new movie where playing. I look forward to seeing it :o) *
SOLD - "Captain now Juno" Brown Female mc 7759 - 5 wks 8.14 lbs, Tes will be keeping me for her breeding program. YEAY, some Bruno offspring for future customers :o)))

| | |
| --- | --- |
| "Captain" Brown Female 3 wks 5.7 lbs. | |
---
The next 7 wk picture update 10/1/20 above for our web page Royal Standard Poodles E x B 2020 will show us reaching to the fence, learning there's a huge world out there, getting even more curious and ready to come home to you...Stay tuned...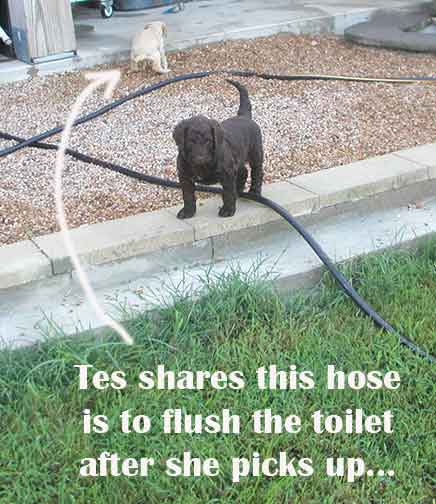 Captain/Juno here. Tes is keeping me as a breeding girl. Her last big hurrah before she down sizes to retirement.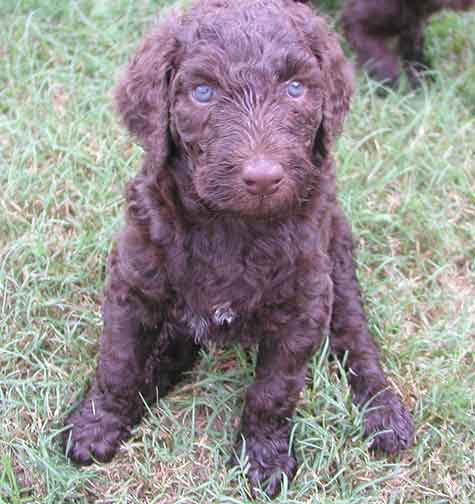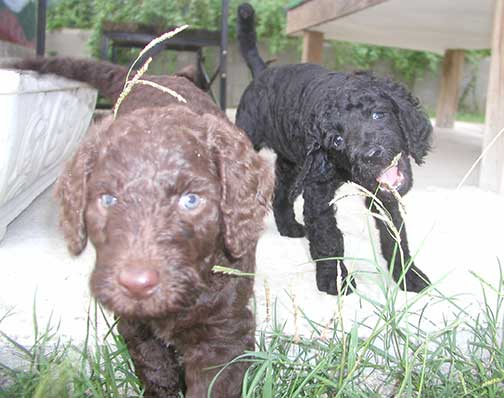 Hey look at us, checking the Puppy Park out. We reached the canopy to see what we can find...lots of grass that Tes needs to mow ;o)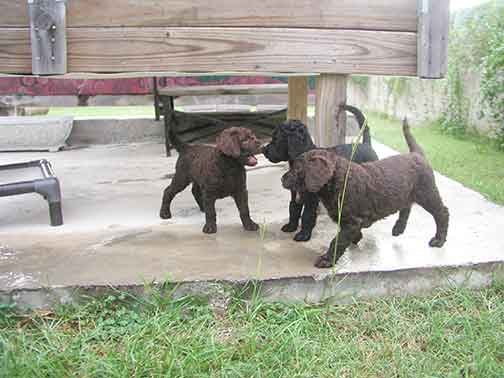 Reaching? I can reach to that cement...I can do this...
These Kuranda beds are fantastic, getting up off the ground. Yet we don't want to be on it without one of Tes's pet beds ;o)
*
We just want to play, play, play now...checking each other out to see how much we can get away with.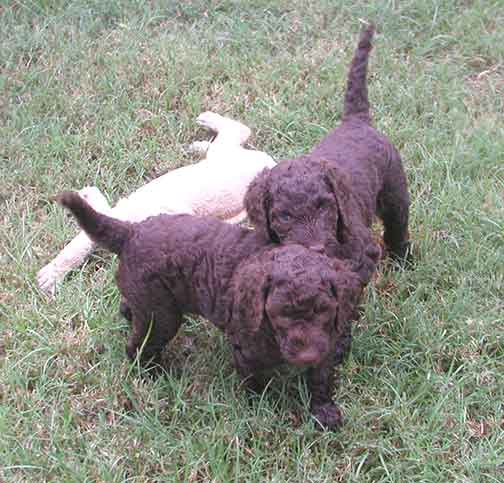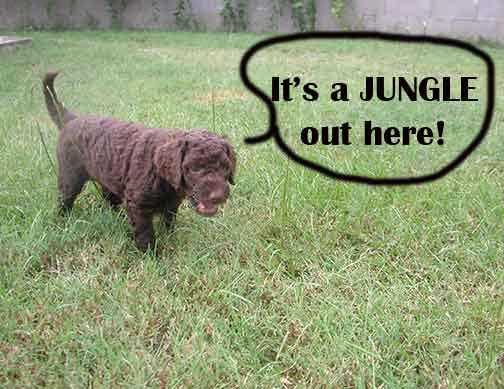 Oh wow! I've reached out into Puppy Park! INTERESTING out here...SPACE!!!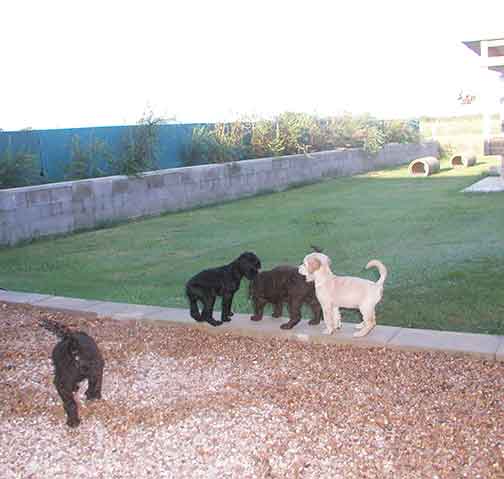 We're finally reaching off the patio, into the pea rock, checking it out...a bit...pottying out here...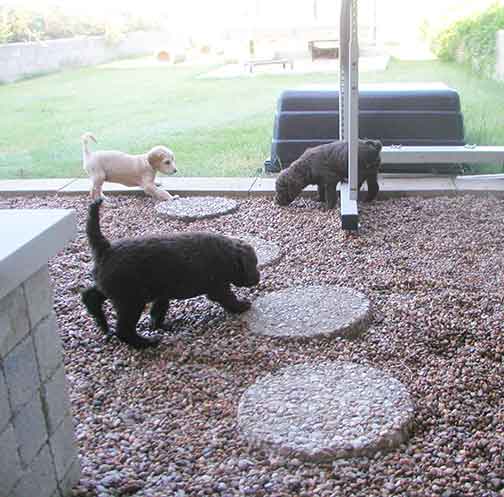 Well, at 4 weeks old we're getting a little hungrier...food mix is getting thicker...
When Tes does feed us, momma comes around...so it's hard to choose...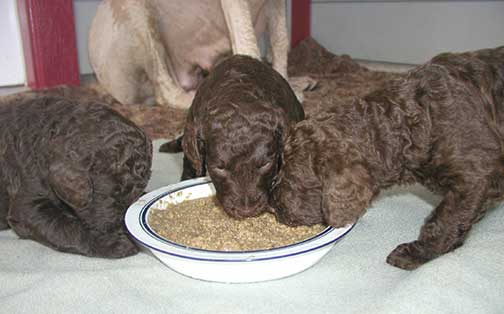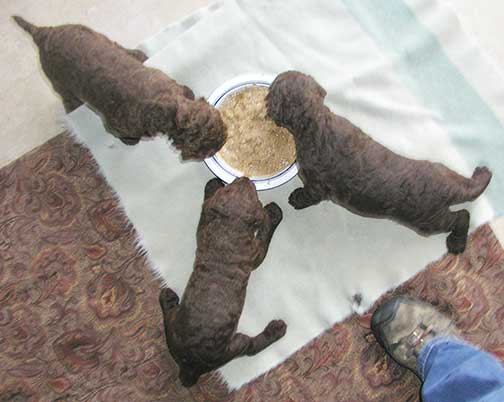 Circle of life :o)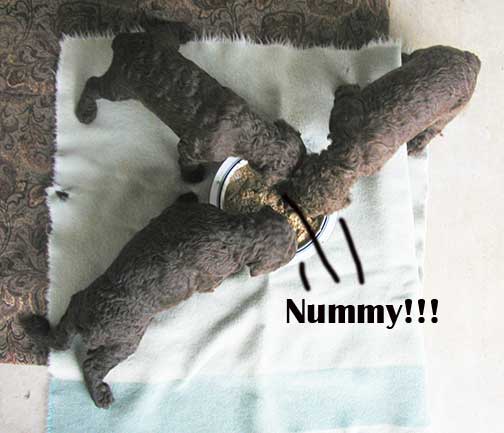 We all zzzzz together...Momma Enya has lots of milk that we really haven't been interested in food with such few of us. Usually at 3 weeks pups are eating readily, not us...don't hunger to.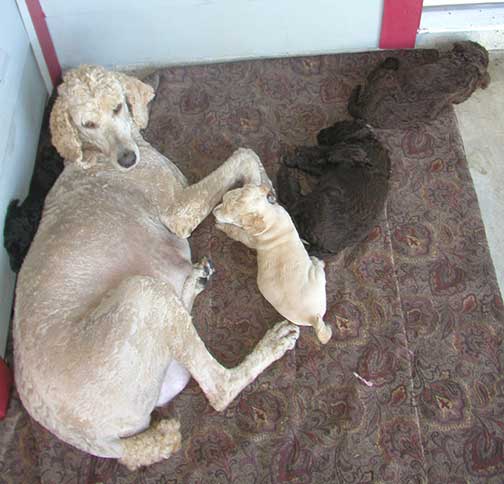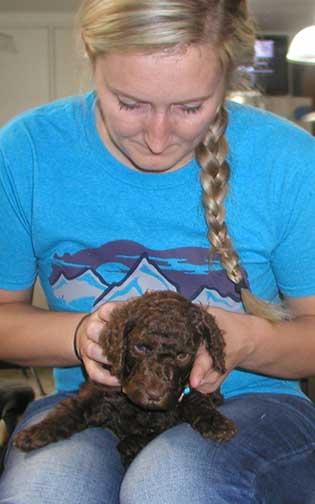 Hey! Look at our opened eyes, seeing so many things around us.
Dr Angela's getting us adjusted - Thank Goodness we'll be balanced the best we can be to come home to you physically in shape. It's soooo important please, to have our 3 month old chiropractic appointment set that we can get base lined with you and kept in balance :o)))
* Large Standard Poodles G x D *
With our atlas out we can get very nervous, headaches cause us to scream when someone might come near us, ooey gooey eyes, when our pelvic is out we can get urinary track infections, our mid back out causes us to be super hyper...just a few of the phenomena when we're out of adjustment :o)
---
The next 5 wk picture update above for our web page Royal Standard Poodles E x B 2020 will show us reaching into puppy park, learning more of the world around us. We'll get our micro-chips then...Stay tuned...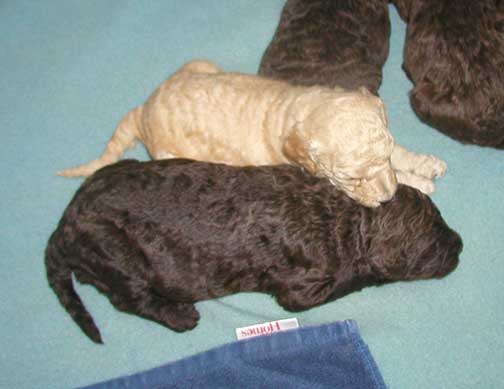 You can see Sage is doing great, yet we're getting double to her "Standard" size...oh so interesting.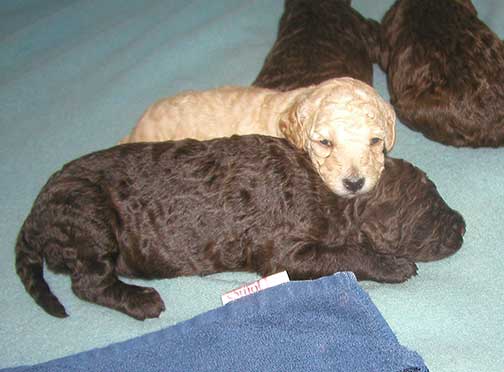 Tes shares, we eat from a silver spoon ;o)
*
Wait until you see how much we've reached with the 5 wk update pictures! Into puppy park and learning to be curious with the environment around us.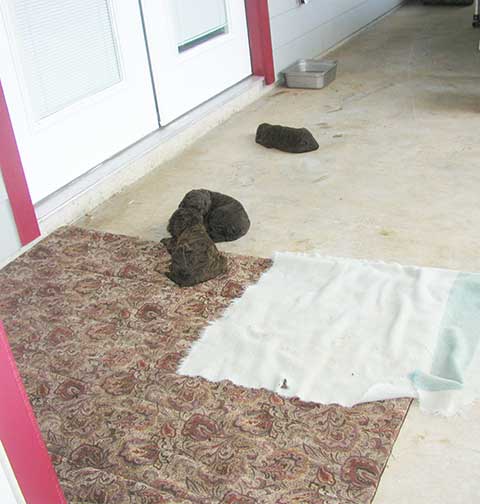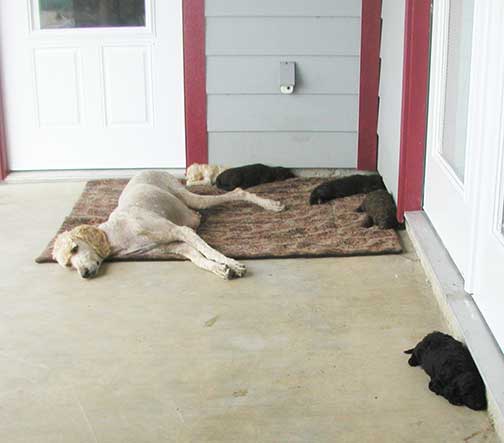 We're learning to make music and reach...a little bit onto the deck ;o)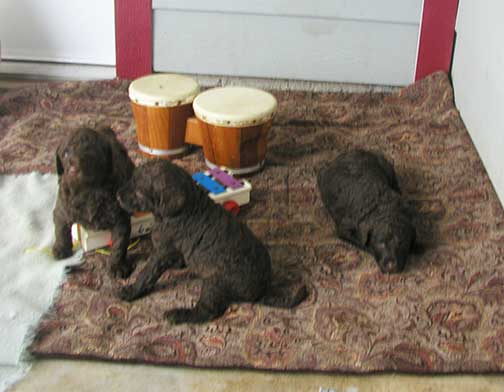 What's this? Slurry, canned dog food wetted down for us to start tasting solids and adding more nutrients as we stand and grow. This is mmmm good too!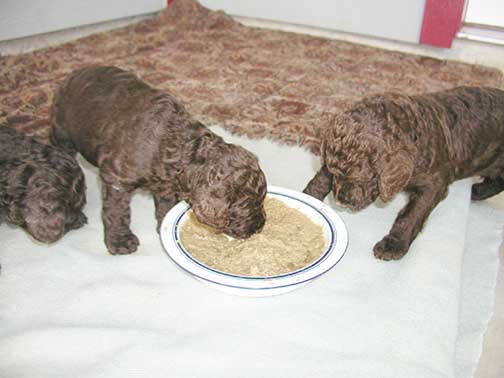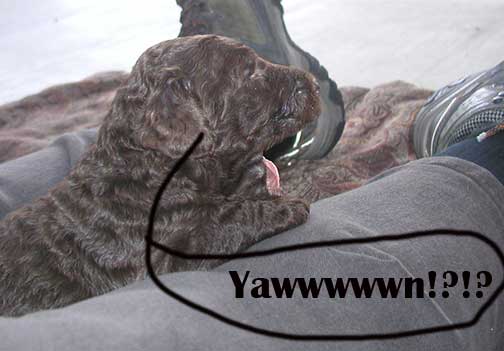 It's time to learn about the outside fresh air. Tes takes us out for the first time to get some vitamin D, as you should assure your doing during this Covid crisis, and get lots of loving as we'll be able to do for you. And don't get too bored until we get home to you.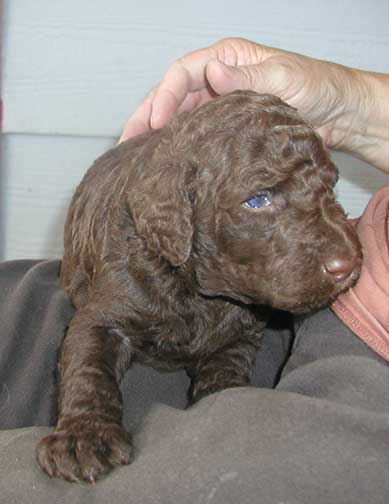 Tes likes to make sure she pets us lots to know she's here for us. Momma Enya got a hair cut with the 10 degree temps in TX..."Aaaaah," she says :o)
Our eyes, now open, will be blue until they fully develop...and lots of mmmm good milk sure helps!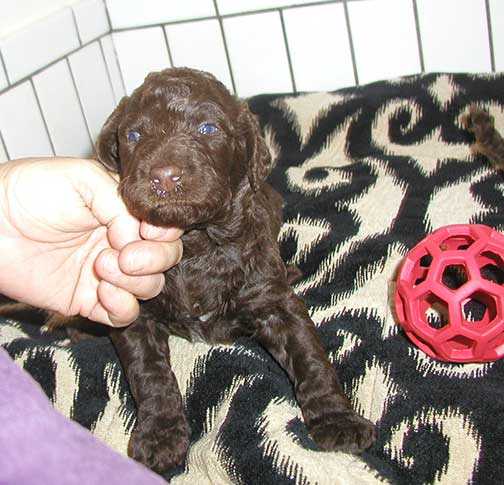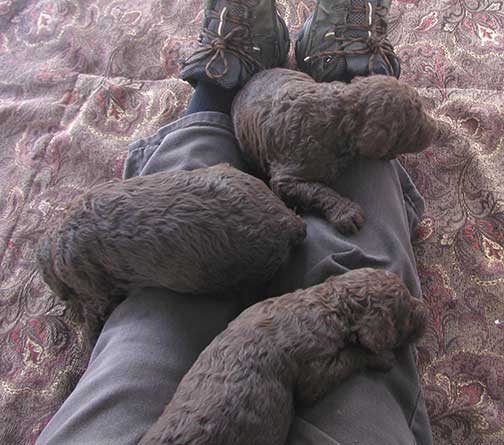 Tes comes in and sits with us, trims our nails, checks to see if our teeth are growing in, and just plain loving us :o) She gets pee'd on, on occasion ;o)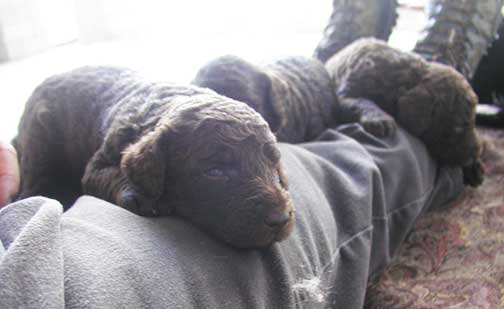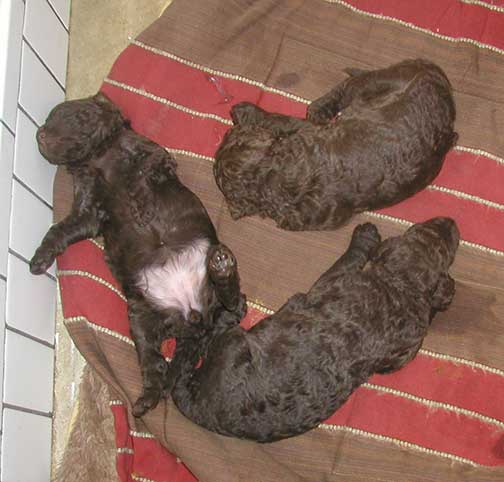 Tes has moved us to the wing where we'll learn to reach even more, become curious and learn to potty off our blankets, then outside. The painters paper helps us stabilize in standing better then the cement floor under us, lots of wool blanket though until we're stable to reach further.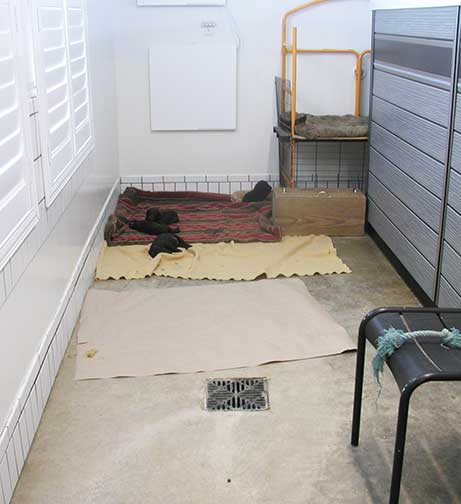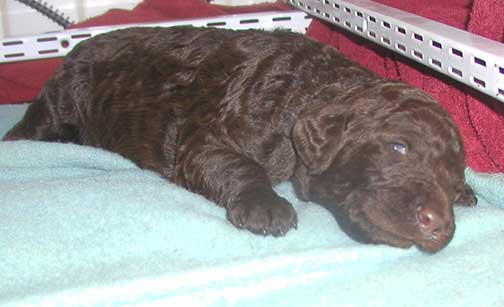 Peek a boo, we see you :o)
Geo pups Sage and Lavendar are really walking, where Enya pups 11 days younger are having their eyes squeaking open and not quite standing for any length of time. There's a lot of zzzzing going on ;o)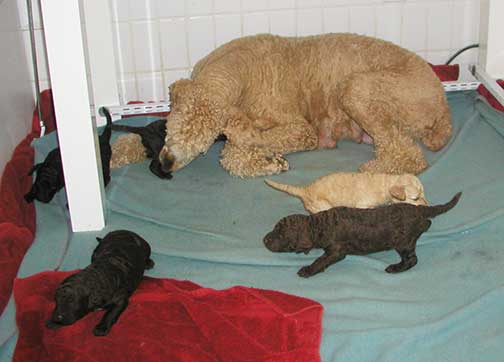 It's amazing to see the size difference of 10 pups to only 3, for sure! Right now The smallest brown pup below is Female Phoenix, the largest is Female Captain...Apr/Cream Sage is certainly growing yet half the size of the Royals. We're all learning to get our legs under us, strengthening as we grow. Now some people ask why wool blankets? What is known in the breeding world are swimmer puppies. With wool blankets, puppies can dig in with their toenails, get legging under them to not splay and keep trying to get up. I have found wool to be the stablest, and washable, way of keeping things clean and helpful way for them to grow strong.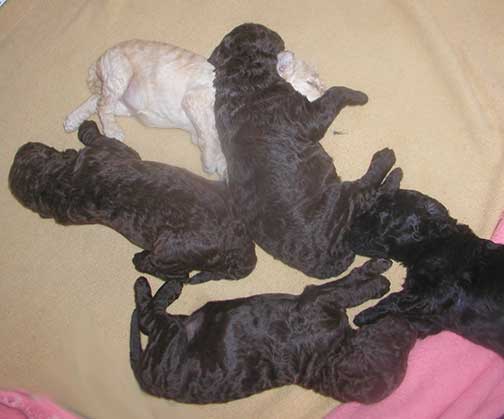 ---
The next 3 wk picture update above for our web page Royal Standard Poodles E x B 2020 will show our eyes opening and starting to stand and move around...making a lot more music for Tes. Our individual pictures will be posted and our story board names...Stay tuned...
* Royal Standard Poodles E x B 2020 *
Thank You Enya for being a GREAT mom! Tes wants to share how she REALLY notes how much quieter we are in this first week compared to when we had our tails docked and dew claws removed. Dr. Angela explains the nerve endings that are trying to heal after having been severed are not causing us to cry now...so THANK YOU Tes for full tails and dew claws...and we know you can sleep better now without us crying...even though you sleep lightly to awake to anything we may need help with :o)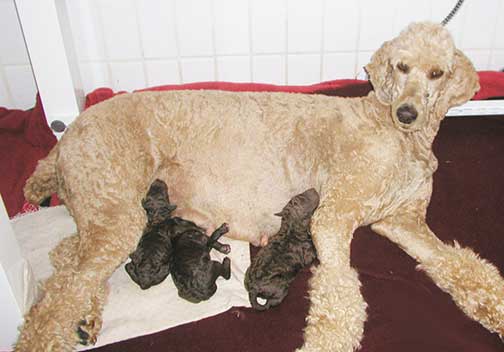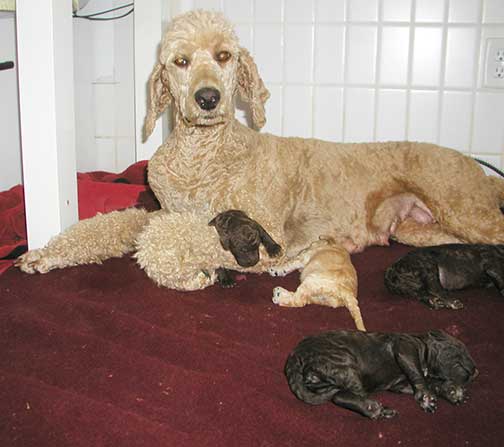 Strrrretchhhh...and look at Apricot Sage's tummy getting full. Thank You Enya ;o)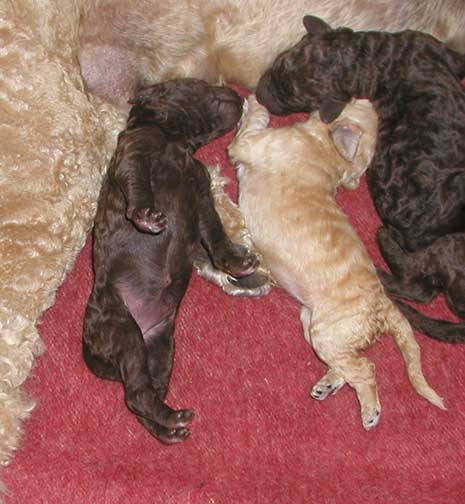 Momma, you look tired, zzzing where you drop ;o)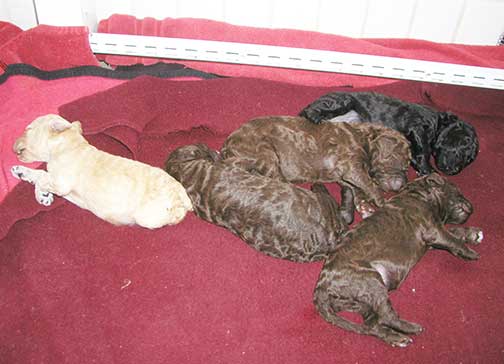 It WORKS - Puppy Pile!
*
Tes is dropping the temperatures from 90 degrees to get us to stay closer together for momma Enya.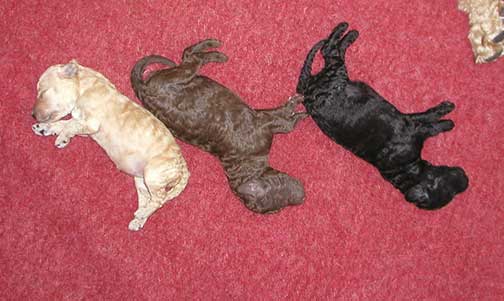 Guess what we're doing...zzzz...our eyes will be opening next week ;o)

* Royal Standard Poodles E x B 2020 *

We can't excrete on our own right away, so momma warms our groins by licking us and away we goooo...some of us nurse, some of us zzzzzz...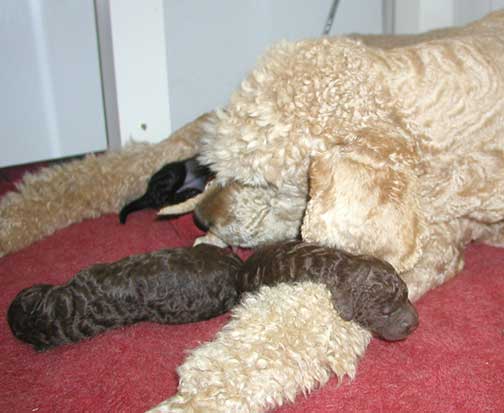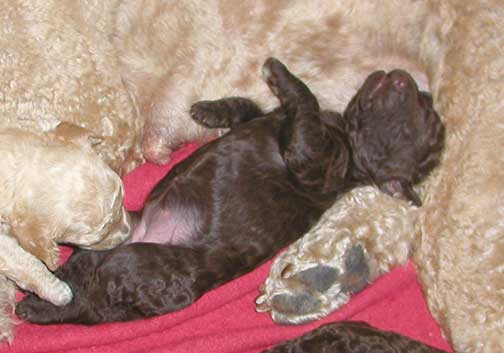 Us Brown pups are definitely going to be Royal Standard Poodles E x B 2020..never a guarantee on size.
*
We're already starting to crawl...then drop and zzzz where we land ;o) You can see Lavendar and Sage tummies filling up and same size as us Enya pups.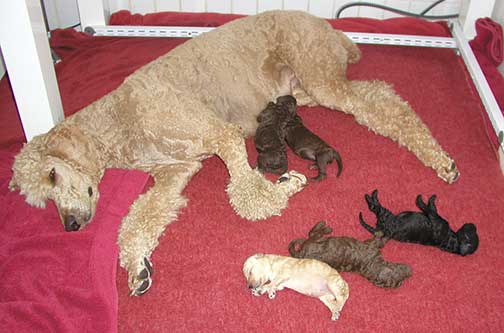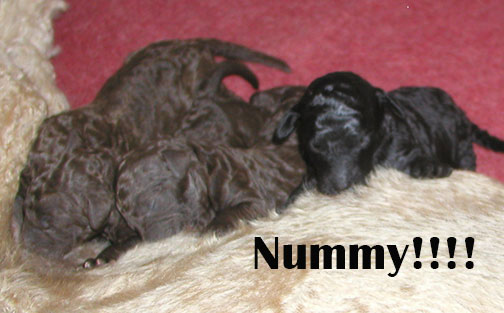 o...or a neck snuggle...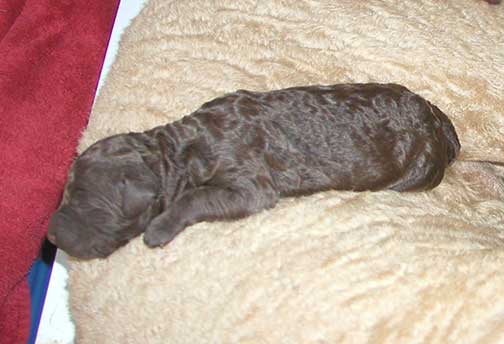 And some of us like to do a body snuggle ;o)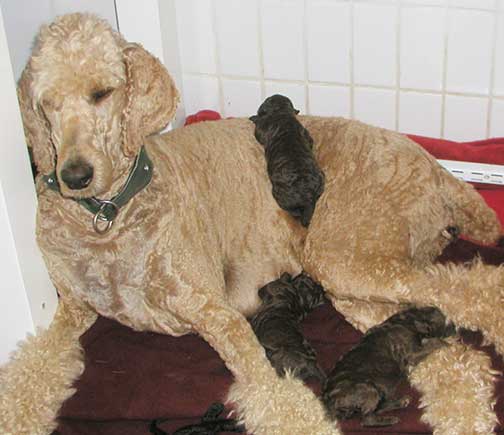 Every litter has us doing the leg/arm thing...we get into some funny positions as we try to scoot around :o)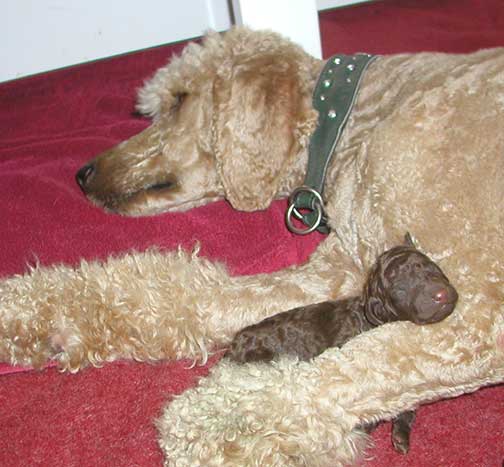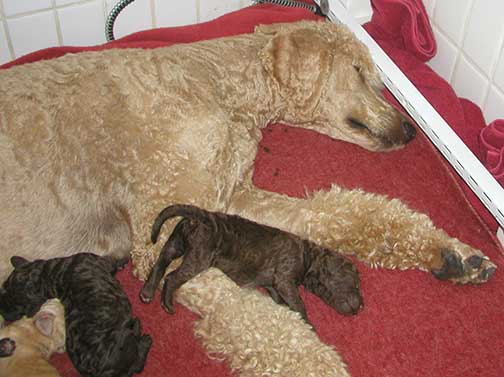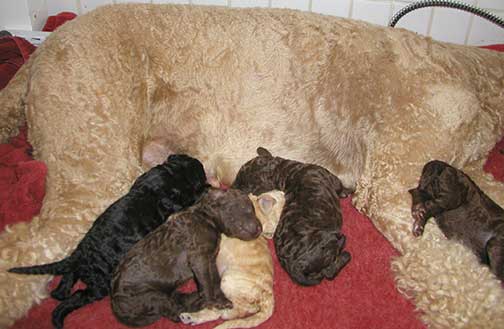 Lots of room for momma to circle around us is important. Some of us nurse, some of us zzzzz....momma too...zzzz...
*Large Standard Poodles G x D *

Two of us very small Females from Geo at 11 days old are the same size as Enya pups just born, Apricot "Sage" and Black "Lavendar" so Tes placed us in here to take the stress off of everyone, and provide us with a LOT more milk, helping a Win Win for all of us! We'll be "Standards". Enya excepts us as her own and we're digging right in filling our tummies! It's not the first time Tes had to move several large litter pups to a new momma to help balance things out. Works great!
Wool blankets are used to wick away moisture and keep us dry and warm. Tes has a variety of colors, to make a  more colorful page for you ;o) An electric pet heater is under the upper back right corner to keep us pups in an even warmer area for the first several days. Such scooters we are already...momma looks tired, Tes is too as we started to arrive at 1:30 am Thursday morning!
*
Tes has to be right here pulling the sack off to get us breathing, rubbing us dry and momma licking us to get us breathing and moving around.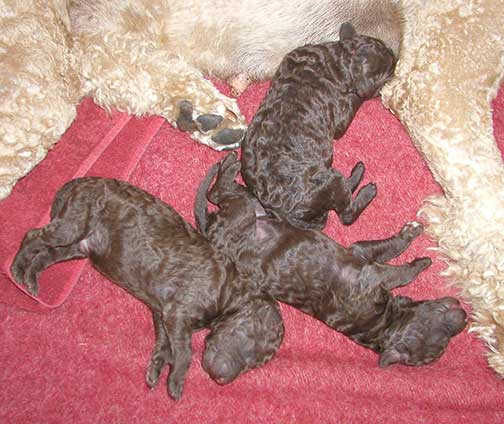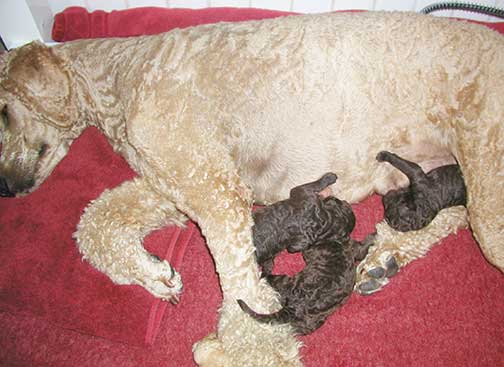 Tes waited, and waited and waited, only 3 of us graced the world. So sorry to disappoint customers :o(
* Royal Standard Poodles E x B 2020 *

In raising Large Standard Poodles E x B 2020 Puppies, Tes hopes to share a bit of what she does to bring you your next pet :o) The bedroom must be heated to 80-90 degrees as pups just come from the womb and they have no way to monitor their bodies being just born, especially the first week Through the Woods of Mother Nature. Here are several of us just born, already latching on for our first drink of colostrum, rich in antibodies. 
Royal Standard Poodles E x B 2020