Royal Standard Poodles Brown Fiona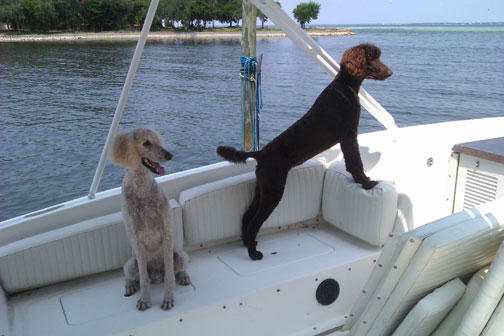 Royal Standard Poodles Brown Fiona at home in Destin, FL with new spoo friend Leonardo. Boating is one of my favorite things to do now, with my mates showing me the way ;0)
Parents are Falcon x K-Lar's Bruno   Born 01/03/2012
Tracking Fiona:
8 mo 60 lbs!
6 mo 50 lbs                             Last updated 03/08/2019  (PJ)
Is this the life...sun hat, towels for we get back on the boat, refreshments, sun or shade - your choice, and the wind blowing our ears off our faces.
*
Fiona the Florida Royal Standard Poodle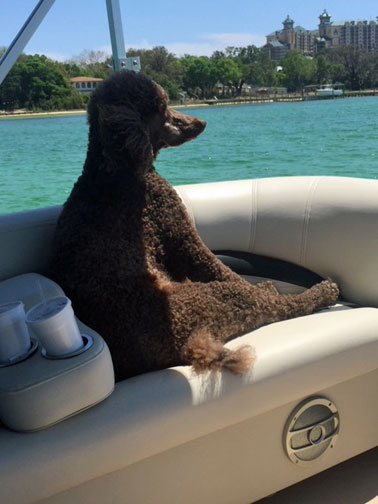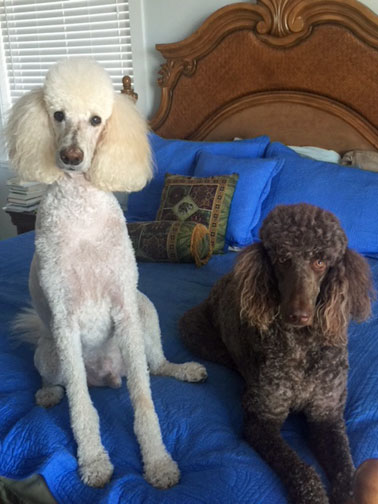 'Fiona, I think we need a bigger bed.  When the humans show up they take up so much room, and talk about heavy - they seem to grow roots into the floor whenever we want one of them to move over.  What IS that phenomenon??'
*
'Fiona, why do you always lay on the pillow end?'  "Why Leonardo, because I can"  ;0)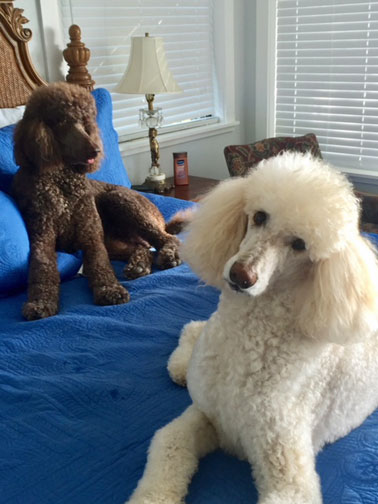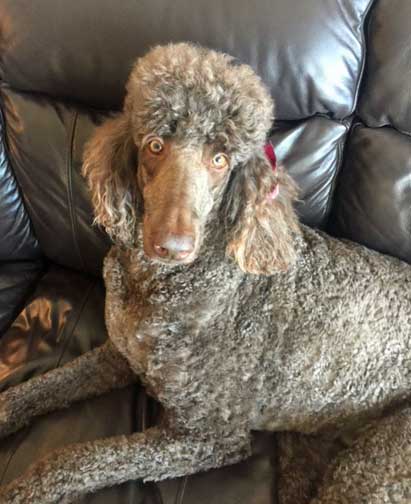 What do you mean you want me to move over?  Yes, I do know I am in the middle hogging lots of space.
*
I claimed this spot on the couch fair and square.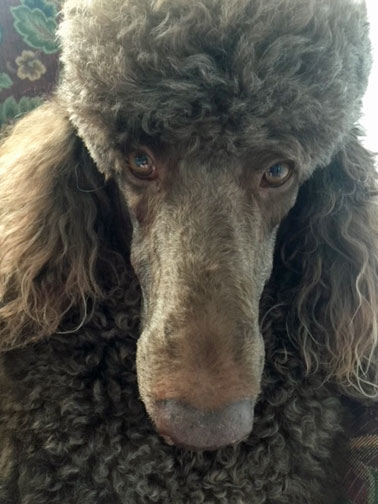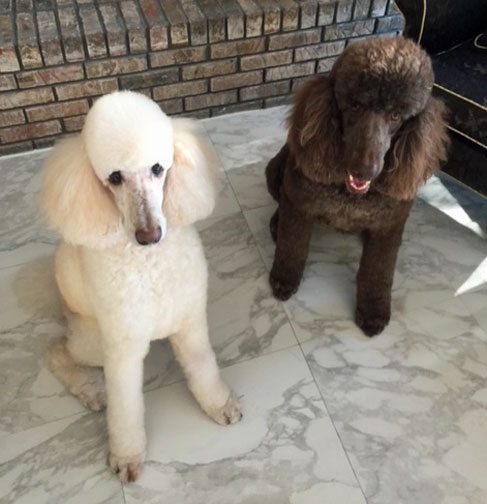 Our belated Happy New Year picture
Holiday Season 2016 - 2017
Our Christmas Tree
You have no idea how challenging it has been to keep from opening these presents.  Wrapping paper creates such a Wonderful Ripping Sound when it tears, and it's so Crunchy in our mouths.  We are the bestest poodles, ever!  such patience ;0)
The sunset is mid-November 2016.  Absolutely love Mother Nature.
*
Here we are in August 2016; we have been gathering fans all through the spring and summer months.   Here are some of our followers now.  Leonardo wondering aloud , "Hey Fiona, think they are all paparazzi?"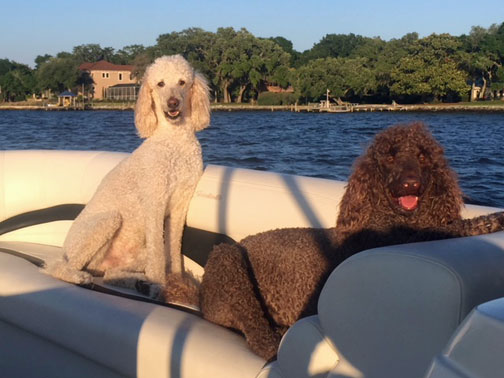 Spring 2016.  A boat outing in this perfect weather is just what we like. 
To our divine Miss M, I know you want us both to pay attention to you, however, there is a person standing over there with Halloween dog treats!!
*
It is Halloween 2015.  So far, no costumes.... we like the decorated porch and we'll certainly love the attention we'll get each time the door opens to greet the revellers.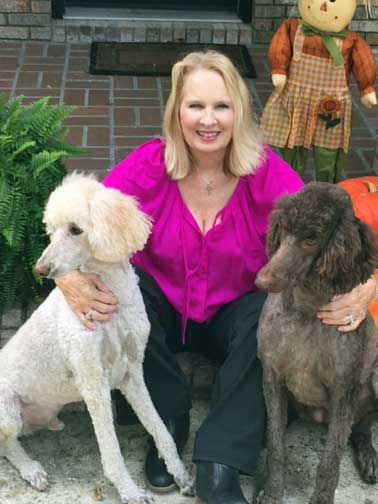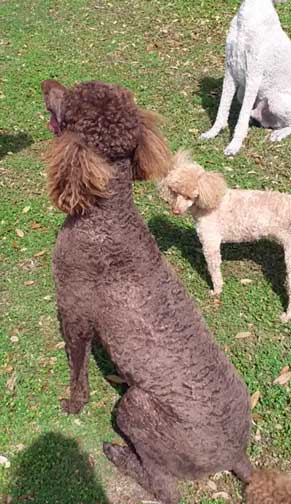 I hereby call this meeting to order.  Let the minutes show myself, Royal Standard Poodle Fiona in attendance along with my esteemed colleagues, cream Leonardo and apricot Isabelle.  [Disclaimer: please note, this picture which has Leonardo's head cut off in no way reflects the sentiments of the attendees.  We are deeming it human error...]
*
I do like a good cuddle and I share this one with my male human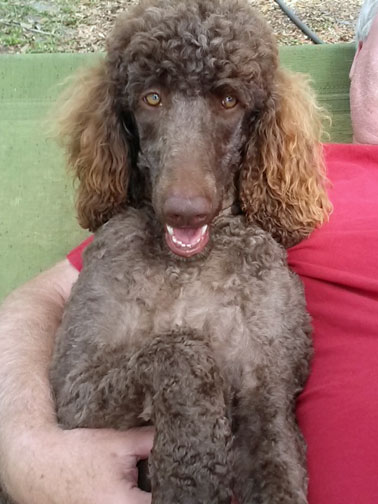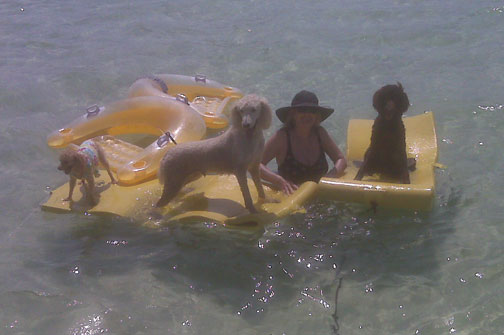 Staying cool in HOT temps! Fiona, Leonardo and Isabelle love their own floats. Fiona is very smart , she has swimming figured out now, puppy lessons were so important . We are really enjoying her. This is our regular week-end on the boat swimming at Crab Island in Destin , and she loves it.
*
I'm going to be one Royal girl! See my golden eyes, just like my grandmother Zain.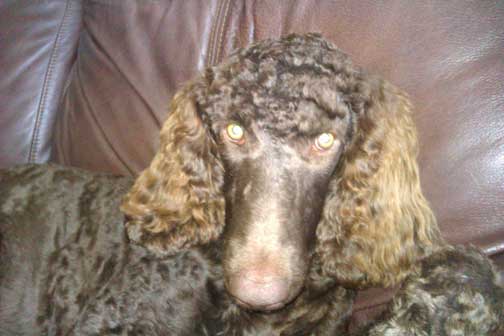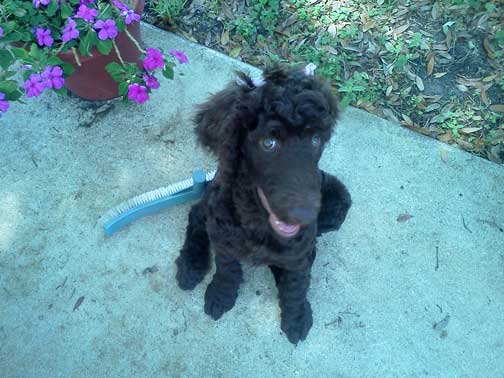 I'm so happy, can you see my smile?
*
What a profile...and I'll keep on growing...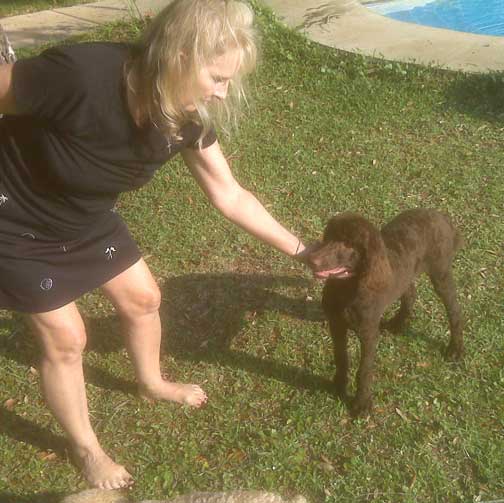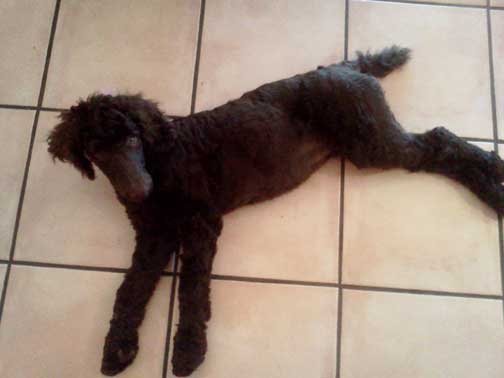 Tile, ahhhh one way to cool down in this FL weather.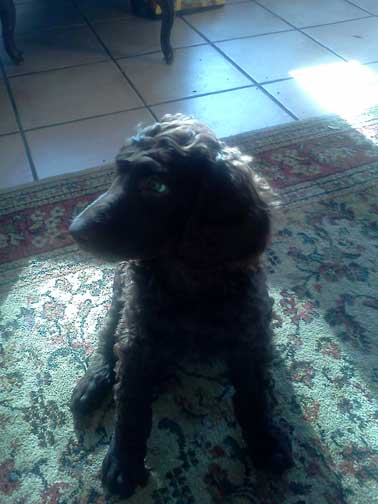 Finding my new mom and friends totally loving me ;-)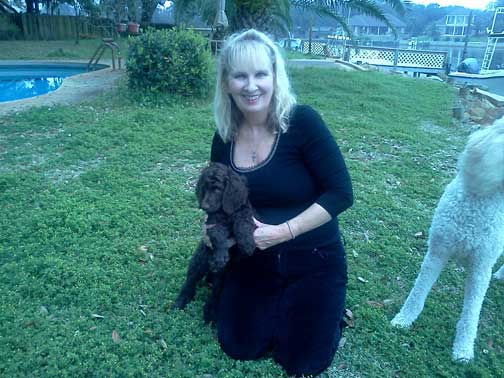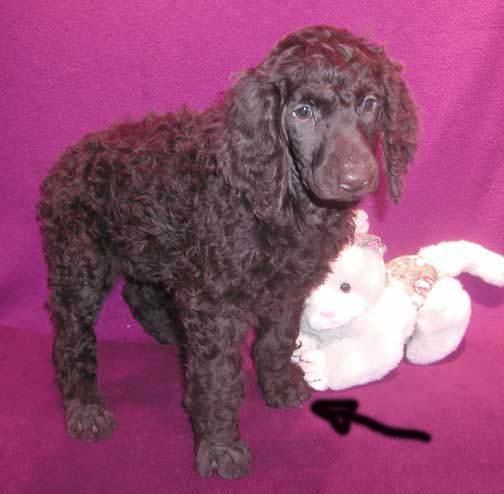 Fiona's picture above while at Tes's - 7 wks old.
*
I thought I'd develop the form below to help with pet updates. Here you can fill in the weight, height, and what you two/family enjoy doing together. Upon sending it, you will receive an email from me that you can reply with new pictures attached. Hopefully this will be an easy trigger instead of trying to find my email address.
Everyone loves to see your pages - honestly!
Royal Standard Poodles Brown Fiona - find more puppies like her >