Royal Standard Poodles-Large Cappi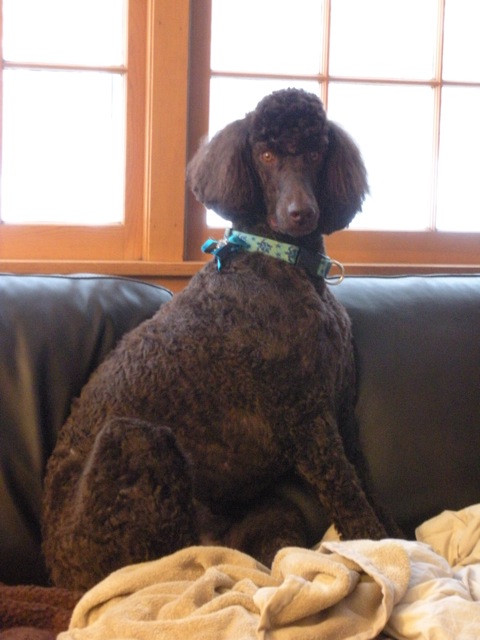 Royal Standard Poodles-Large Cappi I'm a large brown girl weighing in with the picture above at 72 pounds. I'm at home in Des Moines, IA.
"TV keeps me occupied as I can't go outside much in this -20 degree weather...and deep deep snow this year!"
*
I love to watch Polo with my brother (human though he is). Above is a photo of me relaxing with my brother while he was waiting to start his game......my dad was out on the field playing when mom took this picture.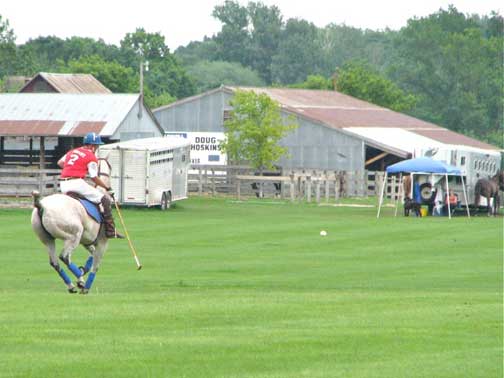 This is one of my stories :-)
In the photo above.....if you look close you can see me under the blue tent watching my brother hitting a ball. This was taken the day after the one above....
- Royal Standard Poodles-Large Cappi, breeder, Staples, MN -
*
The next exciting thing I did this weekend was I learned how to swim!! The pictures below are my evidence. In the first picture they convinced me to jump in and chase the stick like my brother's buddy Wesley does. I scared myself so in the second picture .......you can see me LEAPING out of the pond.......I just wasn't sure what to think.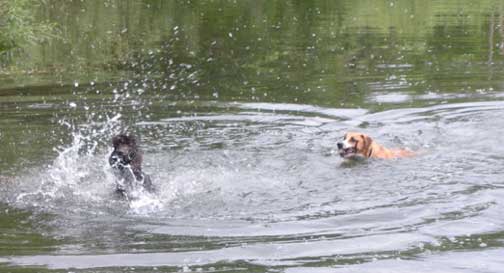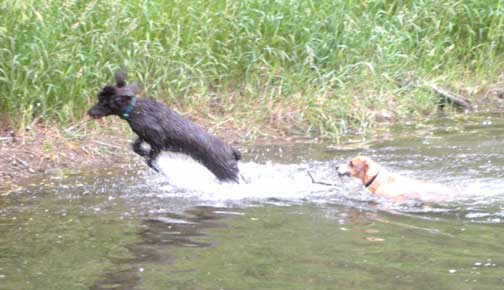 So, in the next picture.....is my brother carrying me back out into the pond.....my sister-in-law is laughing at me because my paws were already doing the dog paddle even though I hadn't touched the water yet.......
.....but as you can see below, I finally got the hang of it and Wesley and I had a great time swimming for the sticks that were thrown for us. My sister in law also said that it's important for polo dogs to swim so they can go and cool off in the ponds or water tanks on hot summer polo days!
- We'll show them what Royal Standard Poodles-Large Cappi can do :-) -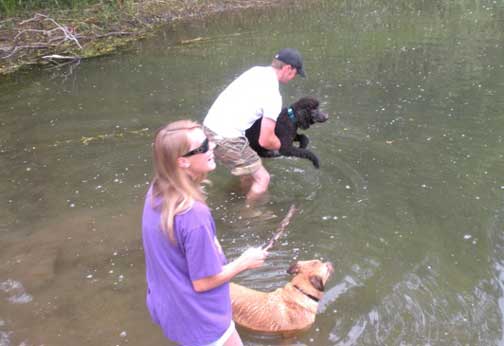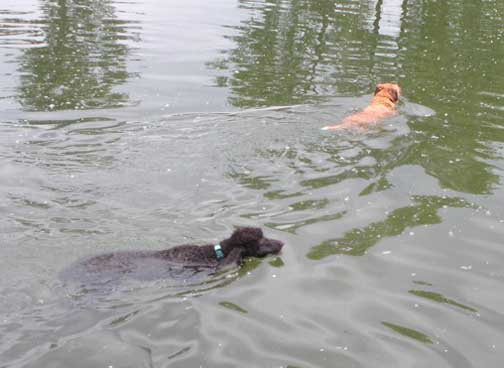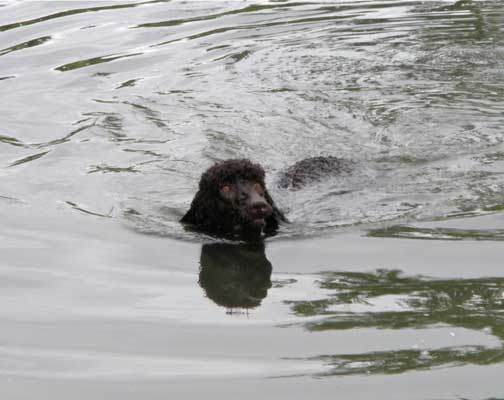 Here come the Royal Standard Poodles-Large Cappi...
This is the last photo of me swimming as they told me I had to get out to go home and dry off.......
I'm very tired today......in fact I slept all the way home from Minneapolis, and I'm still pretty tired. I haven't had that much outdoor time since I was a little bitty puppy. By the way, my older brother weighed me last week on my 1 year birthday and I weighed 72 pounds.
I have to go visit the vet in a couple of weeks for my booster shots and I'm hoping that he's happy with my weight because he had been telling my mom that I was too chubby. She only lets me have 3 cups of food a day and I only get weight control treats now. Mom says she loves me just the way I am......but she also wants to make sure that I stay healthy!
That's it for now.....I'll write more later. Hope all is well with you!
Royal Standard Poodles-Large Cappi
---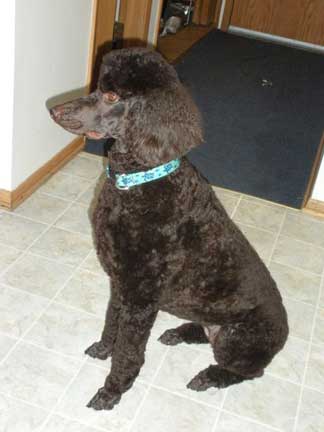 My name is Cappoochina....Cappi for short (soon to be among the Royal Standard Poodles), and when my mom is being silly I'm sometimes called Tootie Marie!! Don't ask ME why! I'm 9 months old today.....and you can see in my picture that I just got a haircut yesterday! It's always nice to get that long stuff cut off......but my groomer, Trish, says I sit down too much while she's trying to trim me up. She says she still loves me though!
Large Cappi weighs almost 62 pounds now......and I'm very tall. When my Grandma comes to visit and I put my paws on her shoulders, I can kiss her on the chin without her bending over......I make her laugh a lot, but mom always worries that I'm going to knock Grandma over.......she's not very big. Mom also said that if I settle down a little and learn my manners better I can start staying at Grandma's house when they leave town, instead of having to go to the "kennel". Mom keeps telling people that I have "ADHD" but I keep telling them that I'm still just a puppy.
I don't like it when mom and dad go to work and I have to stay in my kennel all day.....but tonight, mom came home at 4 and let me out and fed me half my dinner, and then left again and let me have the run of the kitchen and den. She said if I was a very good Large Cappi, I'd get more and more chances to have the run of the house instead of being caged up. They were out for 5 whole hours tonight and I was very good and they were very proud of me. I didn't have any accidents and I didn't chew anything up at all!!
When we go to bed at night, mom and dad let me sleep with them......they like to have me in their bed, but they tell me that sometimes I take up a little too much room. My favorite thing is to plop down next to mom at night and I wrap my head up around the top of mom's head, and then I snuggle the rest of my body as close to her as I can get. She especially likes that on really cold nights......like tonight.....it's going to get really cold!!
Another favorite thing I do is chase my toys. Mom and dad throw all my toys for me and I go chase them down and bring them back. I can do this fun game for hours at a time......I NEVER get tired of it. And we play tug-o-war a lot too.....so much so that mom now keeps a needle and thread in the den to sew up my stuffed toys when their seams split. I also like to go on walks with my mom and dad, and when my sister-in-law, Amy, comes to visit she takes me out for a run.......but, she tells me I have to be careful to not stop right in front of her to sniff stuff, cuz she says she might trip over me.
I also like it in the early mornings when it's still dark out .....when dad starts his truck to warm it up, and the headlights shine across the backyard.......it's SOOOO much fun to go out and chase my shadow then!! I like it so much that as soon as I hear that diesel start up, I start prancing around to tell mom that it's time to let me out!! I used to bark at my shadow a lot......and I still do once in a while, but I've kind of gotten to know my shadow a little better now so it doesn't scare me as much!! Windy days are a hoot though.....those blowing branches and bushes can really make me jump! And boy, can I ever jump. I'd challenge any ol' basketball player to a jumping contest.
I've learned some tricks too! I can shake hands....with both paws.....and do it one at a time on command. I also "say please"......which is mom's way of making me beg for a treat. I have a little problem with that though.......I have kind of a different tail.....it has a little kink in it so it's a little hard for me to get it in the right position to be able to "beg".....so I always have to put one paw on mom's knee or her hand, if it's available, to help me balance. I also lay down when I'm asked, and I know how to "heel". Heeling is a relative thing though......I know how......but it's hard to remember to keep heeling when there are all those neat sights and smells around me.
Mom says I get to be a little better every month and she's decided she might keep me. (I think she knew she'd keep me from the minute she met me......but she likes to tease me a lot......'specially when I've brought her my ball for the 59th time and she's tired of throwing it!)
Well....that's about it for my 9 month birthday.....just thought I'd let you all know what I've been up too! Keep your fingers crossed for an early spring......of course the bad thing about warmer weather is I get my paws muddy a lot and mom has to bring a bowl of water for me to dip my paws in to wash off the mud!! Oh well....it's worth it just to get out in the warm air!
Talk to you soon!! XOXO
Royal Standard Poodles-Large Cappi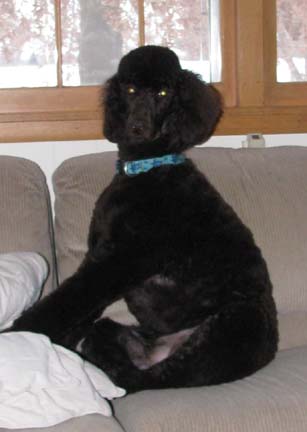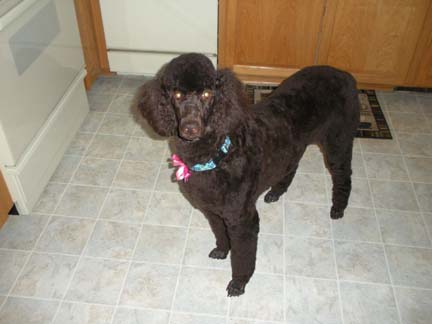 Look at Royal Standard Poodles-Large Cappi grow in the above two pictures! I'm now 57.5#s at 7 months old - on target to be among the Royal Standard Poodles. My owner shares:
She now shakes both paws on command and is learning to "Say Please". Which means, sit up and beg, at my house! She's a lover!
**************************************
The "Elfin World of large Cappi" in a Royal Standard Poodles universe near you!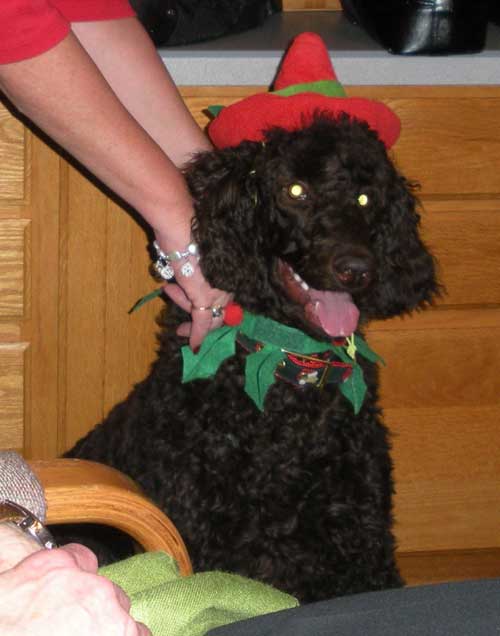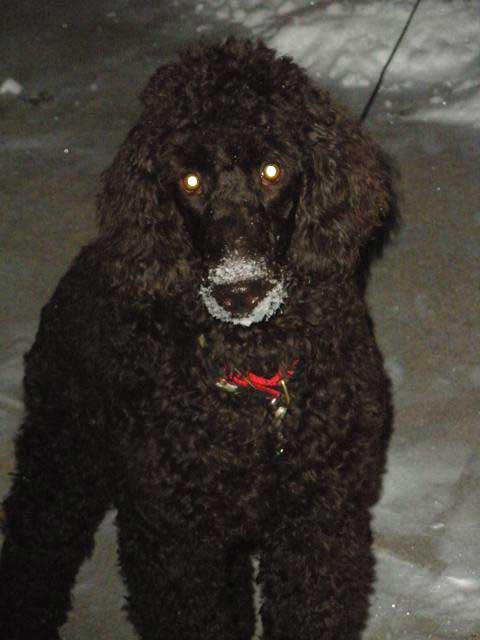 It's night time here and we're getting our first major snow storm! I LOVE IT!!!!
>>>>>>>>>>>>>>>>>>>><<<<<<<<<<<<<<<<<<<<
Ahhh she made me come in and now I'm mellllllting :-(
See my new Santa collar :-)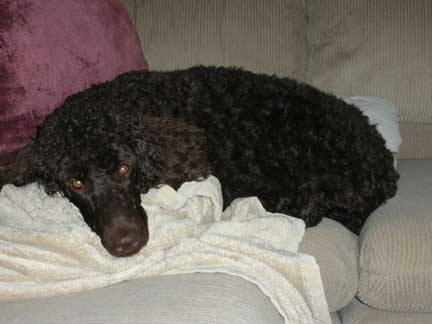 "Ohhh, I'm back from being spaid. I need not say more."
!!!!!!!!!!!!!!!!!!!!!!!!!!!!!!!!!!
These are Large Cappi's toys...or maybe they're her toys?
I am NOT your TOY! You just wait...I'll be big some day!
Right now, 6 months old in December, I weigh in at 46#s - on target to be one of those Royal Standard Poodles.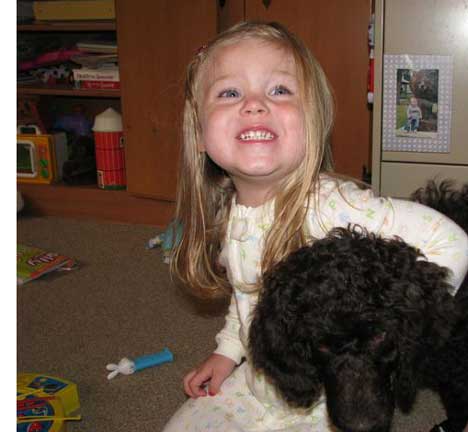 puppies for sale like Royal Standard Poodles-Large Cappi *
I thought I'd develop the form below to help with pet updates. Here you can fill in the weight, height, and what you two/family enjoy doing together. Upon sending it, you will receive an email from me that you can reply with new pictures attached. Hopefully this will be an easy trigger instead of trying to find my email address.
Everyone loves to see your pages - honestly!