My owner shares: "Bear is the delight of our lives. He enjoys being an only child. He has friends living next door for the first time and a cousin who visits...so he gets his socialization regularly. He is very obedient and listens to every word we say as if he knows what we are saying. He does a lot of tricks, but his "High Five" is the best! Bear loves to hunt birds, play with kids, chase frogs in the pond and stay by his daddy's side when Daddy is doing work around the house. He even helped him pull wire when Daddy was installing a new electrical plug and install a sink. If he had thumbs, he would pick up a paint brush or hammer to get into the action! He still sleeps with his four paws in the air...most of the time. When he is content, he actually makes a purring sound like a cat. The funniest thing about him are his vocalizations...he can carry out a deep, guttural, resonating, very long winded sigh when tired or bored..or just wants our attention. He sleeps with his head on my pillow and takes up 1/2 of our king-sized bed!"
2 yrs old, 28" at the whithers and 100#
A current mug shot... I look so handsome :0)
*
Merry Christmas from Kodi Bear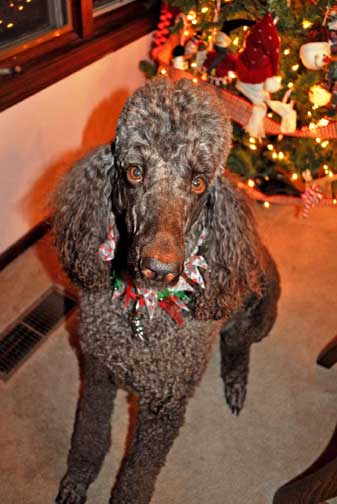 "The bone I found in my stocking this year was yummy! My cutest face I can make to thank you, Tes!" :0)
Peek a boo ;0) Royal Standard Poodles-Kodi Bear here.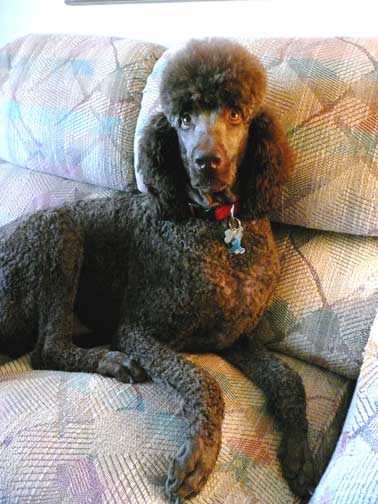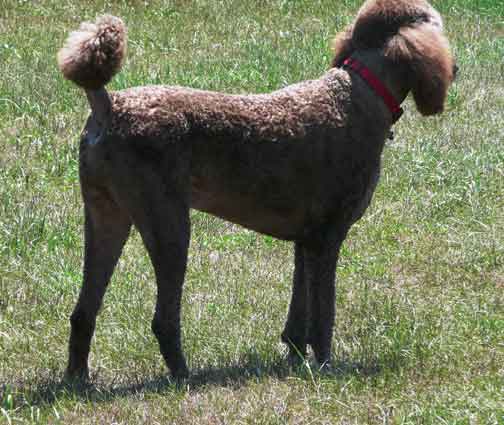 I'm a truly Royal guy! :-)))
*
Some things never change ;-) Here's a bunny hug...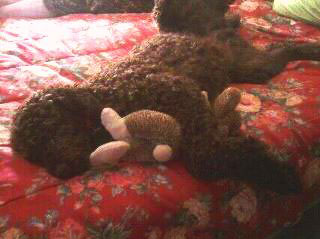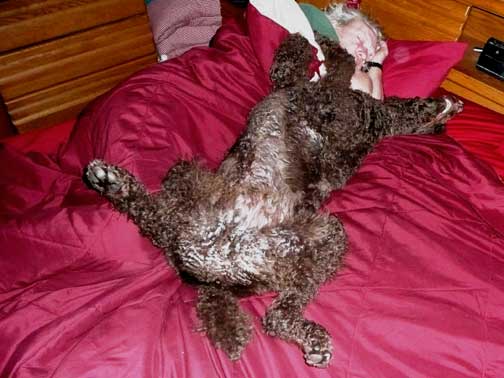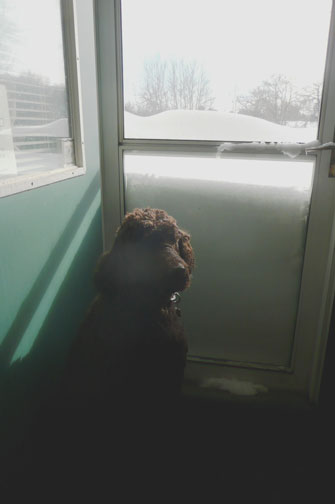 This is our 2010 winter storm...how am I supposed to go out and potty?!!!
*
"Well, 2009 winter has sure brought Wisconsin some snow! Beautiful isn't it!! Jazz and I are enjoying life. Oh, I've grown taller than her now at 8 months old :-)"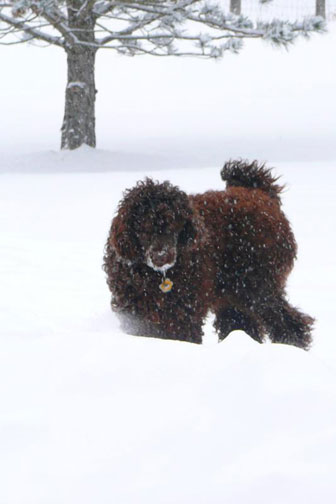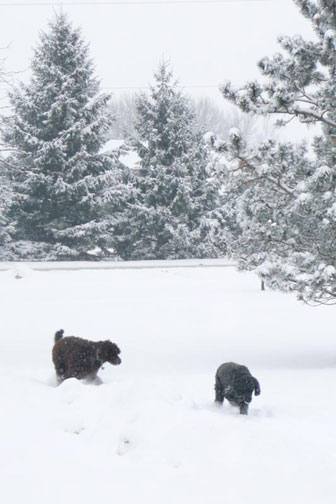 Mom says Royal Standard Poodles-Brown Kodi the 2nd "Sleeps on his back with all four paws in the air at least 50% of the time! We nicknamed him "Four Paws In The Air" because of that. He is considerate enough to wait to be invited before jumping up on the bed."
*
"I'm growing soooo fast! Check out my pictures below." 5.5 months old, 68 pounds and 25" at the shoulder
He is training well...and totally housebroken very early on. He loves to go for rides! He can sit, speak, lie down, fetch, come on command and stay. He's a bit rambunctious, but he's "just a puppy" no matter how much he weighs or how tall he is.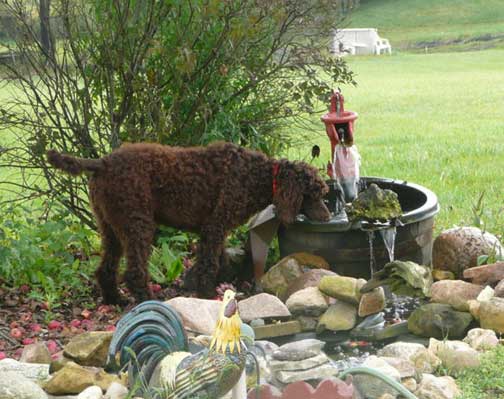 "Drinking from the well of life ;-)" 60 pounds at 5 months old
+
"This is my professional look - Royal Standard Poodles-Brown Kodi Bear ."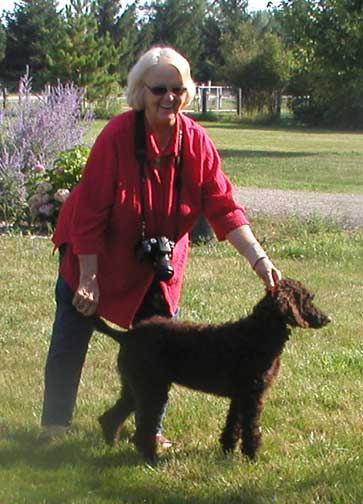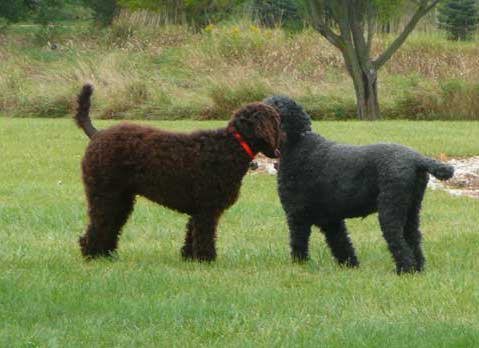 "Watch me grow next to my friend Jazz."
+
"Jazz gets a little frustrated with me being a puppy and all ;-)"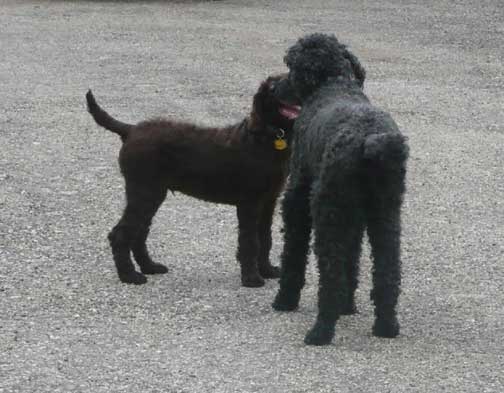 "Tes and Gene came to visit us on their way back from Niagara Falls, bringing their new 9 month old stud Bruno with. We had a blast!"
"I'd run circles around him :-))))"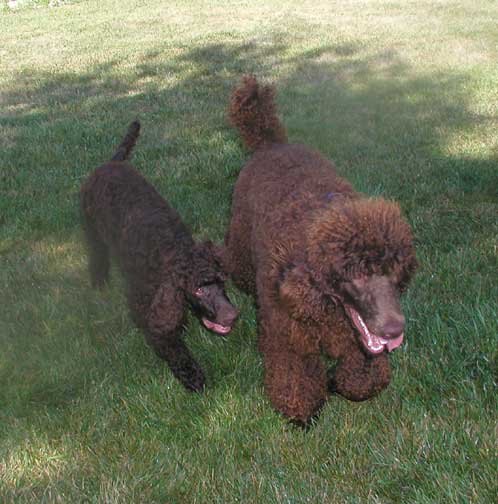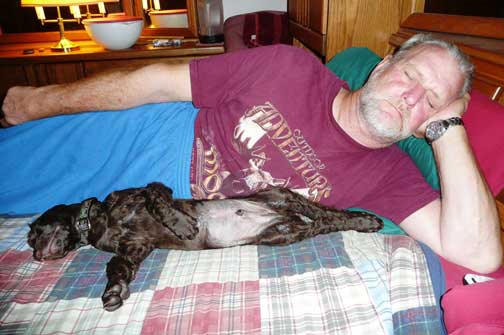 "I'm 9 weeks old and weigh in at 18 pounds here.Right on target to be one of those Royal Standard Poodles!"
+ Royal Standard Poodles-Brown Kodi Bear here!
"This fall I'll go bird hunting with Dad. I've got my "nose that knows!"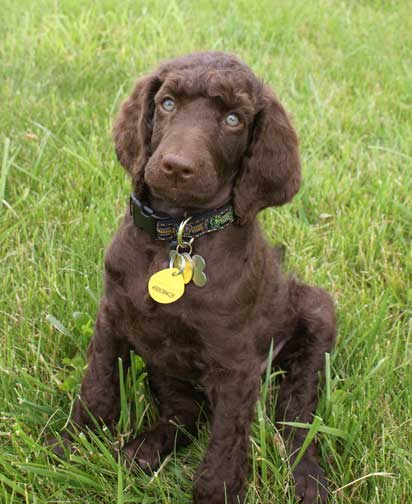 "I've arrived home :-)))) Check this out!"
*
puppies for sale like Royal Standard Poodles-Brown Kodi Bear 2nd *
I thought I'd develop the form below to help with pet updates. Here you can fill in the weight, height, and what you two/family enjoy doing together. Upon sending it, you will receive an email from me that you can reply with new pictures attached. Hopefully this will be an easy trigger instead of trying to find my email address.
Everyone loves to see your pages - honestly!