Royal Standard Poodles Brown HannaH
Updated 4/27/17 (DG)
Royal Standard Poodles Brown HannaH at home in Peoria, IL. Parents Blue Cleopatra x Brown Bruno born 09/18/14
-Her owners share: "HannaH is almost 1.5 now and is sooo very sweet, smart, and beautiful. I just spent the afternoon grooming her, then we went out to play in the snow. She looooves the snow, as do I! She runs, leaps, bounds, spraying snow everywhere. We play fetch and chase and jump up on Shari. Thanks for my sweet teddy bear...best one I've ever had!"
Hannah has definitely faded like daddy Bruno...great grandpa Kodi hi this look too.
Tracking HannaH:
1.5 yr 55 lbs, 25" 
7wks 7lbs 11oz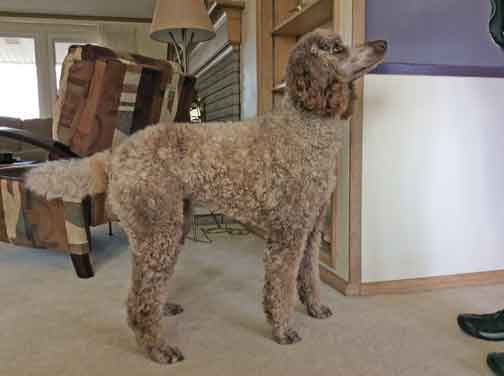 I am a Royal Spoo for sure! Look at how beautiful I am! :0)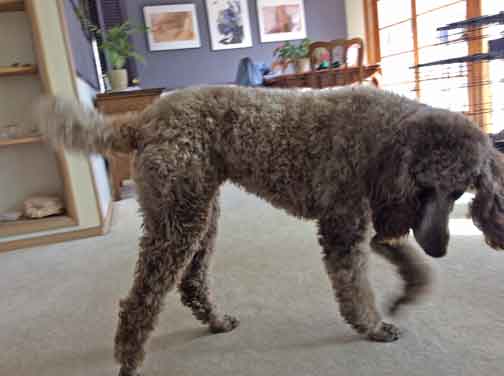 There's no fun like muddy fun
*
We all enjoy reading and laughing with others pet stories, and here a customer shares a good laugh with HannaH:
You won't believe what I have done! I am keeping HannaH in a short haircut (summer heat) and much shorter ears and everything else because she does not like being combed out, but she WILL have a proper poodle topknot! So I'm sitting on the bathroom floor after a bath combing, blowing with my hairdryer, giving many treats....all this with just two hands and trying to think what would make this work better...no money for dryer stand. As I am doing this she started to lick my leg. Inspiration struck! I went and got the strawberry cream cheese, smeared some down my shin and dried out while combing her topknot! Worked like a dream! I'm happy with how she looks. She's happy to get cream cheese without any nasty hidden pill. The brilliance lies in going with "what does she like?"!
Anyway, I am imagining that I can hear you both laughing from here. I do have the cleanest right shin in all of Peoria. 
All Clean and combed ;o)))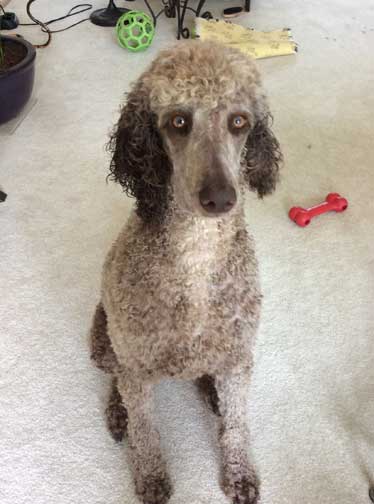 Yummy, a birthday cookie just for me!
*
I'm a healthy, happy, smart, loving, and playful poodle at two years old! Happy birthday to all my sibs.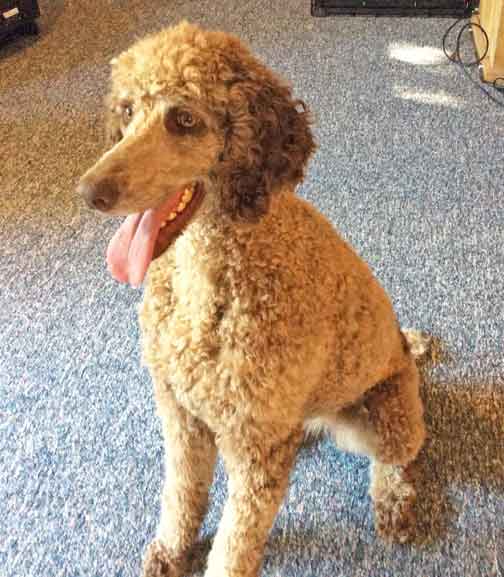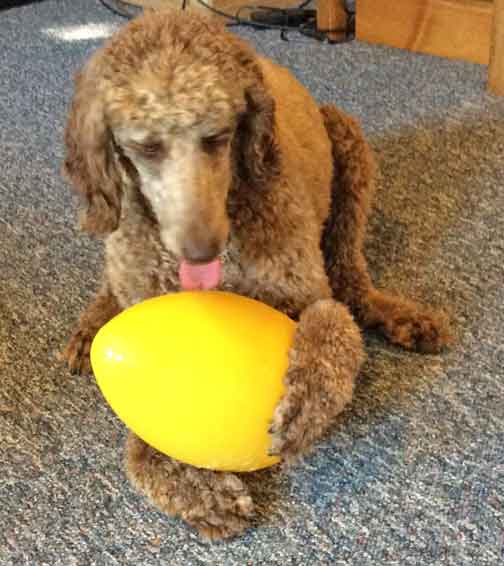 The Big Yellow Egg - best toy ever! It rolls and bounces in delightfully unpredictable ways.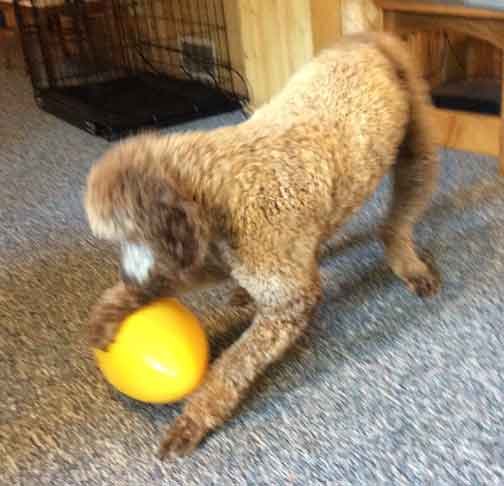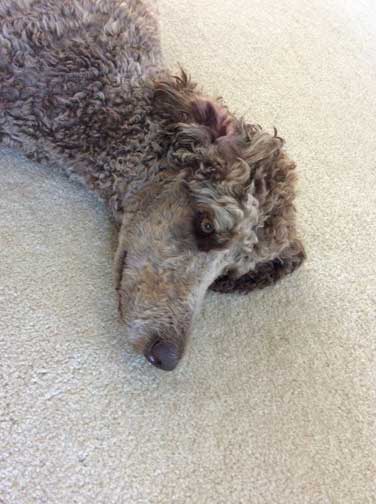 #4 picture needed - My ear back wins me a water mug :o))))
*
What happened to my pet bed??? A fresh wash? I'm on it, can't wait ;o)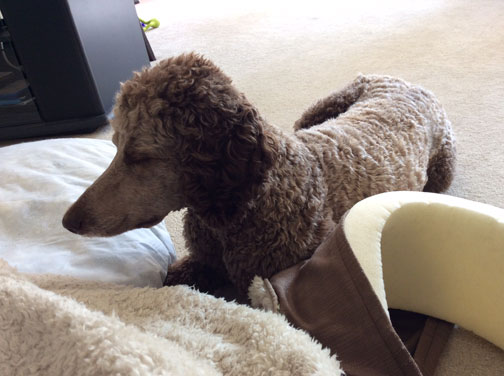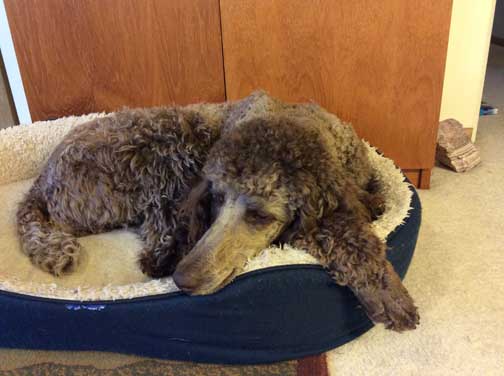 "Rainy Day Dog"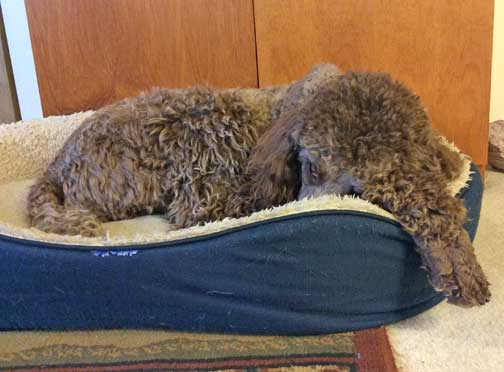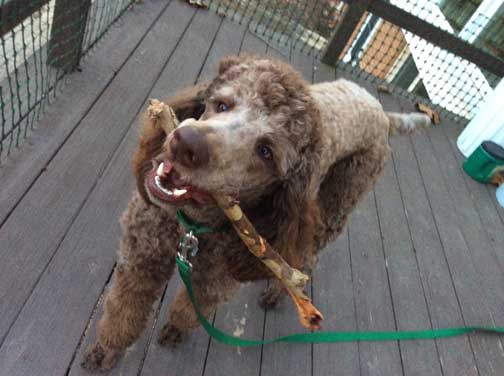 "Nothing like a good stick!"
*
HannaH looking "perfectly poodly" after I groomed her today! I look SOOOO much like daddy Bruno here :0)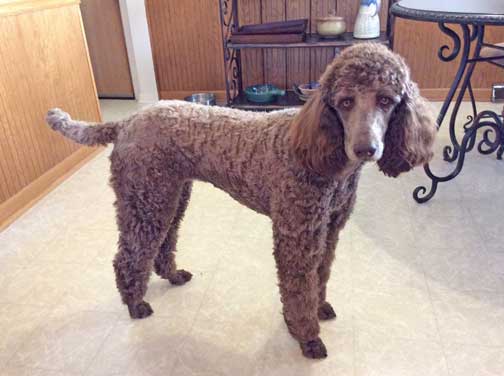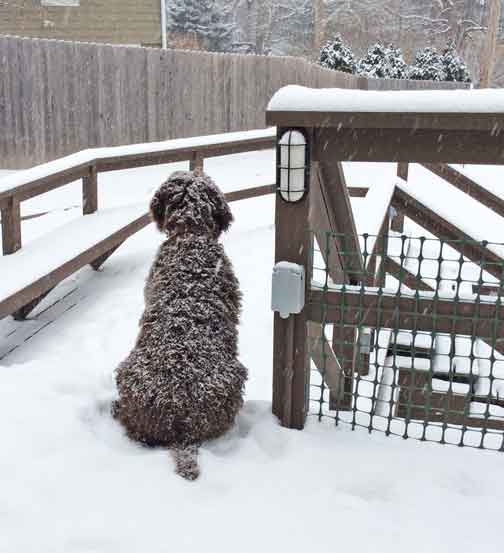 "Minnesota snow dog"
*
"Loving life"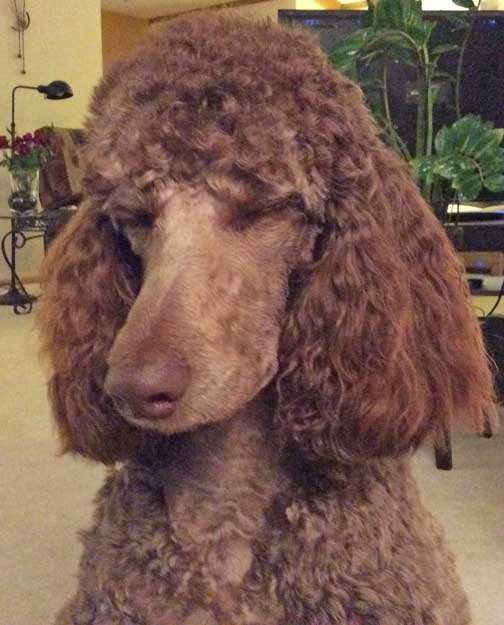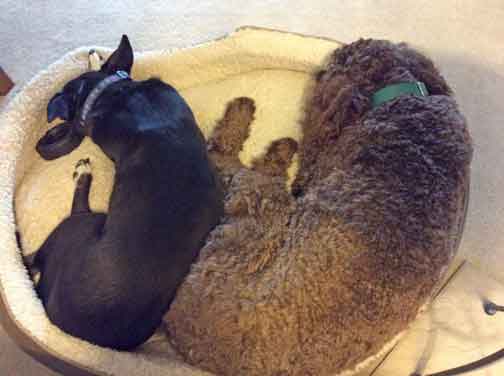 "We play together and sleep together, best buds!"
*
"Can I have a treat?"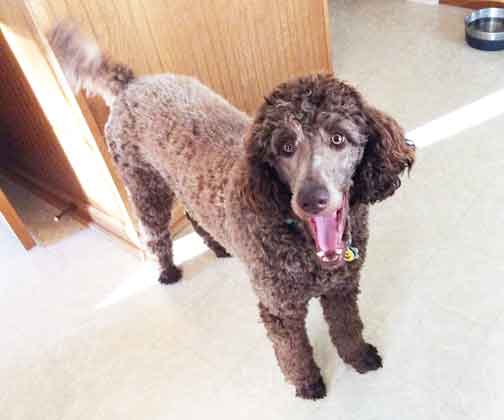 "Happy Happy Happy!"
" I have some beautiful eyes!"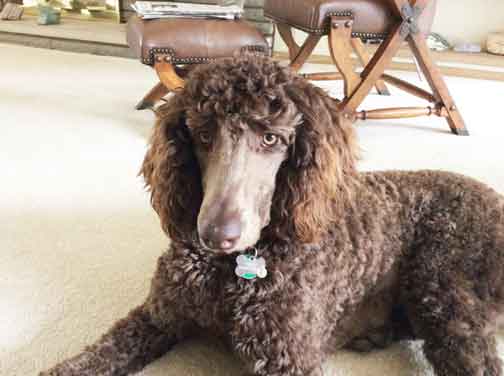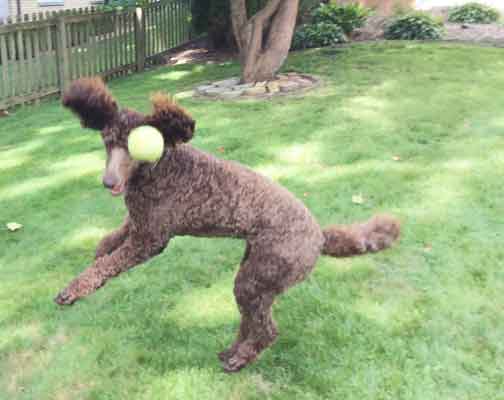 "Check it out....I can FLY!"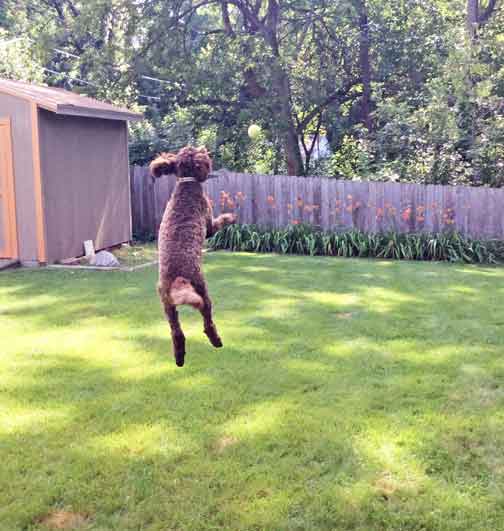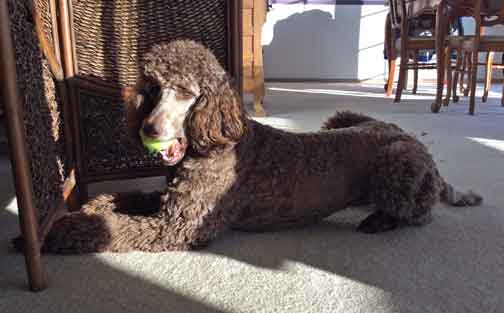 "Who wants to play ball?" :0)
*
"This is MY air conditioning vent!!"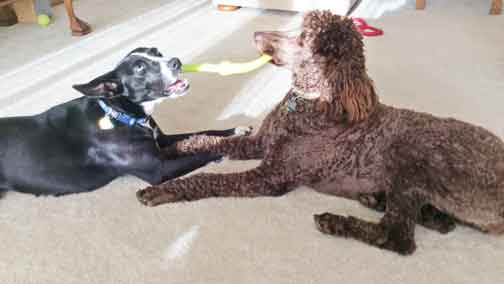 "Look mom we are sharing!"
*
My lap dog at six months old
HannaH's other person and her Buddy
*
HannaH helping me get over the flu and saying "no, I,m not reeeaally on the bed"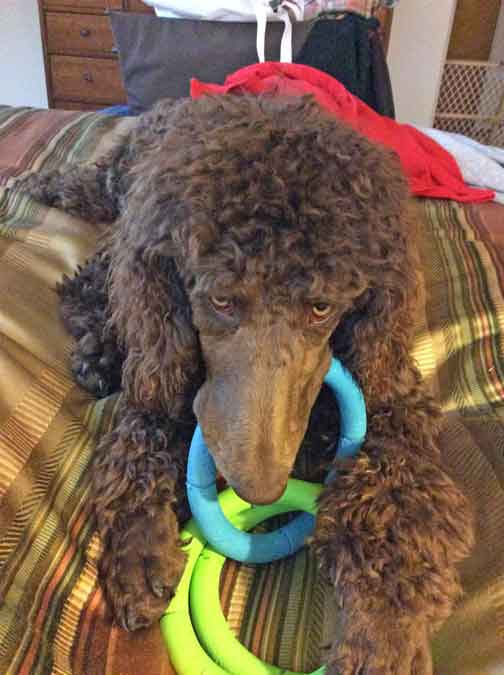 "This is my post spay and pexy picture.....at least it's not the cone of shame and just a t-shirt!" :0)
*
"I have my duck now which kennel is mine?"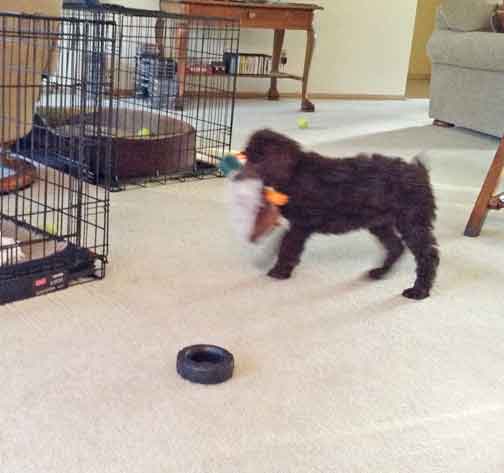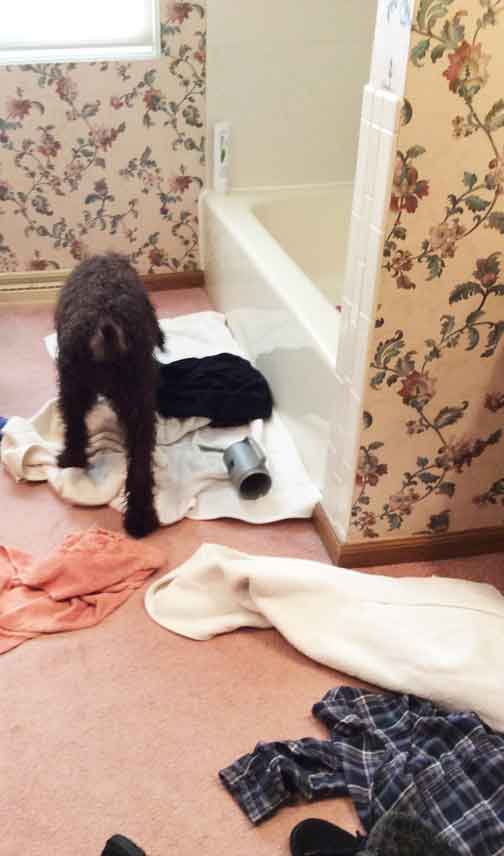 "This is the aftermath of my first bath." :0)
*
"What is that thing?"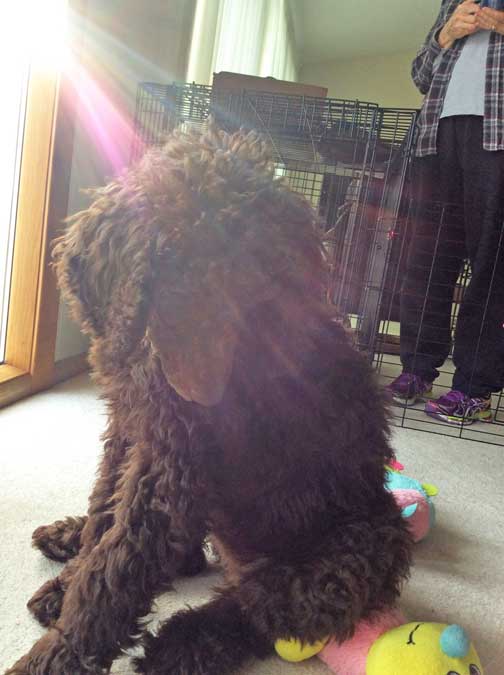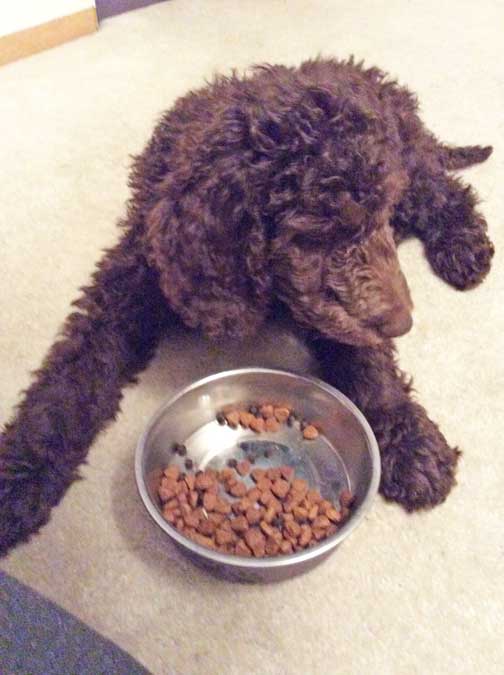 "Nummy kibbles"
*
"I am just a baby....scroll up and watch me grow! :0)