Royal Standard Poodle Black Tauren
Royal Standard Poodle Black Tauren at home in West Cornwall, CT with first time poodle owners.  Parents Blue Cleopatra x Red Daniel born 10/05/12 - above - Looks like A PERFECT WORLD day in the city ;o)
Last updated 12/18/21

Visit their FABULOUS blog with LOTS of great new picture updates always added on Tauren and poodle pictures in following his story and growth...FABULOUS!!! Worth perusing FOR SURE :0))
Tracking Royal Standard Poodle Black Tauren:
5 yrs old, 67 lbs
4 yrs old, 67 lbs
11 months, 66 lbs
9 months, 62 lbs
8 months, 56 lbs
7 months, 54 lbs
5 months old, 30 lbs
11 wks old 16 lbs
Mom shares: "He is so solid. Super sweet. Looks a lot like his mama (Cleopatra), but you can tell his daddy is red (Daniel) when the sun shines on him."
Follow my Instagram.com/AmyBethCupp and Life of a Standard Poodle on Tumblr blog with Royal Standard Poodle Black Tauren
http://standard-poodle.tumblr.com
---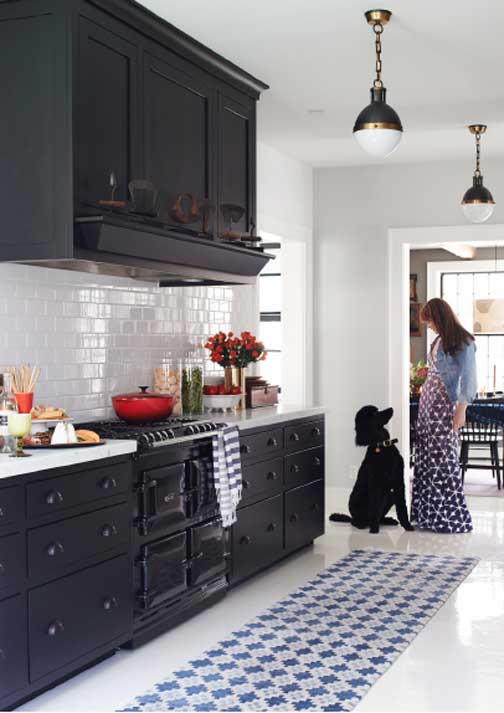 Tauren and his owner featured in the Better Homes and Gardens magazine they were featured in the Better Living section.
*Royal Standard Poodle Black Tauren*
Tauren's owner shares, "It's the September Style-Maker issue, and apparently Tauren Poodle lives a stylish life! ;0) He was such a natural in front of the camera, he was really working it."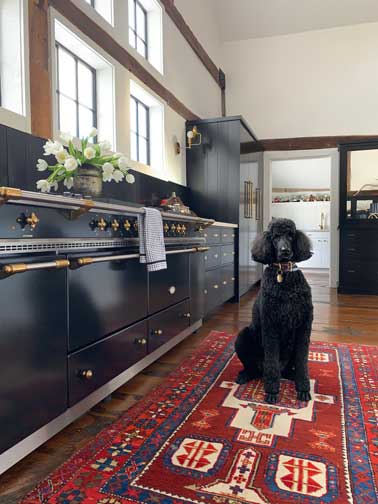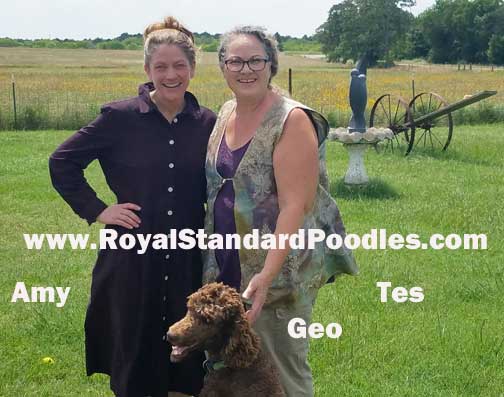 Amy came to TX :o)
Why didn't you bring me?
A wonderful way to break the day...lounge with...
Royal Standard Poodle Black Tauren
Royal Standard Poodle Black Tauren

Life is Beautiful! Enjoy it with your Spoo :o)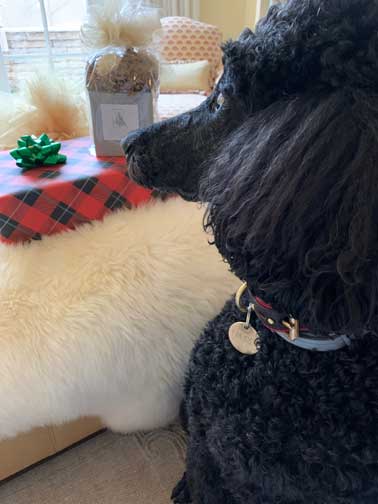 MY Christmas present?
*Royal Standard Poodle Black Tauren*
Oh so hard to not chow down...yet they've trained me well :o)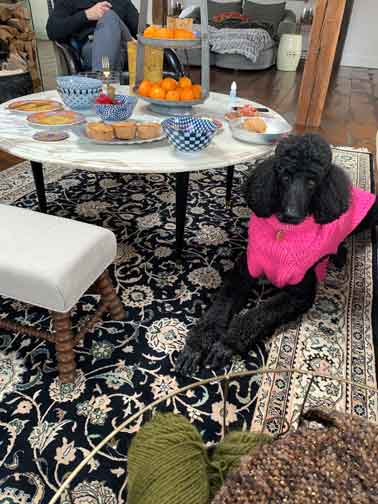 "Why yes I have gold eyes. All Black spoos should have them. The better to see you with," says Royal Standard Poodle Black Tauren.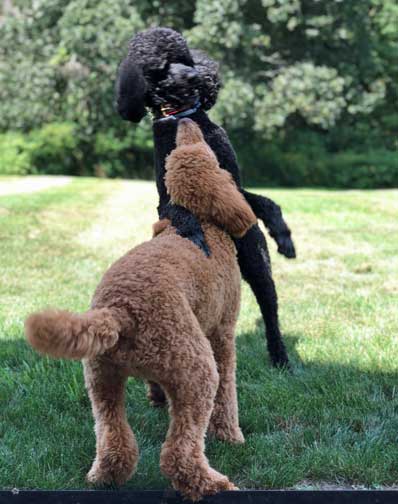 It's Labor Day 2018 and so glad we have a day off from work - so we can PLAY instead.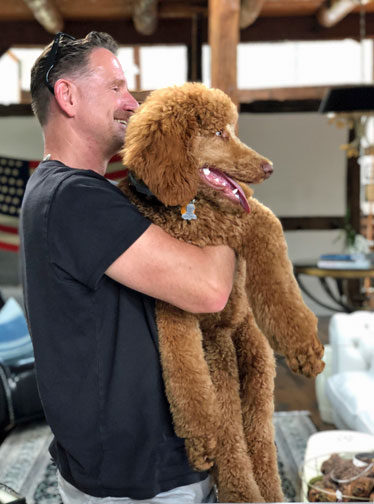 Visiting neighbor referral from Amy who has Monniet. Signs of a confident pup: fully relaxed in his owner's arms.  I rather imagine from the smiles and looks on both their faces there is someone interesting just beyond view.  Ready, Action!!!
*
And look at us now, a mere 4 months from when we welcomed our new friend.  Has he grown!!  And as I predicted, Monniet's manners are impeccable.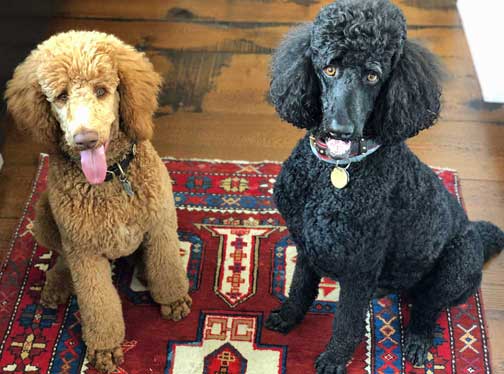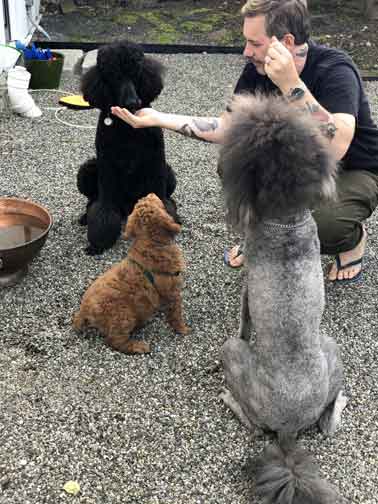 The training starts early!  I show Monniet how to take a treat Gently and Eros is the perfect gentleman as he sits and waits patiently.  Our little friend is almost fully sitting down - he gets it; before long he'll be as courteous and polite as we are.  Kudos to our humans ;0)
*
We have hosted a Welcome Home Party for the new pup.  My fancily coiffed silver friend is Eros and we're showing Monniet how to play tug-of-war.   Look at the pup's play stance!  You can read the excitement in his body and can almost hear him joining in the vocals going on.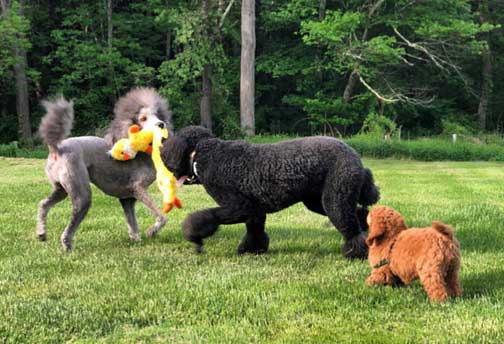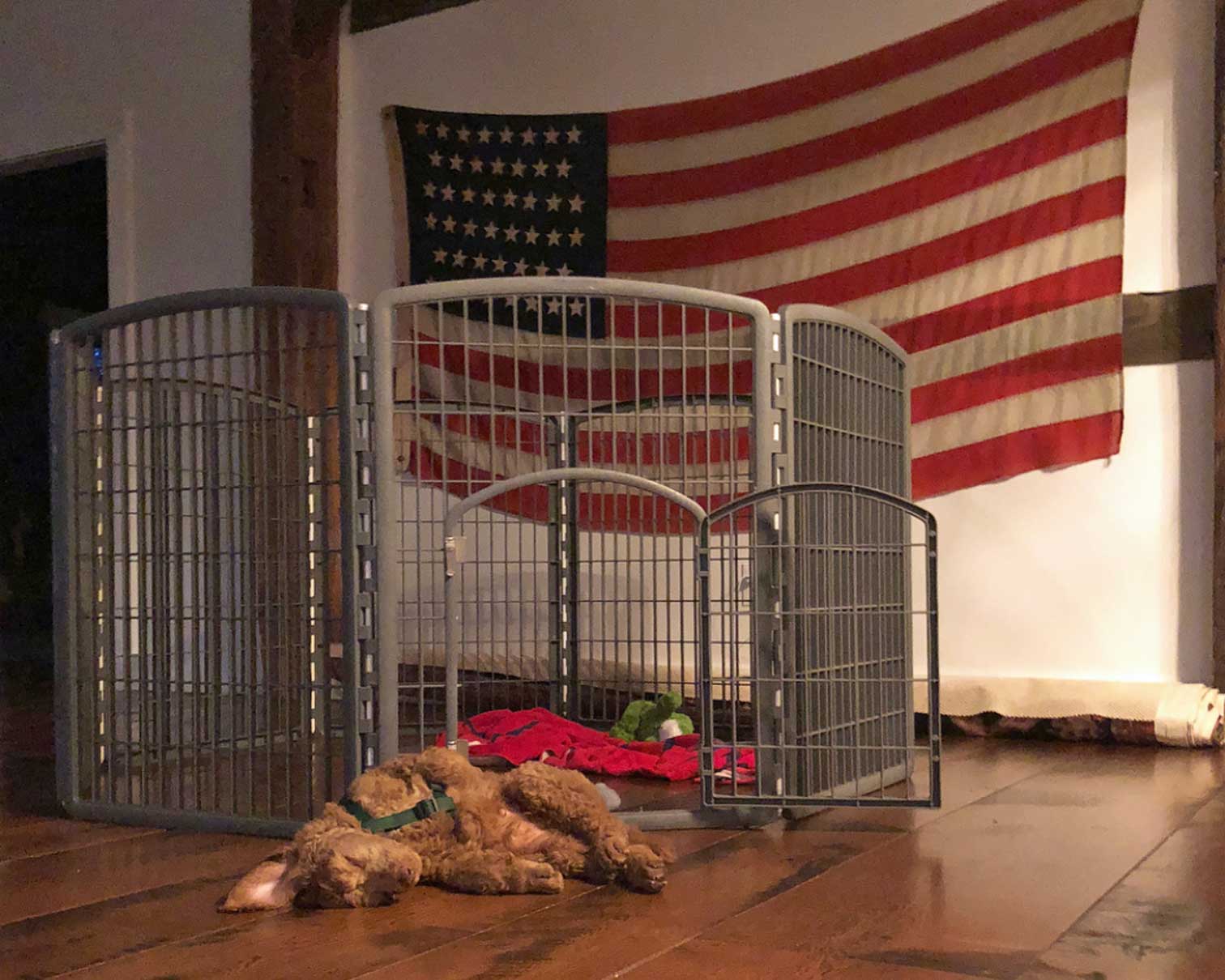 And here he is:  Monniet, a Red Royal Standard Poodle visiting my home before he goes to his new house.  It is May 2018.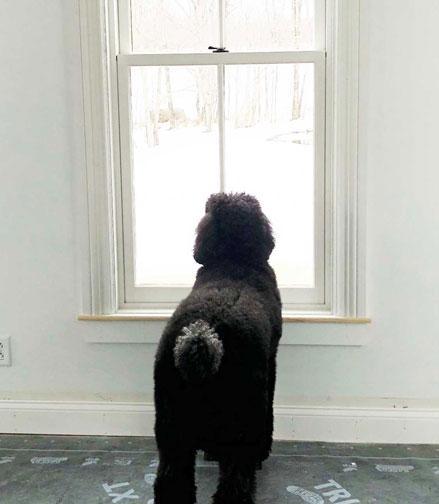 Check out this window!  Is this perfect canine height or what! And look at that snow out there.  Mom, where's my jacket, let's get ready and go  play outside.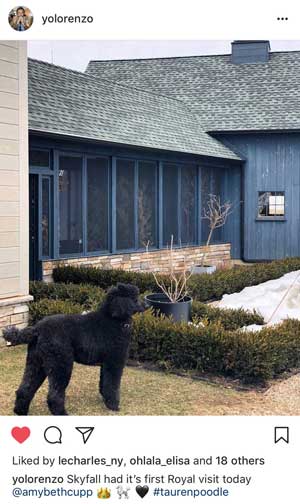 I am visiting the future home of Monniet to provide a Royal Standard Poodle blessing upon the humans, the house and grounds where love and fun and play will abound.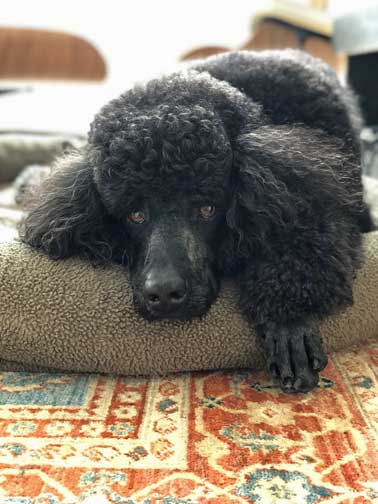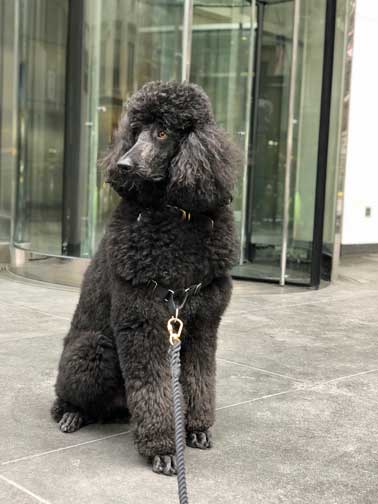 Visiting the Big Apple, NYC.  So many people stopped to greet me and asked to pet me and wanted to tell me their stories...so many folks, so little time.  I received a lot of compliments and was happy to bring a smile to so many faces.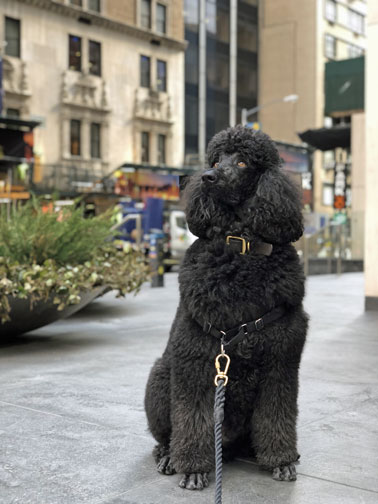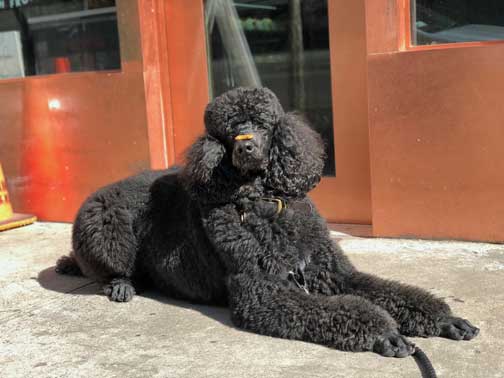 Of course I'll share the story with you:  We are outside a bakery which makes natural dog cookies, my human mom thought she would demonstrate my great skill, (and patience)...when she says, "OK, go!"  I throw that treat in the air and capture the delicacy in my mouth on its way back down to earth.  We Royal Standard Poodles are so-o-o smart and talented.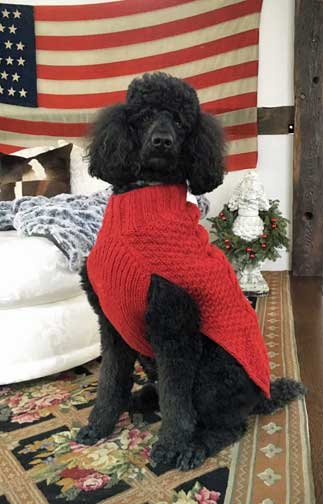 Red definitely works for me.  So masculine and stunningly attention getting.  As you can tell from the decor behind me, it is still the holiday season, although I certainly don't need a season to dress up.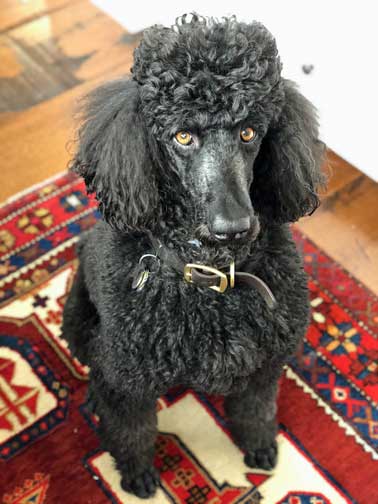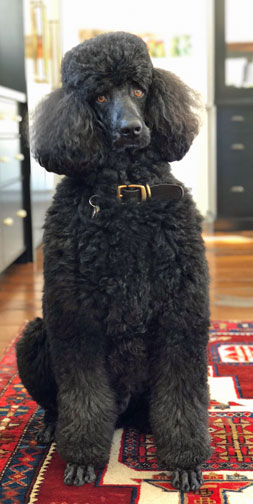 New Year's 2018 and I received a beautiful neck scarf as an accessory to my natural fur coat.  Golly, everything looks good on me.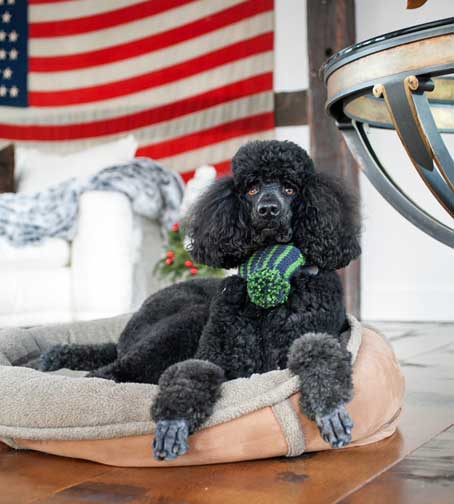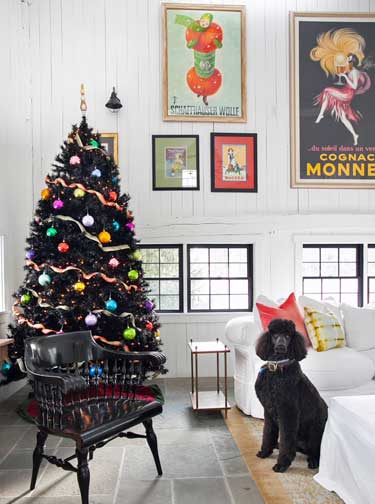 Christmas 2017.  Blessings to one and all.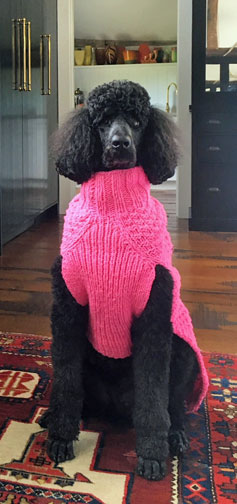 Say what you will...the contrast is absolutely striking and Yes, males can wear pink; it's November 2017 after all and fashion has become inclusive.
[Hmmm..my toe nails could match, I'm fairly sure OPI makes a 'Hot Flash Pink']
*
I know you will give me whatever I desire when I cast these magical eyes upon you ;0)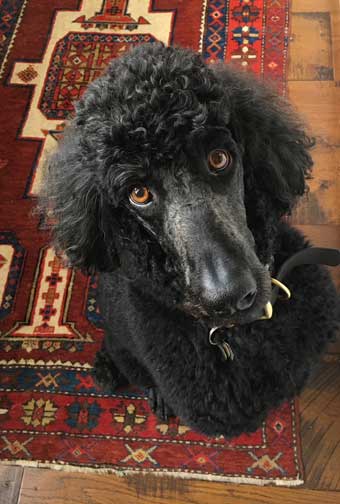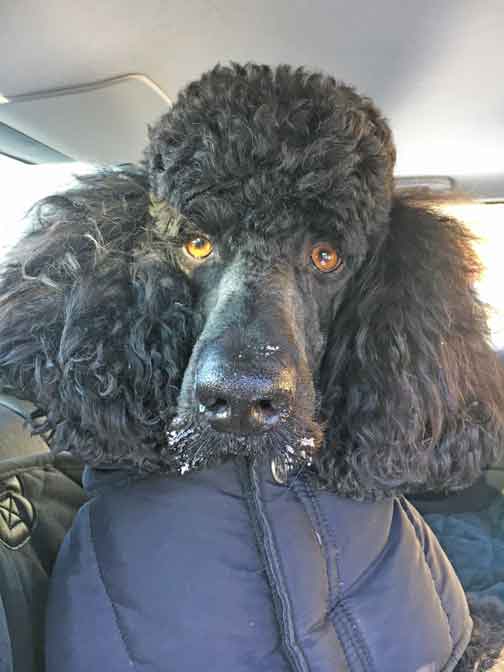 We're in Michigan (TP and I) to celebrate my mom's 70th Birthday. He is having a great visit. There is a lot of snow, and he LOVES it!
*
An individual on Tauren's blog asked these questions I felt SO important to bring forward and share here:
Two questions: 
(1) What is the upkeep on Tauren's hair cut? 
Tauren gets a haircut one time a month. In the Winter we let his coat grow out so he only gets clean face and feet cut. In the Summer we cut it short all over so he doesn't overheat. 
Tauren gets a bath twice a month - one is on hair cut day, the other is two weeks later. 
The reason we bathe him so much is that I have terrible environmental allergies. He loves to roll around in the grass and bring it in on his "velcro" hair. I find if he goes longer than 2 weeks without a bath I have itchy eyes and a runny nose. 
I want to be able to kiss on Tauren as much as possible, so therefore the bi-weekly baths are never skipped!
(2) Does he have typical "negative" Spoo behaviors like being mouthy or barking a lot? 
Your pictures are very lovely and he seems well trained, but I was curious about off camera Tauren. 
Thank you for the compliments! Tauren is a "Royal" size spoo - I know that Tes (the woman we got Tauren from) does her best to breed the "high strung" out of her Poodles. Our guy is super mellow, so so sweet - and I think where he came from is a big part of it. 
Tauren is typically not mouthy. When he was teething I would touch the outsides of his cheeks when he was biting and say "No bite!" After a few days, that seemed to put an end to the mouthy behavior.
Tauren also gets a lot of frozen marrow bones which give him the ideal place to take the edge off and satisfy his needs. 
As for barking, he is a pretty quiet dude when he is in the house. He will "woof!" to go outside and when his "friend" the UPS man comes to the door - he brings Milkbone treats in his pocket - and Tauren will "sing" when we turn on the road where his "friends" at the groomers are, but that is about it. If I am home alone with him and say "What's that?! Do you hear it?" he will growl and bark, but I taught him that as a protective measure.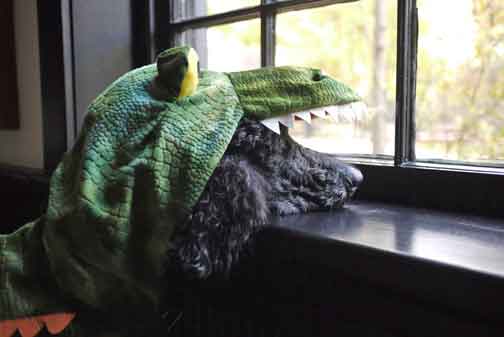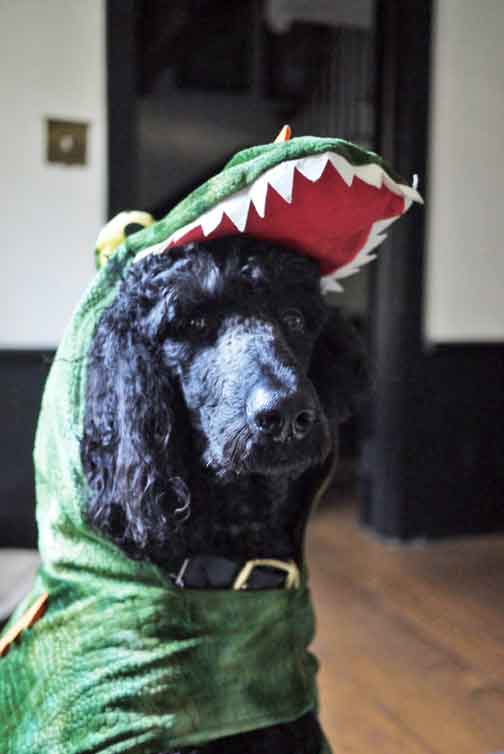 Happy Halloween from T.P. the "Dragonoodle!" This was him waiting for the school kids to arrive at the bus stop this morning.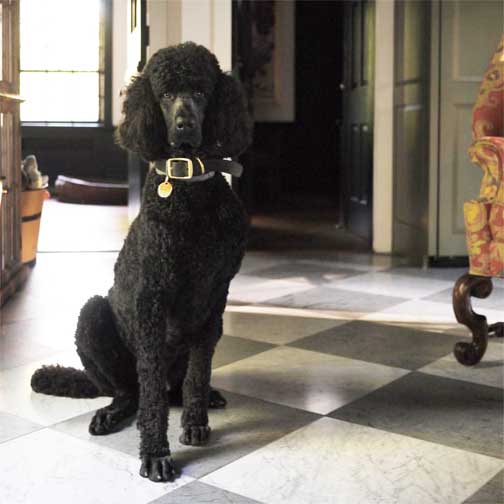 Being Royally Handsome IS a part of the job ;o)
 I sun bathed, had a frozen marrow bone, ran around in the yard with 'Dog Dad' and got a bite of cheese after dinner. 
All in all, I had a successful birthday fit for a Poodle Prince. (I'm  holding steady at 67lbs.)
*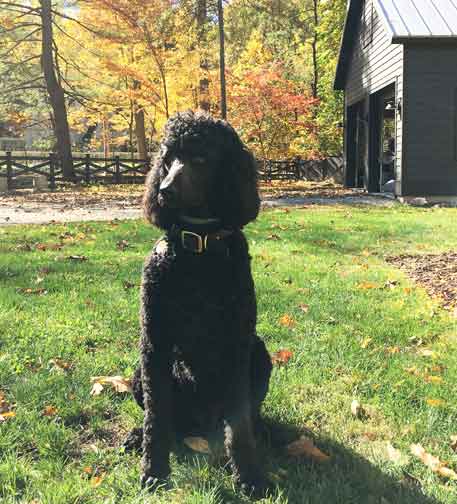 So enjoy getting my picture taken ;o) See the gorgeous Fall colors behind me?
*
Sittin' Royally at 4 yrs old :o)))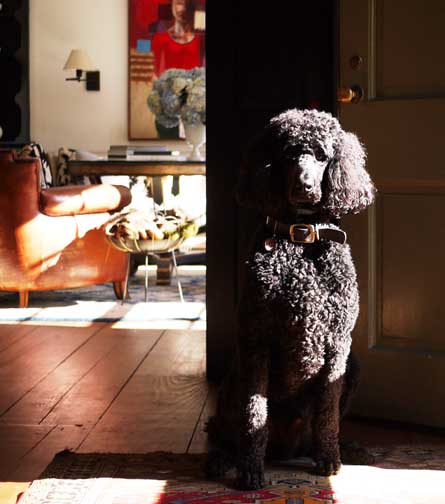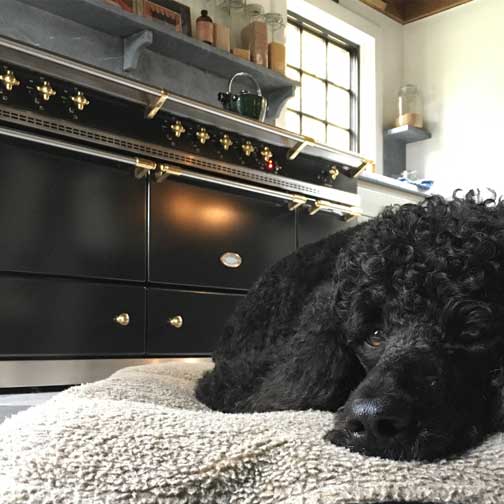 Mom, you don't have to tell me to watch out for chicken thieves. I'll watch the oven for you all on my own...I'm a good watch spoo - FOR SURE when it comes to chicken in the oven ;o)
*
Happy Happy Fall everyone :o))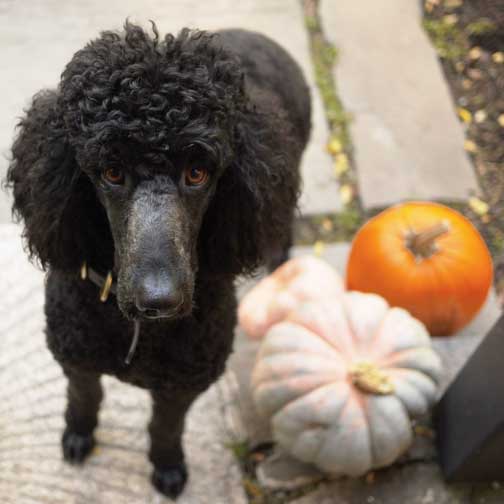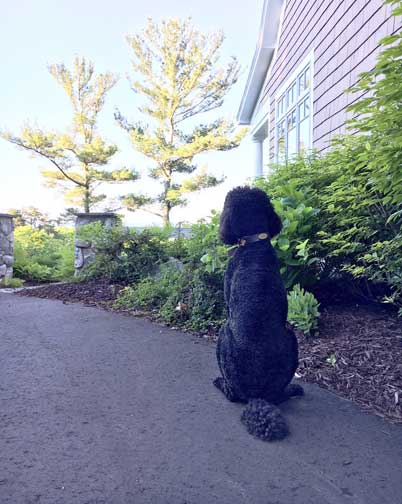 What? I'm enjoying the view, we spoos truly enjoy the view...but I do think a squirrel wants to come out and play ;o)
*
Look at that blue sky, the blue lake, and this handsome Blue spoo :o))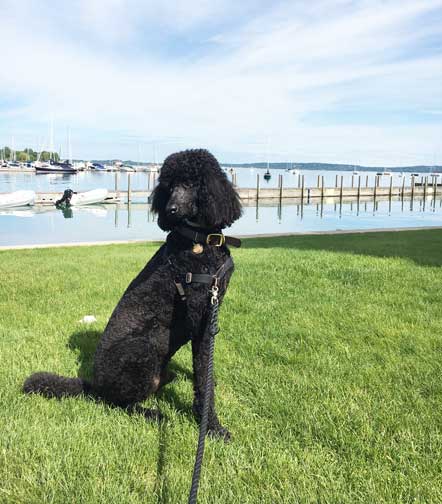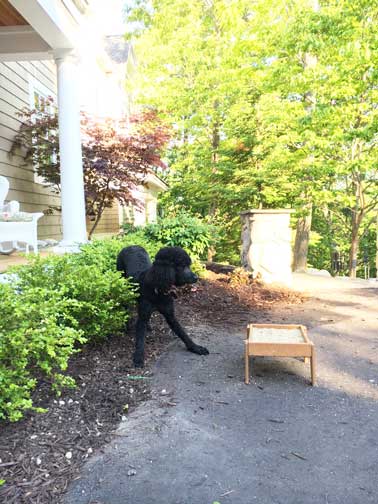 What's this? I'll find it...whatever it is...where-ever it is...
*
Watch them, Watch me, Watch life and enjoy :o)
 Tauren took a new "job" when we moved to the new house. Rain, sleet, sun or snow he is responsible for counting all the little children get on and off the school bus each day. He magically says "Woof" about 5 minutes before the action starts and keeps watch until the bus pulls away. It's heart-breakingly adorable.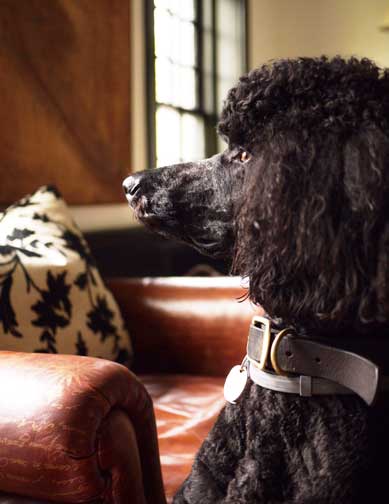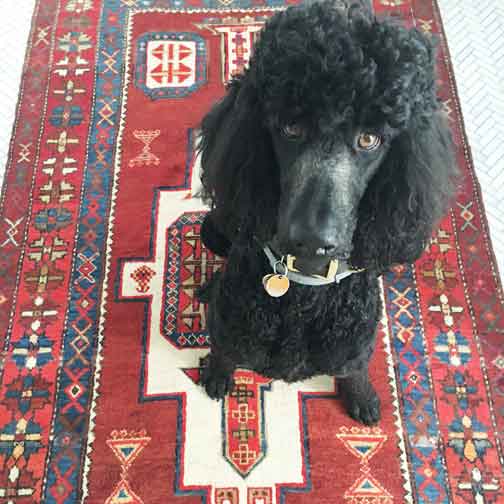 Life is full of color - Enjoy it!
* 
My necklace of glory...but I think it's on backwards? ;o)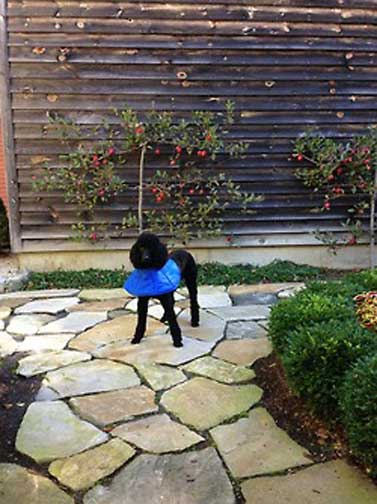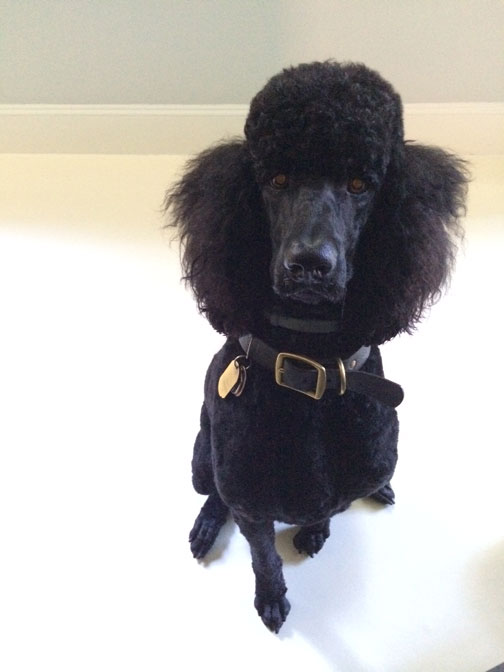 "I take some really great pictures, don't you think?" :0)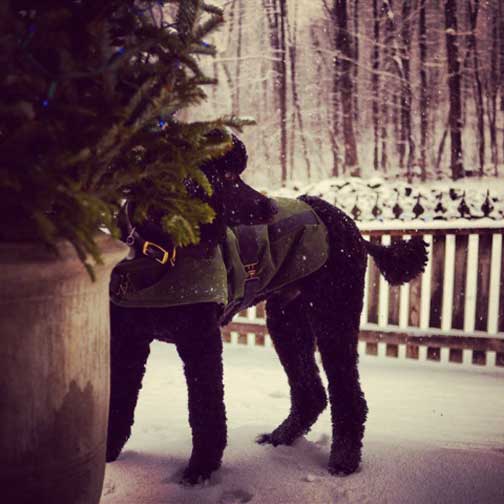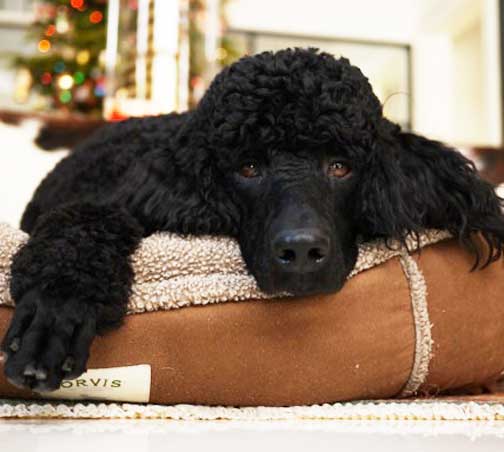 "2013 Christmas tuckered me out ;0)"
*
"Here is my updated profile picture. We've got some snow in CT"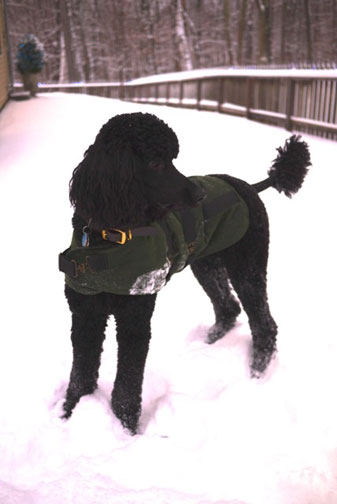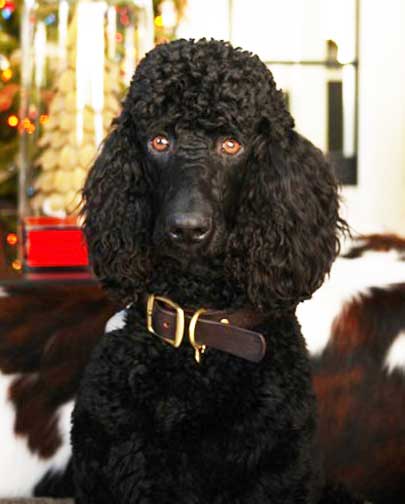 "If you look closely, you can see the lights from our Christmas tree"
*
"Look at my pretty eyes"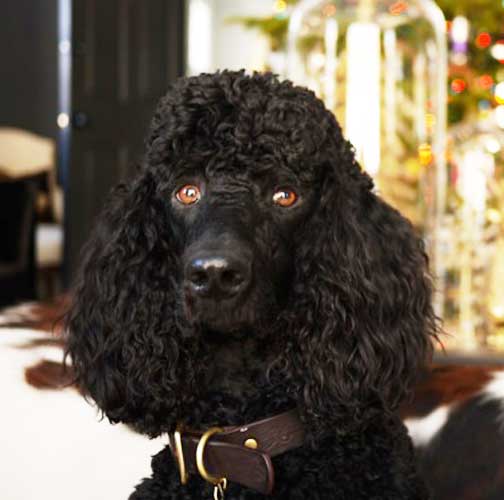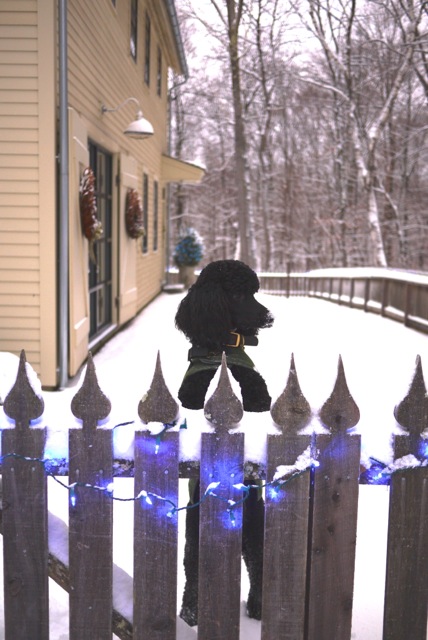 "Is that Santa coming around the corner"
*
"I've got a snowwy muzzle and head. Oh, how I just love the snow :0)"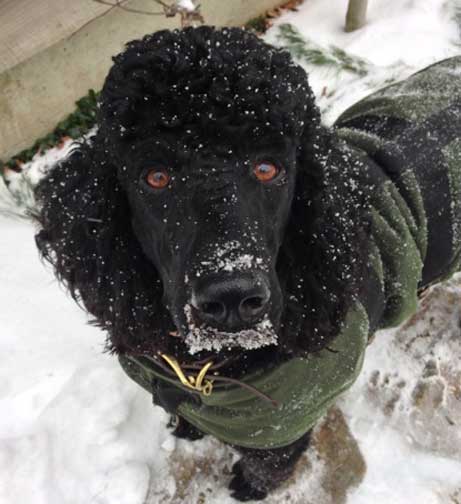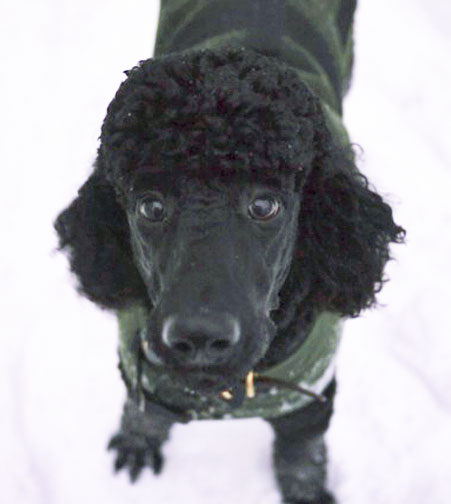 "More of my snowwy muzzle"
*
"I'm waiting to go now..."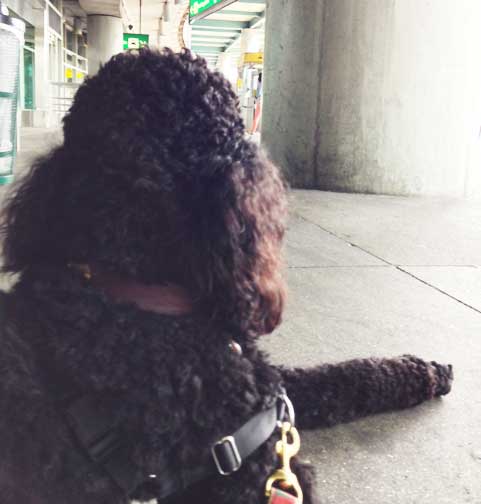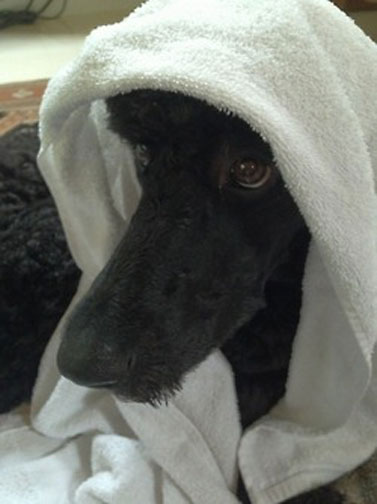 Tauren has a "girlfriend" in every town - he adores the attention he gets from the ladies at the dentist and when he realizes we are nearby he runs to see them. He does the same with an antique store, the vet, the groomer, and a woman's clothing store in four different towns...so it's nice to be clean and attractive for them :0)
Got Love!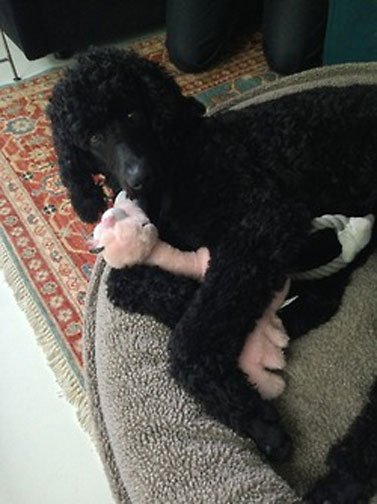 My Toy!
*
Mom, PLEASE!!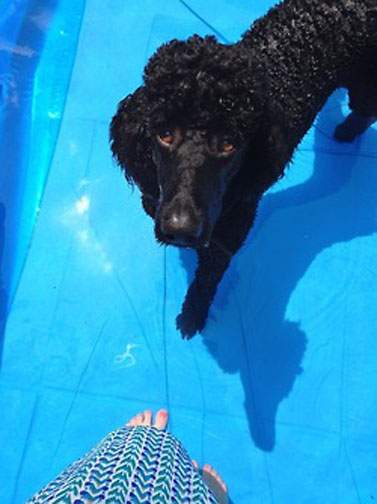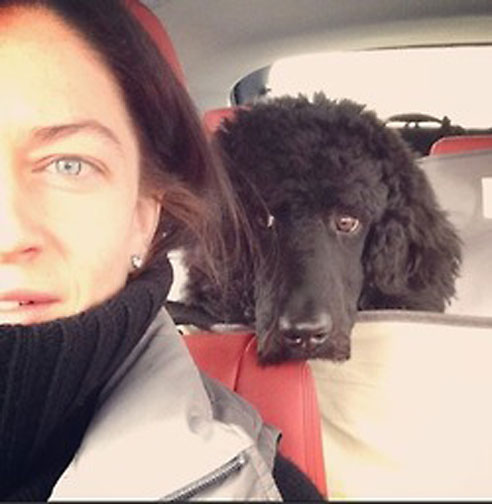 I love playing in the snow (see video/pics on the blog) and being in the car with (my owners). We're driving to Michigan from Connecticut. They purchased a hammock from Orvis that makes me feel safe and secure in the backseat of the car. Also, I'm so good about letting them know when to "potty outside" by getting use to ringing a bell to go out!
The hammock from Orvis: http://m.orvis.com/orvis/product/detail.do?itemId=2E73171427&categoryId=2508524
*
Hee Hee - back seat driver, that's me :0)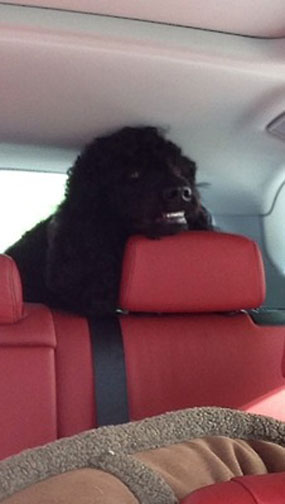 *
ME mug shot after they caught me driving ;0)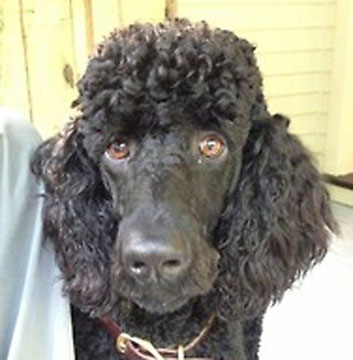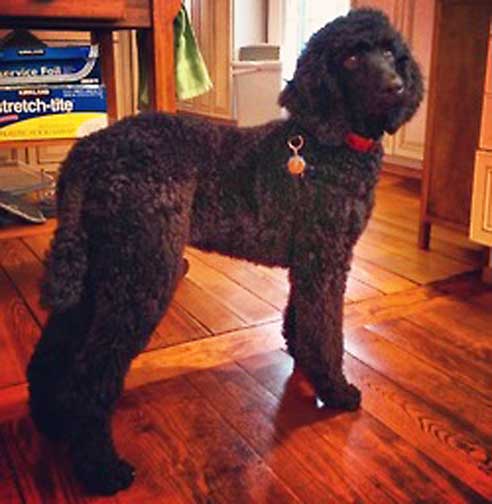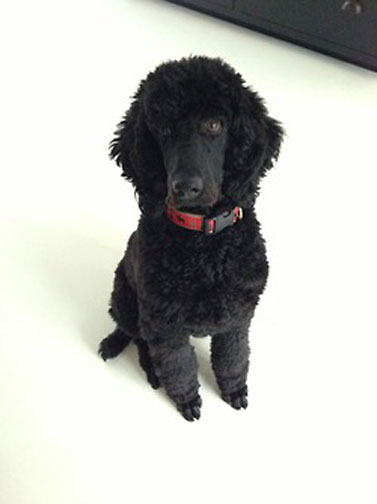 I'm definitely growing with quite a few months to go before full grown and that Royal boy I'm meant to be :0)
*
Can't wait to see how he holds me once full grown...My parents share, "He couldn't be a better dog. He is so fabulously smart. He loves going into town with me and meeting new people.
He went into the dentist office with me once to meet everyone, and now he cries if he can't go in to see them. It's pretty amazing how he remembers everything. Tauren loves the groomer too - he gets so excited to see them that even when we are not going he Bee-lines to their front door to get a kiss and a cuddle."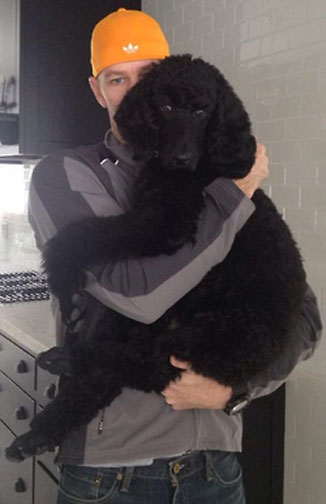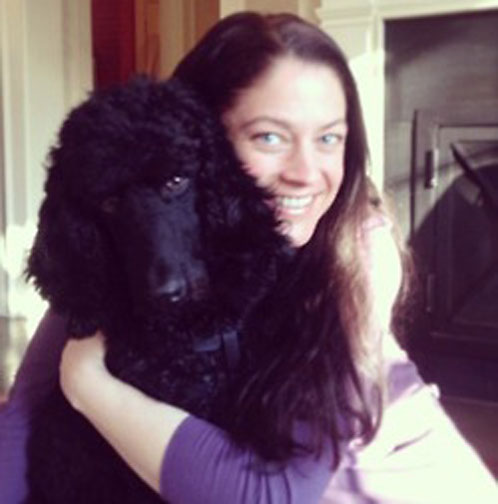 Got LOTS of Love ;0)
*
Got Skijoring? - Soon :0)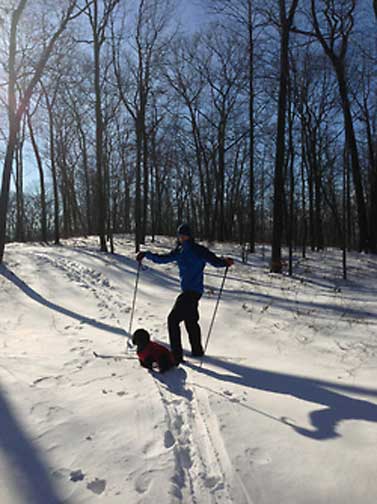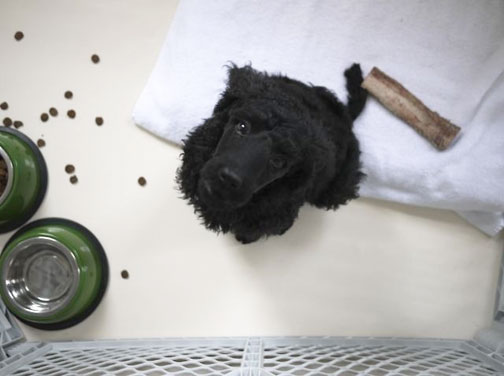 GOT FOOD?
*
GOT WALK?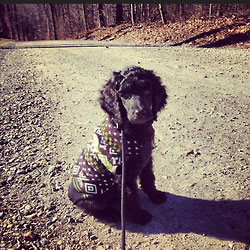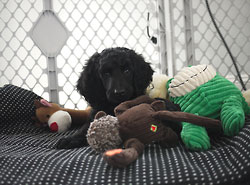 My owners purchased a royal pet bed from Tes to get lots of smells from her home, shipped free to help me adjust in my new home...and of course lots of toys to keep me busy.
*
I'm growing fast!!!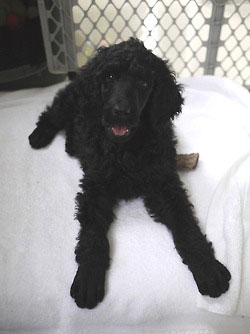 ---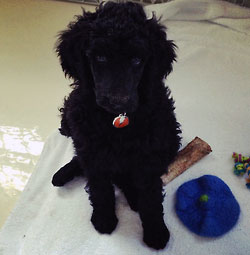 Tes sends us home with a new "Spinner" toy made of wool by one of her poodle customers, colorful huh, and a bone to keep us happy :0))
*
Here's my space when I'm needing to be stilled.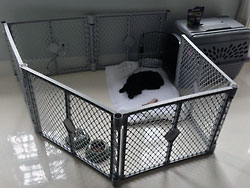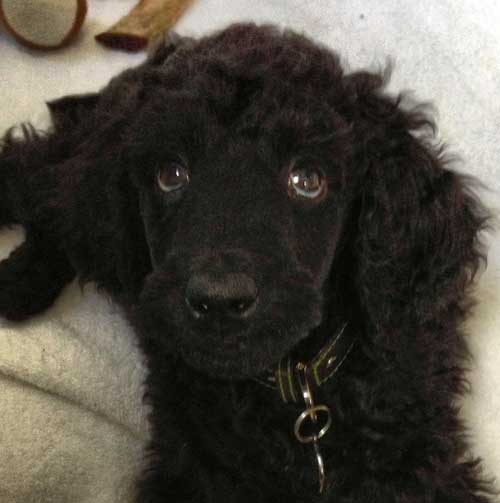 Mug shots are a favorite! Aren't I adorable ;0)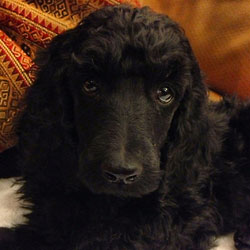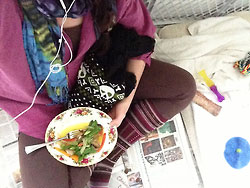 Ahhh, snuggling in my masters arms, that'll be a forever thing to do :0)
*
Time to learn to walk...color is definitely a fun part of walking :0)))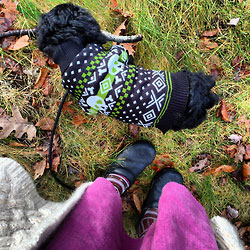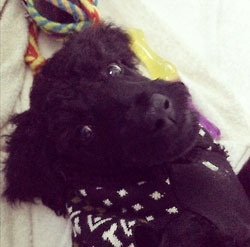 Here's lookin' at ya...
*
Riding in the car always puts me to sleep...zzzz...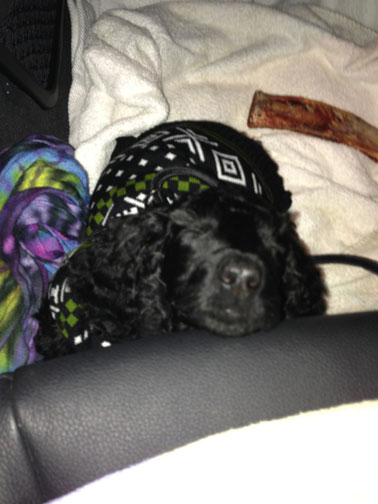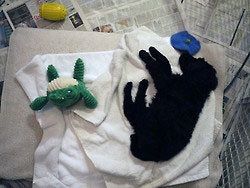 The towel was sent from home by my master to Tes's to provide me with their scents to help me know they would be coming into my life...and here I am...zzz... :0)
*
What puppies do best....zzzz....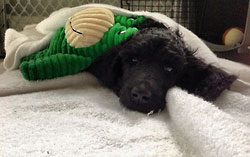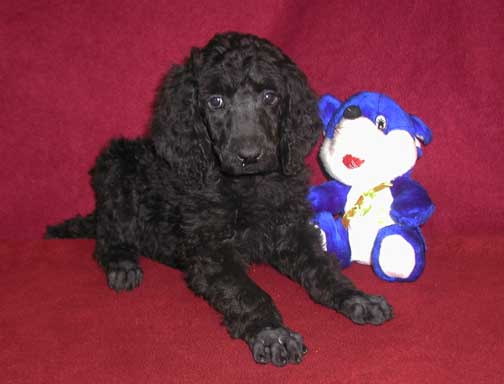 7 wks old here...These are pictures taken at Tes's while I was growing up with my brother and sisters from Cleopatra x Daniel in the Fall of 2012.
*
Here I am at 5 wks old.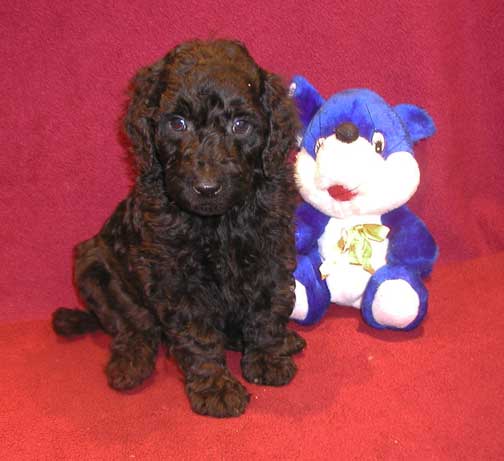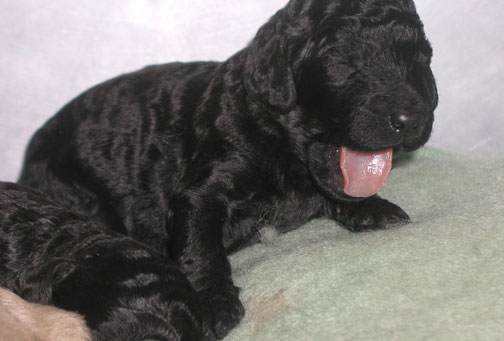 3 wks old...Yawnnnn...
*
...and only a few days old...hi world :0)))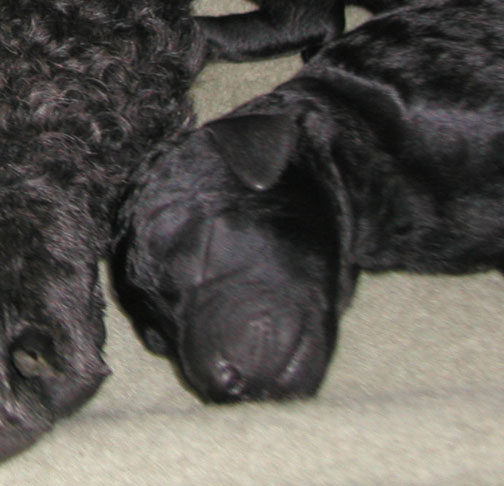 Royal Standard Poodle Black Tauren
Purchase your puppy like Royal Standard Poodle Black Tauren!
*
I thought I'd develop the form below to help with pet updates. Here you can fill in the weight, height, and what you two/family enjoy doing together. Upon sending it, you will receive an email from me that you can reply with new pictures attached. Hopefully this will be an easy trigger instead of trying to find my email address.
Everyone loves to see your pages - honestly!