Royal Standard Poodles Black Eli and Julius
This page is dedicated to Julius who passed in 2018.  With much love, keep playing in Doggie Heaven.
Updated 2/21/19  (pj)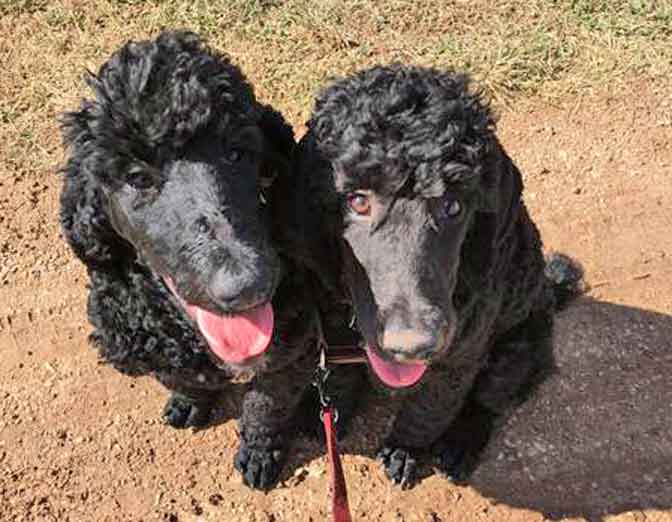 Royal Standard Poodle Black Julius at home in Lubocks,TX. Parents Apricot Niki x Brown Bruno born 06/29/16. 
Tracking Julius:
Royal Standard Poodle Black Eli at home in Lubbock,TX. Parents Brown Jasper x Red Daniel born 07/12/16. 
Tracking Eli:
Their owners share: They adore each other! They share bones, blankets, and lie down only after very carefully making sure they are touching the other in some way. Either a foot or head in contact or simply lying partway on the other. J
2/12/17: We have had several poodles over the past 33 years, and Eli and Julius are right up there at the top as the sweetest, most intelligent, adorable, and downright lovable pups we've ever had. They are simply fantastic and absolutely beautiful! We are so glad we got two, as they adore each other and are the very best of buds. We thought we had pups that were close before, but these guys set a whole new standard for getting along and just adoring each other.
4/13/17: As you predicted, Eli is still stockier, and Julius is lankier. They look pretty much the same size to the eye, very little difference. They are both awesome kiddos, and we get compliments on their personalities. 
We're growing, but we're still joined at the hip! And back and tail and head…. Still best buds! :0)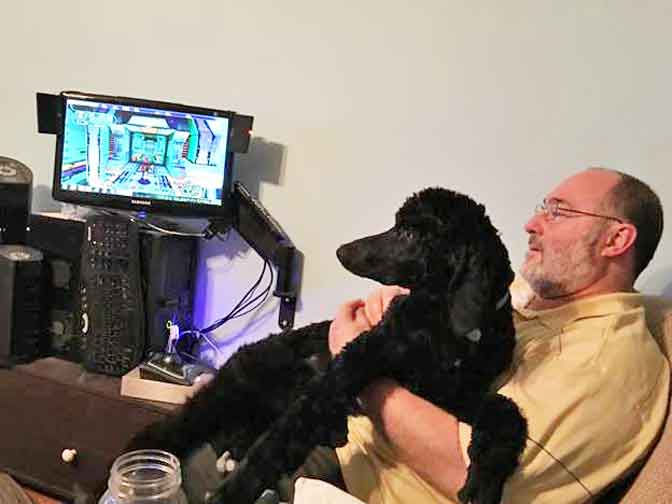 Julius and Dad – more best buds! But, Dad, that movie on TV is a little scary! Can I just sit lay on you and stay safe until it's over?

*
We're growing bigger and bigger. Look at that foot! Eli, are you sure you're not a moose?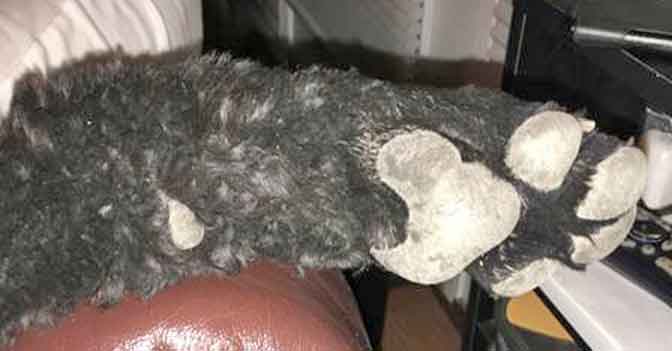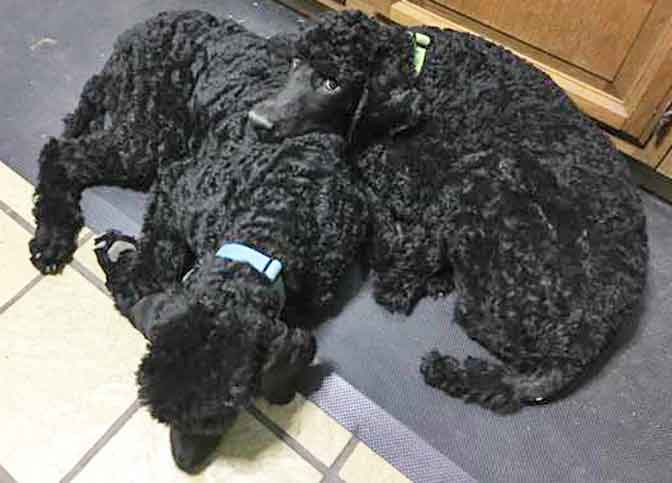 And brothers take turns being pillows. Boy, Julius, is a good pillow!

*
Brothers share their toys!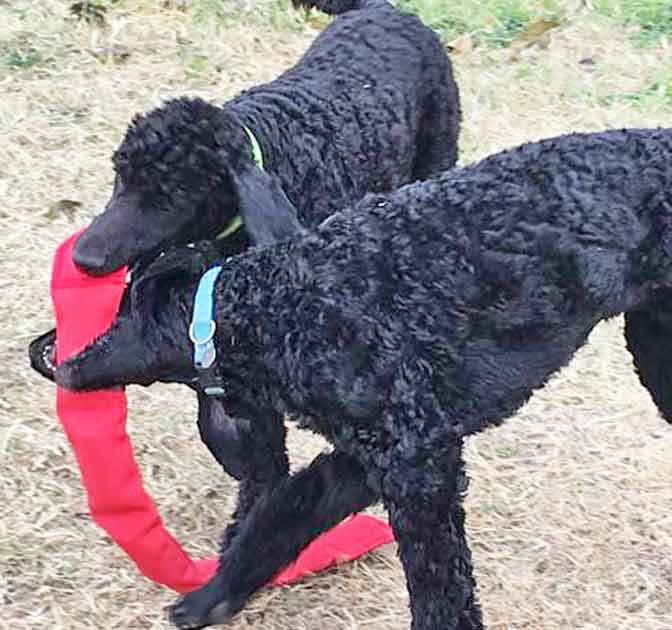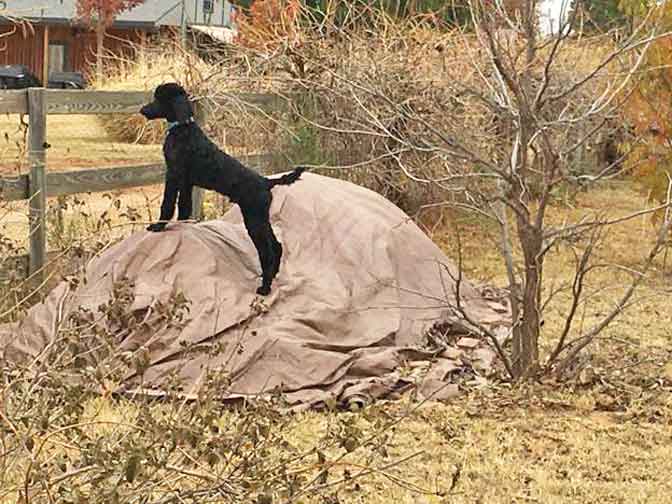 Mom put some compost here. This sure makes a good – Aha! I'm king of the hill!!!! I, Julius, am now ruler of the yard! Oh, wait, is that our neighbor? Come over here and pet me! I command you!

*
Watcha doing, Dad? Are you cooking again? Are those bones for us?!!!!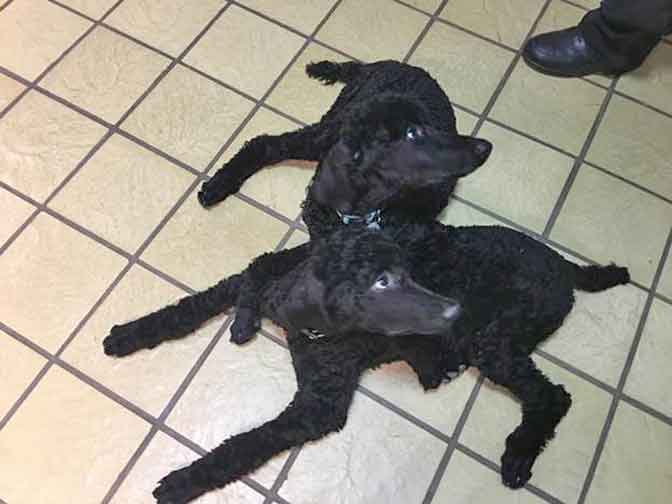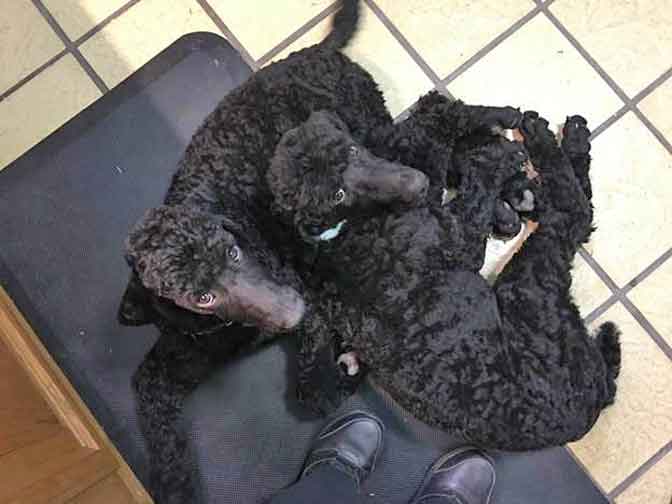 What? Eli volunteered to be my pillow this time. I promise!!!

*
You watch that side, and I'll watch this side. Bark if you see a butterfly!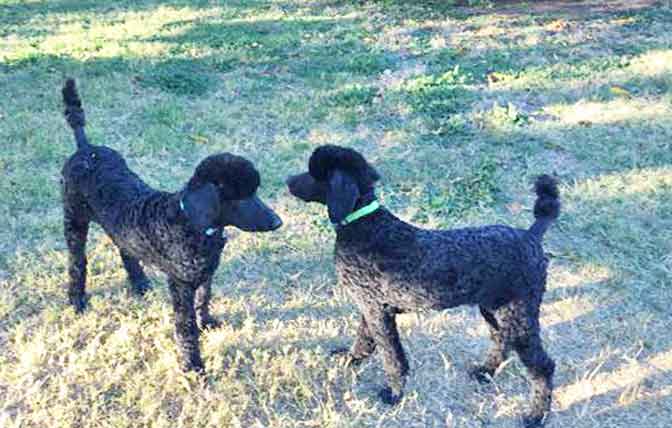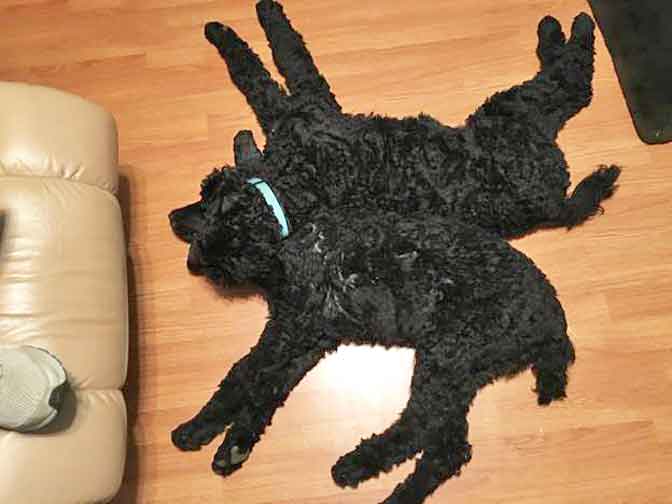 Eli makes such a good pillow for Julius!

*
And we're adorable! But… only one more adorable pose. There… Mom, wouldn't you like to put your camera away and start walking again? Let's do this!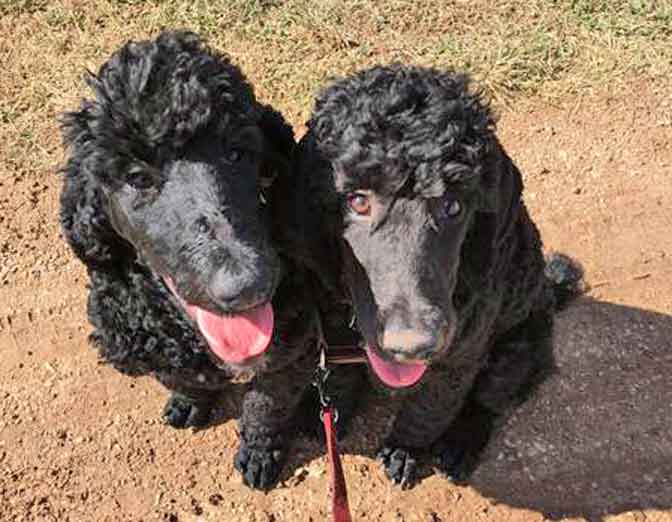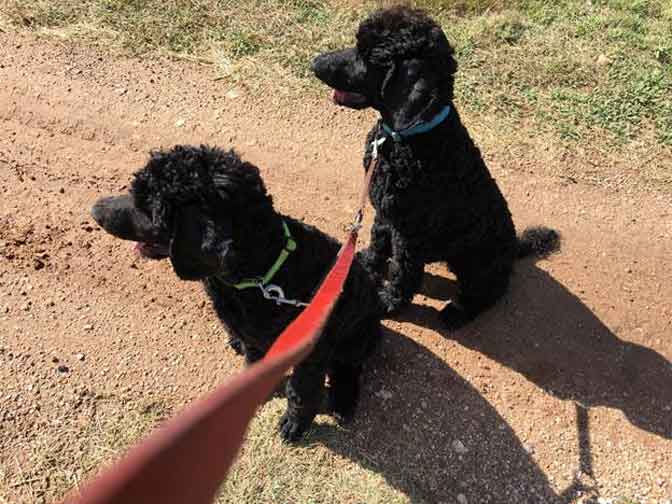 Let's show Tes & Dani how pretty we are when we sit! We're perfect!!!!

*
Oh, Mom One, why did  we stop? Mom are you taking pictures again?!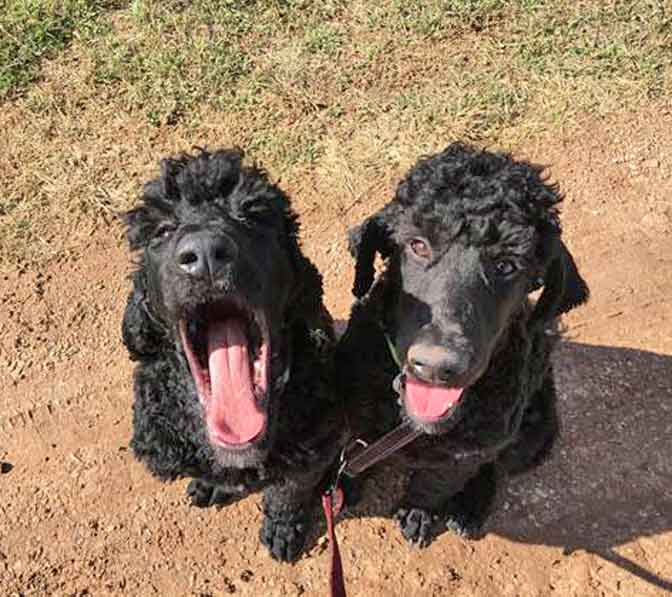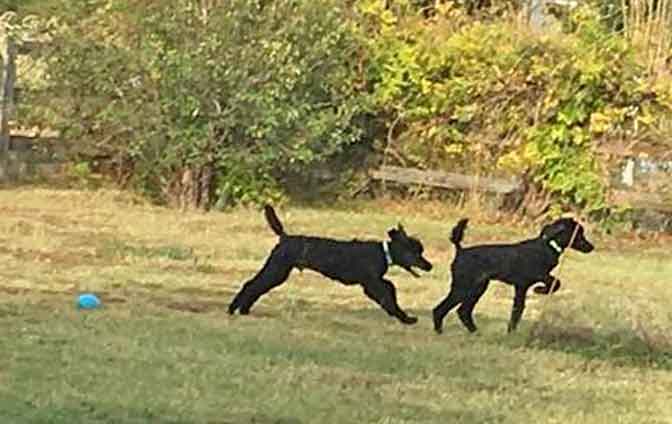 We make our own art; we call this "energy in motion!"

*
Somewhere under the rainbow,
Poodles play.
Somewhere under the rainbow,
We'll lay and we'll play all day.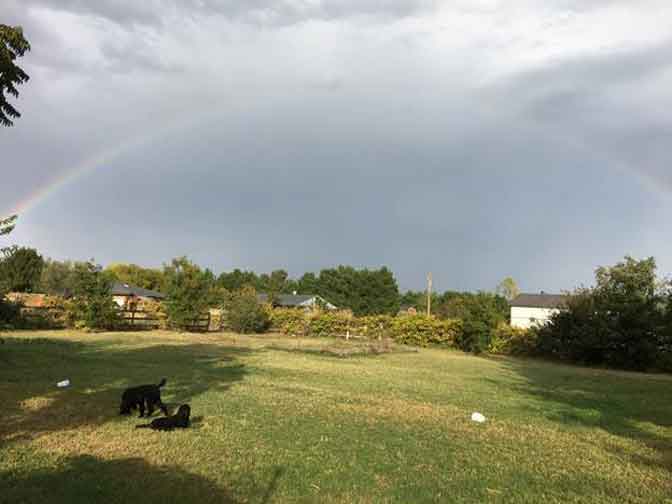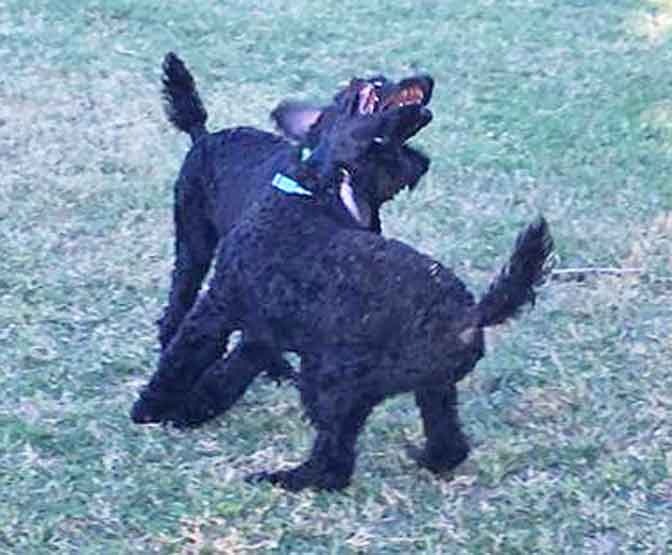 Poodle ballet with teeth.

*
Mom, are his teeth supposed to be that pointy? And why's he looking at me like that? Mom? Mom?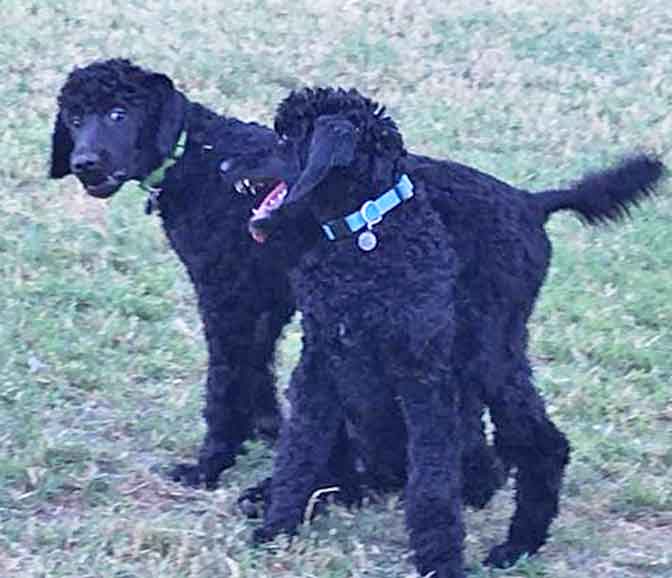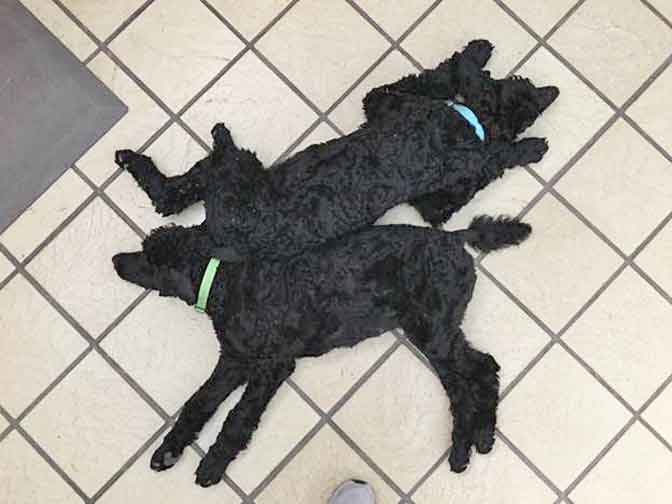 Julius is Eli's uncle, but we just call them "brothers" since they're only two weeks apart in age. They adore each other so much! You could say they're joined at the hip… oh, wait… Hip and neck!

*
I think I'll stay here in Mom two's arms where it's safe! My Mom has Asperger's Syndrome, and I hope someday I'll train to be her service dog for anxiety and low blood sugar. We won't know until I'm about a year old if I can train to be an official Service Dog, but I know I'll be a comfort to my Mom no matter what and I can be an Emotional Support Dog… well, I already am!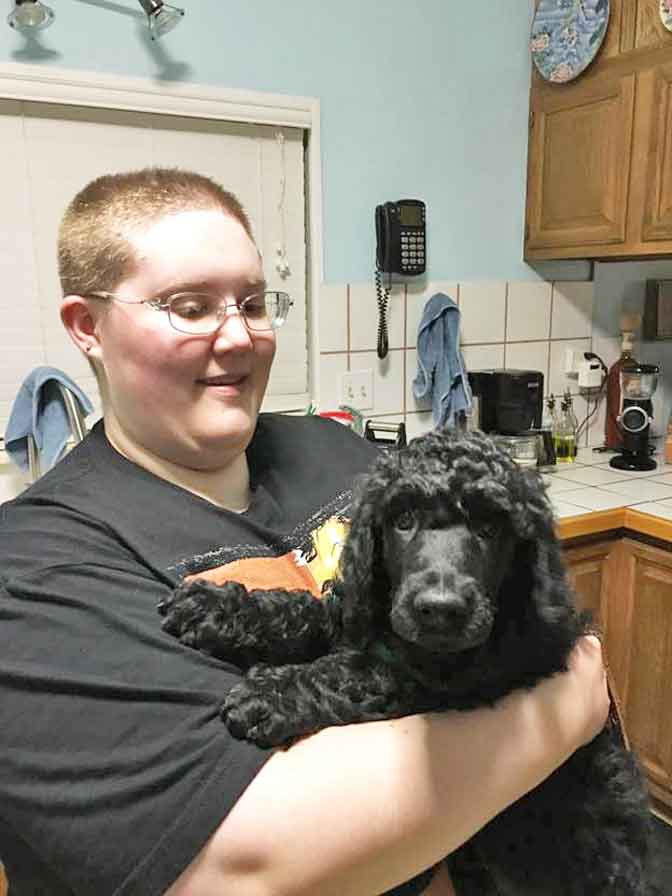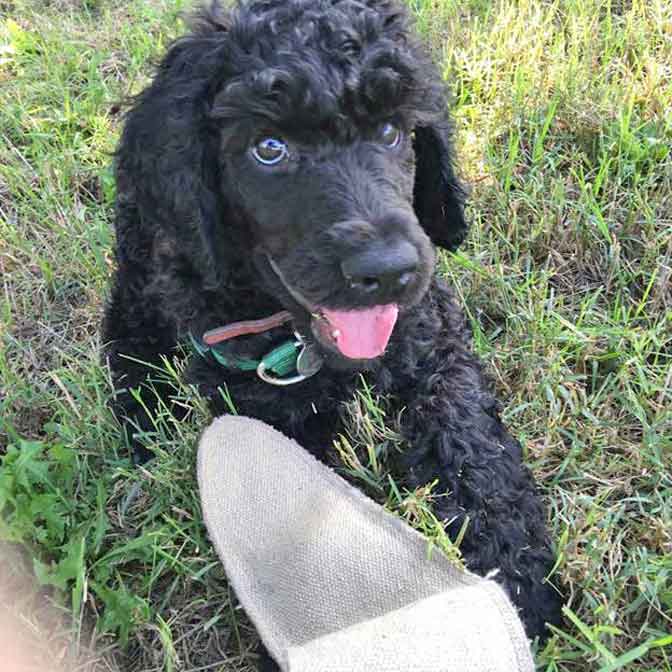 Eli's eyes are so bright with intelligence and love!

*
Eli in the green collar and Julius in blue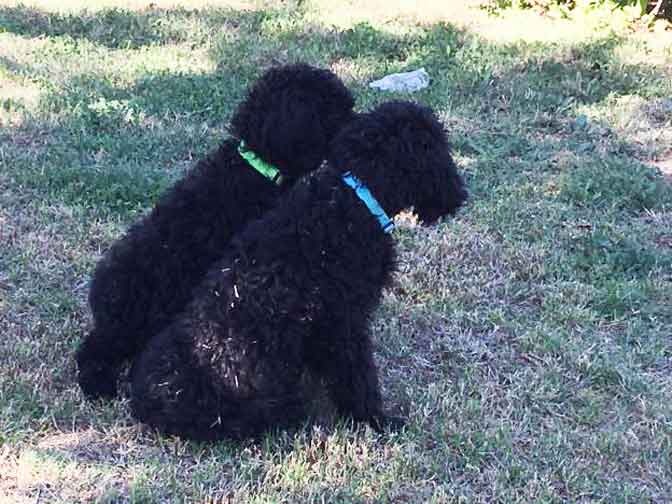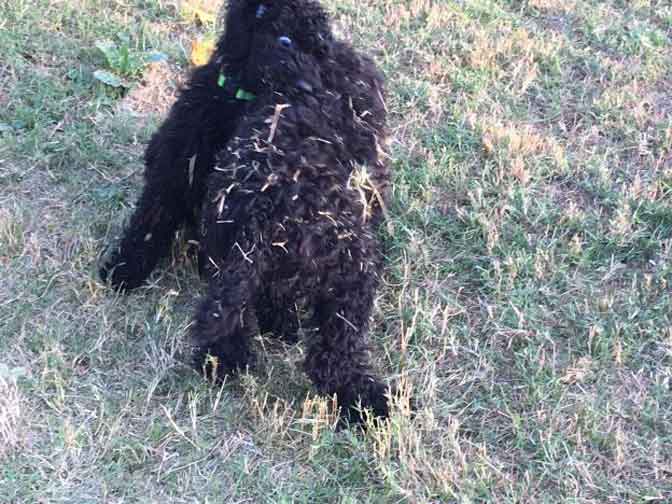 Mom brushed us again. Must correct the problem – quick, roll in the driest grass you can find!
I'll help!
*
Eli  at the beginning, with a "few" toys. He was so tiny and cute!!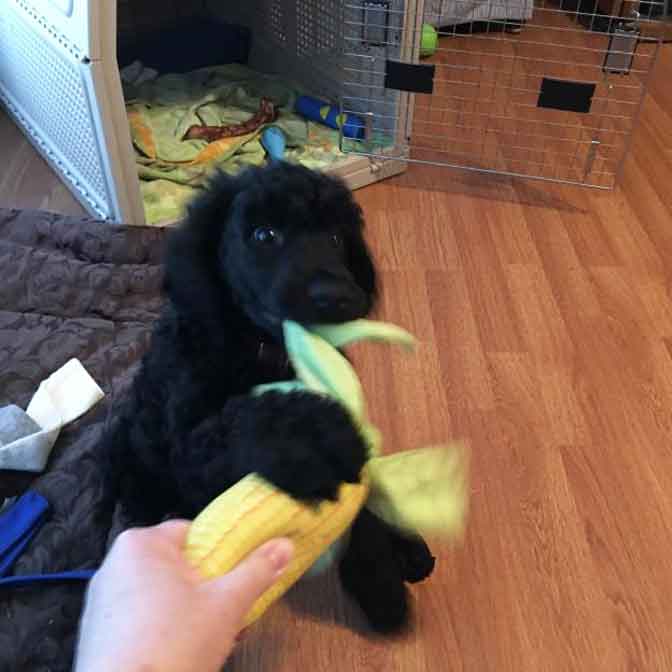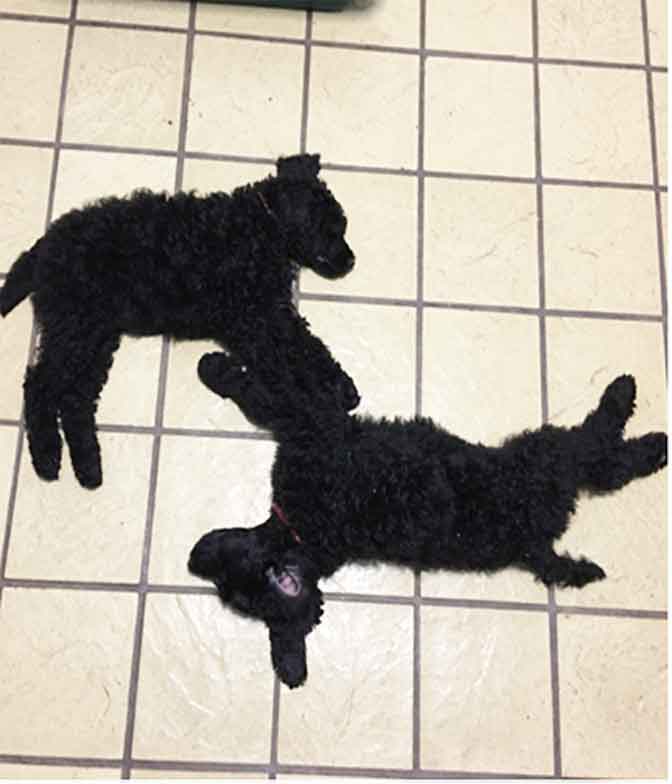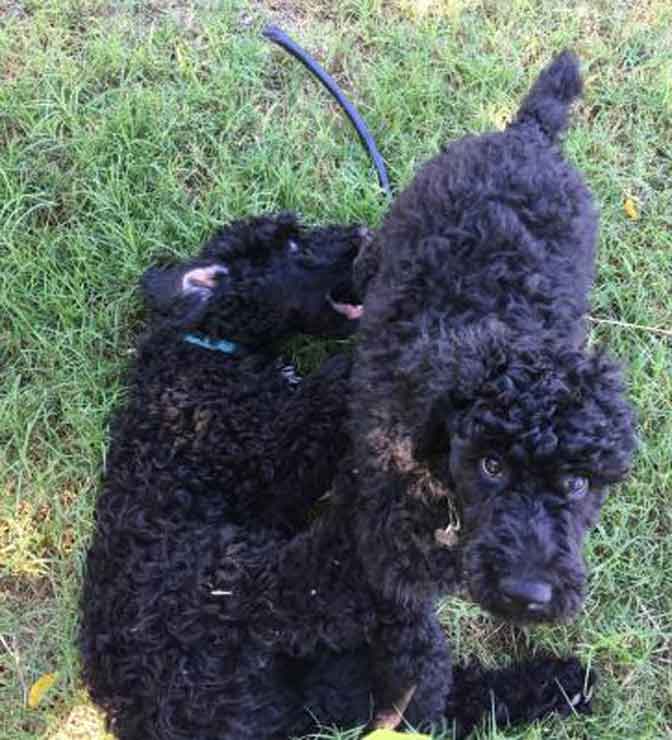 Eli with his favorite toy now. Wait! The toy bites back? :0)
*
Yep, those are definitely teeth in Julius' mouth!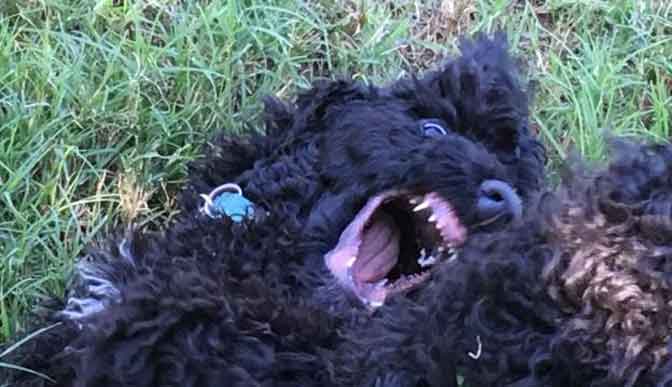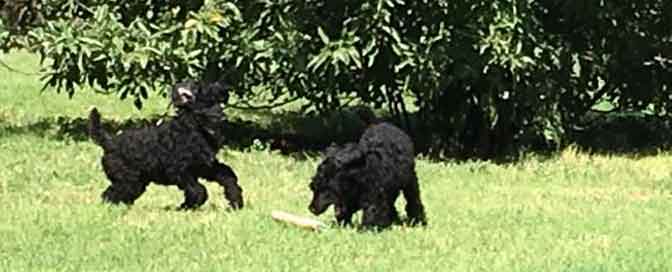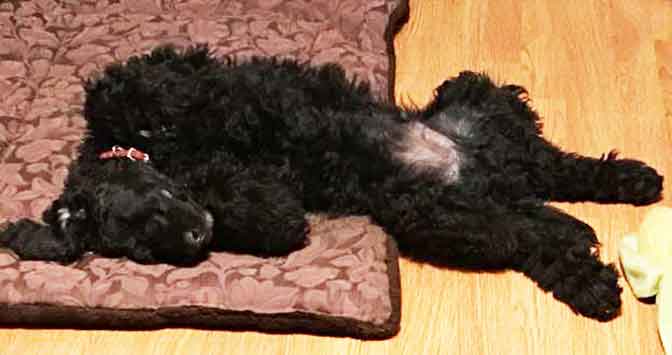 Julius demonstrating the fine art of sleeping upside down when he first came to live with us:
*
Eli showing how you can scratch your back with a little help from the grass. That feels good!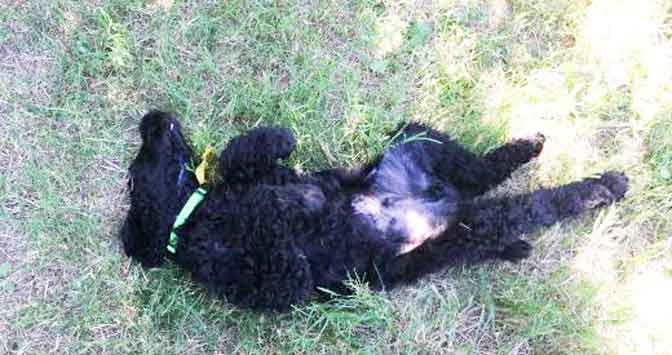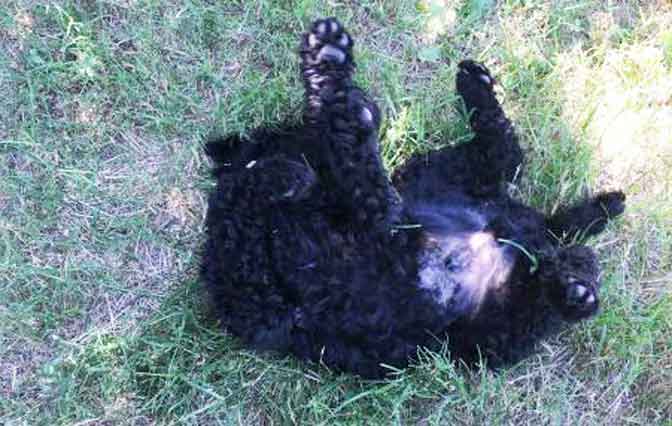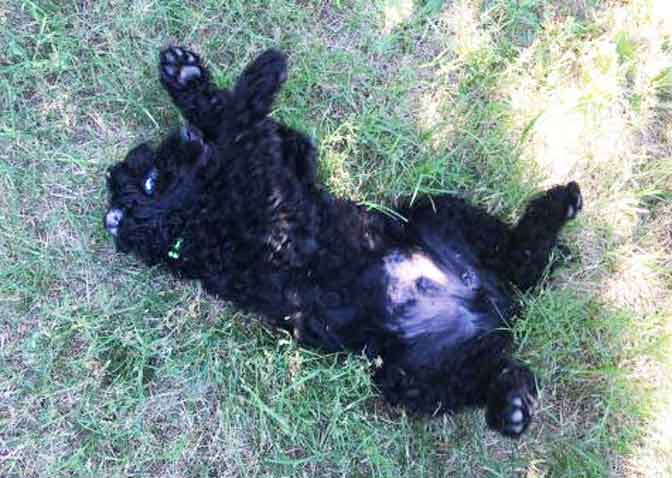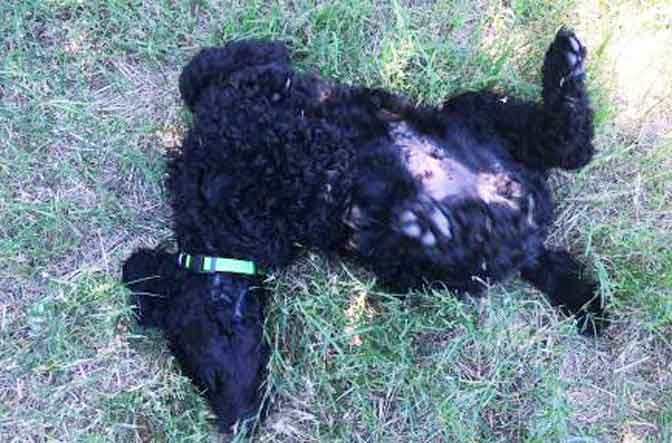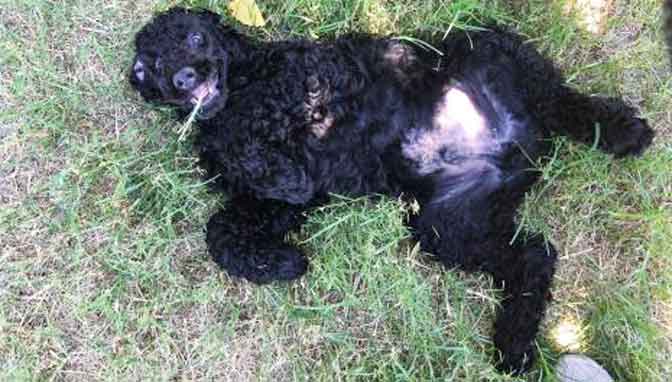 Ahh that feels great!!  I am happy happy now!
*
Eli giving me a soulful look.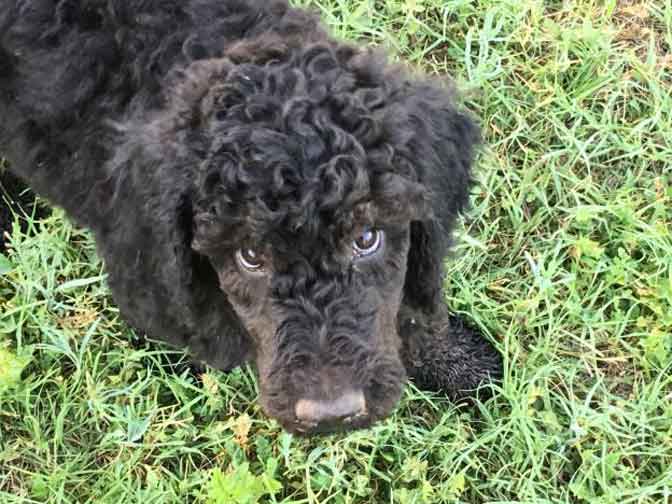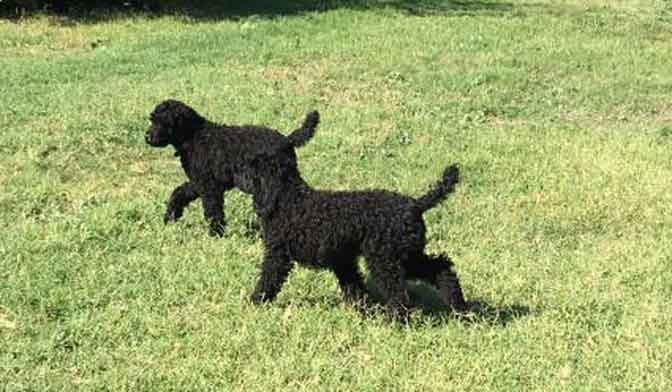 "We love to explore our yard...hmm....what do I smell?" :0)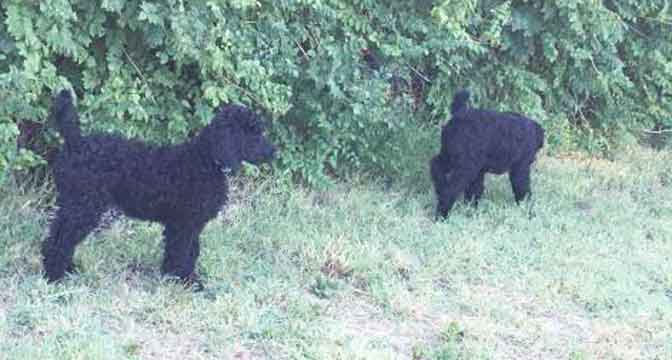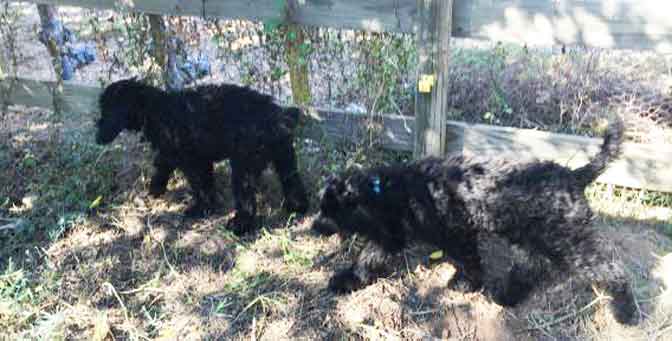 And the middle of the west edge. Mom, can we join those guys in the other yard?
We hear them playing over there behind their big fence!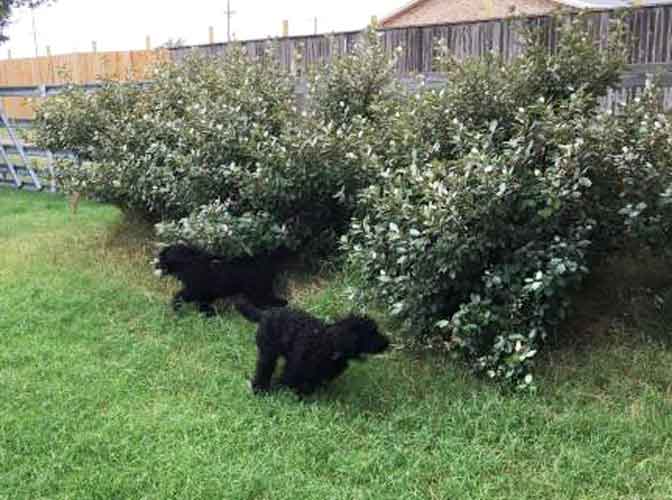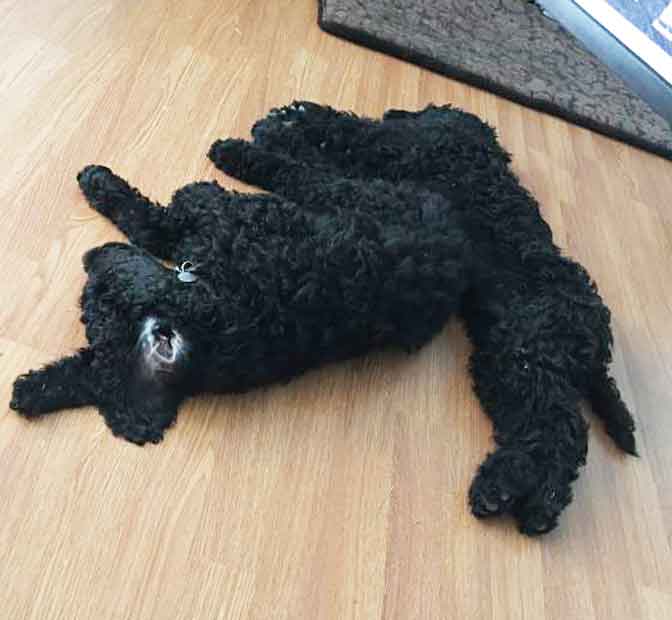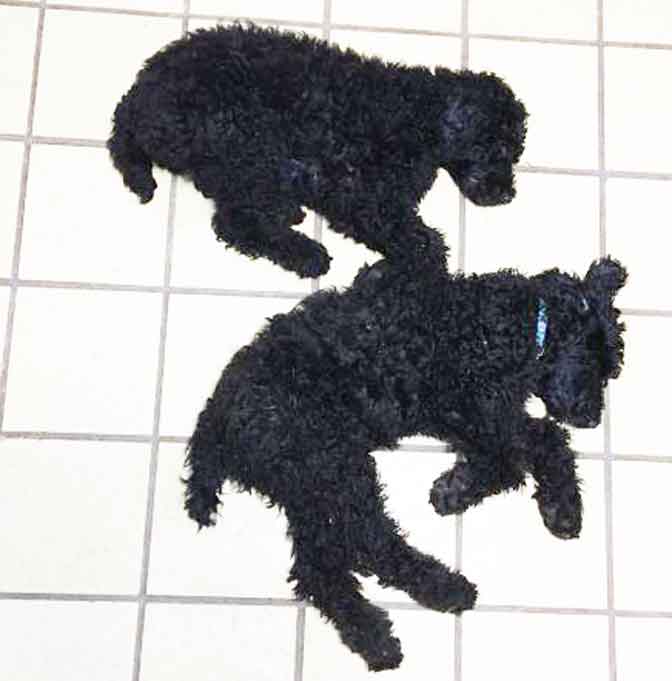 "We are buds!"