Royal Standard Poodle - Harry
Last Updated 4/28/14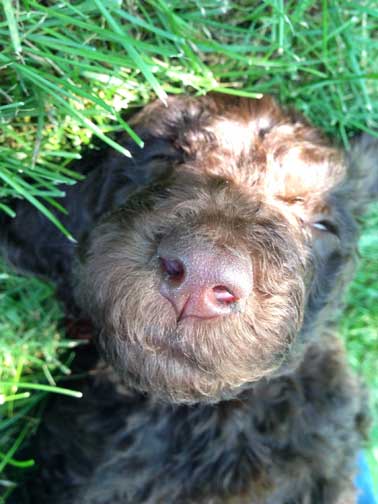 Tracking Harry:
8 months, 26" and 71 lbs
7 months, 25" and 70 lbs
6 months, 24" and 63 lbs
5 months, 23" and 48 lbs
4 months, 19.5" and 34 lbs 
3 months, 

15-16" 

24 lbs
11 wks, 21 pounds
9 wks vet appt. 9/24/13, 13 lbs
2 months, 10.4 lbs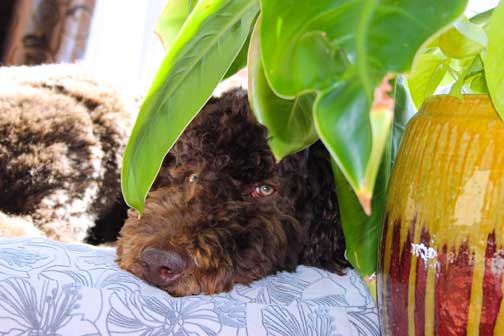 "On 4/26/14, I graduated from dog school! :0)"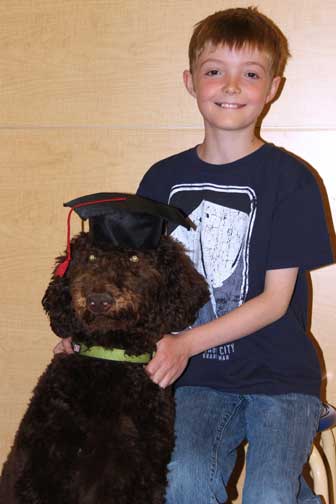 "Where are we going this time? I love my car rides! They are the best part of the day :0)"
*
"When is my buddy coming back from school? I miss him :0)"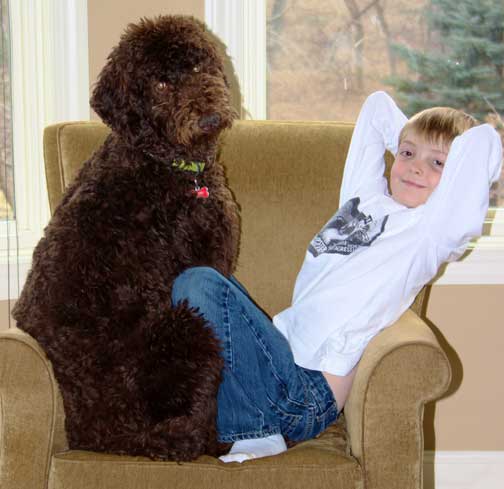 "My pal says, "It's getting harder to share a chair with me," I'm thinking he is going to need to get a new chair. ;0)"
*
"I love these March snow storms. I really enjoy sitting on the deck watching for deer, squirrels, and birds. :0)"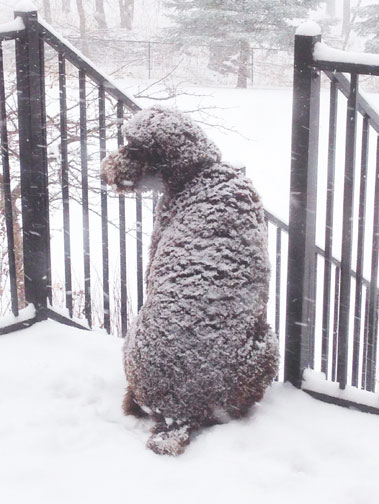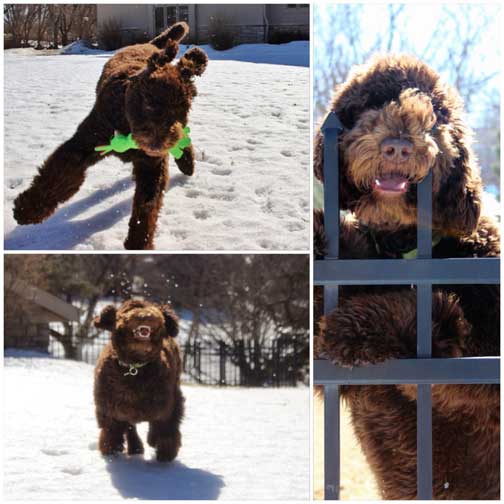 "Mom says, "We have learned to brace ourselfs for impact!" when I come running to them after they've left me alone :p"
*
"Must pounce, bite, and run whenever I find something new! :0)"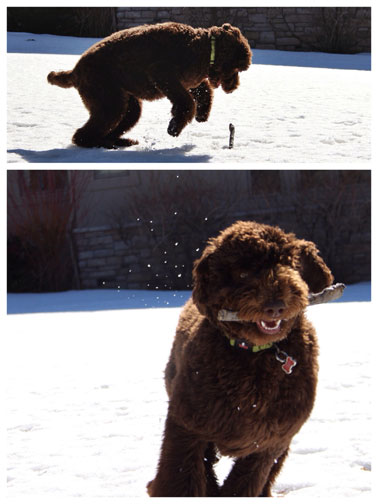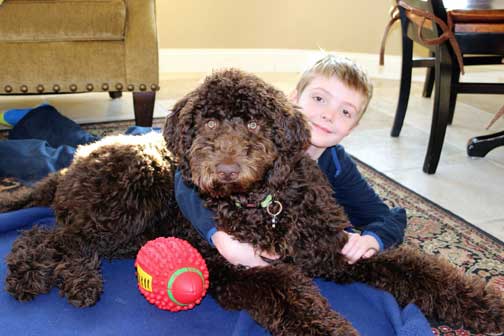 "My best friend and I like to play football together. :0)"
*
"I am always on the wrong side of this gate!"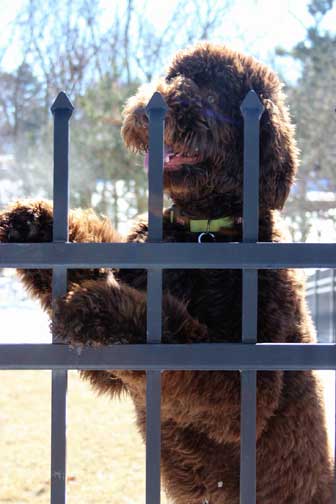 "I sit here just right so mom can take pictures of me":0)
*
"I found a toy.. not sure what it is, but I am going to play with it."
"My owner says I'm squishing him!"
*
Hangin' out of the car window - the air feels sooo good on my face :o)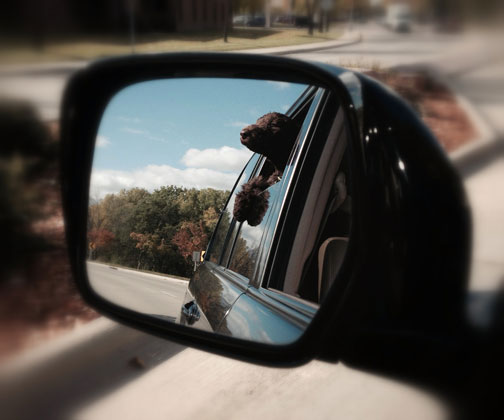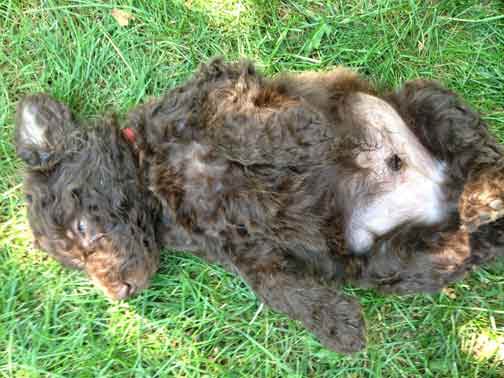 "Ahh, the wind feels good on my tummy."
*
Here's my best bud. Now this is what I call living life to the fullest. :0)
Christmas time is here - I'm a Moose now :0) Gotta have my matching buddy too :0)
*
Playing in the field and ready to catch a ball :0)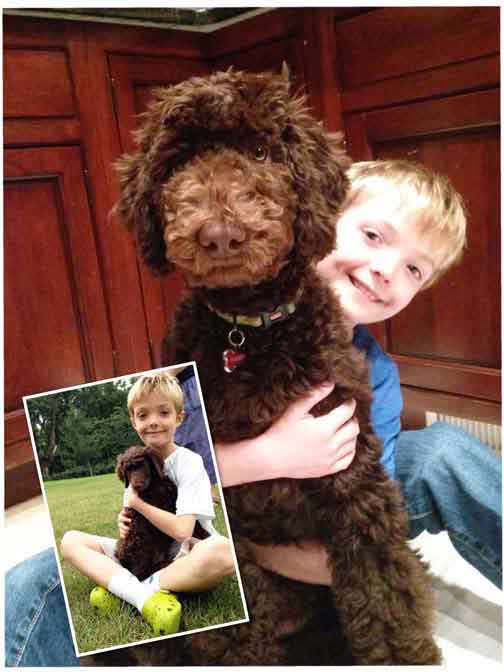 Growing up fast!
2 months old my mom says, "Tes, help!! My boy is shrinking!" 
*
But there's no resisting this cute face! 
Watching over big brother Durbin while he sleeps, just like a good boy!
*
"I'm a handsome boy no matter what season it is!"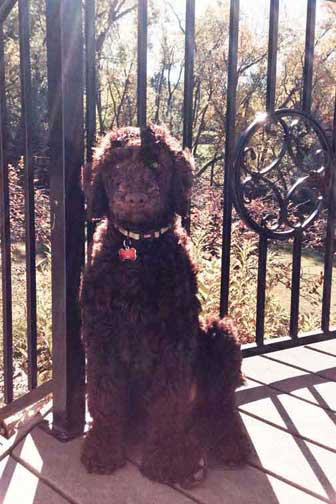 Brown Royal Standard Poodle - Harry, at home in Sioux Falls, SD. A bundle of rolly polly love :0)
Harry enjoying his grooming.  Weighed 28 pounds this fine Saturday morning.  Such a nice, loving dog!!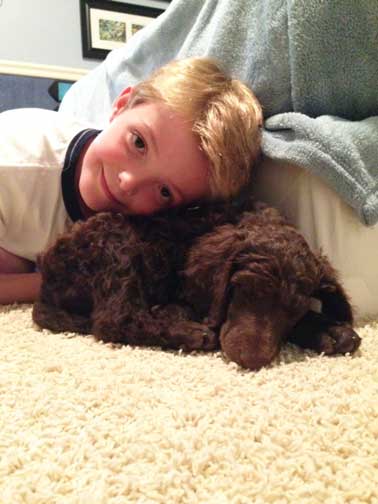 At 9 wks old my Pack Leader shares: "He has slept through the night for the past two nights and pottying outside like a champ.  He had his first professional grooming yesterday and did very well. He is such a good boy and a great addition to our family."
*
"I'm sorry.  When you said 'Harry, please don't follow me into the shower,' apparently I misunderstood."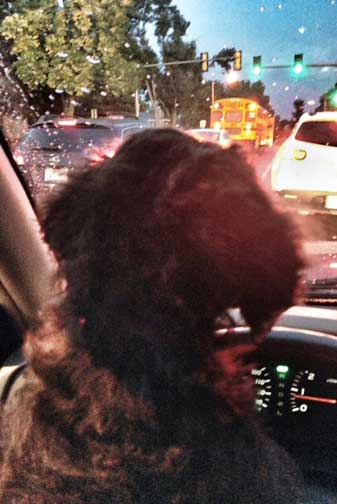 "Help!  That yellow thing is driving away with my boy! ....what do you mean dogs are not allowed on the school bus?!"

*
Harry helping his elders walk across the street - "what a good boy I am, and so very helpful!"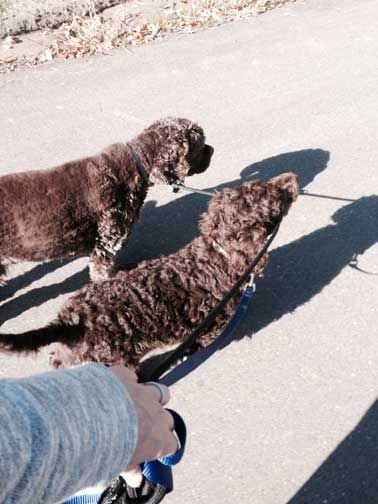 "Which hole?  Oh, that hole.  It wasn't me and those muddy paw prints don't look familiar either.  Must have been Jack before he left for school.  Want me to have a talk with him for you?"
*
Harry sitting and waiting for "okay" before eating his dinner...and our favorite "mug" shot :0)
Harry, now 21 pounds at 11 weeks, first trip to the family ranch outside of Winner, SD.  He ran, ran, and ran all weekend.  Harry is great with other dogs and made fast friends with Huckleberry, the family basset hound.  If the days were wet and cold - Harry perfected his "but I am just a helpless puppy" look.  This resulted in the cousins taking turns carrying him under their coats on his "walk."  
Harry and Huckleberry - Harry is very respectful and polite to his elders.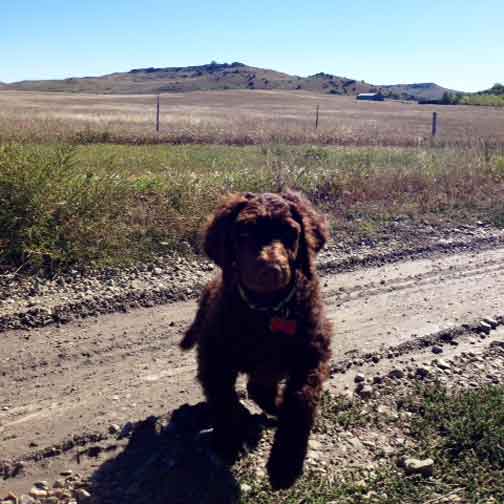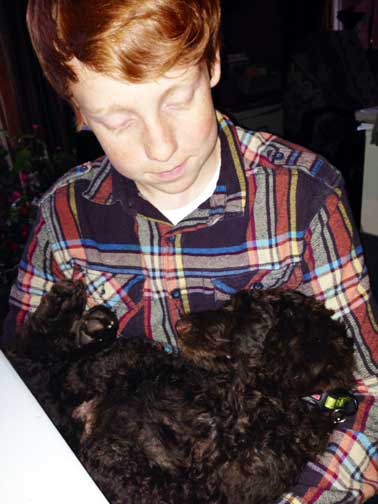 Harry getting spoiled by Cousin Aidan - he has a hard life here in South Dakota. Snoozin' is what we do a lot when we're young, oh so snuggly in his arms :0)
*
Harry and big brother Durbin, 13 yr old chocolate cocker spaniel.  "Tell me more about these things called 'stairs'..."

A heap of chocolate fuzziness...yeah I'm just as fuzzy and going to leap out and lick you with lots of love ;0)))
*
Harry loves to find tall grass and launch himself into them.  This exercise usually ends up in a puppy head-over-paws somersault down the slope of the yard.
My vet has given me a clean bill of health :0) Thank You Tes!!
Harry had his 12 week shots/check-up today and weighed in at 23.5 pounds.  His vet was thrilled with his temperament and handsomeness (again:).  We measured Harry last evening and he was approximately 15-16" at shoulders - we say approximate because Harry thought this was the best game ever!
*
Air conditioning...ahhh, during this hot Summer...Sadly, given the size of Brown Falcon and Bruno, we are not sure how much longer he will fit!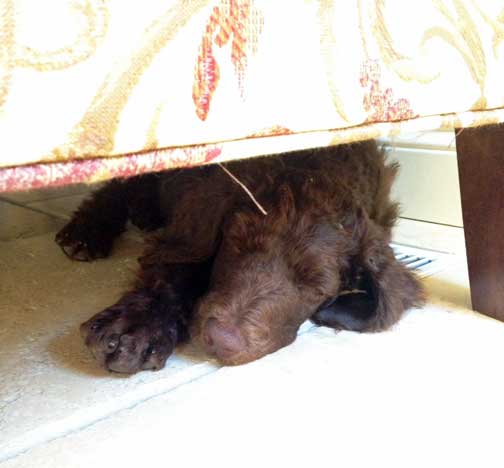 Read my paw...I'm going to learn how to play with this wonderful musical thing with my pack leader :0)))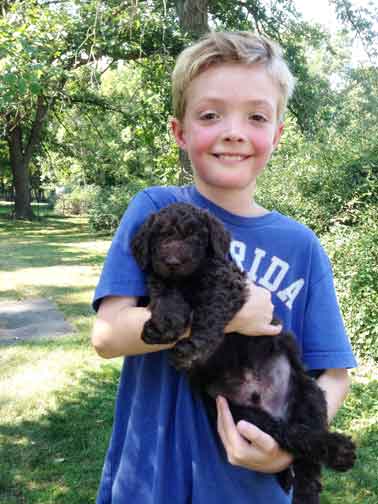 Life at its best - you can see the love shine through :0))
...Then it's time to...zzz....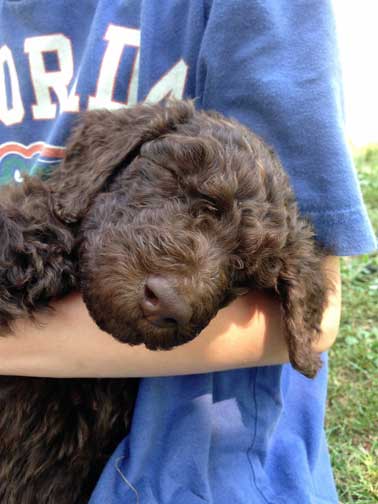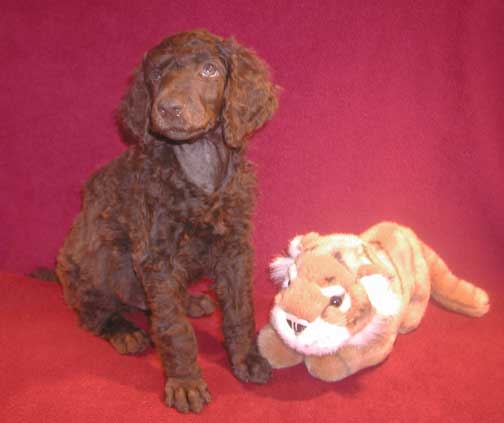 Harry is quite the tiger at Tes's here - 6.5 wks old.
*
puppies for sale like Royal Standard Poodle-Harry
*
I thought I'd develop the form below to help with pet updates. Here you can fill in the weight, height, and what you two/family enjoy doing together. Upon sending it, you will receive an email from me that you can reply with new pictures attached. Hopefully this will be an easy trigger instead of trying to find my email address.
Everyone loves to see your pages - honestly!