Red Standard Poodle Stella
Last Updated 1/4/16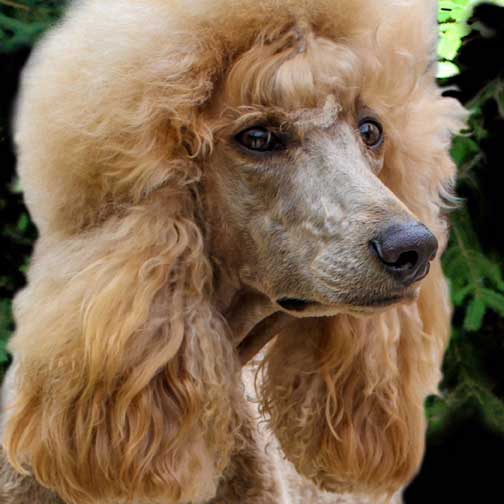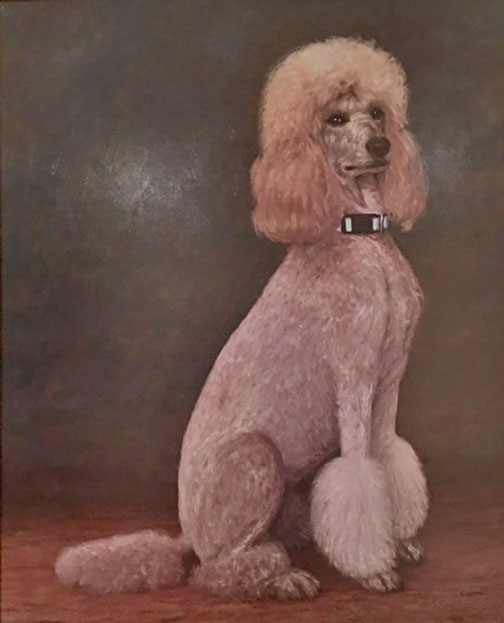 Red Standard Poodle Stella at home in St. Louis, MO with her other spoo friends Gabby, Trudy, Lilly, and Roxy.  Watch me grow!!! Cleopatra x Daniel parents.
The artist who painted Stella is Jeffery Spicer > website www.jefferyspicer.com
Tracking Stella statistics:
16 mo 50 lbs, 25" at shoulder
11 mo 49.6 lbs, 25" at shoulder
9 mo 48 lbs, 24" tall - a long lean girl :0)
7 mo 45 lbs, 23"
6 mo 39.3 lbs, 21"
5 months 36 lbs, 21" at whithers Red is now deepening in color
4 months 28 lbs, 19" at hips and red is darkening
3 months 18.5 lbs...a little fading of red on torso occurring 
7 wks 5.4 lbs
Below is a charity pic the girls taken to support a local canine police unit purchase a new dog.   My Vet brother in law is Santa.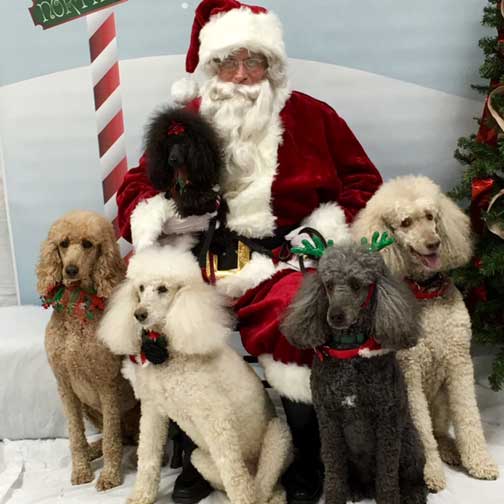 I'm an Angel ;0) 
*
Below-"I am such a beautiful girl!"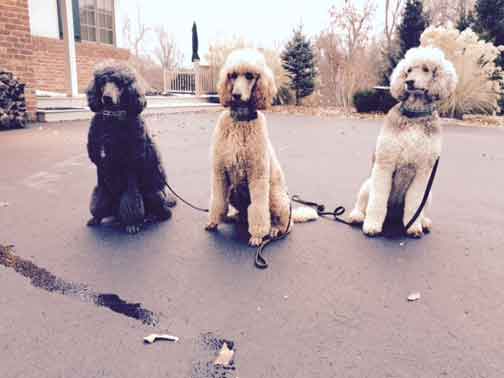 "Group Picture!"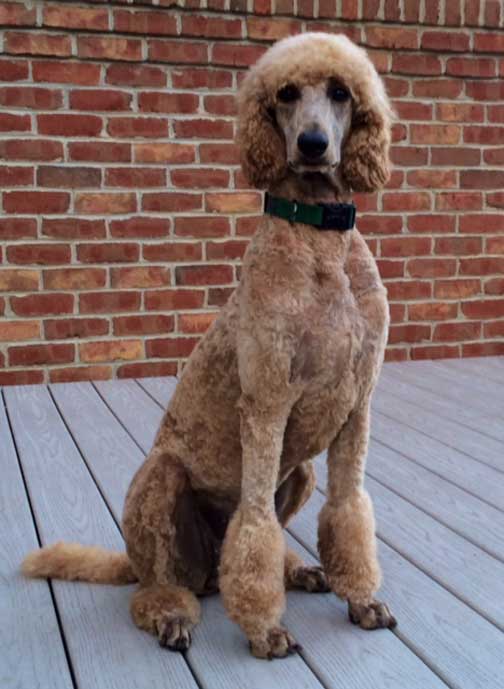 "In this picture I am 21 months old, look how beautiful I am!" :0)
*
"I am one fancy girl with this hair cut!"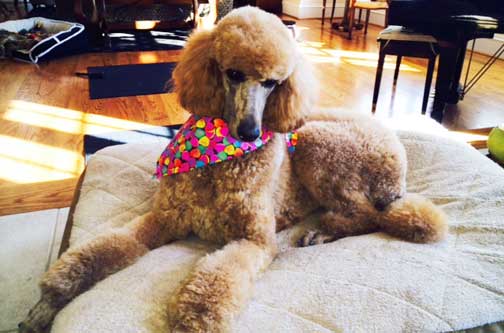 "Ahh, laying down inside, enjoying the sunshine coming in. ;0)"
*
Oh, this is what growing and feeling like a mature girl is about..I'm going through my first heat cycle, I'm hoping to be a red healthy breeding girl...panties, hmm, what I will be putting up with?
I'm growing, changing, feeling like a young lady...hmmm, what does that mean?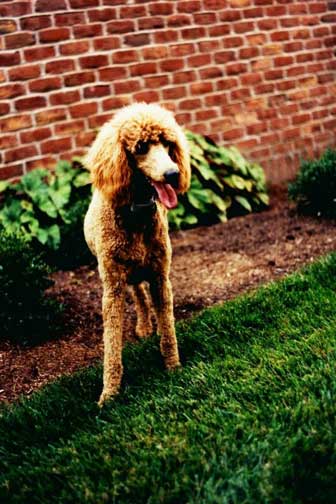 8 months longer in body no change in height.  Natural hunter, loves her daily 2-3 mile walk with Gabby, always ready for a car ride and has discovered water is so refreshing.  A dip in the pool or a run in the sprinkler with Gabby great after her walk .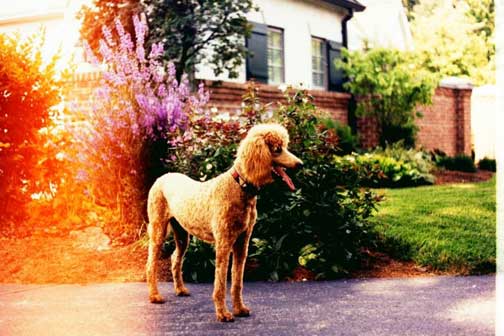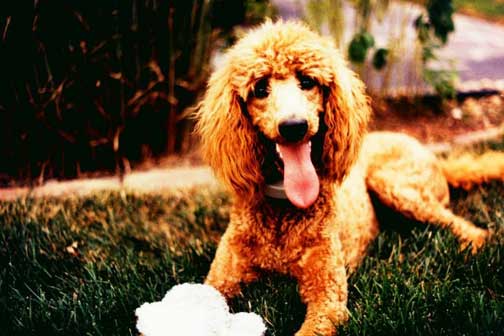 She is a gorgeous red poodle. Not fading. Very lean right now.  
*
My master shares - Great personality, strong, social, a clown, testing but always laying at my feet.  Loves her yard, 3 mile walks with me & Gabby and going to work with mom.  Love her!
I'm 6 months old now. My friend is Gabby here - let's wrestle!
*
This is my eating habit for getting down to the bottom of the dish ;0) I'm getting redder :0))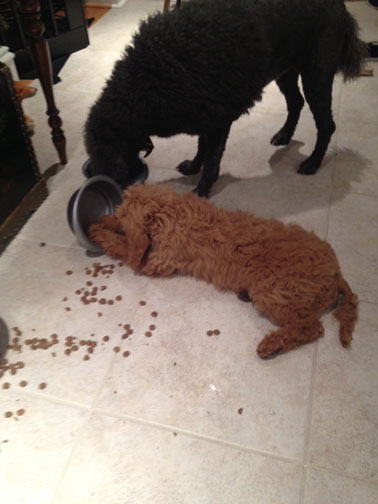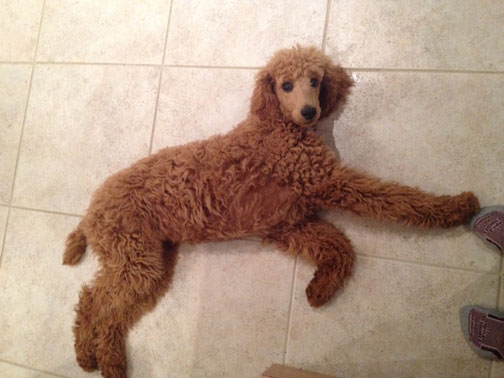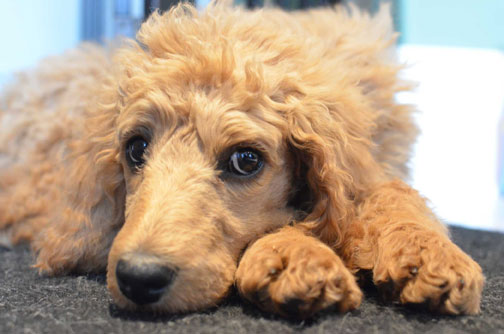 My first mug shot shots ;0))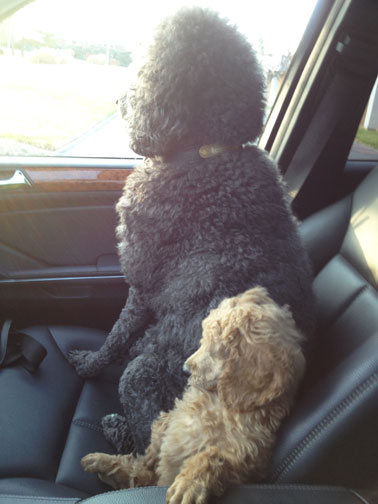 Standard Poodles - an echelon above other canines - and perhaps it's just me Stella viewing the fact I might be human...look at my sitting, paw/hand on my lap, paw/hand on the vehicle rest watching the traffic with Roxy  ;0)))
*
Here we're gathering for supper, Gabby, Lilly and I.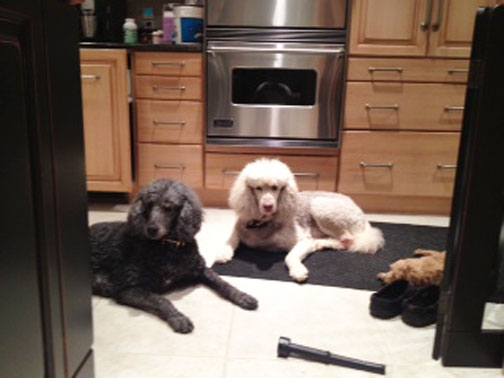 Look at my spinner toy sent home with me, still in one piece :0)
*
Cool pillow for us poodles too!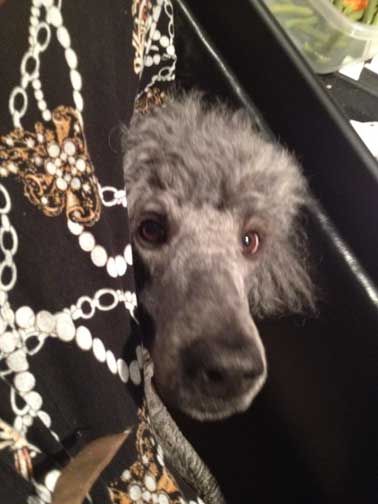 Gabby says peek-a-boo...
*
I see the light!
Hmmm, maybe if I lay here long enough my master will take me for a walk...
*
Here's Lilly who is becoming my closest play mate :0)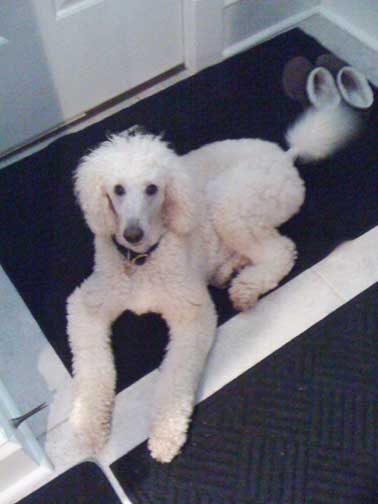 And this is Roxy...waiting for that walk too ;0)
*
Trudy - GET OFF the shoes so we can go walking!!!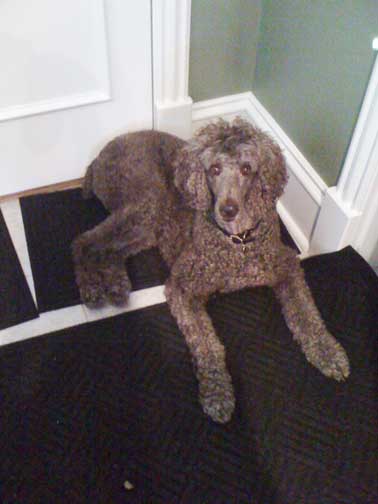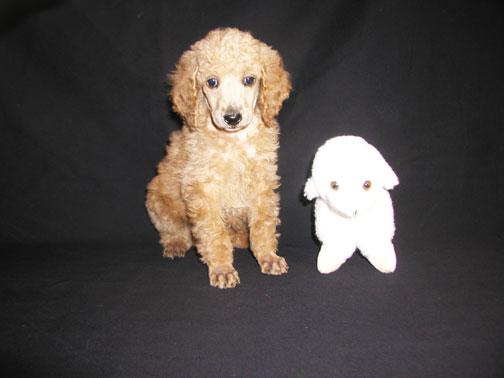 Here I am with my first haircut at Tes's 7 wks old.
*
Purchase your next next puppy like Red Standard Poodle Stella!
I thought I'd develop the form below to help with pet updates. Here you can fill in the weight, height, and what you two/family enjoy doing together. Upon sending it, you will receive an email from me that you can reply with new pictures attached. Hopefully this will be an easy trigger instead of trying to find my email address.
Everyone loves to see your web page - Honestly!