Apricot Male "Soda Pop" is now at home in Crow Agency, MT with KW and family. His dob 4/17/19, parents Geo x Vyke.
updated 10/30/19
Soda Pop has a Facebook page to share his growing up - check it out >
https://www.facebook.com/profile.php?id=100009336288797
"I just wanted to let you know soda pop is amazing. He is friendly with everyone when I take him out to places, and when people come to visit, but he turned into a scary guard dog one night when some drunk came around midnight and knocked on my door!! Soda jumped off our bed and jumped at the door growling/barking. It was awesome. The drunk then had to run off our deck and avoid my other 2 dogs lol. So proud of Soda. And he is now 24 1/2 inches tall so people around here think he is adult dog vs puppy. I feel so safe with him in the house when my husband is away at work. My daughter and I can sleep knowing soda will alert to anything amiss. Usually I stay on alert not really sleeping just in case when its just Kymmary and me. Everyone says soda is so spoiled, I don't think so I think he deserves the love and affection he gets from me." MT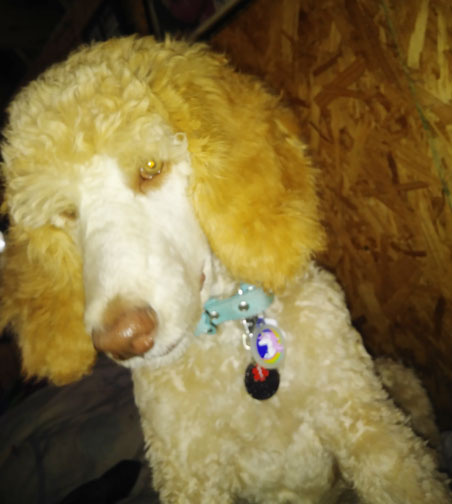 I'm growing oh soooo FAST!
Tracking Soda Pop:


5 mos 24.5" tall
3 mos 20" tall and 25#
at 7 weeks 10.4#
Born 04/17/2019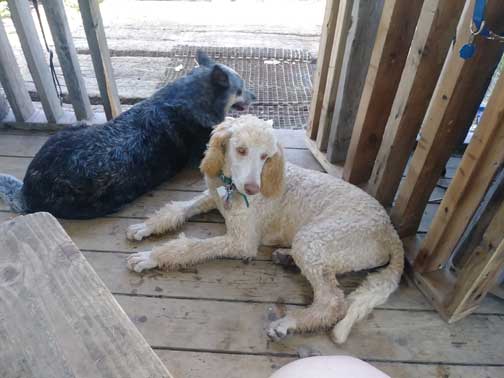 Growing up with family...so much love :o)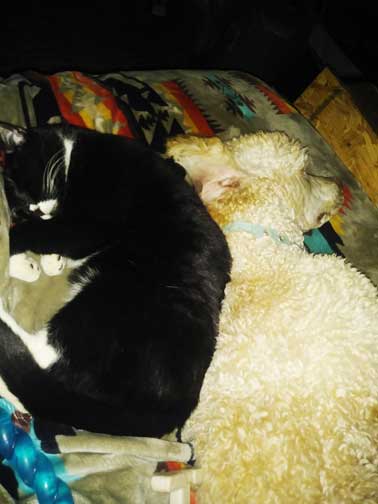 After a good play, time for a good zzzzzz.....and maybe a bath too?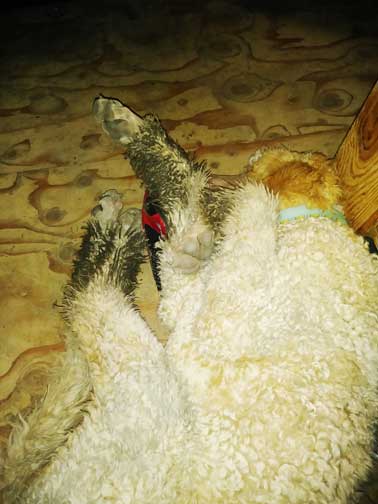 I JUST GOTTA HAVE THAT WAGON! Play play play helps me grow grow grow :o)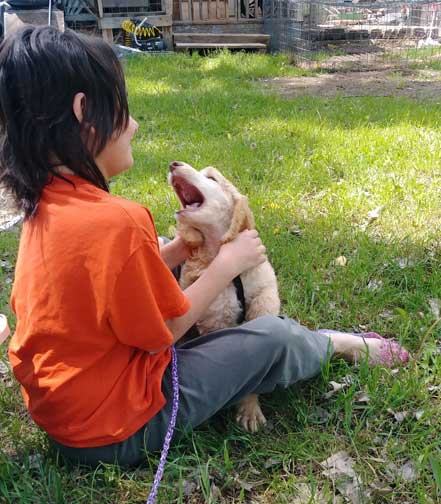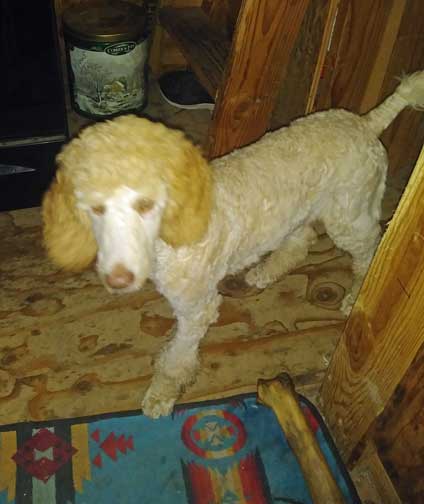 I am 3 months old now.  My first haircut brought out my mischievous side.  Tried chasing and herding everybody; goats simply glared at me and I had to back down, what can I say?  I do look adorable and make quite the entrance...
*
4 LEGS UP - this is one of the four pictures which will win my family Tes' great stainless steel travel mug.  
Being self-aware, I  can also entertain myself:  foot nibbling is a unique sensation...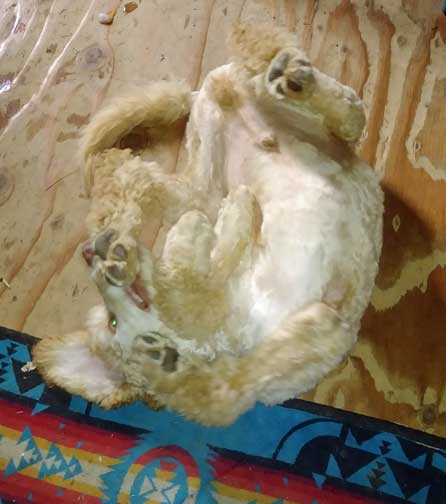 So many wonderful places to rest up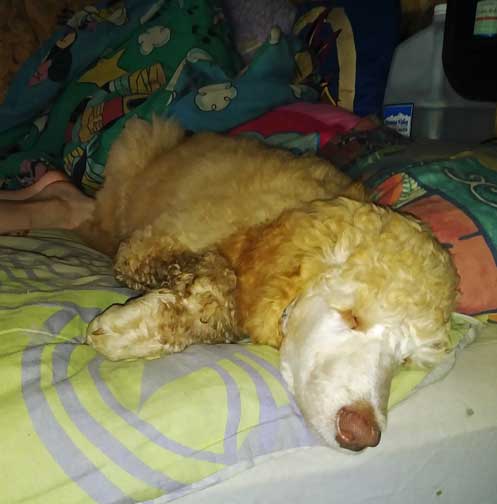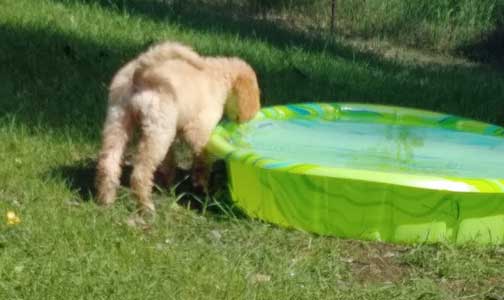 Do I have the best humans!  A pool! in which to keep cool.  I'll see how long before the other critters in my family discover it, then it's Play Time
*
Yes, I see the tennis ball, and, I have a real live one on the other end of this tug toy - my favorite ;o)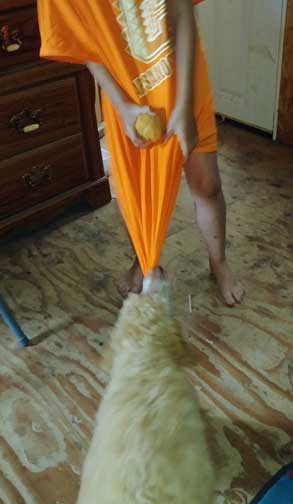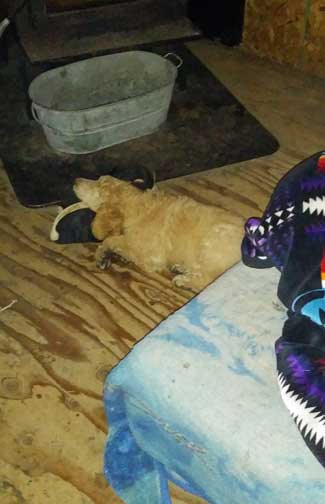 I am staking my claim early...this will be the perfect spot during the cold winter months here in Montana.
*
I am ready for an intro to this bovine. Calfy is familiar with the goats, now all I have to do is win him over with my wonderful personality, which can do!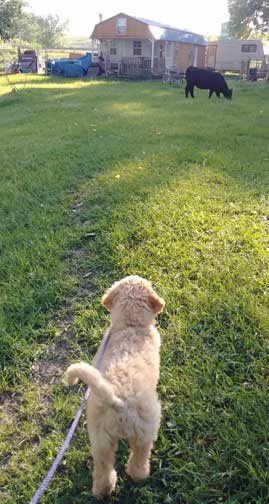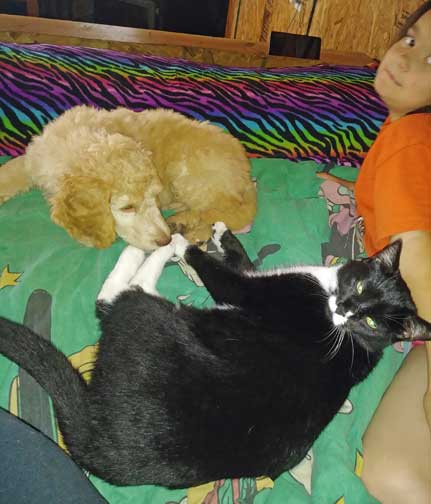 What, me spoiled?  Sharing time and space with my human and feline friends.  Kitty doesn't usually like dogs, me, she actually plays footsie with.
*
During the day I like my quiet time in my carrier, for my evening sleeping however I discovered brushing and massage relaxes both me and K and we fall asleep together on the big bed, yay! for me ;o)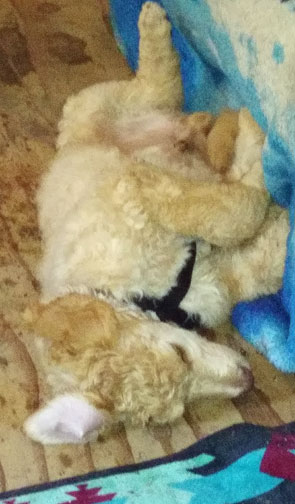 I am still a young'un, all that walking and river watching...gotta recharge for my next adventure ;o)
*
I am only 2 months old and already am walking nicely on my leash, it's nice having N, come along on my trek.
Oh, I have taught my humans my special "potty outside" bark - I am a responsible and considerate large standard poodle
Large Standard Poodle Soda Pop