Large Standard Poodles G x D
Follow along as Large Standard Poodles G x D pups reach and learn in the Blue Bonnet Park. Born August 2, 2020, ready for homes September 27, 2020. 6 Males + 4 Females = 10 puppies; 2 Reds, 4 Apr/Creams, 1 Black Males + 1 Brown, 2 Black, 1 Apr/Crm Female. Tes was TOTALLY surprised by the number of red, apricot/creams born! WOW! Usually black is dominant in such matings of brown to red.
Large Standard Poodles G x D, Tes is so interested to see how we grow with Dash pups. She sees us to grow TALL and Lean as adults, like Momma and Poppa. Weight and bone mass won't be anything like grandma Magic, yet TALL & Lean is a definite factor of Geo and Dash!
SOLD OUT!
Picture updates to come: 7 wk 9/20/20; wkly tips and notes starting at 3 wks.

Tracking stats for Large Standard Poodles G x D puppies:

6 wks Pyrantel deworming
5 wks first clipping and wash
4 wks Pyrantel deworming
3 wks, nails clipped, micro-chips added
2 wks Pyrantel deworming
1 wk nails clipped
DOB 8/2/20
*
Order your Nuvet supplements to keep us pups growing healthy and staying nutritionally balanced, especially our first year with you.
NuVet Plus​ Natural Dog Vitamin Supplements
Click Here To Order NuVetPlus Or Call 800-474-7044
#89093
Remember to start at the bottom of the web page and scroll up to watch us Large Standard Poodles GxD grow up onto the page, as pictures are added upward every two weeks :o) Tes does her best to share what is done as a breeder in growing us up for you. 
* Large Standard Poodles G x D *

---
The story board theme for Geo's litter will be healthy Herbs & Spices for canine pets! Tes works with Young Living Essential Oils and the AMAZING healing power essential oils have, not just going to the vet for pharmaceutical. It's a learning curve with AMAZING results! Believing you can gain some new natural healing techniques...and as always, don't hesitate to contact Tes with questions...she's always learning along with you. Books in Tes's library:

Natural Health Care For Your Four-Legged Friends using Essential Oils and Supplements by Sara Kenney & Mindy Schroder
Herbs for Pets: The Natural Way to Enhance Your Pet's Life; by Mary L. Wulff

(Author), 

Greg L. Tilford

(Author)

Essential Oils for Natural Pet Care; Melissa Shelton DVM
The Animal Desk Reference (ADR) Essential Oils for Animals; Melissa Shelton DVM
NOTE: assure one has read to understand how to use oils safely. Oils are extremely concentrated and some need diluting with a  V-6 vegetable oil complex as to not burn skin.
Large Standard Poodles G x D
4 Females -

SOLD OUT
mc = microchip
Tes calls the 5 wk grooming our Butt Naked look for the 90-100 degree temps in TX. Definitely keeping us cooler :o) Us girls have booties/leggings ;o)
Our hair will grow back in several weeks for you to decide how you'd like to keep us groomed.
| | |
| --- | --- |
| "Sage" Apricot Standard Female mc 0355; 3 wks 1.14 lbs. | "Sage" Apricot Standard Female mc 0355; 5 wks 4.2 lbs. |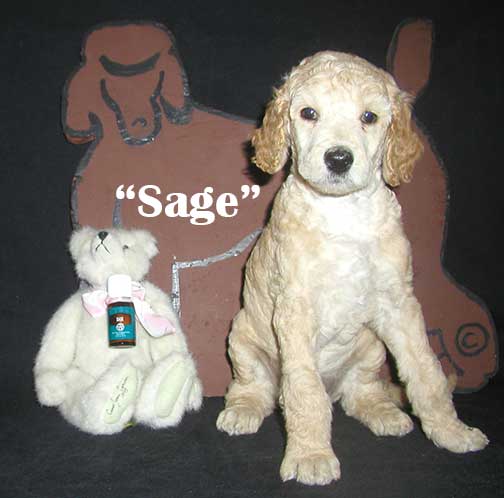 SOLD - "Sage" Apricot Standard Female mc 0355; 7 wks 7.4 lbs. My new loving owner is ______________. Sage is one of the females placed with Enya pups to help with milk distribution. She's doing GREAT :o) Sage is a known memory enhancer and shown to protect the brain against certain processes that lead to Alzheimer's disease. In one study, a sage-oil concoction improved the mood of participants, increasing their alertness, calmness, and contentedness. Use in air diffuser to disperse aroma and calm the atmosphere. Today sage shows potential as a diabetes treatment. It appears to boost the action of insulin and reduce blood sugar.
* Large Standard Poodles G x D *
SOLD - "Bijou" (Ginger) Brown Female mc 0178; 7 wks 8.13 lbs. Woohoo! I'll be heading home to RMN > Waller, TX. Ginger root has been in Asian and Indian medicine for centuries, primarily as a digestive aid. Researchers are excited by ginger's ability to combat inflammation (and turmeric) reduce pain and swelling in people with arthritis. And because it reduces inflammation, it may also play a role in preventing and slowing the growth of cancer. It works in the digestive tract, boosting digestive juices and neutralizing acids reducing intestinal contractions. Tes keeps a tube of ginger in the fridge in case she sees any of us spoos with digestive problems she gives us a bit, and uses fresh in her cooking.
| | |
| --- | --- |
| "Ginger" Brown Female mc 0178; 3 wks 3.5 lbs.  | "Bijou" (Ginger) Brown Female mc 0178; 5 wks 5.13 lbs. |
| | |
| --- | --- |
| "Lavender" Black Female mc 0431; 3 wks 2.4 lbs  | "Lucille Grace" (Lavender) Black Female mc 0431; 5 wks 5.4 lbs.  |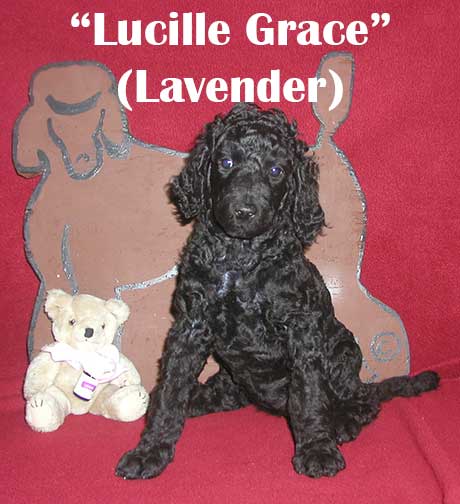 SOLD - "Lucille Grace" (Lavender) Black Female mc 0431; 7 wks 8.14 lbs. I'm loving it! I'm heading home to WK > New Orleans, LA. Lavender oil is believed to have antiseptic and anti-inflammatory properties, which help to heal minor burns and bug bites. (Tes likes Tea Tree oil for bugs bites too) Research suggests that it may be useful for anxiety, insomnia, depression, and restlestness. 
* Large Standard Poodles G x D *

SOLD - "Panther" (Rosemary) Black Female mc 2475; 7 wks 8.15 lbs. NICE! I'm going to love love love going home to love JT > Rancho Viejo, TX. Rosemary, As a medicinal herb, has long been recommended for strengthening the brain and memory. The herb contains substances that are useful for improving digestion and increasing circulation.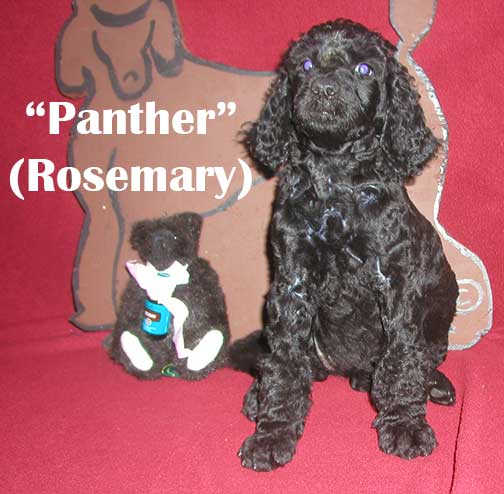 | | |
| --- | --- |
| "Rosemary" Black Female mc 2475; 3 wks 2.12 lbs. | "Panther" (Rosemary) Black Female mc 2475; 5 wks 5.2 lbs. |
---
6 Males -

SOLD OUT!
| | |
| --- | --- |
| "Chrys" (Helichrysum) Red Male mc 8567; 3 wks 2.8 lbs.  | "Archie" (Chrys - Helichrysum) Red Male mc 8567; 5 wks 5.8 lbs. |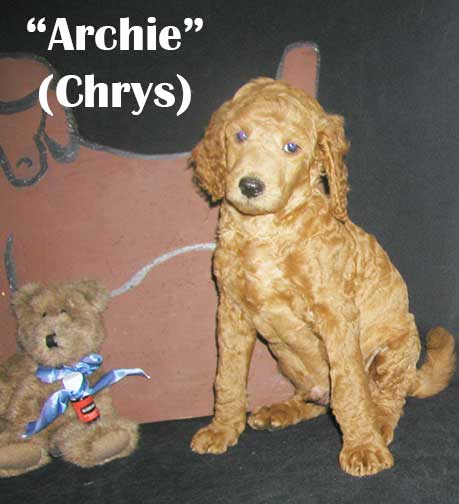 SOLD - "Archie" (Chrys - Helichrysum) Red Male mc 8567; 7 wks 9.13 lbs. YAY! I'm going home to KPH > Elgin, TX.  Helichrysum is an effective essential oil (some people and dogs do like the horrible smell). It heals skin conditions, cuts, abrasions, wounds, injuries. Relieves pain. Use with a V-6 oil complex.
* Large Standard Poodles G x D *

SOLD - "Dax" (Myrrh) Red Male mc 0982; 7 wks 10.9 lbs. Woohoo! I'll be heading home to RMN > Waller, TX. Myrrh kills harmful bacteria. Supports skin health as healing sores. Combats pain and swelling and may be a powerful antioxidant. Kills parasites.
| | |
| --- | --- |
| "Myrrh" Red Male mc 0982; 3 wks 3.10 lbs.  | "Dax" (Myrrh) Red Male mc 0982; 5 wks 6.15 lbs.  |
| | |
| --- | --- |
| "Clove" Apricot Male (light nose) mc 0488; 3 wks 3.10 lbs. | "Clove" Apricot Male (light nose) mc 0488; 5 wks 6.2 lbs. |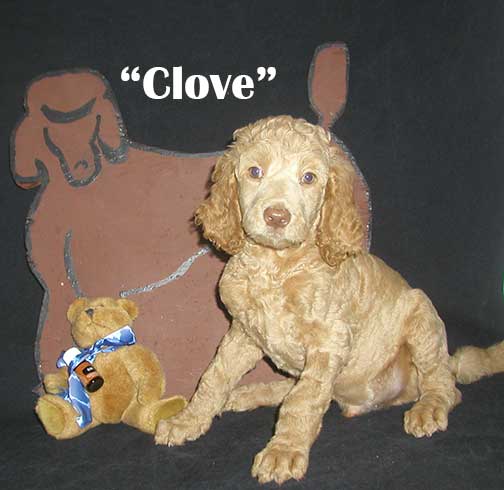 SOLD - "Clove" Apricot Male (light nose) mc 0488; 7 wks 9.13 lbs. Traditionally, clove oil has been used for easing digestive upset, relieving pain, and helping with respiratory conditions. Research has found that clove oil may have benefits for dental and topical applications, for treating infections, and even fighting cancer.
* Large Standard Poodles G x D *

SOLD - "Prince" (Ore - Oregano) Cream Male mc 2253; 7 wks 9.6 lbs. YAY! I get to go become a service dog with Miss Kitty and Pastor JJ > Fort Bragg, NC. Fresh oregano is an antibacterial agent. It has phytonutrients, which fight infections such as staph. It's loaded with antioxidants that help prevent cell damage, and it's a source of fiber, vitamin K, manganese, iron, vitamin E, tryptophan and calcium.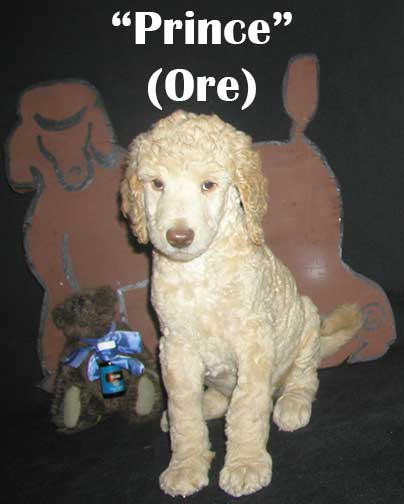 | | |
| --- | --- |
| "Ore" (Oregano) Red Male mc 0982; 3 wks 3.10 lbs.  | "Prince" (Ore-Oregano) Cream Male mc 2253; 5 wks 5.11 lbs. |
"Frank" (Frankincense) Apricot Male (light nose) mc none at this time; 3 wks 2.8 lbs.


Frank is all healed! Thanks to Dr., Manuka Honey natural anti-biotic, and Thieves Young Living oil :o) Can't tell anything occurred.


*




"Frank" (Frankincense) Apricot Male (light nose) mc none at this time; 5 wks 4.8 lbs.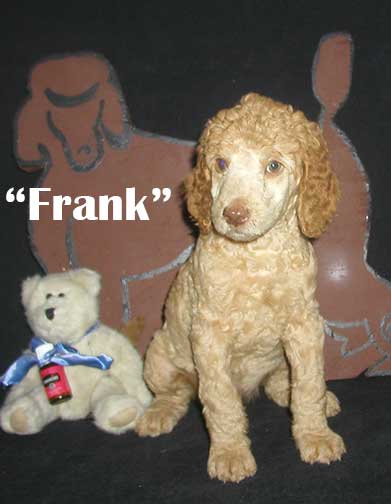 SOLD - "Frank" (Frankincense) Apricot Male (light nose) mc none at this time; 7 wks 7.12 lbs. AWESOME! My new family are LK & pack > Leander, TX. Frankincense may reduce arthritis, anti-inflammatory effects helping reduce joint inflammation. May improve gut function, ashtma, and oral health. 
Full disclosure of what I know under below pictures for Frank. I have not micro chipped him to allow time between healing:
By 2.5 wks old it was found Frank had a saliva gland staph infection...one never knows how or from where...it just seems to happen to the pups here in TX. One every other litter. One litter it was in an elbow. Friday Dr. Welch made an incision and drained Frank's gland, giving him an antibiotic. (I shaved his neck to keep cleaned and help drain.)

I started Manuka honey New Zealand immediately, grade 20+ is given him morning and night. A healthy natural anti-biotic.

2 days later, Saturday, it is less then half the size, swelling down significantly. Nursing very well as he always has...
| | |
| --- | --- |
| "Mint" (Peppermint) Black Male mc 2682; 3 wks 2.12 lbs. | "Mint" (Peppermint) Black Male mc 2682; 5 wks 6 lbs. |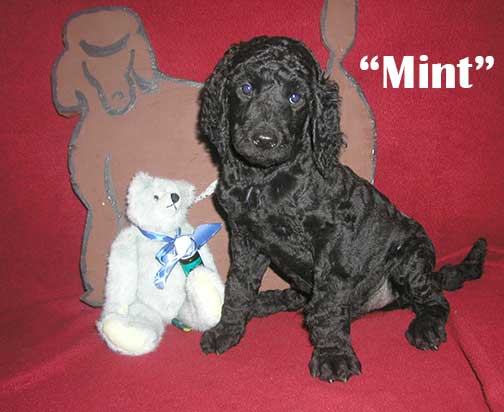 SOLD - "Mint" (Peppermint) Black Male mc 2682; 7 wks 9.13 lbs. My FABULOUS new family is LD > Metarie, LA. Peppermint can ease digestive upsets such as gas, bloating and indigestion. May help relieve tension headaches and migraines. And we all have chewed peppermint gum to freshen our breath. Can help with clogged sinuses and Improve Energy, as well as fight bacterial infections. I believe Tes will get some peppermint fragrance going in the wing to help avert any bugs that want to proliferate here in TX ;o)
---
See you next weekend :o))))
a...and the cement tunnels are so cool to play in and out of...adventuring to come home to you as curious puppies to find your love ;o) Oh soooo soon...
Tes brought the old wagon wheels she made into a teeter totter from MN. We start to get adventurous and walk up it :o)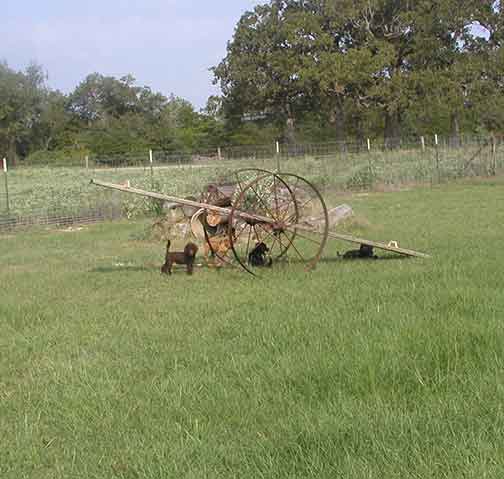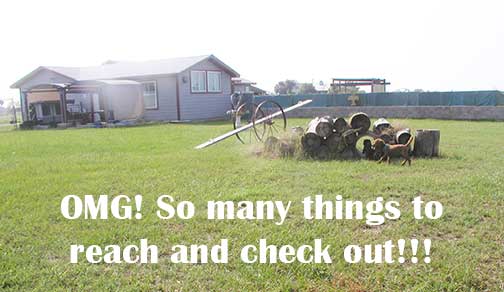 We're getting more confident in reaching into the park...now we've reached the logs. In MN Tes had HUGE 15 foot logs for the adults to play on...they loved it!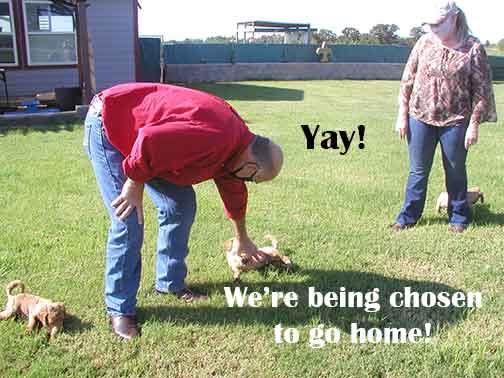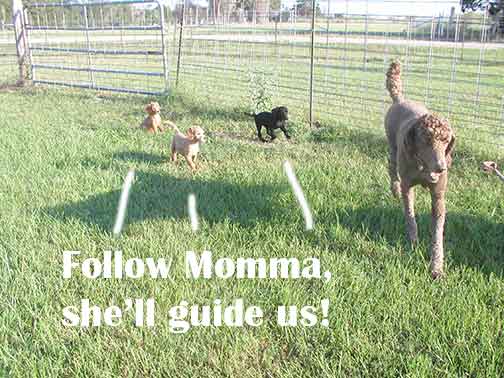 Momma Geo is okay right now, yet she's getting a bit snappy at us :o( I think Tes is planning to take her away from us at 6.5 wks old to wean us. The milk is just about water like now, so I guess it's time.
Tes has placed a crate in with us to teach us what a crate is about...some customers work with them and this helps with the transition.

* Large Standard Poodles G x D *

Hey there! I hear you're coming to get us next weekend - WooHoooo!
We're adventuring more and more and MORE into the wide open space.
* Large Standard Poodles G x D *

Dreaming of my next adventure into the park ;o) Pet Beds are being added to get smells to go home with us for smells, so comforting. Get yours today...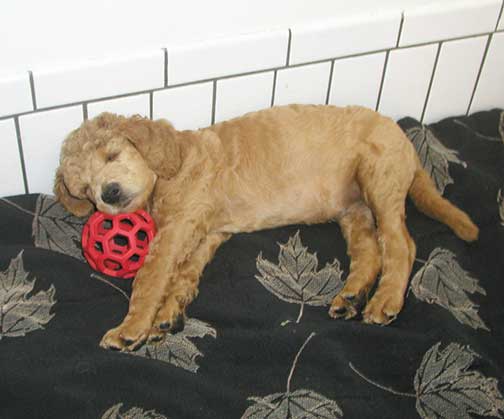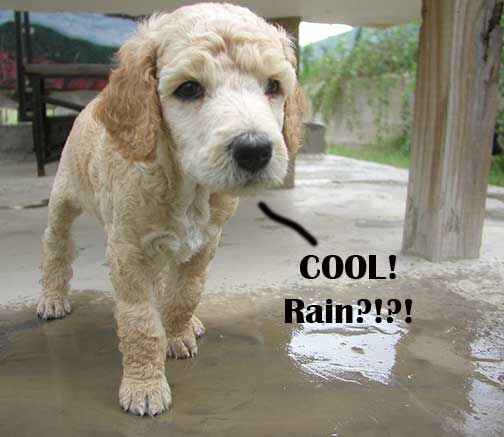 We're doing what momma is doing now...hungry enough to start eating dry dog food kibble.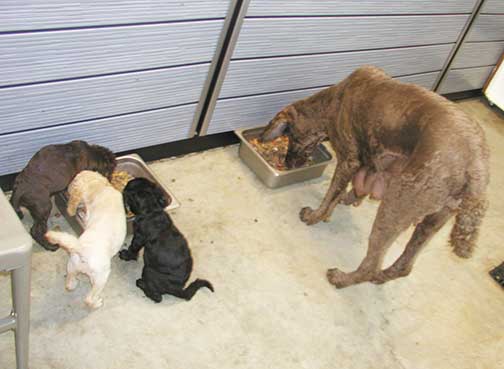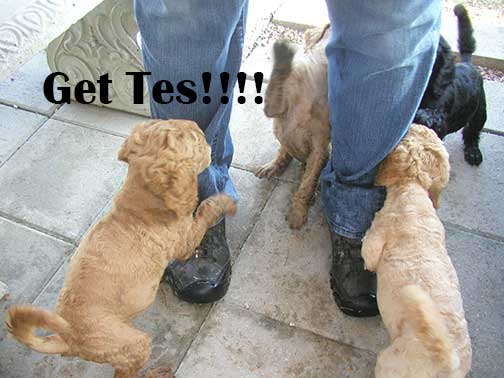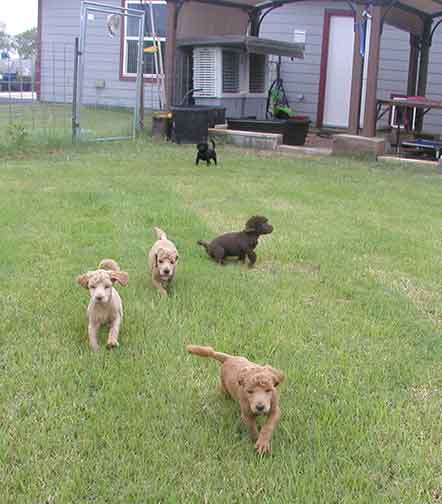 LOOK at me! I did it, I climbed the steps - WooHoo! And LOOK! Tes has us coming to reach to her into Blue Bonnet Park. Here we come!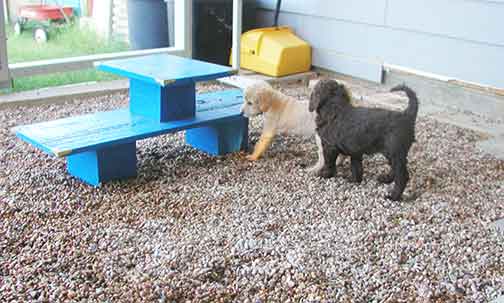 Now we're getting outside totally on our own ALL the time :o) Welllll, maybe we'll check out these steps Tes built for us to learn on...
We're REALLY playing lots with each other, seeing how much we can bite and get away with. Momma Geo ALWAYS has to get in on the loving and today she was being really goofy playful with Tes :o)))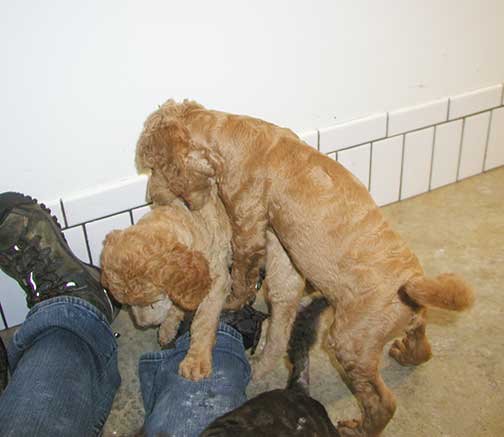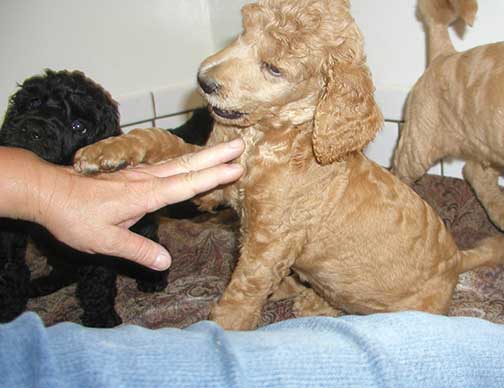 Tes is sitting with us, socializing, yet she loves the loving ;o) She likes to teach us Owee Owee as we bite her hands, to learn to stop biting.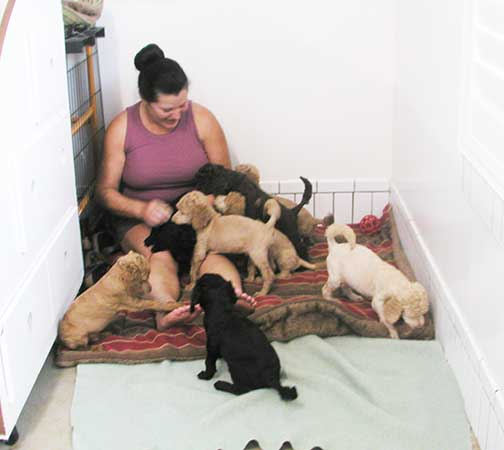 Introducing Janis Prothro from Boise, ID. Janis visited for 8 days of mentoring to become a breeder. Her Royal boy Black Marvels, grandson of Bruno, mated with co-owned Red Scarlet who went home with her. Janis helped with deworming below and socializing puppies by sitting with them and getting loved on ;o) Look for her upcoming side tab to link to her website soon.
Lavender and Sage being adopted by Enya to help share the milk needs. Sure would think Sage was her daughter from the picture below ;o)
---
In the next 7 wk posting you'll watch us reach into Blue Bonnet Park, getting curiouser and curioser :o) And Tes will have the lawn mowed from the recent rains ;o) stay tuned...
* Large Standard Poodles G x D *

Tes received a call from an older customer who watches the site and she shared; "Remember Tes, my boy was 6 lbs when he came home at 8 wks old, and he's now 72 lbs!" She never knows how big we'll grow.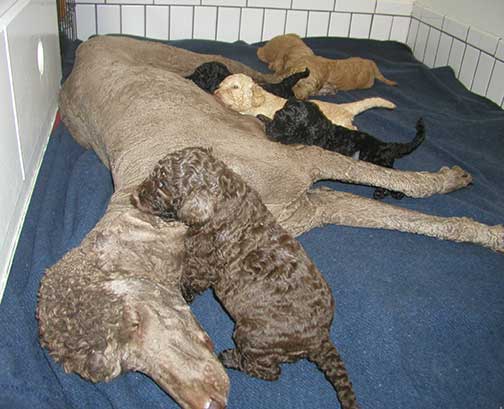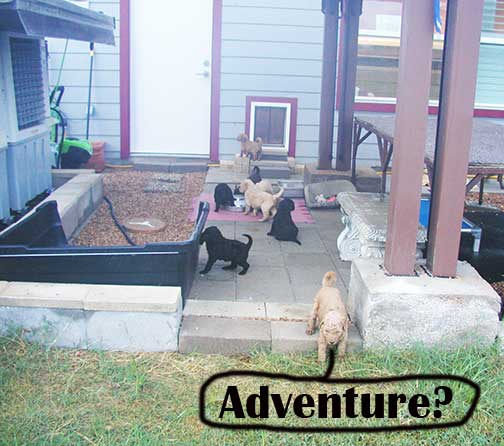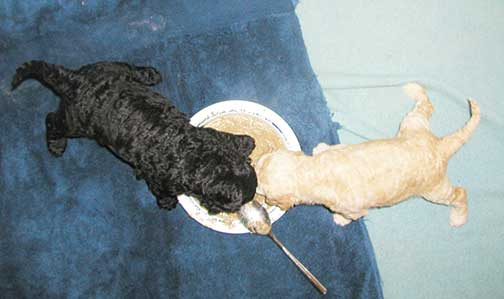 Lavender and Sage are eating too, sometimes Tes feeds us with Enya puppies, and sometimes she brings us all together. Soon Enya pups will join in.
* Large Standard Poodles G x D *

And in eating dog food, we're getting thirstier and learn to drink this water that momma's been drinking.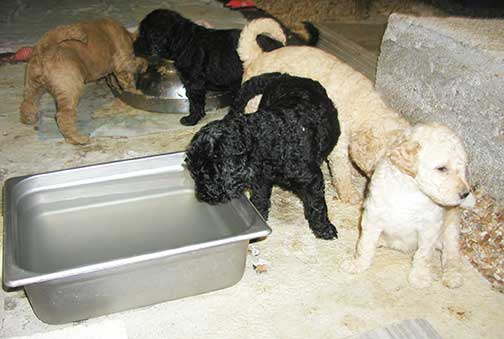 Slurry? Well, we're figuring out the dry dog food momma eats is pretty good too! Tes takes a can of dog food and mixes it into the dry for an even more tantalizing blend.
* Large Standard Poodles G x D *

And now we've all got it figured out! Woo Hoo! We can go in and out without Tes letting us out the big door :o)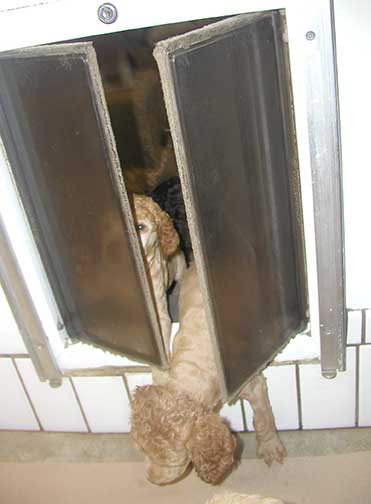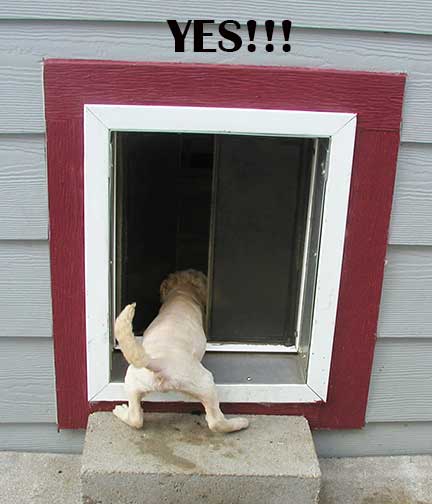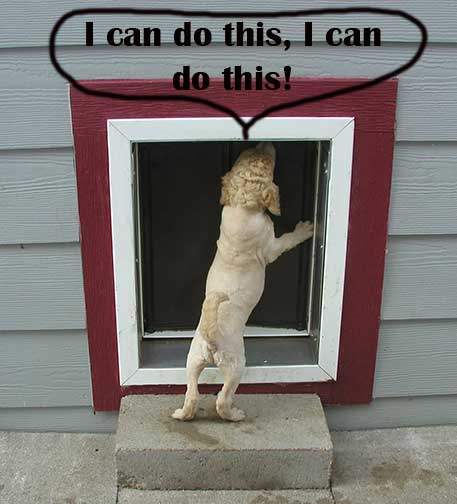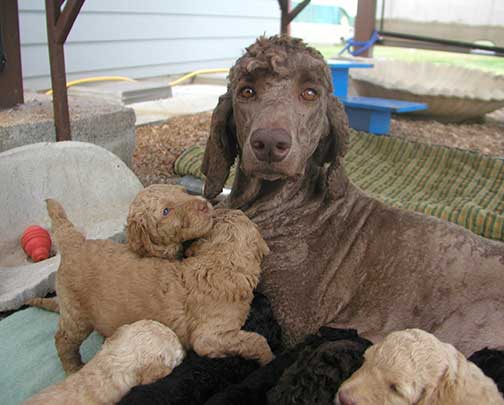 One gets very little rest with kids! Yet you gotta love 'um ;o)
Okay, Tes has the swamp coolers going, a little bit more straightened out for us under the pergolas in the evolution of front Blue Bonnet Park in having two litters at the same time. She gets to bring the pressure washer out and "Flush the Toilet" as she shares in cleaning the park areas...see what we get to reach into in the coming weeks? LOTS of space out there! A little pool for us to become familiar with, a deck momma can jump up on to get away from us if she wants...and lots of toys to play with.
Keeping things clean is vital...otherwise Tes couldn't sit with us like she likes to do, or momma could get mastitis, or, or, or...
* Large Standard Poodles G x D *

Can you guess how many loads of wash and blankets Tes does everyday right now? Guess....these are the largest washer dryers on the market for home use...guess? One sometimes two loads in the morning of two to four blankets and pet beds. Then the evening we cycle through what has occurred during the day. Her morning chores generally start at 6:30am until 10 or longer depending what kind of messes need cleaning.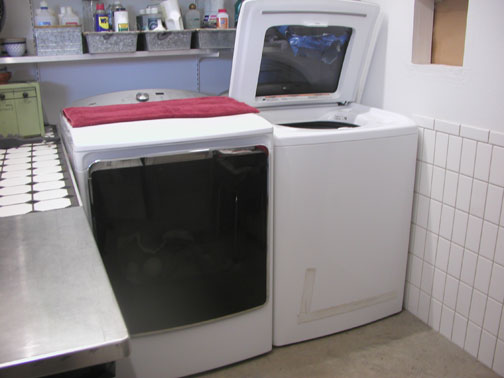 Almost a piece of art in the colors and swirls that they create ;o)    Growing, walking, growing, walking now, growing ... Tes thinks we're a nice quiet bunch :o) It's soooo hot outside Tes is feeding us inside until it cools down. The food dish is how she teaches us Potty Outside.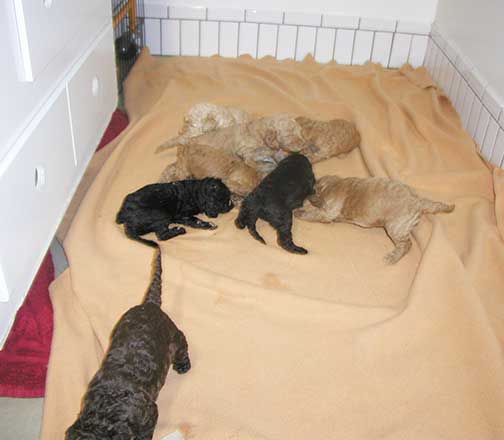 Growing, growing, growing, zzzzzzzz.....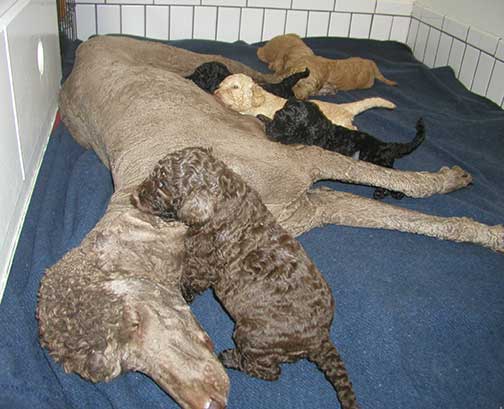 We're eating a LOT more slurry, getting filled up with solids and momma, well momma is letting us nurse less and less :o( She lets us play with her though ;o)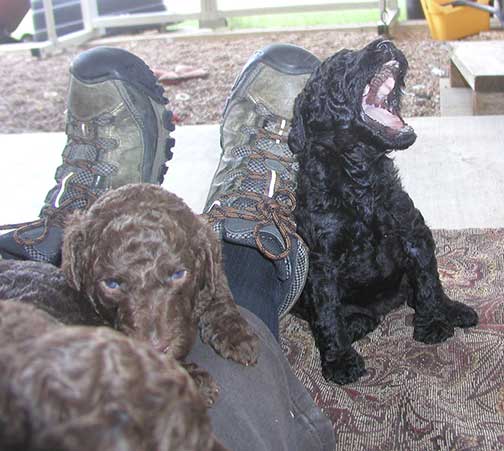 Lavender and Sage, growing with Enya pups...Tes socializing us, loving us, teaching us the best she can while growing with her for you.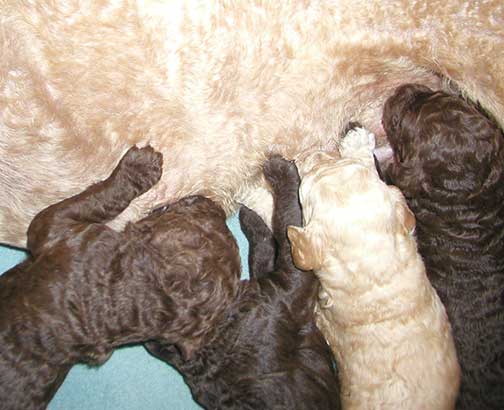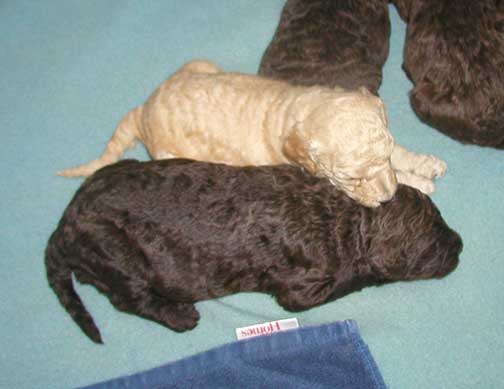 I'm Apricot Sage in with Enya pups, doing great! Here's pictures to show you my size difference to a Royal. You'll see my individual pictures at the top sharing my weight as I grow. I'm 5 wks, they're 11 days younger.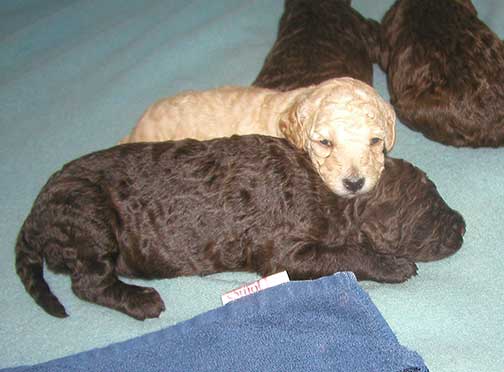 Hey! Look at our opened eyes, seeing so many things around us, Tes, that's your arm? Let's all pile onto it :o)))
* Large Standard Poodles G x D *
Tes has moved us into the "Wing"! LOOK at all the space for us to learn to reach into!! We'll instinctively want to potty off of the blanket as we go on our own now, then we'll want to only go outside into the 7 wk age...figuring out "Potty Outside" for you :o)
---
The next Large Standard Poodles 2020 E x D update will be their 5 wk picture update showing them moved into the wing and reaching through the doggy door and into Blue Bonnet Park :o) Enya's will be in Puppy Park.
Buy for now...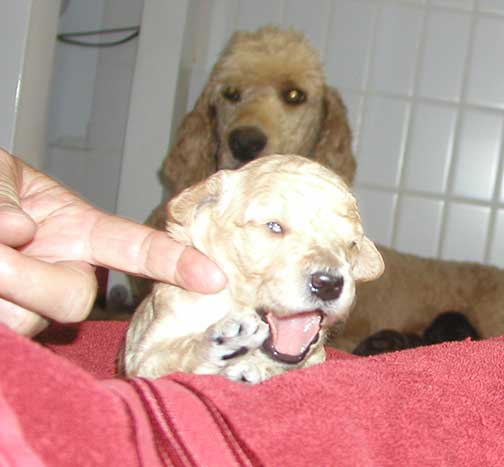 Tes has always shared in the past, when our eyes open and we start to walk, we make a LOT more music in learning to be heard. Well this has been a NICE quiet music making group, allowing better sleep for Tes then usual ;o)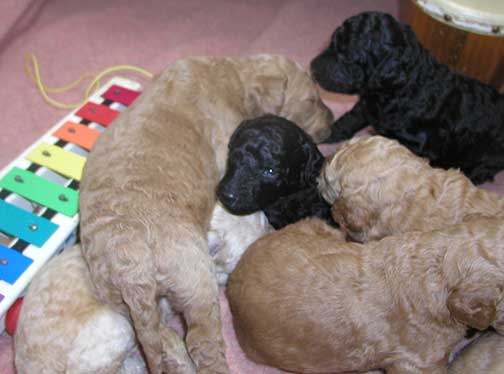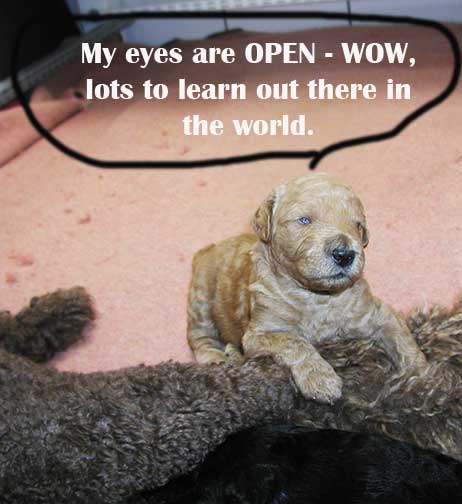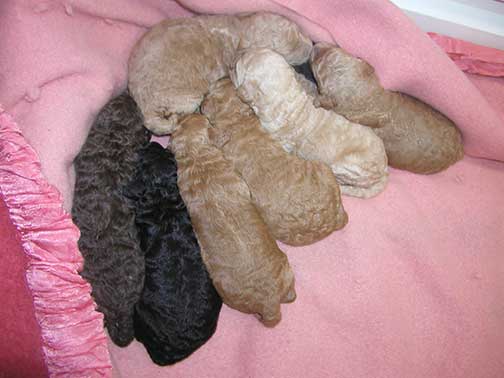 | | |
| --- | --- |
| | Due to the abscess, it had pushed Frank's atlas out of it's normal position where Dr Angela adjusted it back. |
So, Tes has a story...she had been interested in learning about essential oils as she'd heard some phenomenal stories and seen the results from their use starting over 13 yrs ago. Her Catholic music teacher she ran into had a tumor on his face the size of a golf ball - NO KIDDING! Right away she said, "Are you going to get that surgically removed?" To her amazement he said no, my wife is with Young Living Oils and we've started using oils on it. "Oh," she thought with interest, as she'd been interested in this. A month later (now she never sees her former school teacher in general life) Tes ran into him again, the tumor was HALF gone! "WOW," she explained, and he explained the essential oils were working!! Another month goes by and AGAIN she runs into him and the tumor is GONE! She hooked herself up with Rosey, signed up to become a distributor and to learn as much as she could...it's been a challenge with societies "Medico" world always wanting to prove the oils wrong, yet the oils continue to prove themselves right :o) Nervousness in not trusting the natural healing has kept her from delving in, yet she's used some as the Mother Nature in life unfolds. Tes has used oils to take away mammary gland tumors on dams, instead of having to surgically remove a teet as had done prior to essential oils. This is all TRUE!
Tes had already started the Manuka Honey 20 + grade natural antibiotic. Frank WAS taken to the vet the next day to find out what was transpiring and the vet knew right away it was an infection, at which he drained the abscess giving Frank an antibiotic shot without telling Tes. Tes pulled out her oils books afterwards, she'd learned how to use a pendulum and tested the healing oil energy the abscess was screaming for, it was Thieves. The book "Natural Health Care For Your Four-Legged Friends" by Sara Kenney & Mindy Schroder has the best learning of a pendulum description. WOW, to say the least of the phenomena one can have, others watch for themselves, to know. The MOST swing of the pendulum between Lavender, Thieves, or Melrose was a HUGE swing with Theives. Thus, Theives was added to reduce infection, inflamation and speed healing tissue. Tes had no idea how this theme would come into play for the story board...we'll watch as he grows...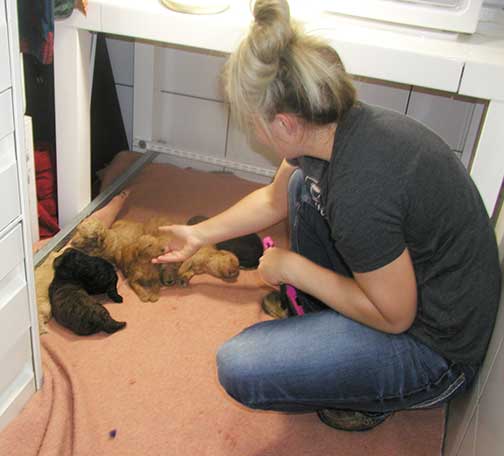 Geo's space is getting smaller! We're now getting around Tes and need to move to the Wing SOON - Please :o)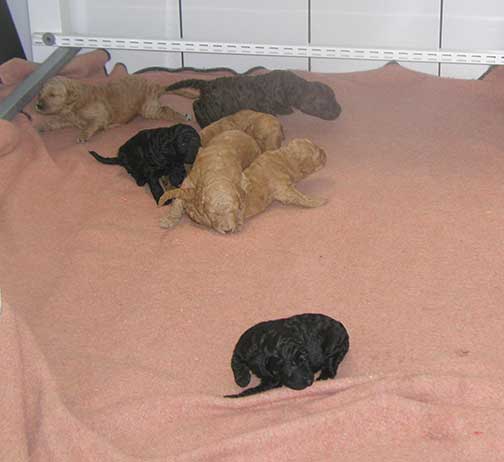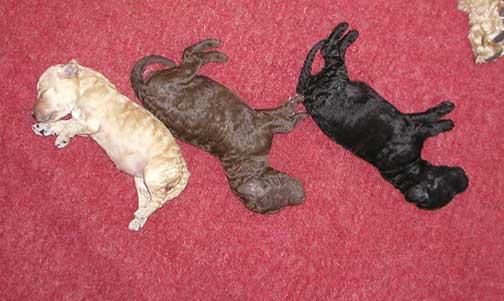 Sage and Lavender may be 11 days older, yet you wouldn't know it to size with Enya's pups...just their eyes and walking are coming before them of course.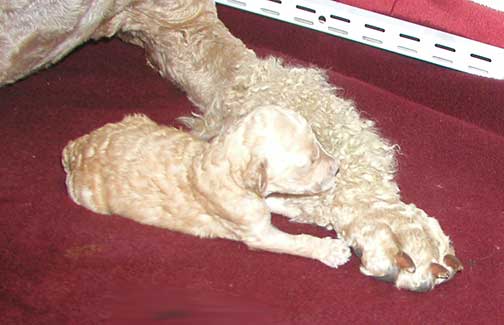 Enya, Thank You for accepting us no matter what ;o)

So, Enya had her 3 brown puppies 11 days later. Only 3 puppies :o( So to have the glass half full, Tes moved two of the smaller Geo pups with Enya later that day as the smells were in the blanket to help accept. It's not the first time Tes has had to do this in her 16 yrs of breeding...helps Enya not get mastitis, the smaller pups apricot Sage and black Lavendar are no longer fighting for milk and with pups their size, and certainly helps relieve stress off of Geo from so many pups...the glass half full :o)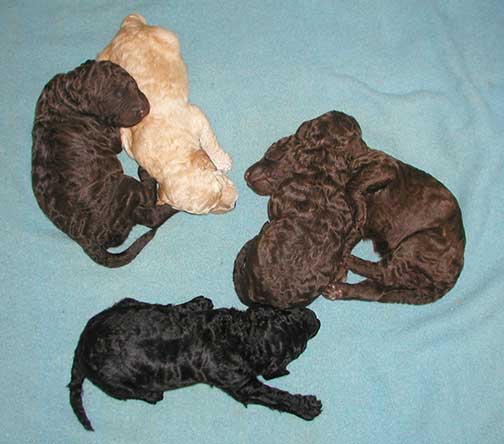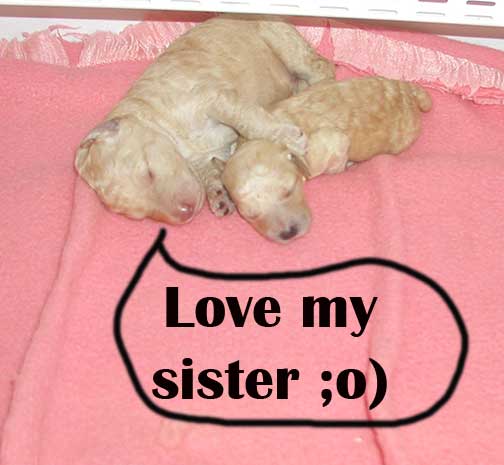 Above, one can see how small several of us are to the others. There are two uteruses called horns in a canine dam. Tes just got done reading how when there are so many puppies in the womb, the pups nearest the eggs and pups nearest the vulva are the larger pups. The ones in the middle become crowded, or their sacs stay smaller due to the crowding coming out smaller, in large litters. Not what she'd learned 15 yrs ago...always learning new things as technology improves to show otherwise.
* Large Standard Poodles G x D *

It's amazing what positions we land in, Tes doing best to capture good pictures for your viewing :o)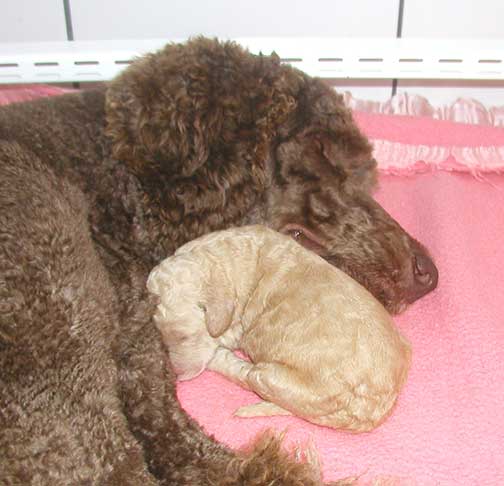 Snuggly momma, see what little tubbies we are :o)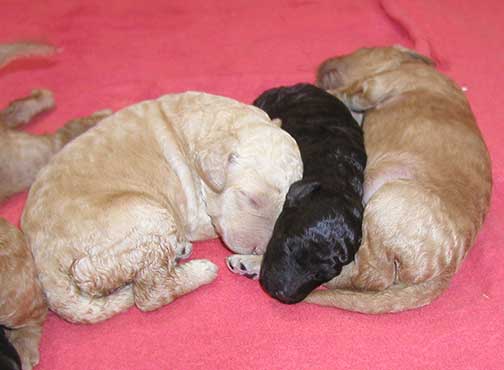 Hey there...we're doing FANTASTIC in our growth for you...momma has lots of milk for us all...some of us sleep, some nurse, sometimes Tes helps and around she goes throughout the day and night...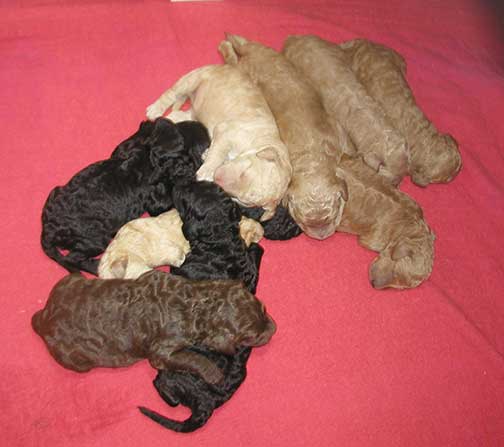 It's a puppy pile! We're full of milk, Thanks momma :o)))

* Large Standard Poodles E x D 2020 *
And you think your busy? Momma, you don't have enough teats for us! Where is one? Where is one? Where is one???!!!>>!?!?! Okay, after a bit Tes pulls a large away and let's us smaller ones in :o) Thank You, zzzz... ;o)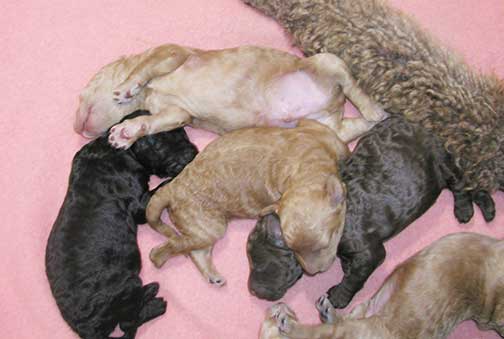 Look! We're solid colored pups...Tes will label us for now Apr/Cream or Red/Apr until we really start to show our growth color in the weeks ahead. The AKC papers will have to have one color designation...and she's the one who has to decide.
* Large Standard Poodles G x D *

Below you see the only Brown Female, snuggling a leg with booties for warmth...She'll potentially be a Large Standard Poodle for those interested. Aaaah so love you momma ;o)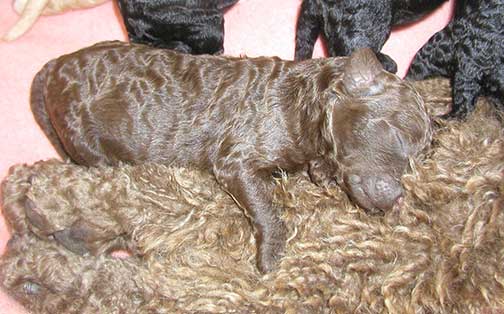 Tes designed her home in TX specifically for raising the spoos inside with her. The bedroom was designed to allow for two litters if they came within the same time-frame...which Enya's litter arrived 11 days after Geo's. Tes moved us into her LARGE walk-in closet designed with extra heat and a door to outside with a doggy door for each momma to use separate from the other to not be stressed. Enya will have her litter right next to Tes's bed, as Geo did. The vigilant watching to assure pups aren't laid on, or rotate teets are an important roll Tes must work with.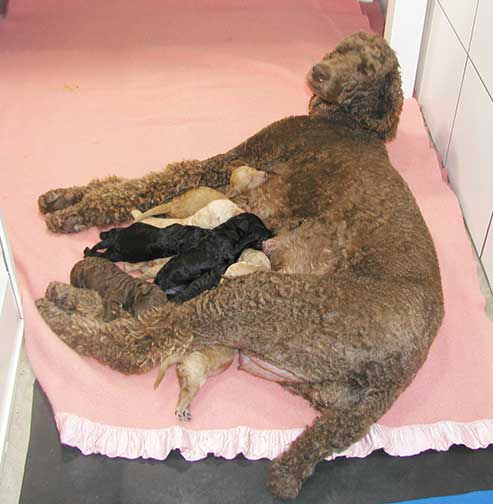 ---
The next 3 wk picture update above for our web page Large Standard Poodles G x D will show our eyes opening and starting to stand and move around...making a lot more music for Tes. Definitely getting ready to move into the Wing with 10 of us by 3 wks old :o) Our individual pictures will be posted then with micro chip last four digits and our story board names...Stay tuned...
*Large Standard Poodles G x D *
Red Male, Brown Female...streeeetch...zzzzz....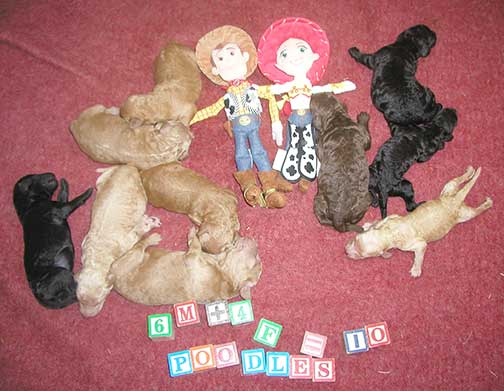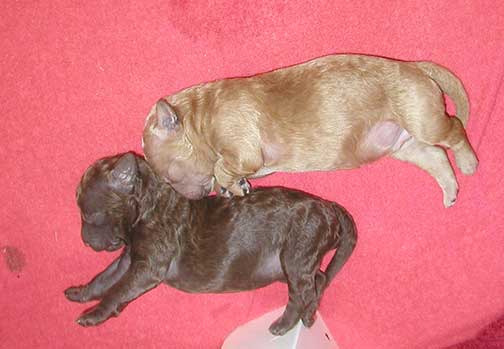 There are definitely going to be Large & Standards in the litter...you can see by the two above side by side, Large Red/Apr/Crm on right and Apr/Crm Sage on Left will be standards. Never a guarantee on size.
* Large Standard Poodles G x D *

We're already starting to crawl...then drop and zzzz any way we can ;o)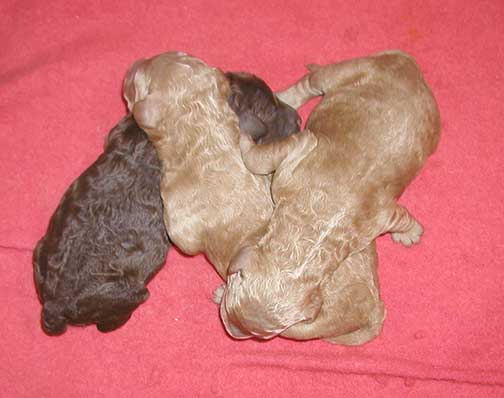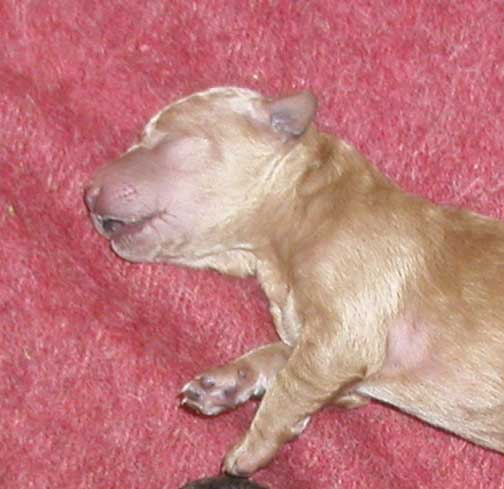 Guess what we're doing...zzzz...our eyes will be opening next week ;o)
*Large Standard Poodles G x D *

We can't excrete on our own right away, so momma warms our groins by licking us and away we goooo...some of us nurse, some of us zzzzzz...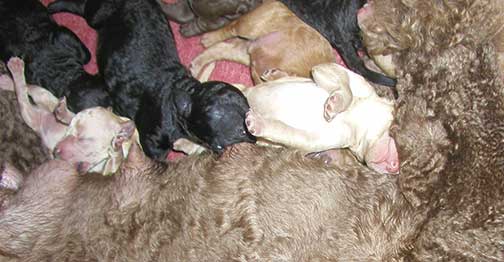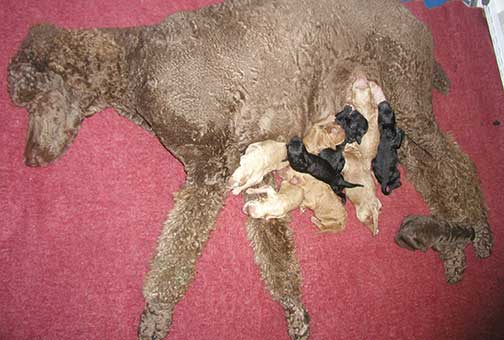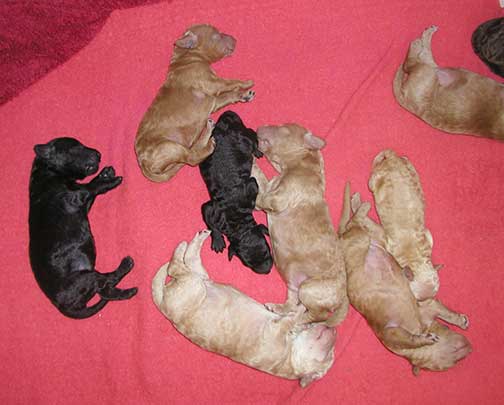 4 legs up is telling Tes we're plenty warm and she can start turning the heat down, whew ;o) You can see Sage and Lavendar compared to the rest of us in size.

*Large Standard Poodles G x D *

Looks like we're all doing the zzzzz thing ;o)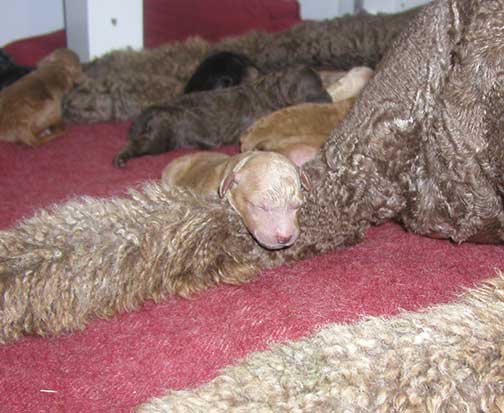 A lot of warmth and love felt in feeling momma's heart beat and love in her arm :o)
*Large Standard Poodles G x D *

You can see Sage is half the size of brother, Lavendar is right behind us.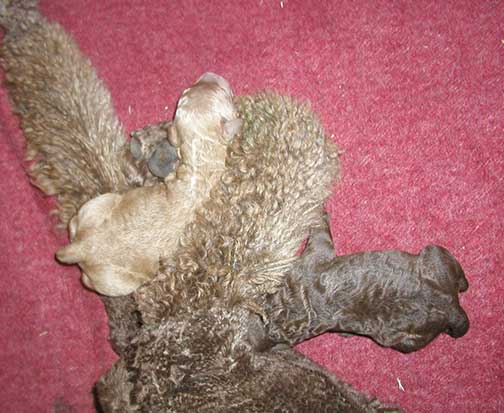 Every litter has us doing the leg/arm thing...momma cradling me is a rare picture catch for you :o)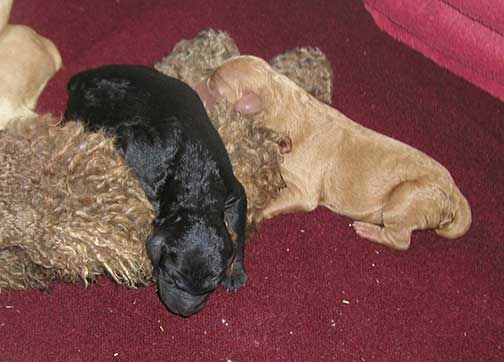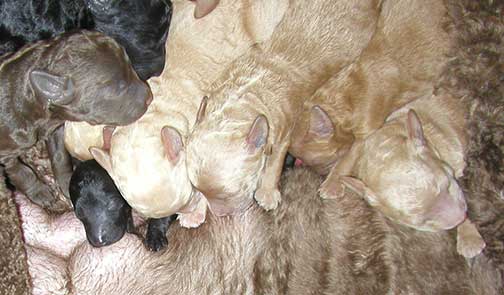 Sage and Lavendar getting right in there with the others...Tes assures we're not pushed out. NUMMY NUMMY, LOTS of milk for all of us!!!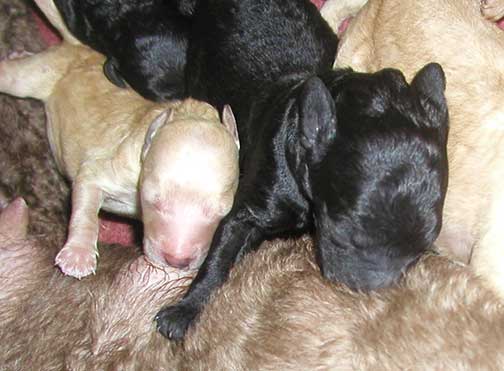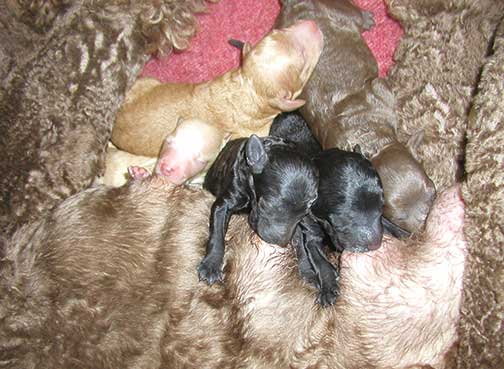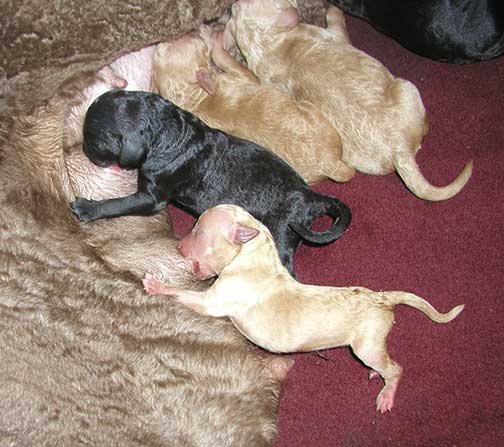 A range of color from black, brown, red, apricot to cream, from Large Standard Poodles GxD to standards. Having lots of room for momma to circle around us is important. Some of us nurse, some of us zzzzz....
*Large Standard Poodles G x D *

Two of us Females are almost half the size of our brothers and sisters. We'll more then likely be "Standards". Tes has named the smallest Apr/Crm Female "Sage" and the smallest Black Female "Lavendar". The rest of us won't get named until 3 weeks of age when our individual pictures are posted. Sage and Lavendar are digging right in their though like the rest of us! It's not uncommon with such a large litter have several so small.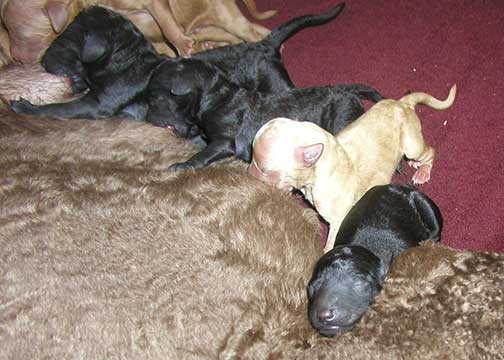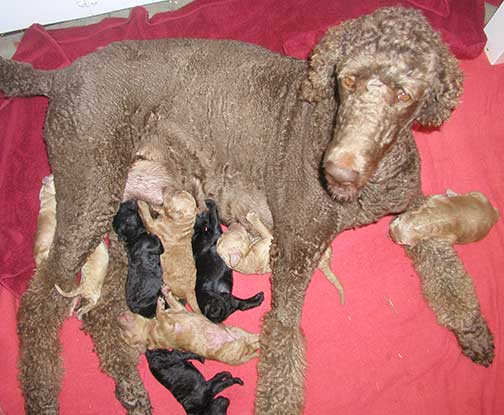 Wool blankets are used to wick away moisture and keep us dry and warm. Tes has a variety of colors, to make a  more colorful page for you ;o) An electric pet heater is under the upper back right corner to keep us pups in an even warmer area for the first several days. Such scooters we are already...momma looks tired, Tes is too as we started to arrive at 8:15pm and then final around 2am!
*Large Standard Poodles G x D *

And come, and keep coming!!! Tes has to be right here pulling the sack off to get us breathing, rubbing us dry and momma licking us to get us breathing and moving around.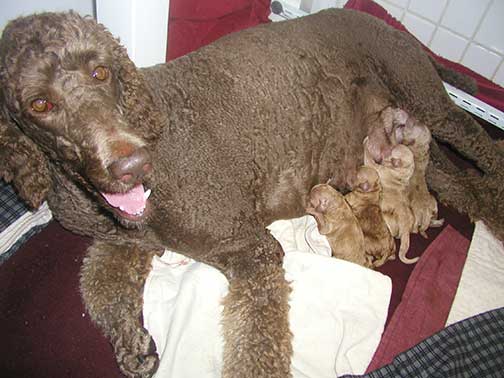 Here we come! Already trying to sniff out that nipple to start suckling. We always look redder when we're wet ;o) Smell is our KEY first sense! Find momma's nipple pheromones!!! 

*Large Standard Poodles G x D *

In raising Large Standard Poodles GxD Puppies, Tes hopes to share a bit of what she does to bring you your next pet :o) The bedroom must be heated to 80-90 degrees as pups just come from the womb and they have no way to monitor their bodies being just born, especially the first week Through the Woods of Mother Nature. Here are several of us just born, already latching on for our first drink of colostrum, rich in antibodies.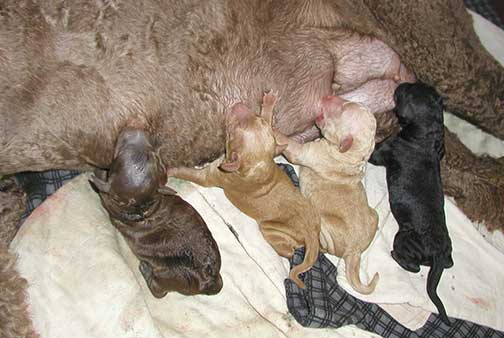 Large Standard Poodles G x D