J x D Royal Standard Poodles 2017 Winter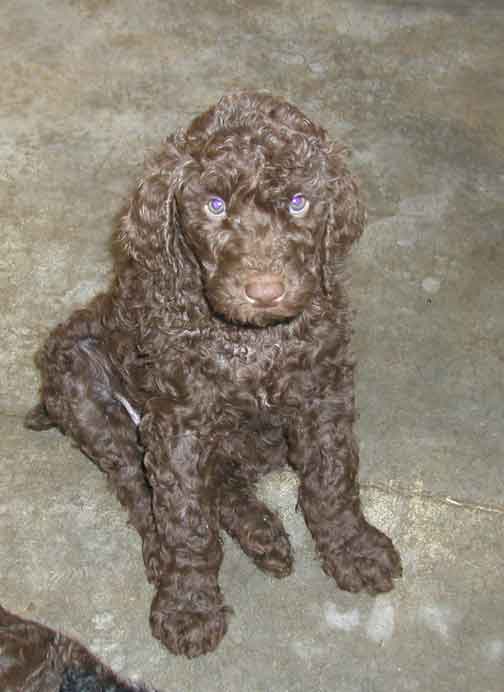 Enjoy the new picture updates below...remember start at the bottom and work up as they grow up ;o)
Tracking Jasper's winter litter 2017 stats:
3/10/17 old bath,toenails clipped, hair cut, dewormed
3/3/17 old deworming with pyrantel
2/24/17 first bath, 

toenails clipped
2/17/17 Pyrantel deworming, micro-chips inserted
2/3/17 Pyrantel deworming, toenails clipped
1/27/17 toe nails clipped
1/23/17 Tails docked 1/3 from tip per AKC protocol, due claws removed
DOB 1/20/17
New Owners
1. 12/22/16 Paid F "Luna" - Royal Brown - JK > Franklin, WI
2.  12/22/16 Paid M "Leo" - Royal Brown - JK > Franklin, WI - A two pup customer - $200 discount Thank You!
3.  1/28/17 Paid M "Leonard" - Royal Brown - KS >  Andover, MN
4.  6/7/16 paid M "Elvis" - Royal BL - PB > Anaheim, CA
5.  2/11/17 paid F - Royal Brown - AM > (TN) Kenya, Africa Note: 2 doctors that volunteer teaching other doctors in Kenya. If you would like to see their work, check out their blog at www.manyfamilyonmission.comwww.wgm.org/many We look forward to developing their puppy's web page to see life in Kenya :o)
6. 2/13/17 paid F - Royal BL - KD > West Fargo, ND
7. 2/13/17 paid M "Sevro" - Royal Brown - DR > Saratoga Springs, NY
We're the 3 Females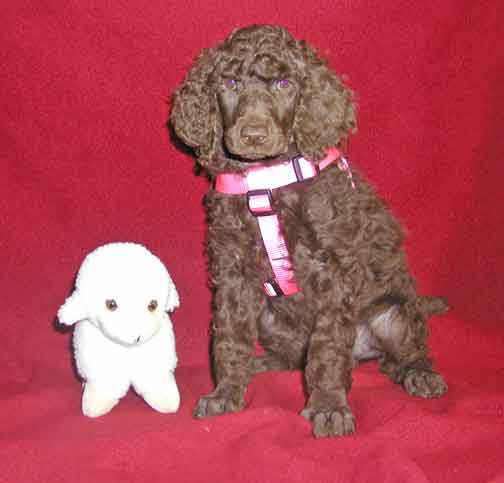 Sold "Lammy" - Brown Female - 7 wks old 10.8# > mc 8588. I am so soft and cute...so glad I'm going home to AM > TN
*
Sold "Luna" - Brown Female with small white abstract on chest - 7 wks old 11# > mc 2886. I have a tiny white mismark on my chest you can hardly notice. I'm going to DEFINITELY brighten JK > Franklin, WI day! Thank You for choosing me ;o)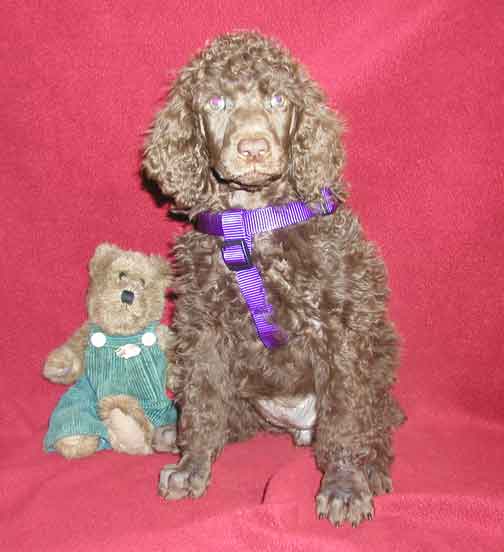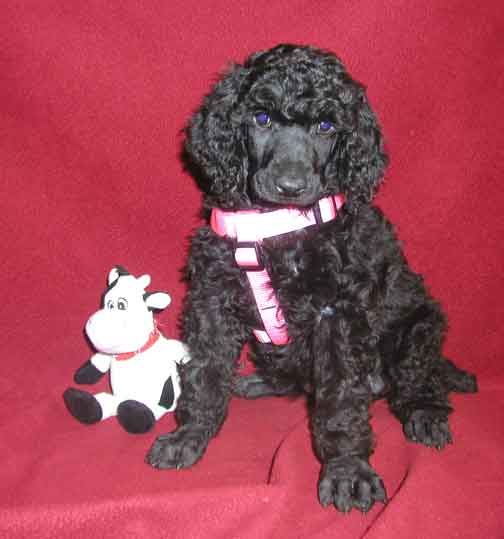 Sold "Shadow" - Black Female - 7 wks old 11# > mc 4427. I will follow you everywhere, KD > West Fargo, ND
*
We're the 4 Males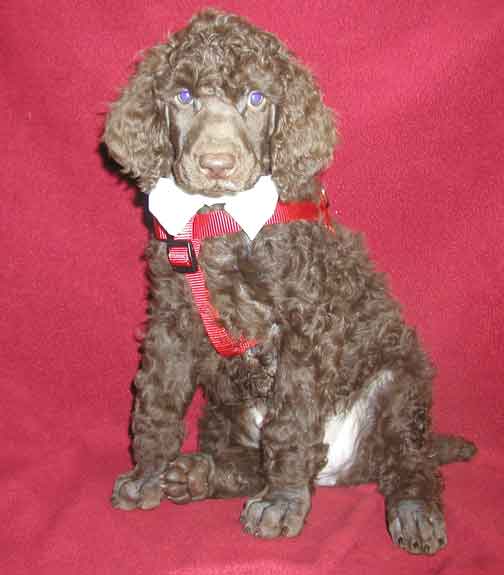 Sold "Leo"- Brown male - 7 wks old 14.2# > mc 5060. I have a tiny white mismark on my chest you can hardly notice. A royal boy with a sweet personality. JK > Franklin, WI is taking me home - Woo Hoo!!! 
*
Sold "Sevro"- Brown male - 7 wks old 13.4# > mc 2625. DR > Saratoga Springs, NY - I'm ready to make you laugh everyday.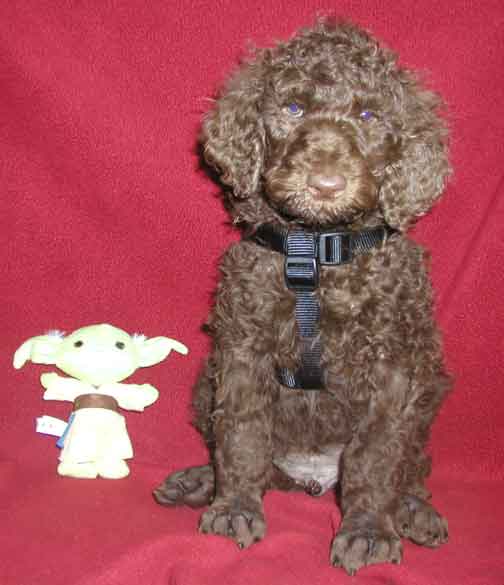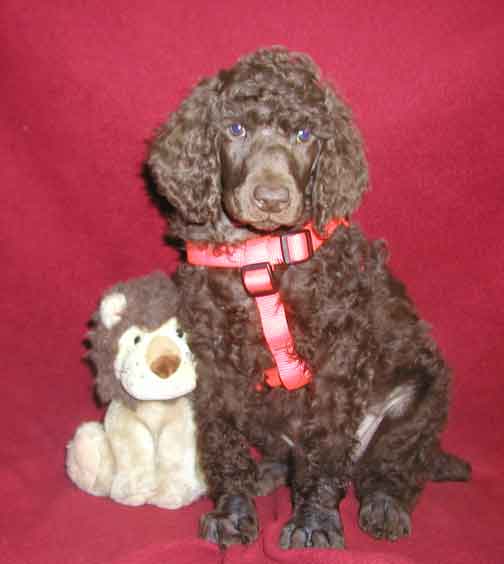 Sold "Leonard"- Brown male - 7 wks old 12# > mc 3431. I am looking for someone to snuggle and cuddle with, will it be you? KS >  Andover, MN
*
Sold "Elvis"- Black male - 7 wks old 13# > mc 3056. I am ready to rock your world! Going home to PB > Anaheim, CA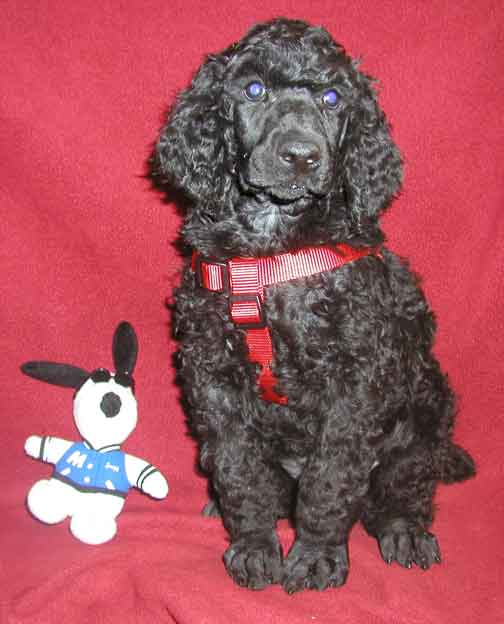 To view our "TRY of videoing pups" on Youtube do this: 
Click on the youtube link below:
Type or copy and paste in: AperfectworldJD2017winter5wk01
AperfectworldJD2017winter5wk02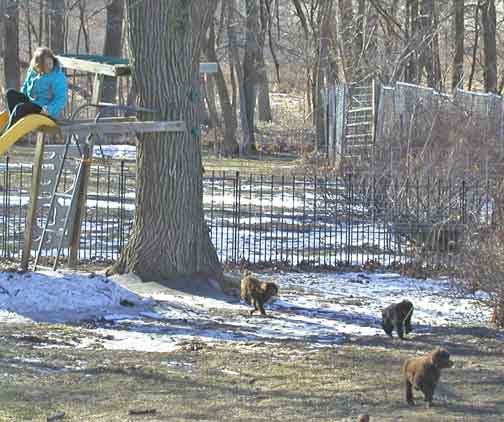 Madison is outside playing with us...where did she go....:0)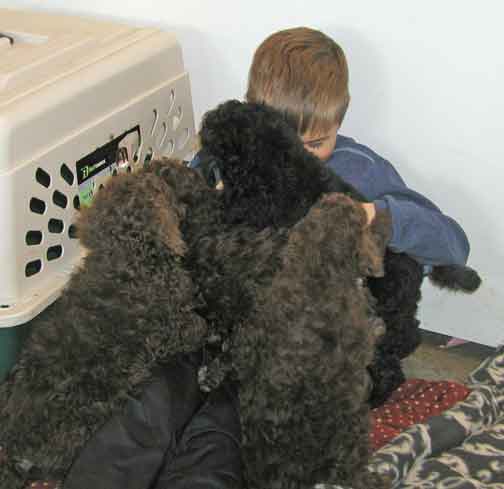 Get him!
*
Nose kisses :0)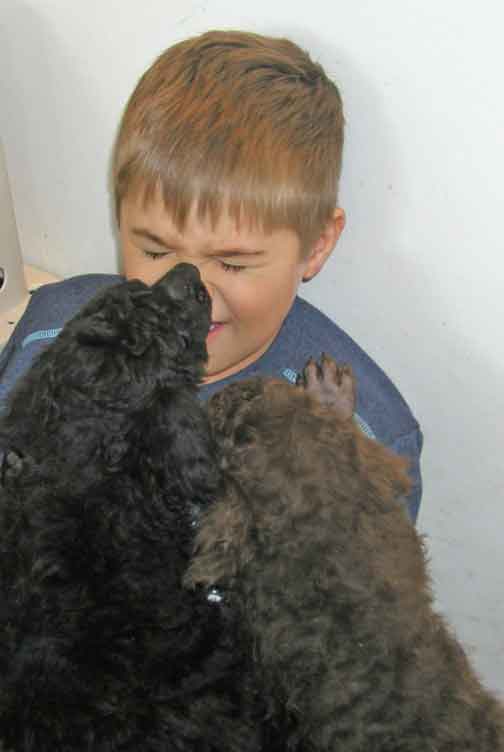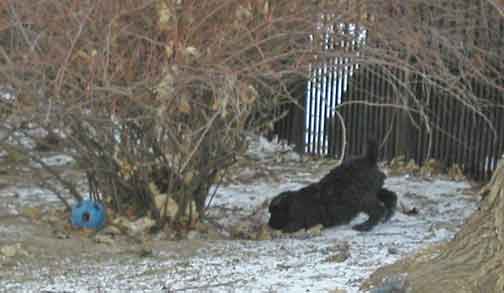 I found some leaves!
*
We are now exploring the back of the park and playing in the bushes....we are having so much fun!  Dani watches the temperatures to make sure it isn't too cold for us.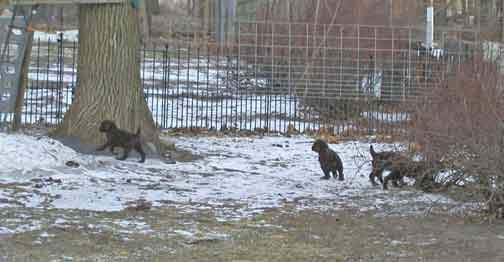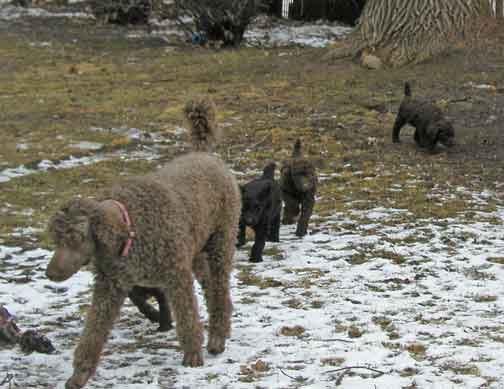 Wait for us Momma Jasper!  We try to get a snack when we can since we are weening now!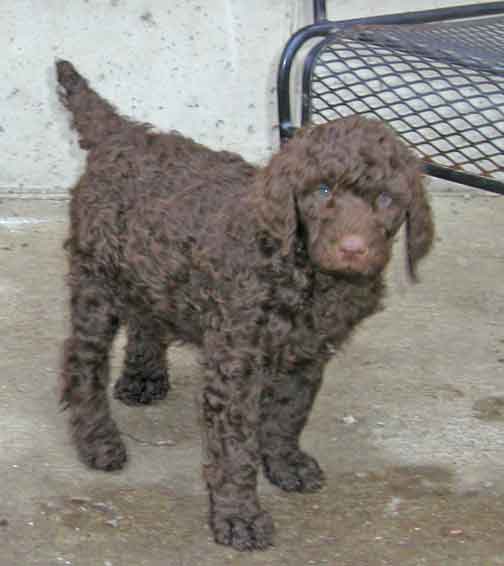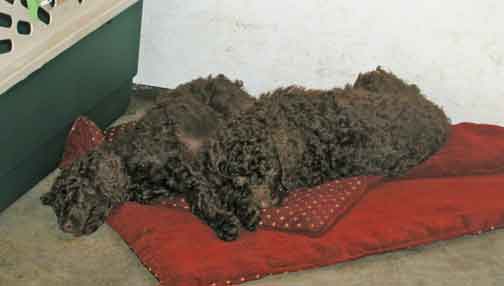 The many different ways we sleep....some in the crate....some out....but always on a pet bed! :0)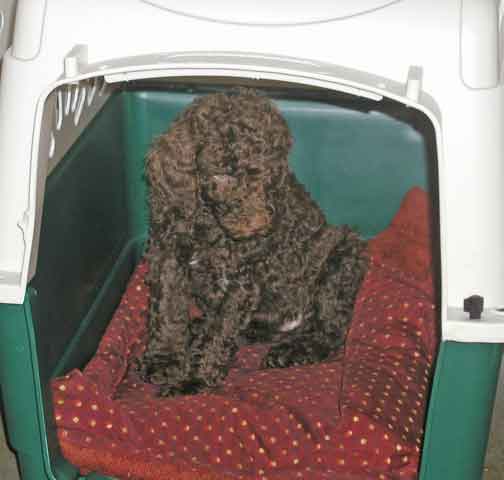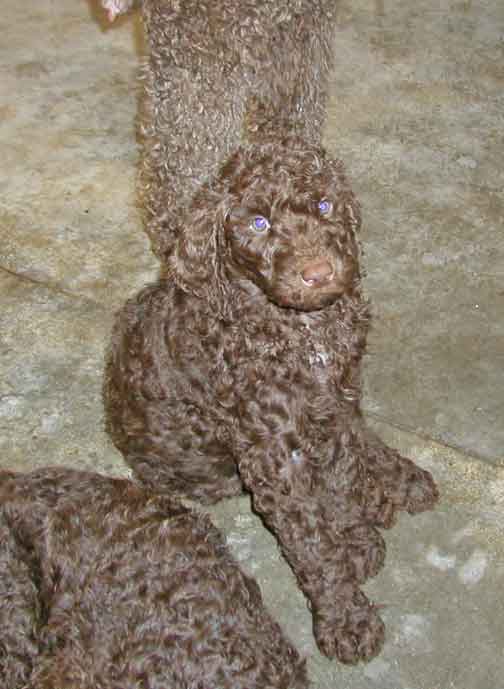 Dani can't resist those sweet faces!
*
I am the King!!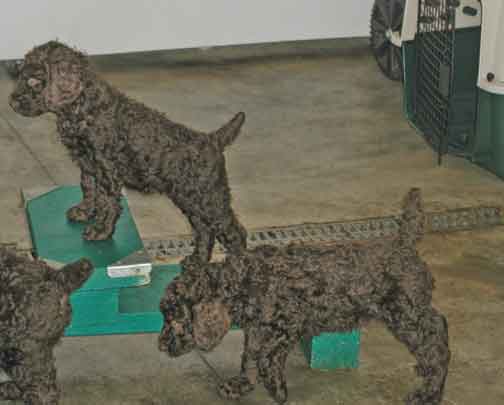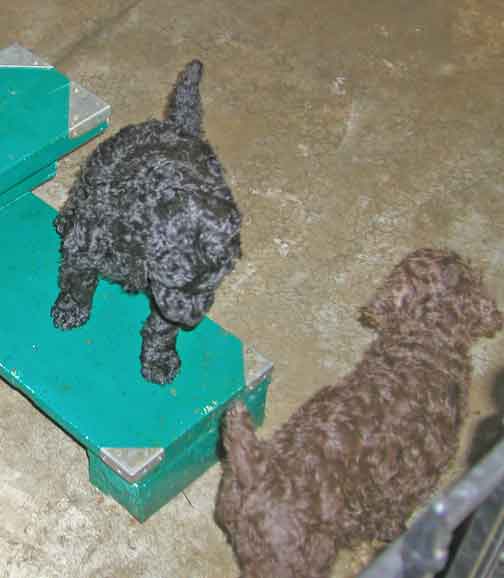 The stepper entertains us when we aren't outside playing, watch out I'm going to get your tail!
*
Hey Dani, Look I'm Santa Paws! :0)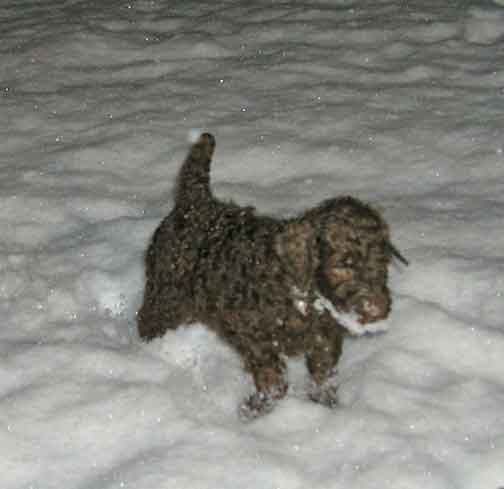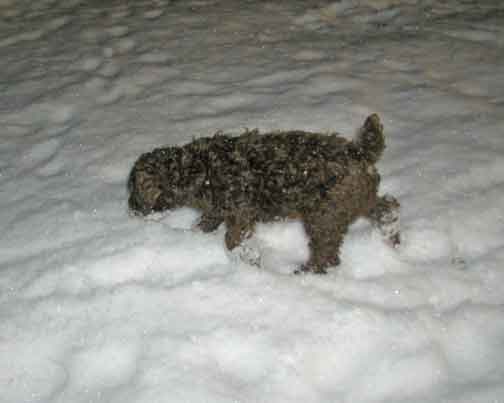 Fresh Snow! We love to run and play in it!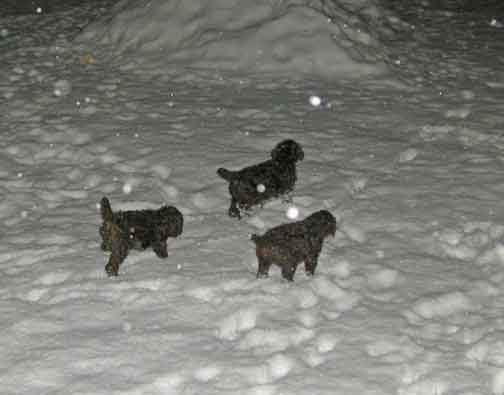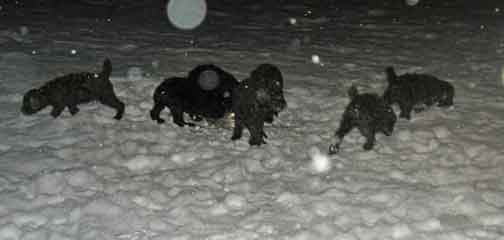 The above pictures we are 6 weeks going on 7...almost time to head to our new homes!
*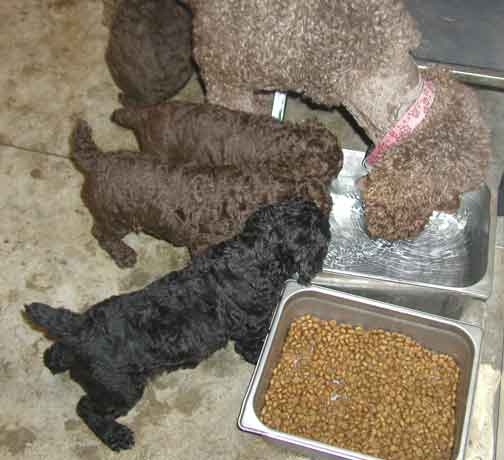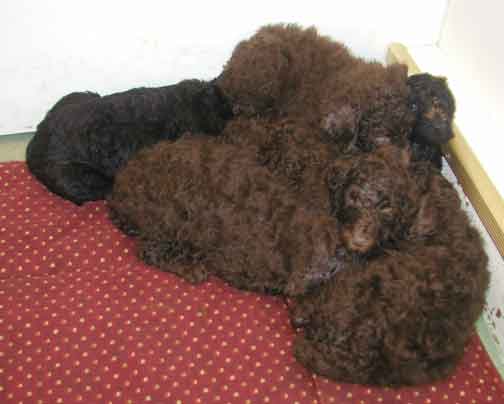 Puppy Pile!! How many puppies can you count? :0)
*
Pet beds have been added for nummy smells.  We love our beds when we go to our new homes, it is like a security blanket for us! Have you ordered yours yet?
Click Here for Pet beds we have for sale!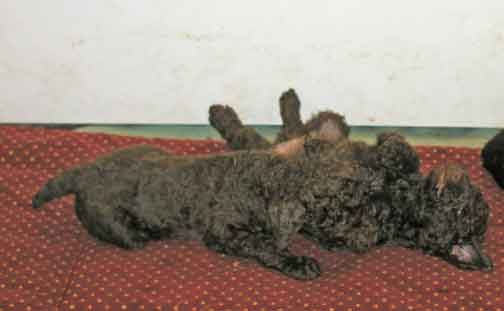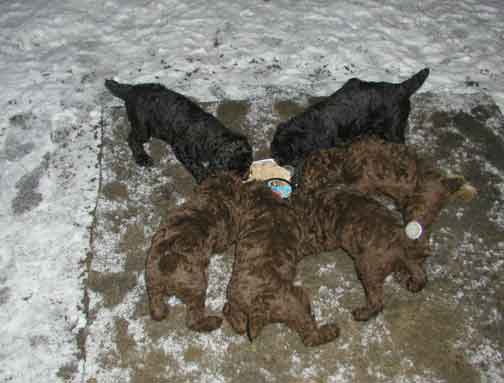 It snowed out again, but was still warm so Dani took us out for our supper and we explored the fresh snow....what is this white stuff? :0)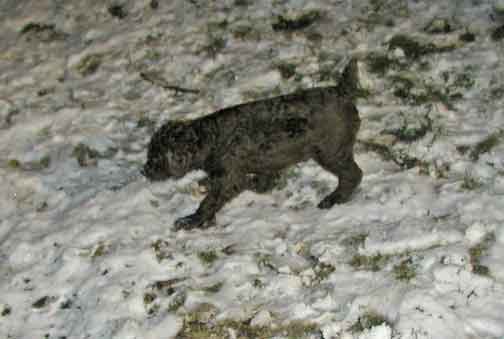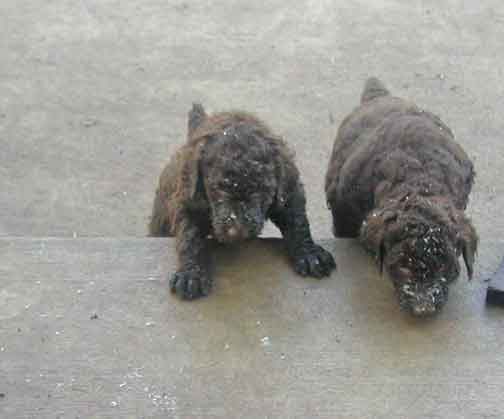 Time to come in? Ok were coming! Umphhh...
*
Circle of Life slurry food is ending. Dani softens that dry dog food with water, adding canned dog food and buttermilk with it will be our transition to eating the all dry (click to order) Grain Free Life's Abundance ordered on-line, and Vets Choice Health Extension organic dog food that Dani feeds the adults. Seminars with vets and professors share to feed "Adult dog food" Not puppy, remember that when you buy their food please :o)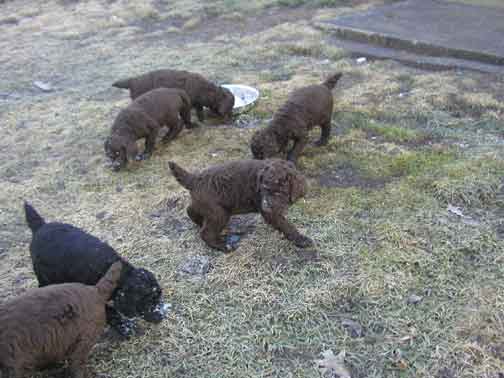 Dani, is taking us outside as much as possible since it is nice outside.  We love to explore outside and since it has been in the 40-50's we have been out alot!  I think Dani may like it more than us! ;0)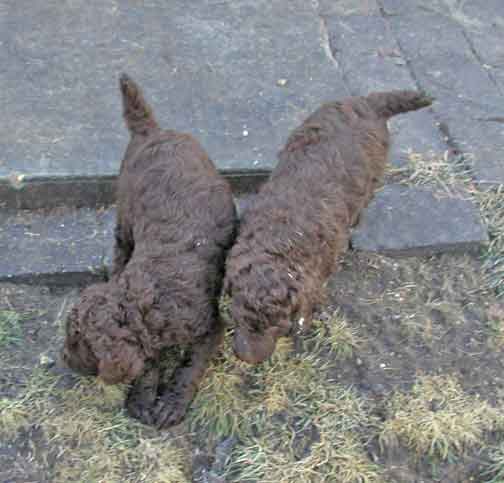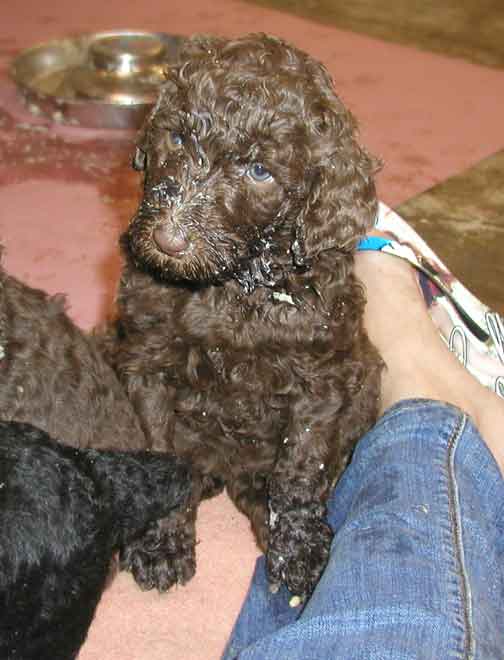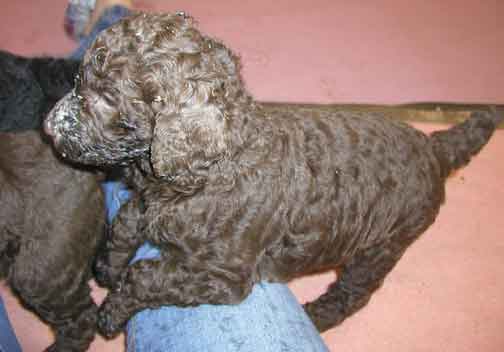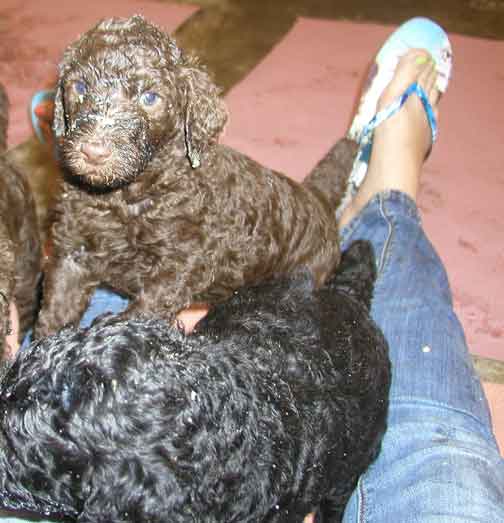 Is it my turn for kisses yet? :0)
*
What is she doing? Oh it's a kiss!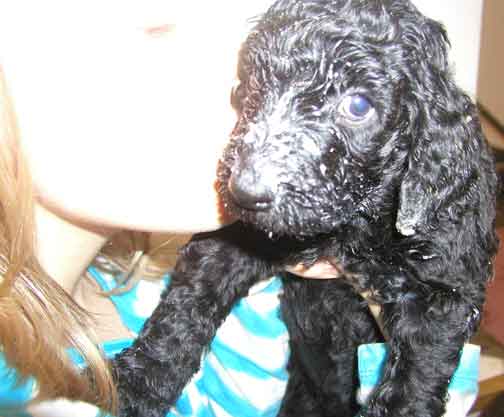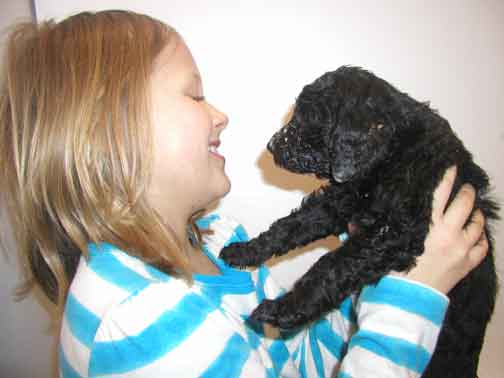 Puppy love, Dani's kids come in and play with us now, we love it!
*
Ah full belly, I think it is nap time now....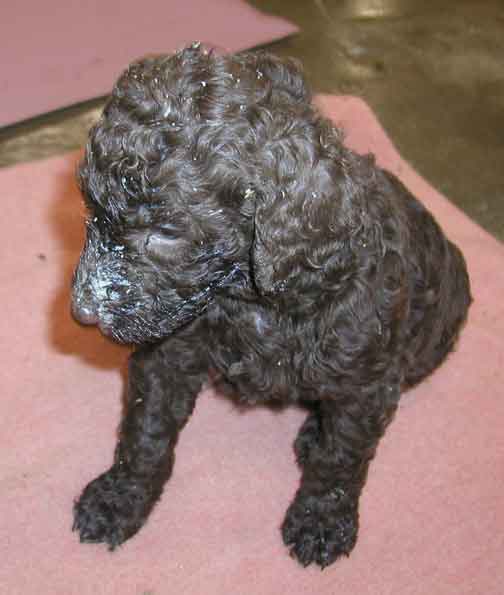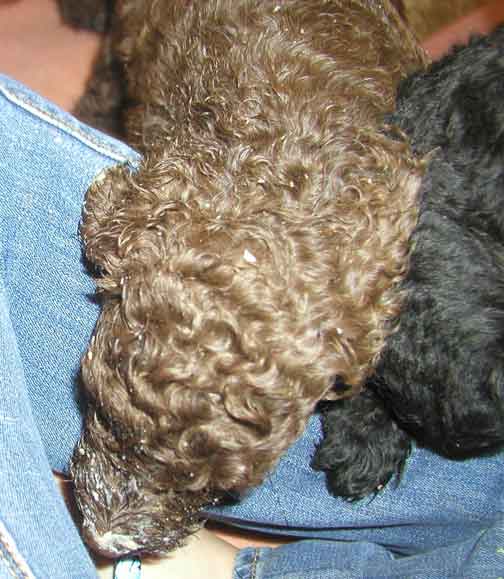 When we are done eating we love to climb on Dani and get her full of slurry too!
*
This is why we need a bath at 5 weeks old! Uh-huh!!!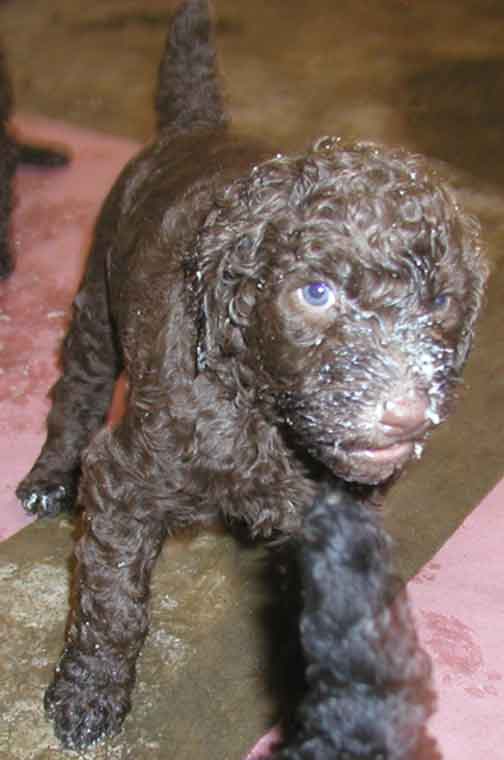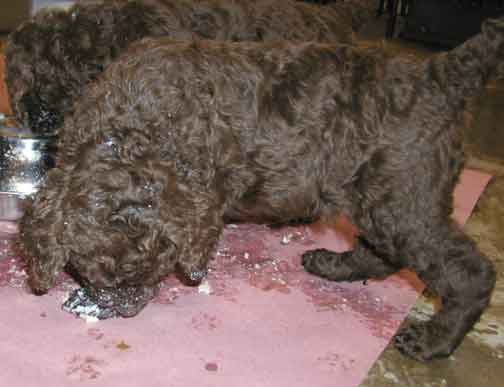 Oops I got some on my foot, I better clean that off! :0)
*
Is that a toe? Will it wiggle if I bite it? :0)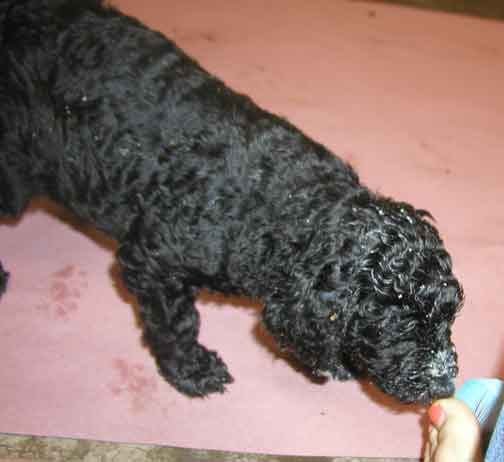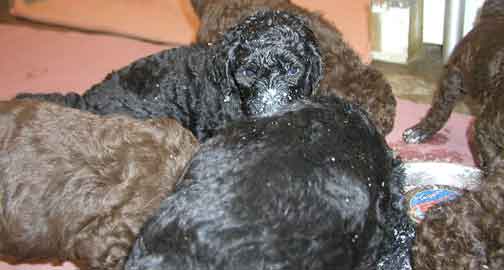 Peek-a-boo I see you!
*
"The Circle of Life"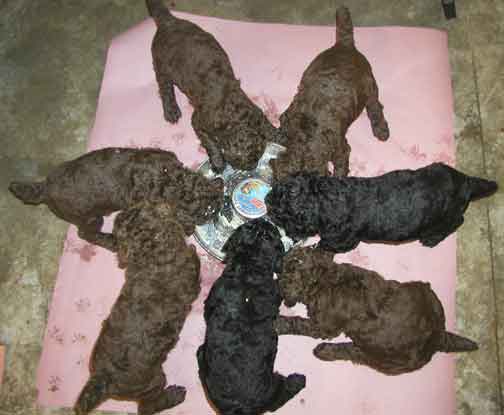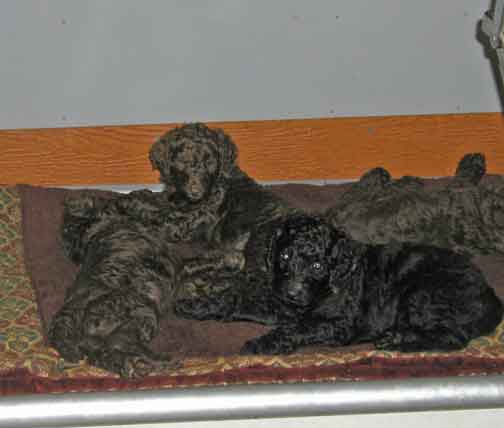 The above picture we are 4 weeks old going on 5.  We are moved into the heated garage for more space and learning to potty outside!
*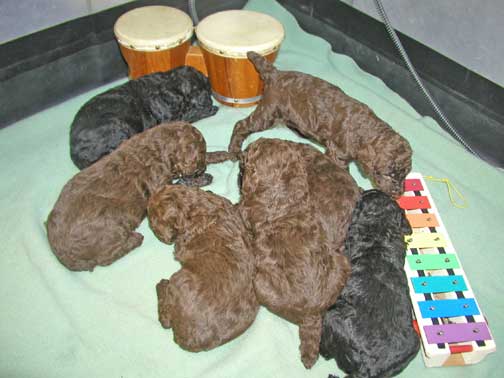 We are a noisy bunch, we like to play at midnight and wake Dani up so she comes in and cuddles us. And that's a breeder's 24/7 job for you :0) 
*
Headed to the paper to potty...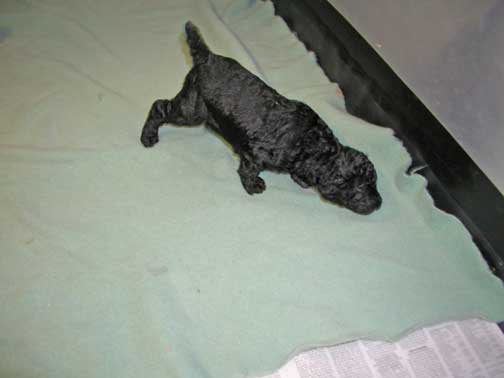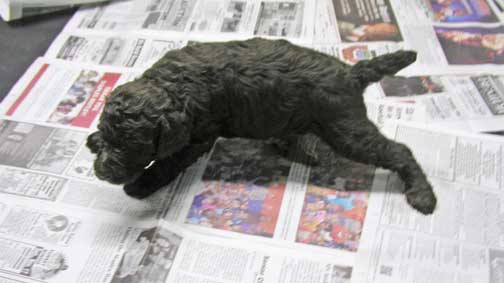 We have the potty on paper down, we are so smart!
*
Ah man Momma I was saving that for later....:0)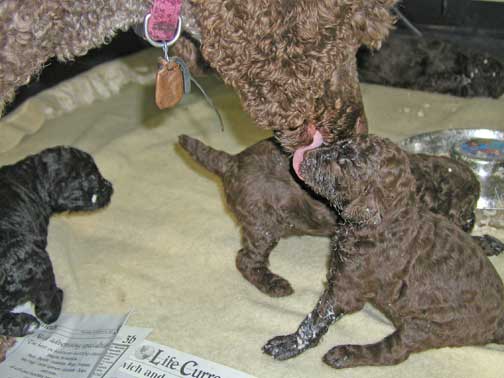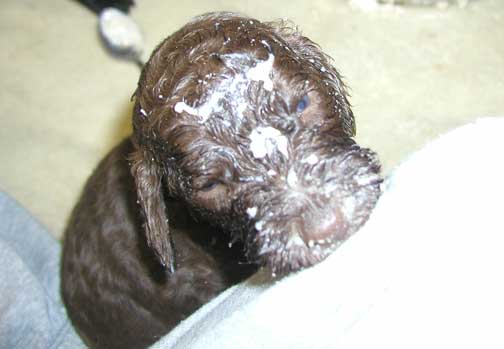 And this is why Dani gets out and she is all sticky....we just want to show her how much we love her! Thanks for the yummy slurry!
*
Look at us go!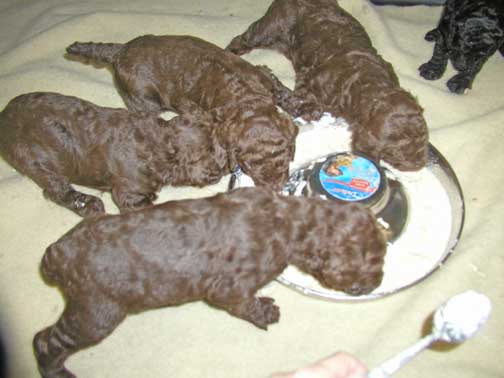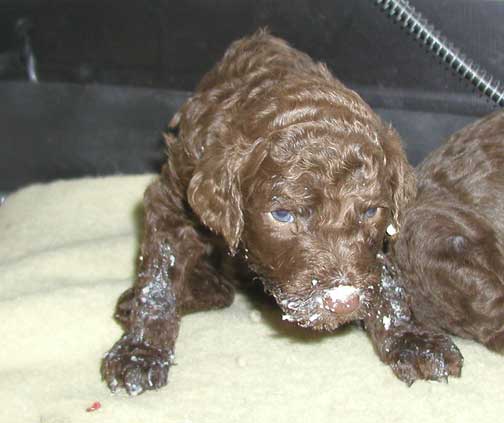 Oh boy...Momma Jasper you have your work cut out!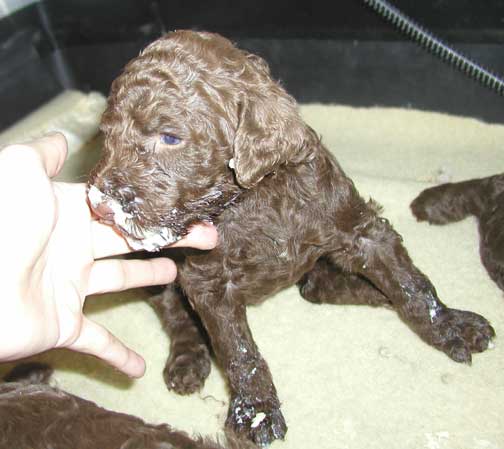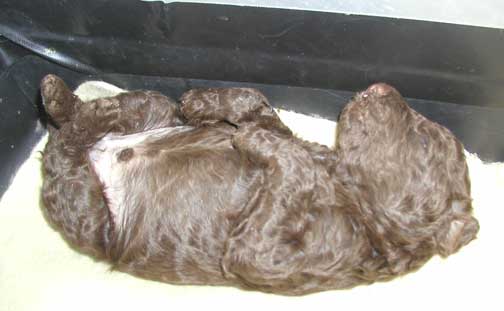 4 paws up...tubby tummies :o)
*
Dani usually has to feed us with a spoon before we eat out of the bowl....not us!  Just once with the spoon and we want MORE!  Our noses are working great and we find the bowl immediately! :0)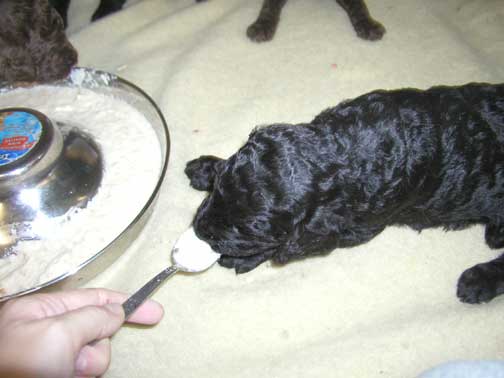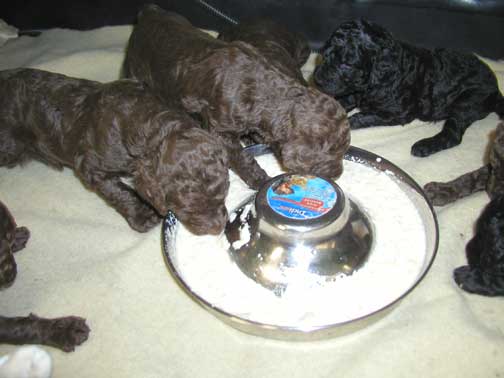 Our first time eating slurry....forget waiting for Dani we are going to eat out of the bowl right away! :0)
*
Where we fall...we zzz....ZZZ...zzz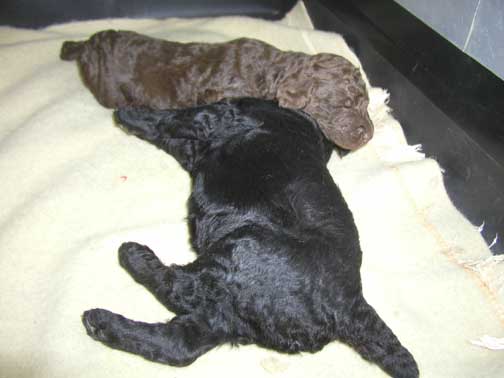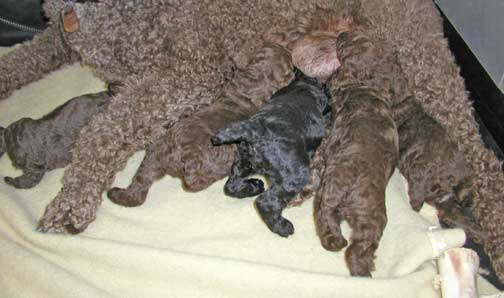 Look at how big we have gotten...we have some tubby bellies! :0)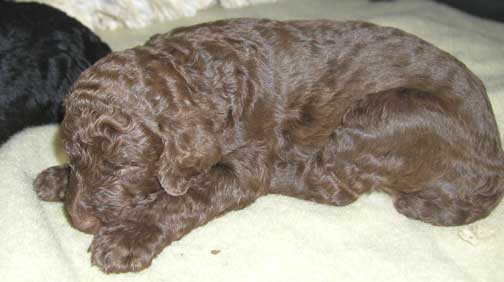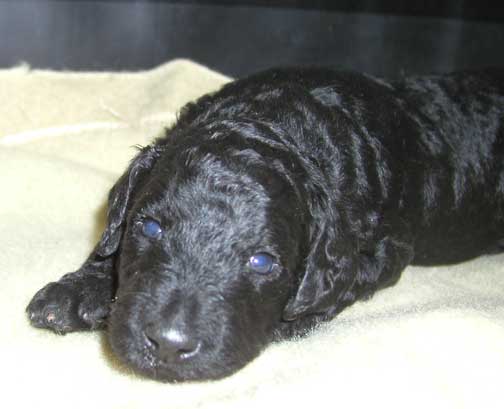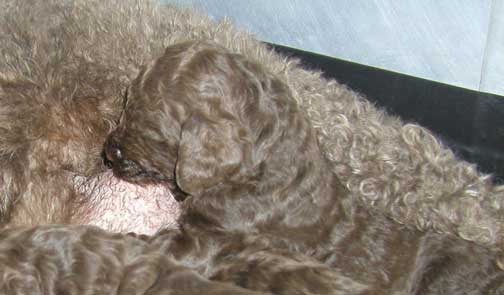 Momma Jasper has plenty of milk for us...nummy
*
Doesn't matter if it is Momma Jasper's paw or Madison's foot...we like feet! :0)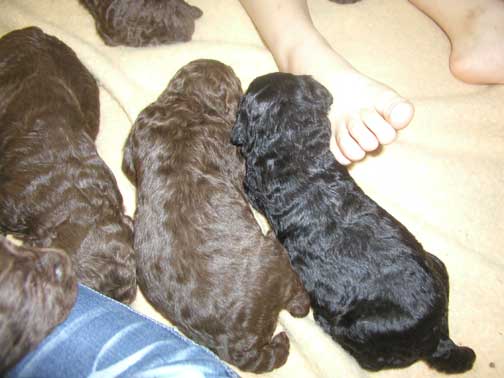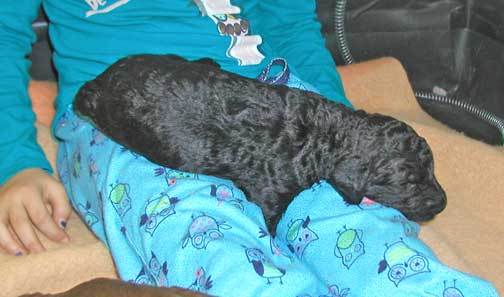 This is a comfortable lap to sleep on...zzz...ZZZ..zzz...
*
Dani climbs in too...hmm...what do I smell....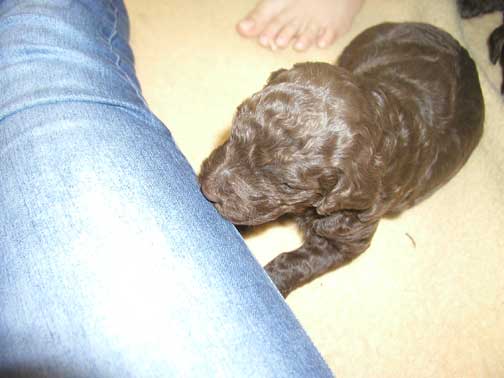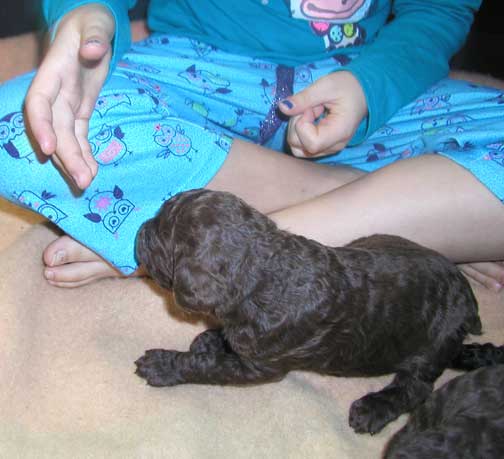 Madison climbs in and starts to socialize us
*
We will call this "Butt to Nose" :0)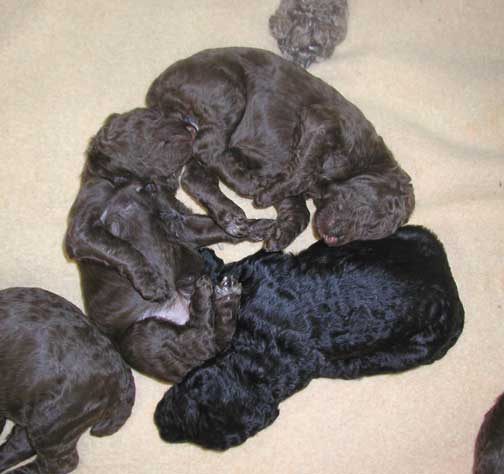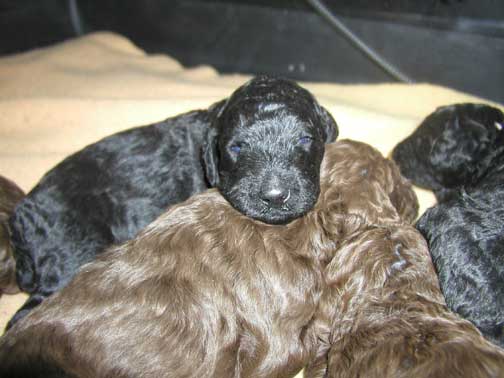 Our noses are working...getting ready to smell that slurry food to come our way now that we turn 3 wks old, our eyes are opening (they'll be blue for several months as they develop), and into 3 wks old our ears start to open to hear more and more...like our brothers and sisters calling for us to play ;o))
*
Puppy pile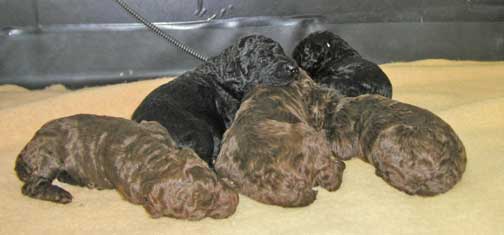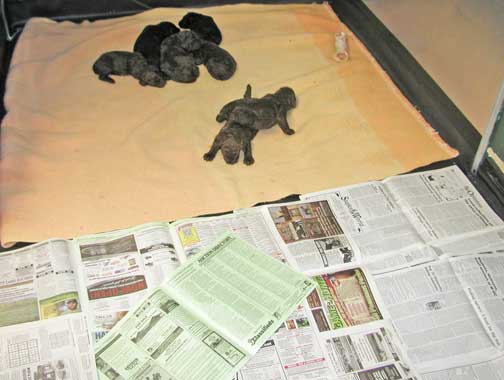 More space has been added for us along with newspaper for us to learn to potty on.
You'll see our eyes squeaking open :o) AND, it's time for Dani to climb in with us and start to socialize us. We are now going on 2 and 3 weeks old in the above pictures :o) And with our eyes open, we start making LOTS of noise to get mommies attention, or Dani's;o))
*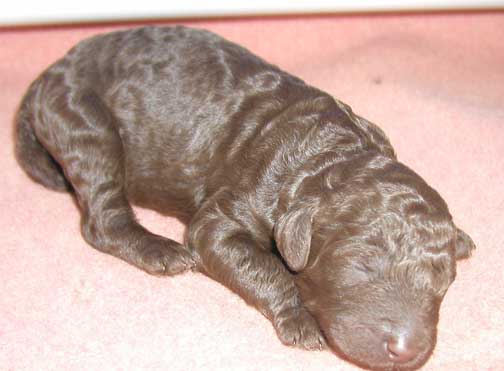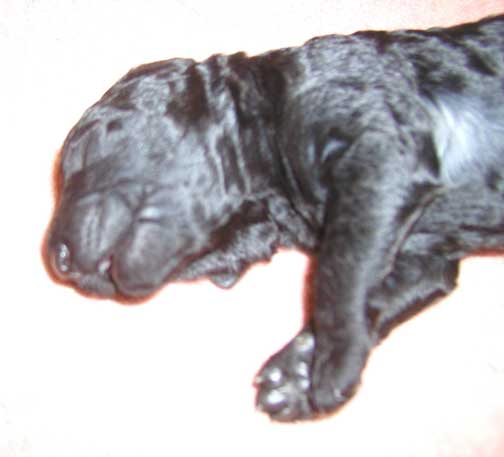 Dreaming of that nummy milk, I was sucking in my sleep which made Dani laugh.
*
We find many different positions to sleep in.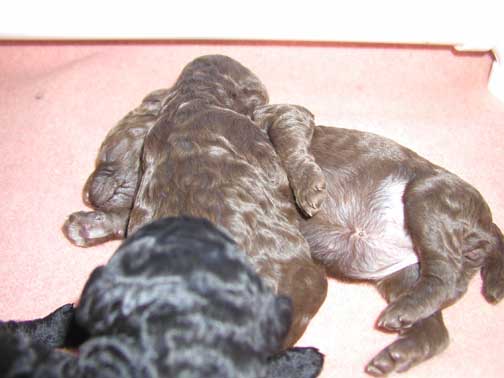 Momma Jasper has plenty of milk for us all...look at our tubby bellies!
*
nummy nummy....some sleep while some sleep! ;0)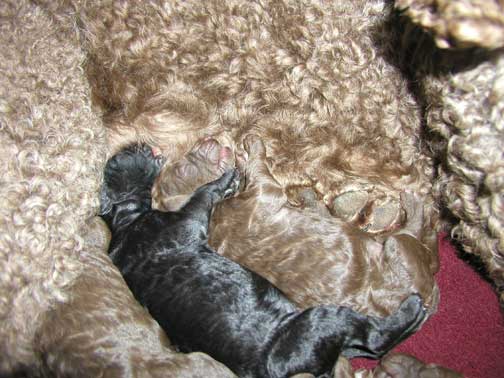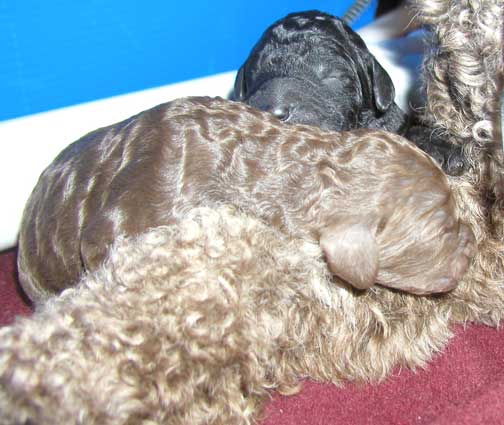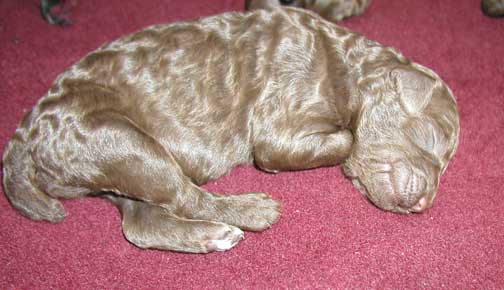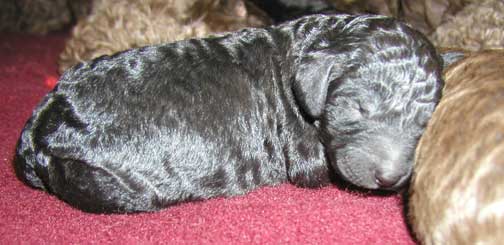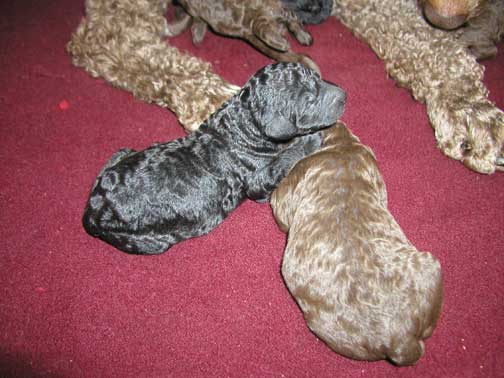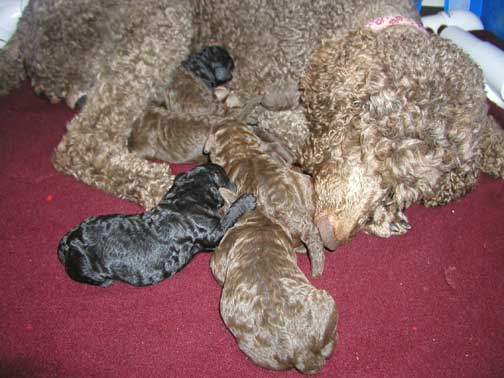 Mommy Jasper, aren't you loving :o)) Licking us all the time to go to the bathroom as we can't do it on our own for awhile. Licking stimulates us to go until we get old enough to control ourselves. UMPHH!
*
Momma Jasper's ear makes a great blanket...zzz...ZZZ...zzzz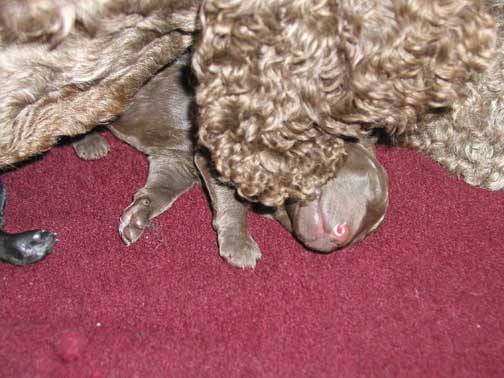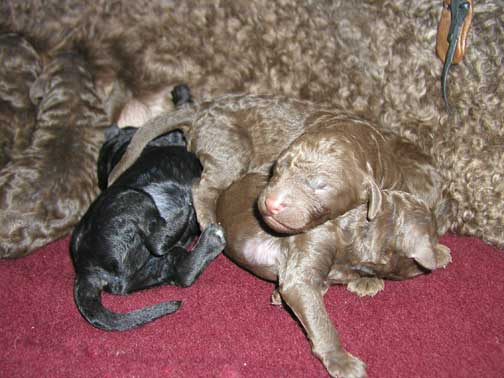 You can see we're looking gooood ;o) Smell is the first sense we have so we can find mommy's teets to nurse from...Big tummies getting filled with goood milk :o))) zzzz afterwards...and a snuggle always works for warmth...
*
LOOK! We're starting to scoot around as we get strength under our weight. This is why we sleep little some nights...we climb up and fall behind momma crying to get out!!! HELP - WAKE UP!!!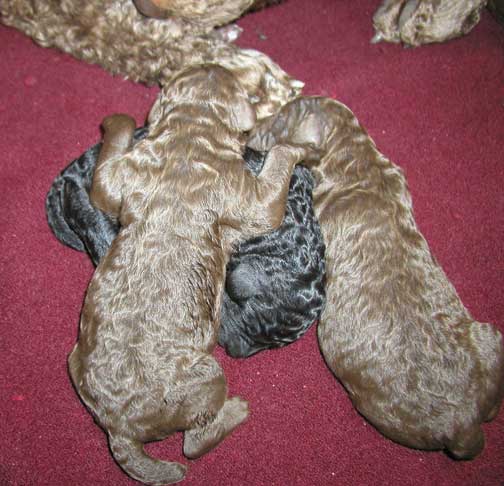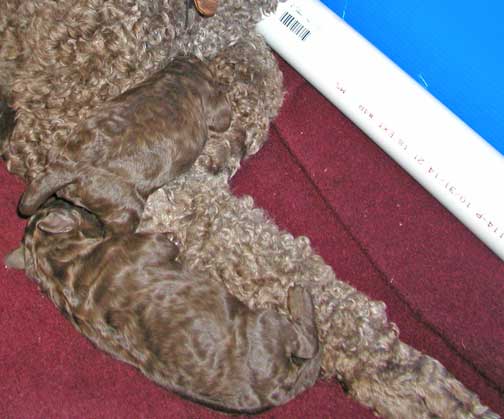 MMMMmmmm, what we do best as we grow...NUMMY...Zzzz! ;o) The wool blankets gives our toenails something to grip and allows us to push into nursing :o)
Our tails are docked and due claws done now. Tes waits until we're doing well with some ounces gained...usually 2-3 days old they get done. Our bones start to get harder each hour and day that goes by...when done early there is VERY little pain initially...each day that goes by, Tes can tell with the different litters at different days as we cry more at 3 days then those at 2 days...1 day is done if of good weight and it's just the way it has to be to get into a placement at the vet's.
*
At 2 days old I'm still curling in the fetal position staying warm in the temperature controlled room 78-80 degrees and heating pad underneath to keep me comfortable. We are not able to regulate our body temperature yet. The humidity must be kept around 55-60 percent so our skin doesn't dry out, as that isn't developed either.
How many puppies can you see? ;0)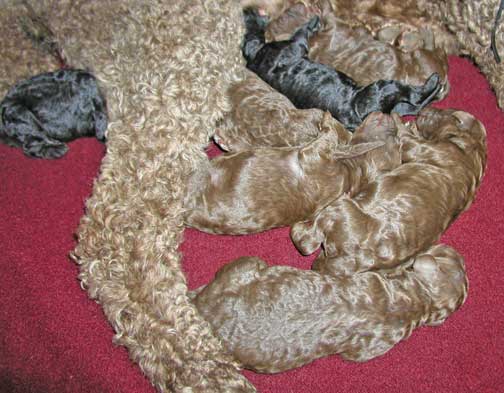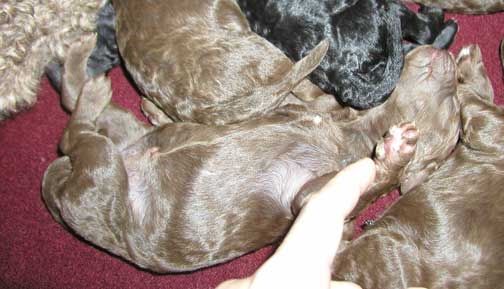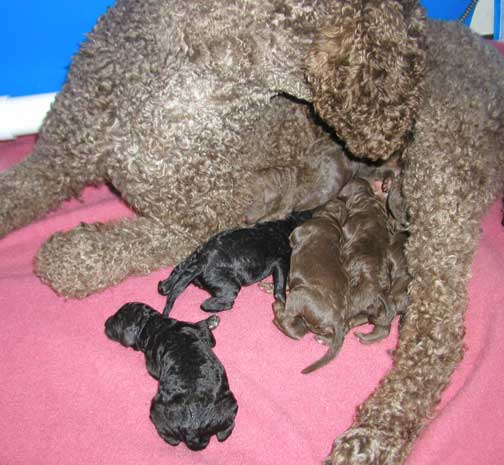 Above, puppies are 1 day old. Jasper is tired yet loving her pups. We all 7 came from her tummy just yesterday!!! We're excited to come home to you :o) Ahhh, yes, snuggle, cuddle, look at us little tubbies at just a day old...
*
Jasper had 7 puppies! Woo Hoo!!! Born 1/20/17 Below they are JUST arriving where I took their first picture to send off to you :o)