J x D Royal Standard Poodles 2017 Winter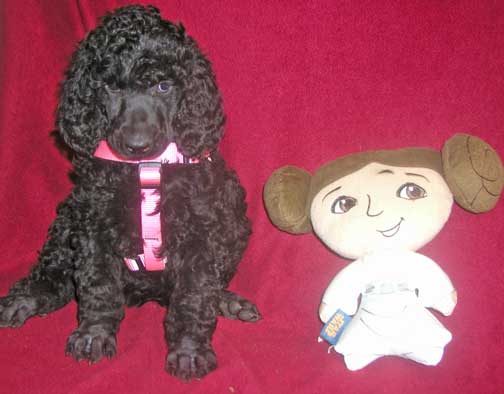 Enjoy the new picture updates below...remember start at the bottom and work up as they grow up ;o) Next picture update 
Tracking Jasper's fall  litter 2017 stats:
7 wks old 2nd bath, nails clipped, anal glands expressed
6 wks deworming pyrantel

5 wks old first bath, nails clipped, anal glands expressed, deworming

4 wk deworming pyrantel
10/28/17 dewormed pyrantel
10/22/17 toe nails clipped
2 days old Tails docked 1/3 from tip per AKC protocol, due claws removed
DOB 10/16/17

2 Males

SOLD - "Harvey" Brown male - 7 wks old 14# mc 6764.  EH > Glasgow, KY (returning customer discount -$200) Picked me, I am so cute and cuddly!
*

SOLD - "Josef" Brown Male - 7 wks old 14# mc 5575. I will fill LB > Lubbock, TX (returning customer) life with tons of joy and laughter!
*
2 Females 

SOLD - "Carme'l" Brown Female -7 wks old 11.4# mc 9878.  Dani is keeping me for the breeding program Woo Hoo!
*

SOLD - "Princess" Black Female - 7 wks old 11.6# mc 1244. I am also being kept Dani and Tes hope we produce some giant spoos for you all!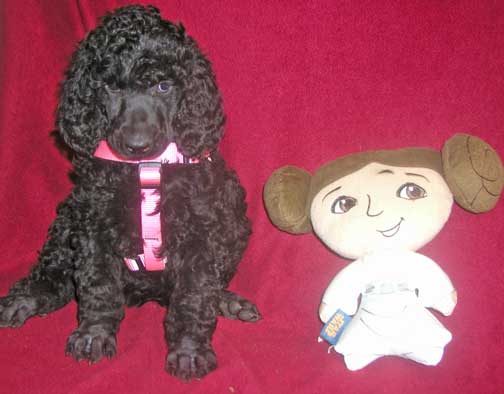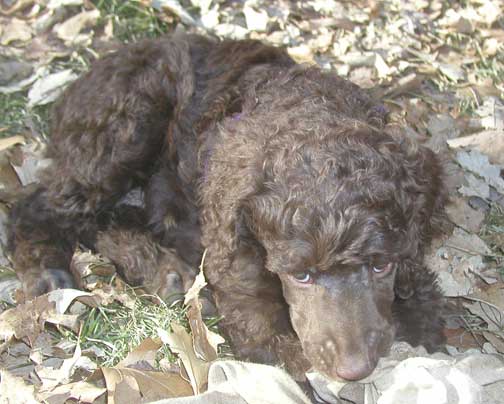 Dani says this isn't a toy....I'm so sad....:0)
*
Tug-o-war!!
Ahhh, nothing beats laying in the sun...
*
Time to do more exploring, what can I get into today? :0)
Josef says: "Here I come guys!!"
*
We are doing pretty well at potty outside even though it does get a bit chilly out there! :0)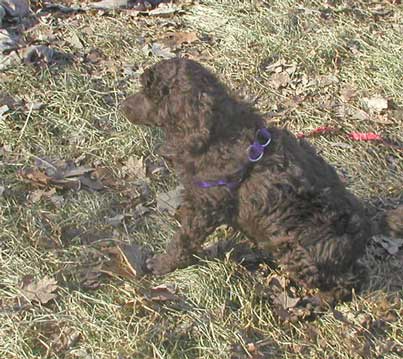 Look at our huge paws we are for sure Royals!
*
Puppy play time.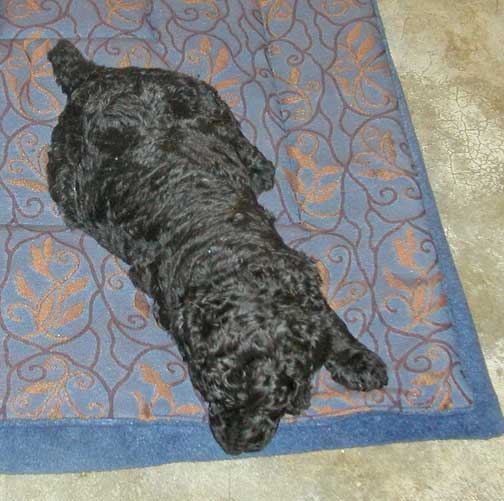 Nap time....this is Josef's new bed we are getting tons of smells on it for him!  :0)
*
Wow check out all those big spoos.....they are pretty fast....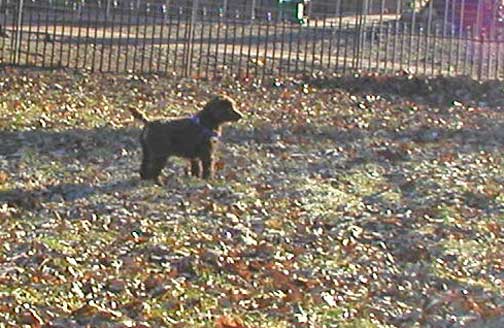 Hmmm.....I wonder what is on the bottom....
*
Outdoor playtime!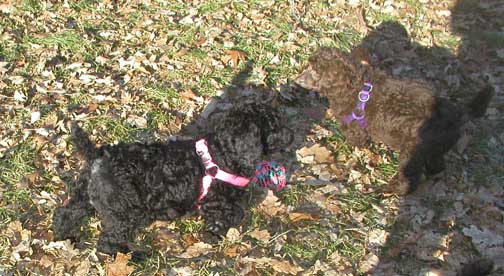 Dani takes us outside as much as possible, the weather hasn't been too terrible in Minnesota.  We love to run and jump in the leafs!  
*
Ahhh these pet beds are the best to snuggle
Two Peas in a Pod :0)
*
We are officially 7 weeks old!! One more week and we head to our homes! Woo Hoo!!
Dani let us out for a bit to do some exploring and found me like this....I was checking to be sure nothing was in this shelf, and there wasn't. 
*
Really do we have to go outside.....how about in 5 minutes......ugh ok....:0)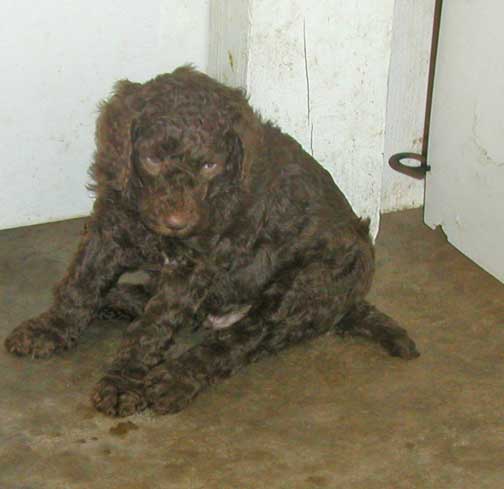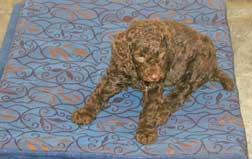 nothing beats a good nap after being out in the cold.  We love our pet beds they make a great security blanket for when we go to our new homes.  They are all full of wonderful smells from home, have you ordered yours yet? Click here to see available options
*
Wow look at those big spoos, I wonder if I will get as big as them......or maybe bigger.....:0)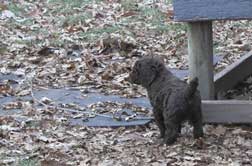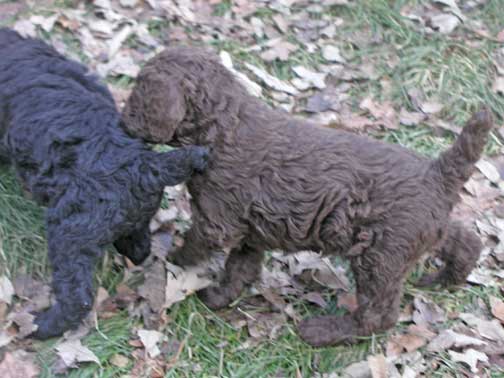 If you don't wait for me I am going to bite you in the butt!!!
*
What are these crunchy things?  They are fun to chase and play with! :0)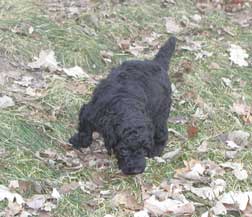 Boy there are all kinds of new smells out here! 
*
Along with moving out to the heated garage we are also learning to go outside.  Dani is careful with the Minnesota temperatures to be sure we don't get too cold.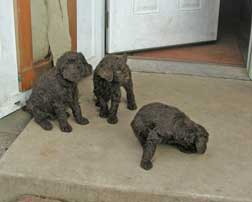 Watching Dani mop really makes me tired....yawn....
*
Yum Yum :0)
Here is our new space! When momma eats so do we!
*
Hey is that a big dog out there....can we play with him? :0)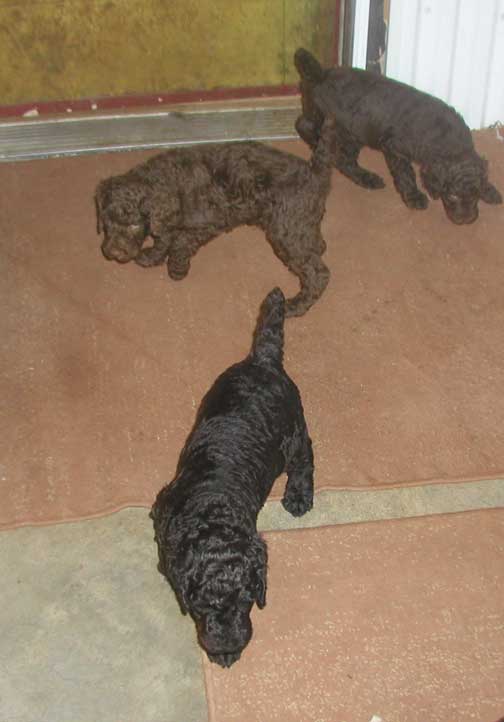 Wait for me guys I am coming too!
*
Dani Says it is time for us to move into the heated garage, we are unsure but are doing great at following her!  Hmmm what is that we smell....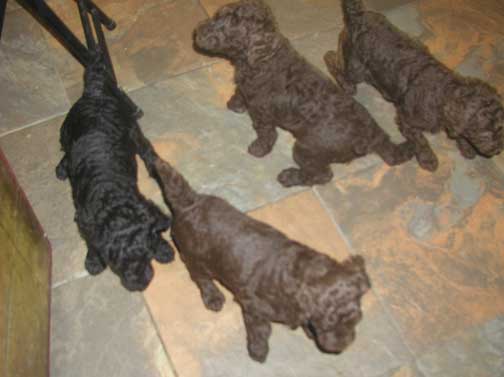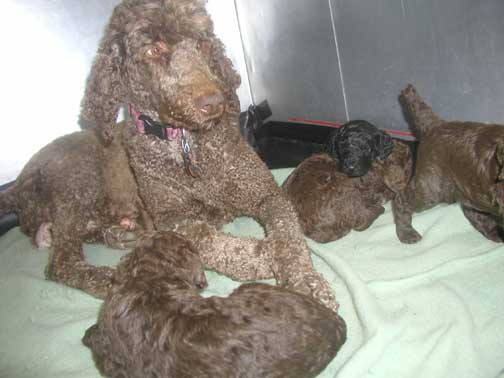 Momma, your so good hanging out with us:o))
*
Hmmm, smell that? A camera???
Aren't we JUST TOO CUTE ;o)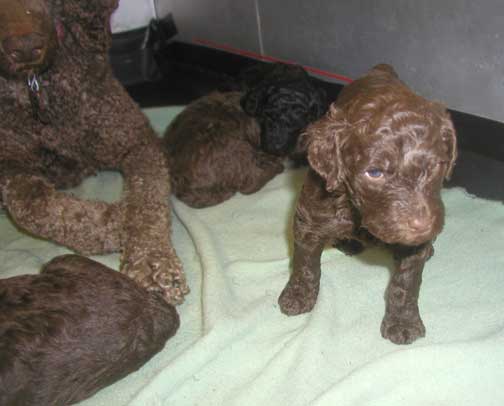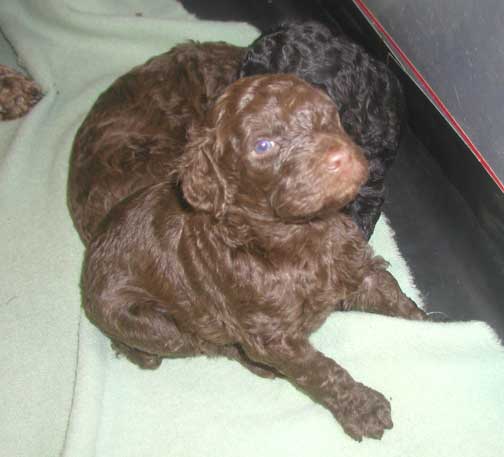 Hey YOU - Get Ready! Here I come!!!
*
Temps are slowly being dropped from 80 degrees to around 70 degrees.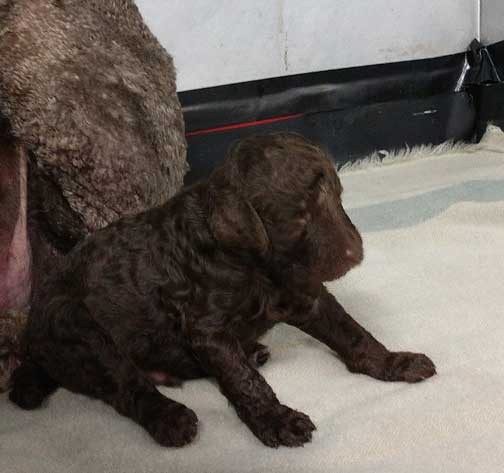 Hmmm, what's this???
*
Hmmmm....we smell this stuff....hmmm, momma is always eating it let's give it a try...
It's gotta be here!!!
*
Okay, let us get in there for some nummy! Momma isALWAYS lick lick, LICK!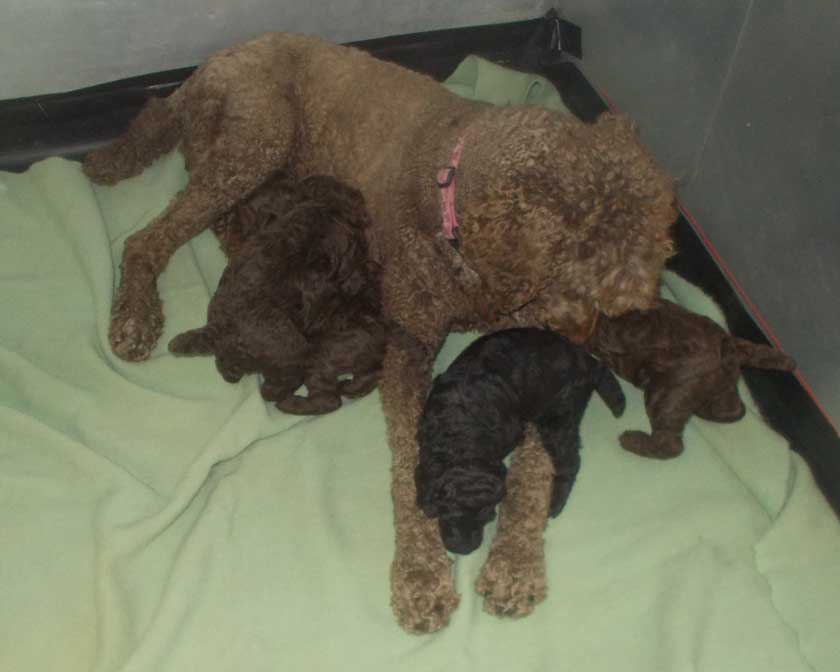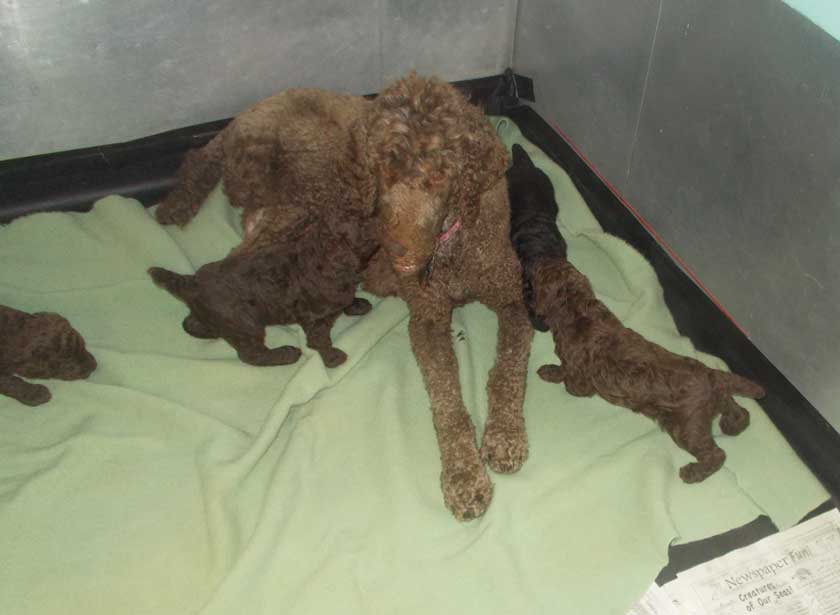 Momma Jasper is doing great, we want to play momma...please ;o)
*
It was time to move us out of the bedroom to where we now are walking and finding we want to potty on paper! Room, space and GROWING!!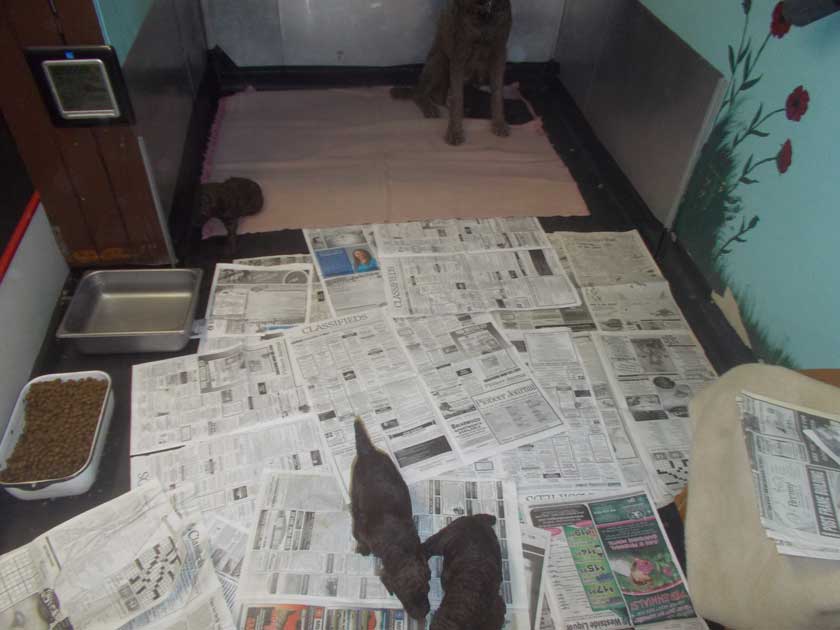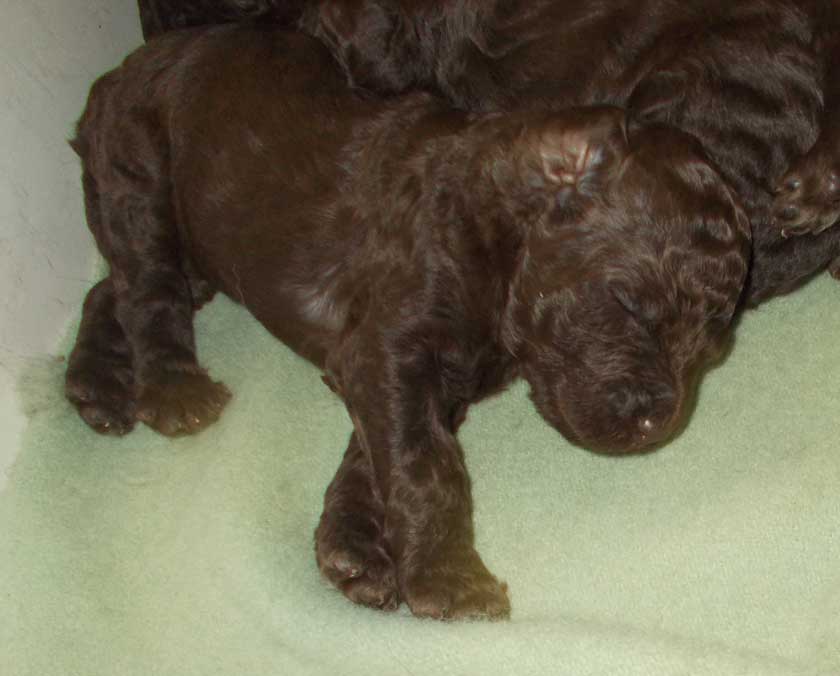 In the above pictures we are going on 2 and then 3 wks old...our eyes are definitely open looking around us...until we zzzzz....
*
Working that nummy milk out, so good!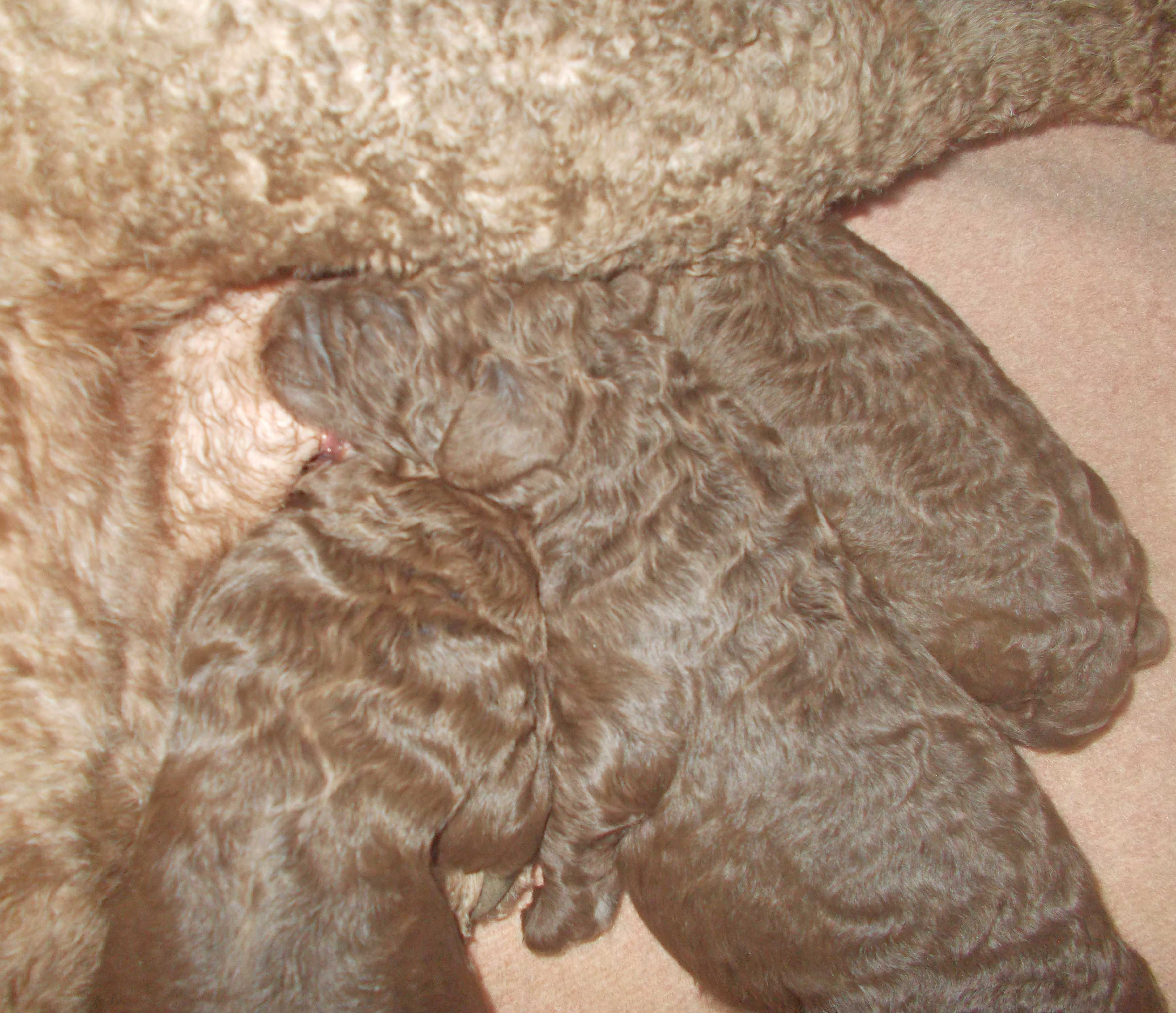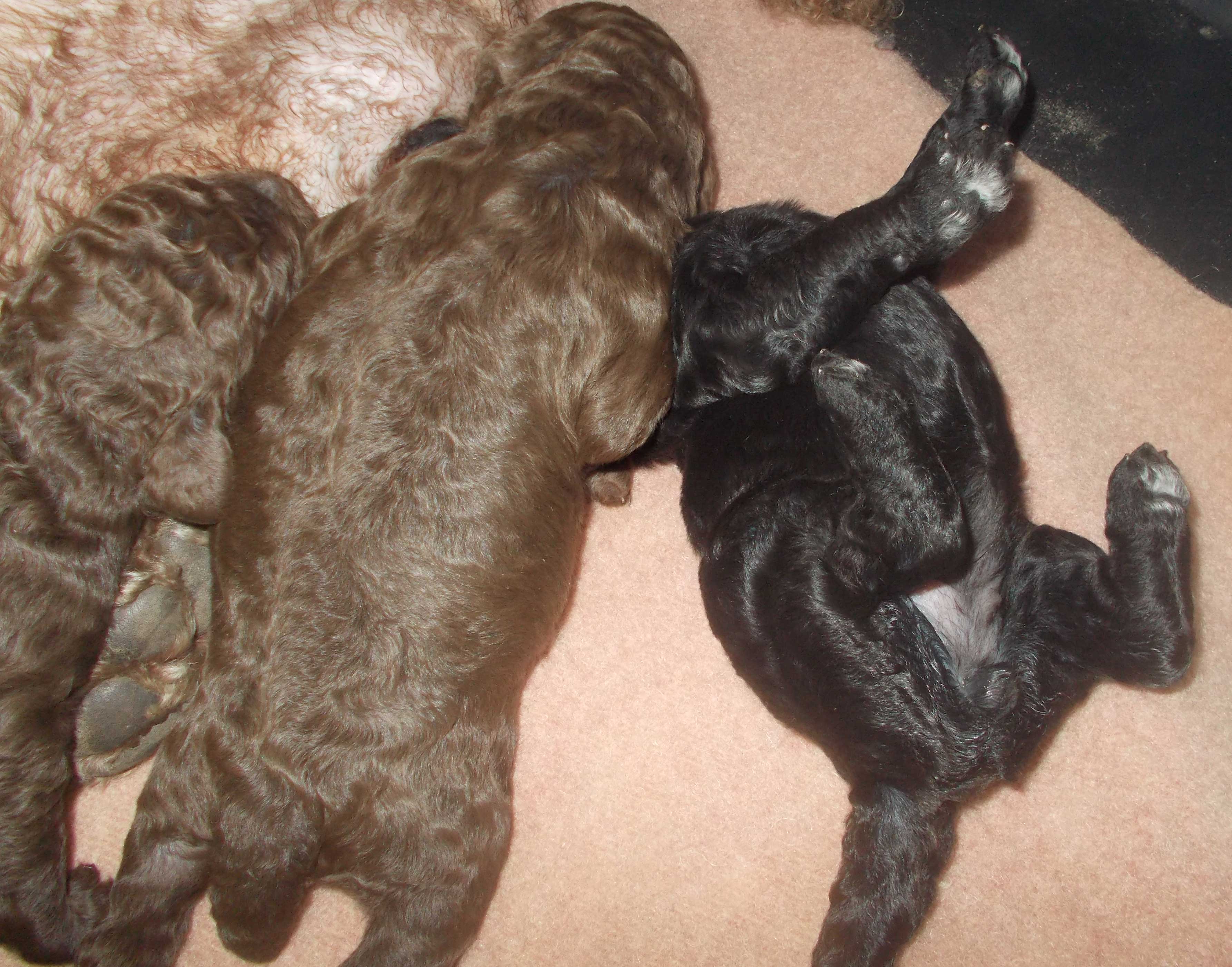 It doesn't matter what position, we will get that yummy milk! ;0)
*
Dani calls this photo "Two Butts"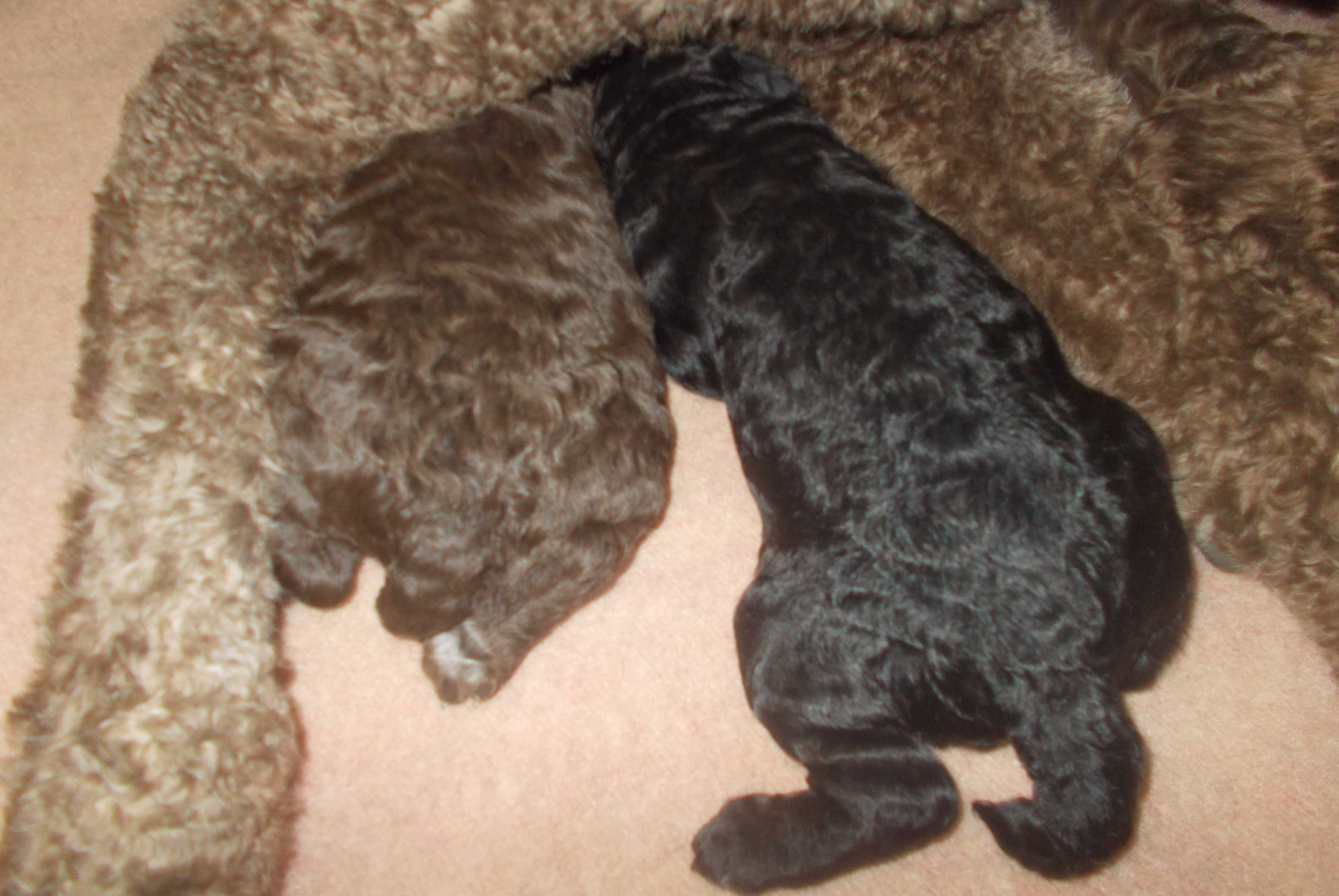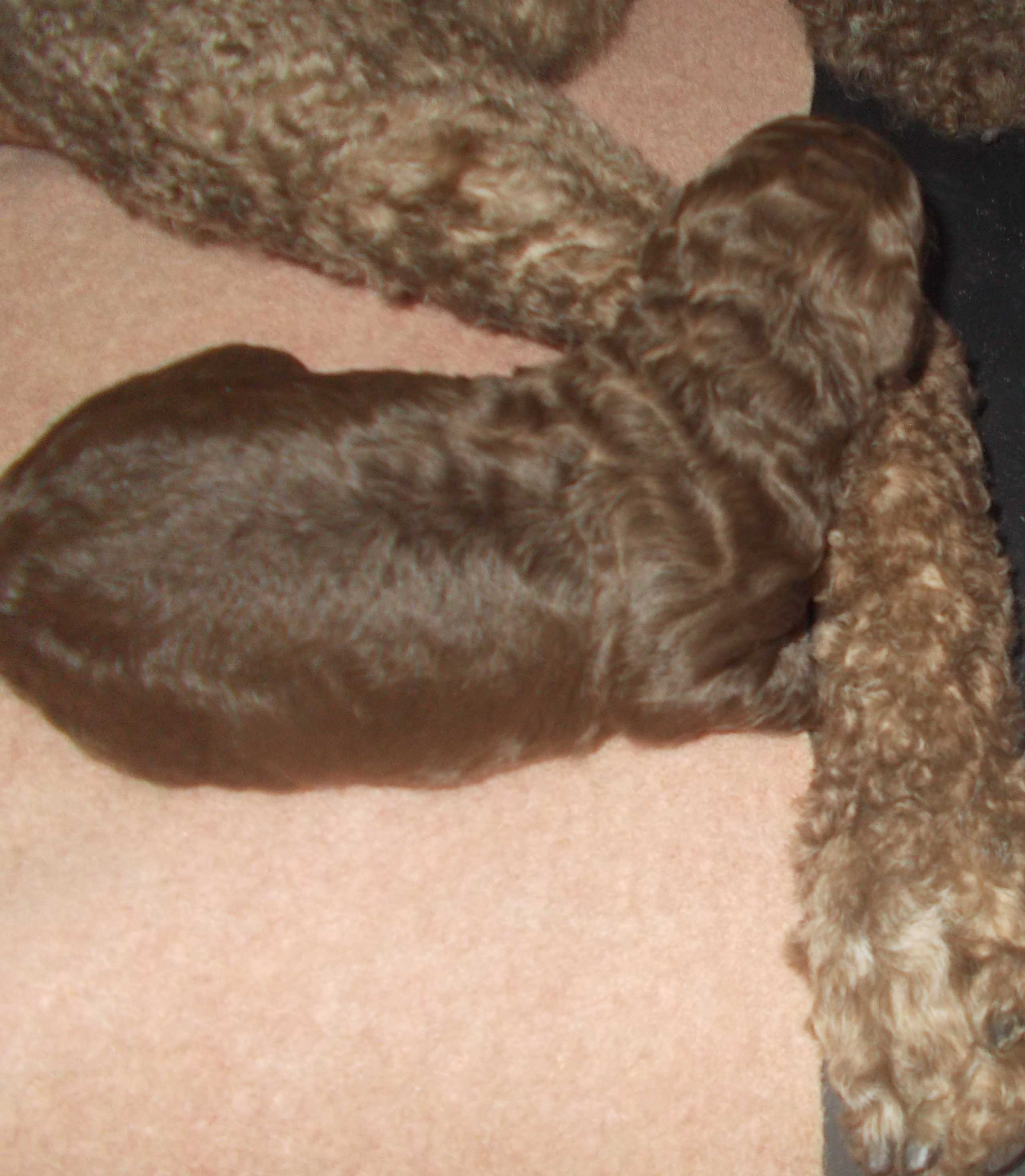 Look how big we are....I am a brown female resting on Momma Jasper's leg.  
*
Ahh you make a great pillow!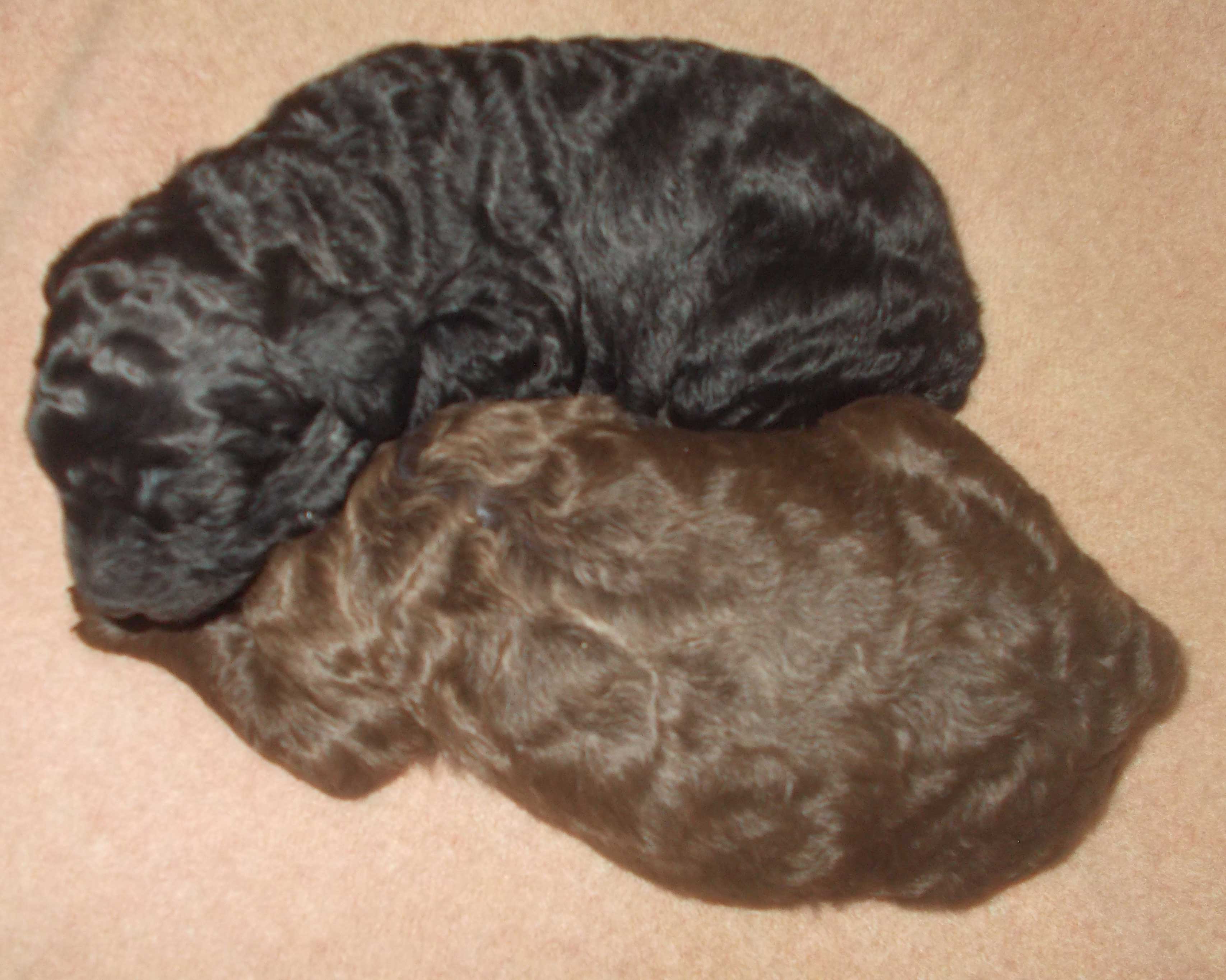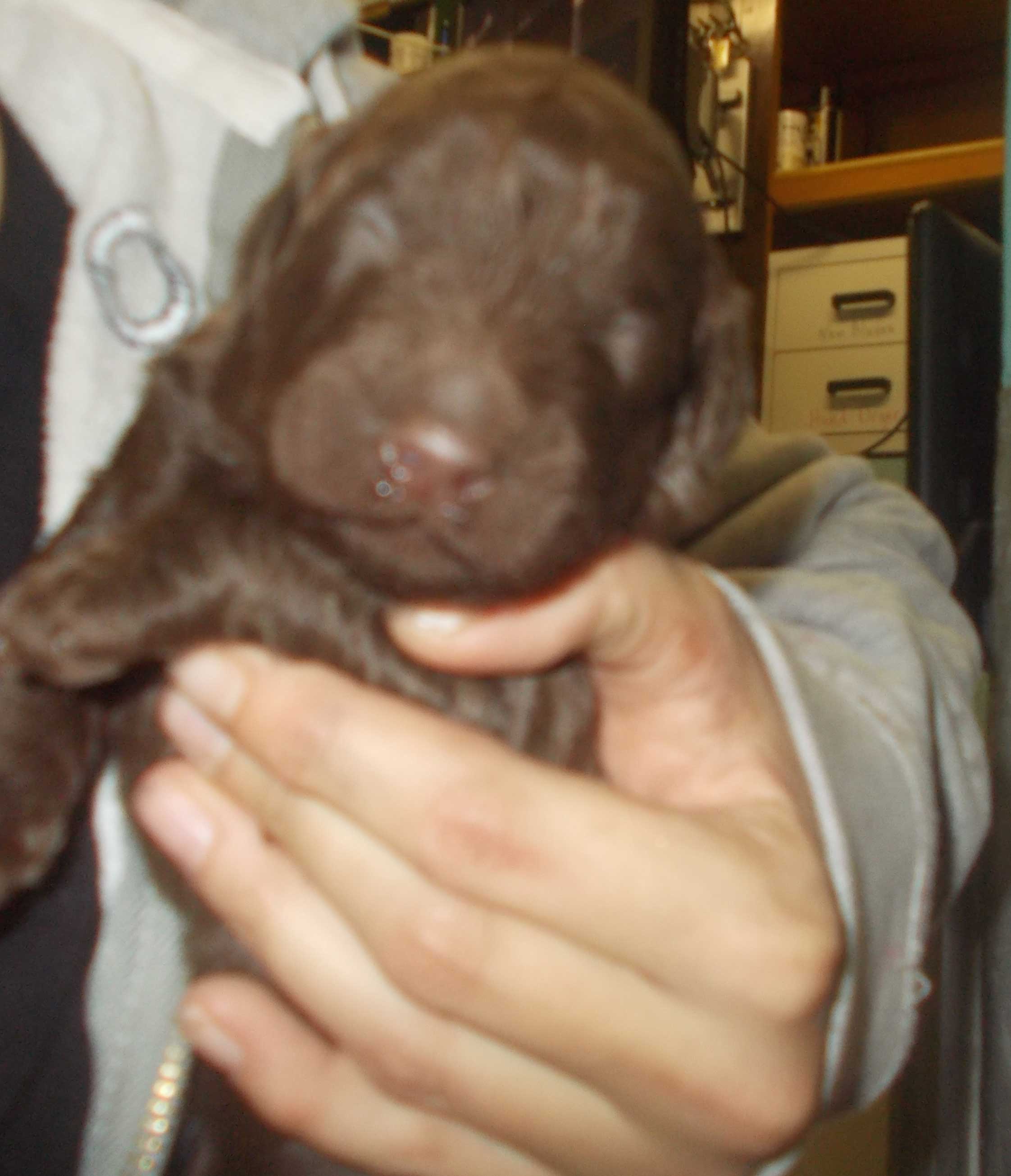 Its a blurry picture but as you can see our eyes aren't open yet, we use our noses to smell our way to momma.  Soon we will be able to see!
*
Tickle the cheek and what do you get......A Yawn!!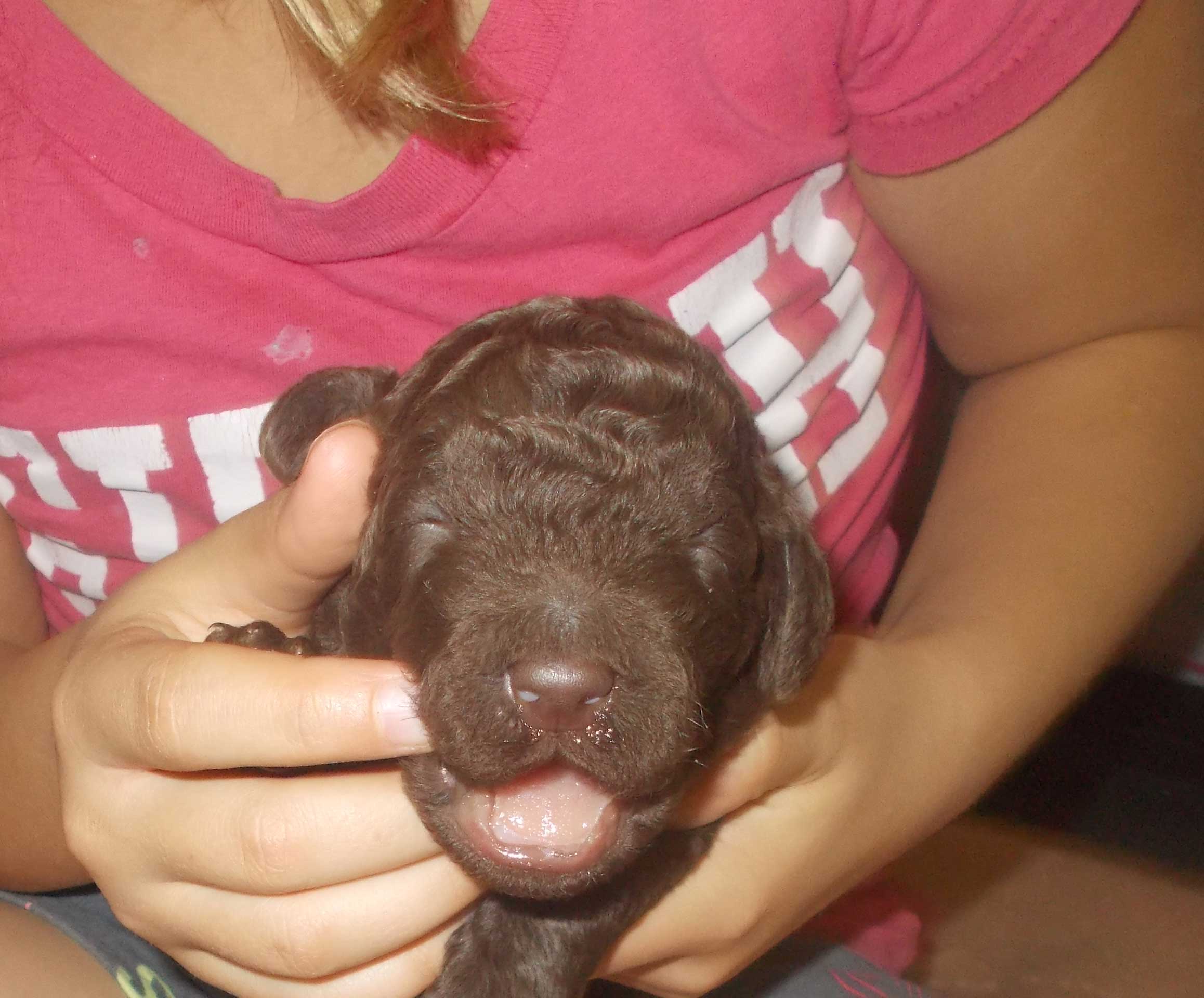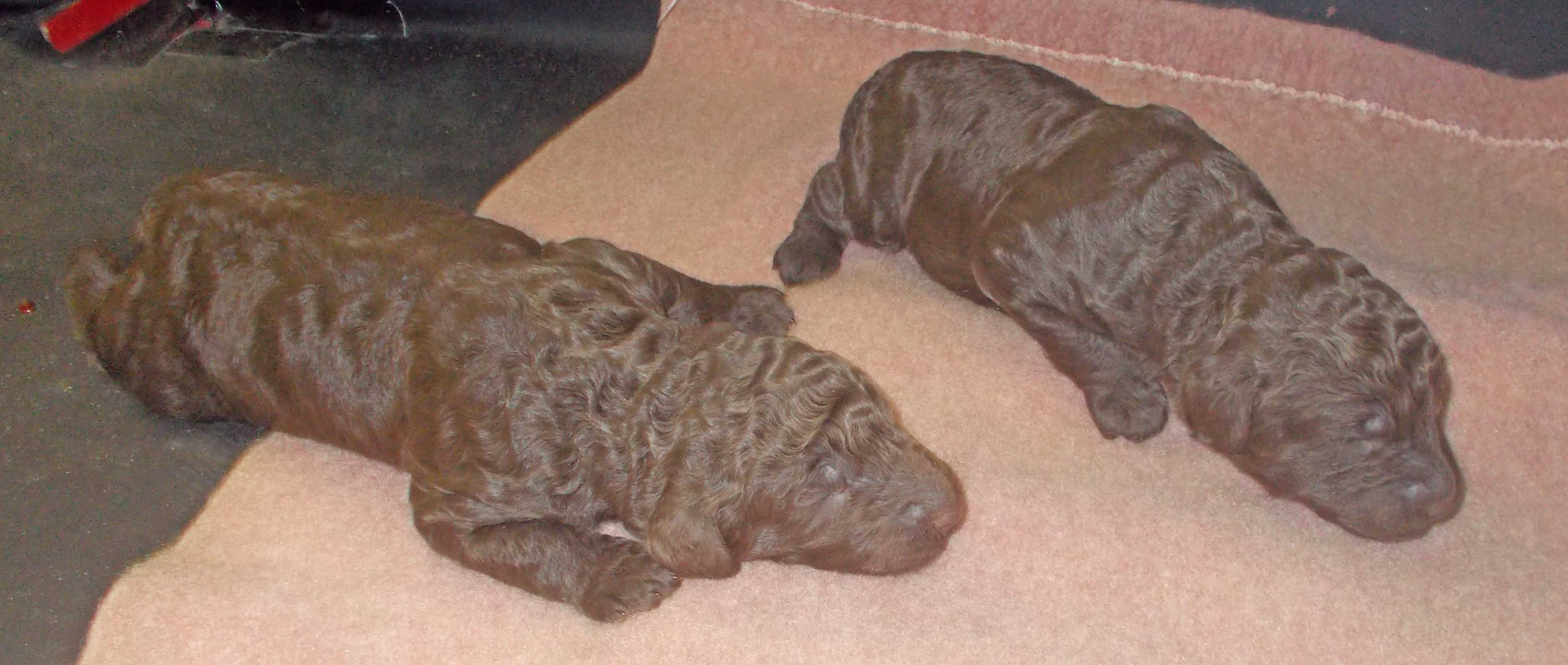 We are really starting to scoot around. The wool blankets help us get a good grip so we can get moving.
*
Dani's daughter Madison has been a great help with the 3 litters, hmmm.....is that her I smell??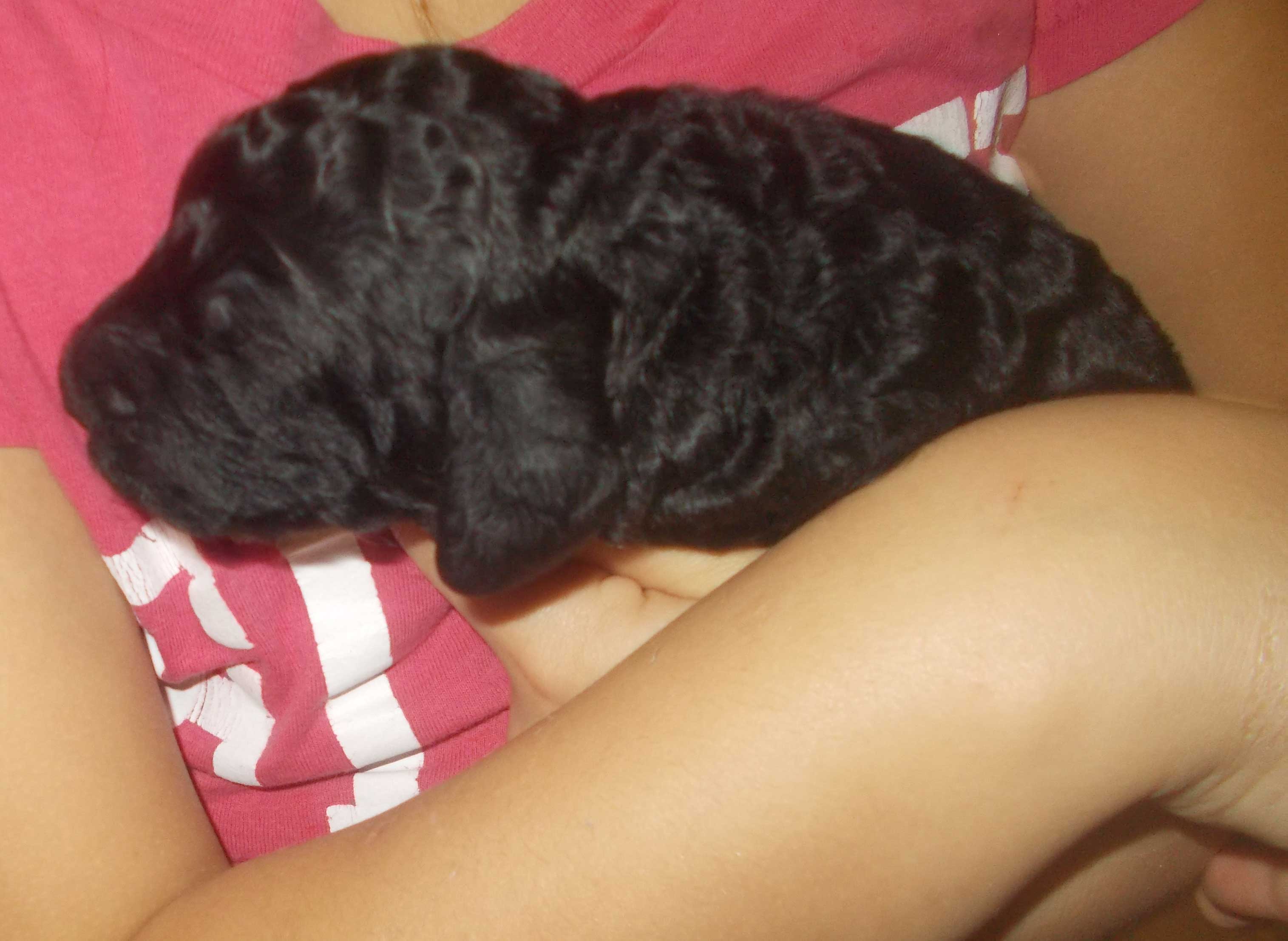 Dani came in and saw me sleeping this way and had to laugh....well I think it is comfy...zzz...ZZZ...zzz
*
ZZZ...zzz...ZZZ...

You can see we're looking gooood ;o) Smell is the first sense we have so we can find mommy's teets to nurse from...Big tummies getting filled with goood milk :o))) zzzz afterwards...and a snuggle always works for warmth...
*
Momma Jasper is doin a great job taking care of us and helping us potty, she is checking us now....nope no poo!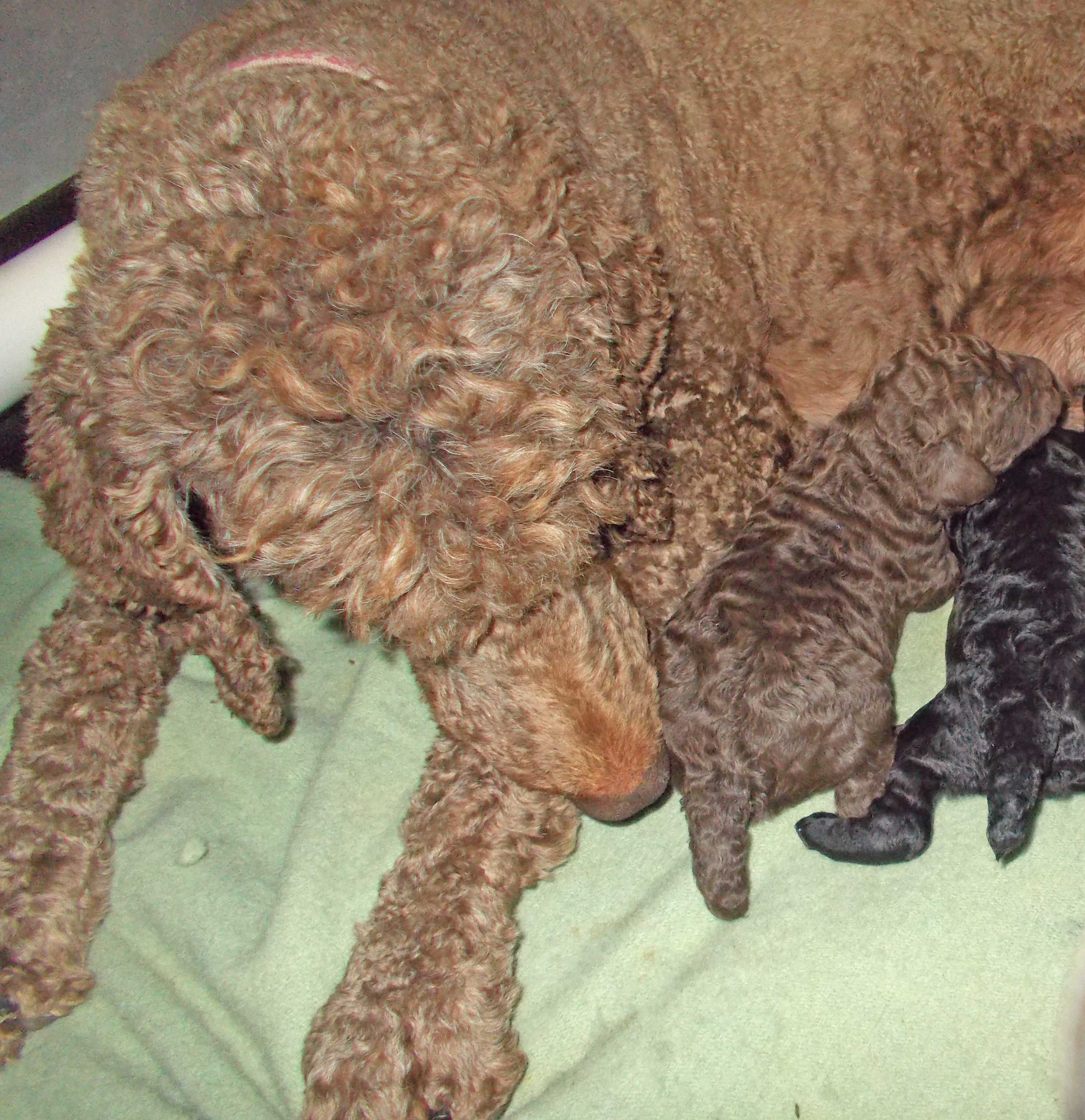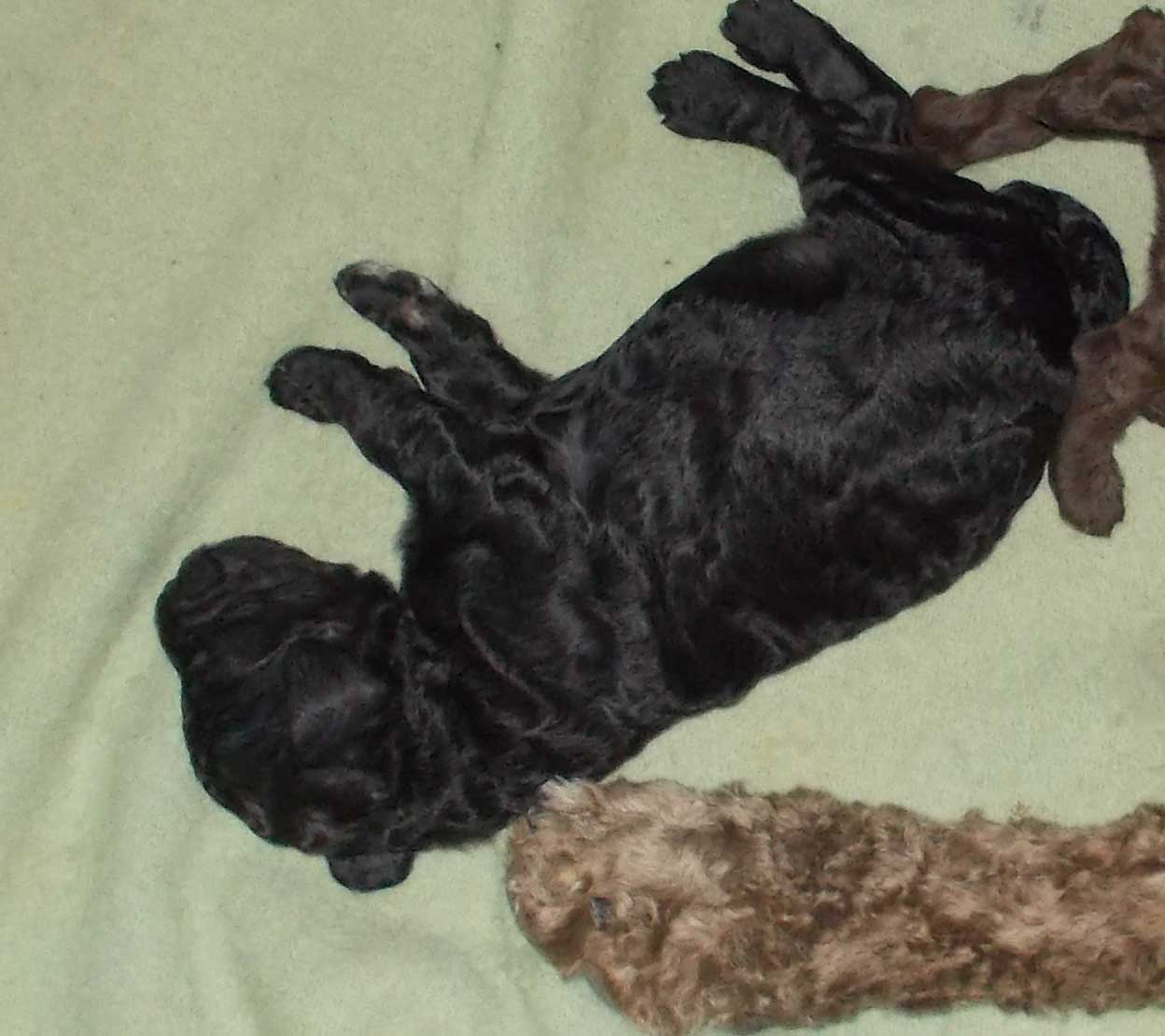 MMMMmmmm, what we do best as we grow...NUMMY...Zzzz! ;o) The wool blankets gives our toenails something to grip and allows us to push into nursing :o) I am the only black girl, Dani is keeping me for the breeding program....wish me luck!! ;0)

*

Our tails are docked and due claws done now. Dani waits until we're doing well with some ounces gained...usually 2-3 days old they get done. Our bones start to get harder each hour and day that goes by...when done early there is VERY little pain initially.

Above, puppies are 1 day old. Jasper is tired yet loving her pups.  We're excited to come home to you :o) Ahhh, yes, snuggle, cuddle, look at us little tubbies at just a day old...
*
Jasper had 4 puppies! Woo Hoo!!! Born 10/14/17