Geo x Bruno x Draco          Royal Standard Poodles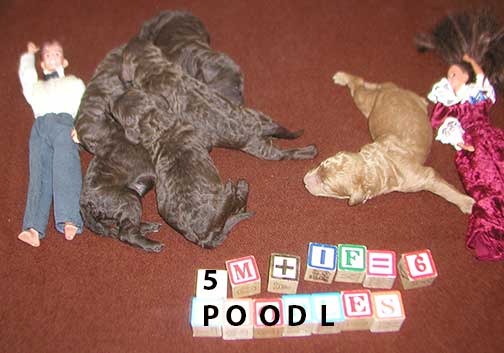 Geo x Bruno x Draco Royal Standard Poodles dual sire litter. Pups arrived! DOB 10/4/21. Woo Hoo - Bruno frozen semen came through for us! Not a large litter, yet Bruno customers will be happy - 5 Brown Males + 1 Red Female = 6 pups :o)

Picture updates > 1 wk 10/11/21; next 3 wk update 10/25/21; next 5 wk update 11/8/21; next 7 wk update 11/22/21. Ready for homes 11/29/21 - Thanksgiving weekend! If flying can only fly carry-on yet, Monday 11/29/21.
Story board theme is "Bruno - The Next Generation", with 5 brown males they are only from Bruno as Draco has NO brown in his background. DNA testing is sent in for AKC lab to provide dad, then I turn in results for AKC registration papers. The red female is Draco's as Bruno has NO red in his background.
SOLD OUT Litter!
Remember to start at the bottom and watch the puppies grow up onto the page :o)
---
The next 3 wk picture update above for our web page Geo x Bruno x Draco Royal Standard Poodles will show our eyes opening and starting to stand and move around...making a lot more music for Tes. Definitely getting ready to move into the Wing 3 wks old :o) Stay tuned...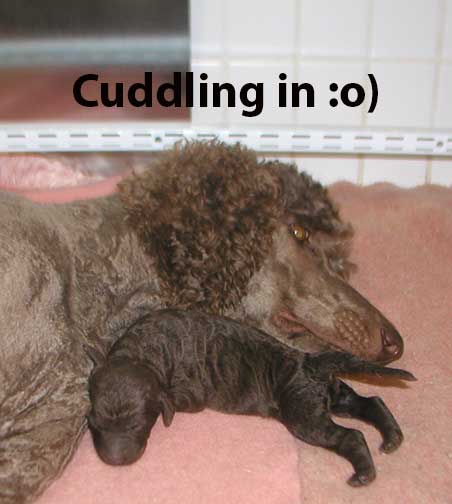 You're my brother...Bruno 1, 2, 3, 4, and 5!
*
Smells like momma's feet to me ...you're my bro :o)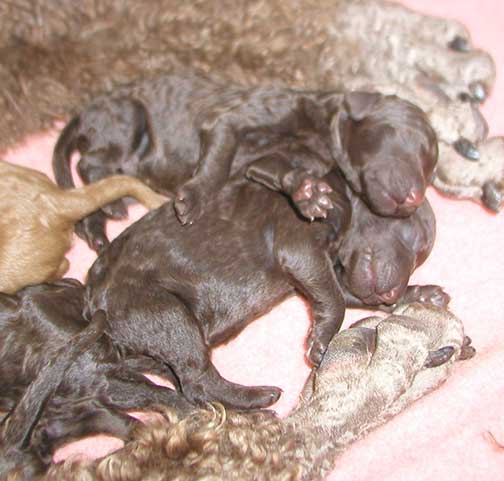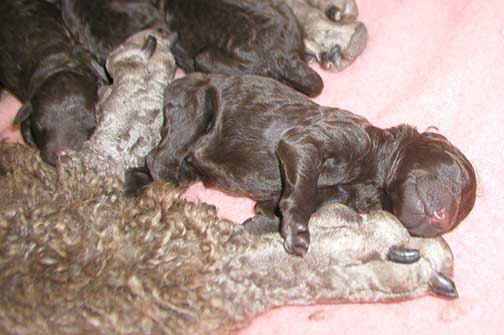 There's always an arm thing that we love. As long as momma sleeps, we'll snuggle into her booties ;o)
*
Having lots of room for momma to circle around us is important. Some of us nurse, some of us zzzzz....this picture tells Tes she can turn the heat down now to 82 degrees...cooling the room off more to keep us closer together, as you'll see in the next picture above once the room cooled down to a lower temp...and each week it will come down in temp for puppies.

We're definitely adding on the ounces throughout the week.
* Geo x Bruno x Draco Royal Standard Poodles *
In time we'll get so big momma won't want to keep licking us and Tes will move us to the Wing to start learning potty on paper.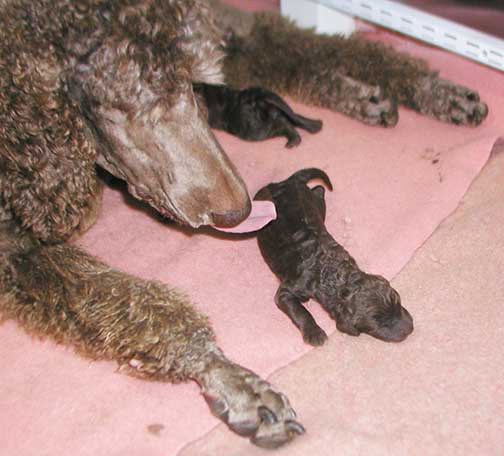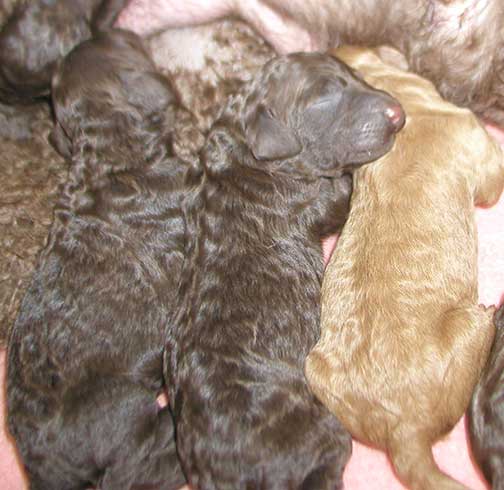 Snuggling to keep us warm...ahhhhh...Drinking and Zzzzing...and growing all the while :o)
* Geo x Bruno x Draco Royal Standard Poodles *

I will never be able to share definitely if it's a holding brown vss fading or roan brown color. Geo is a solid brown but Bruno was a roan brown. Cairo is a roan brown and her sister a solid brown.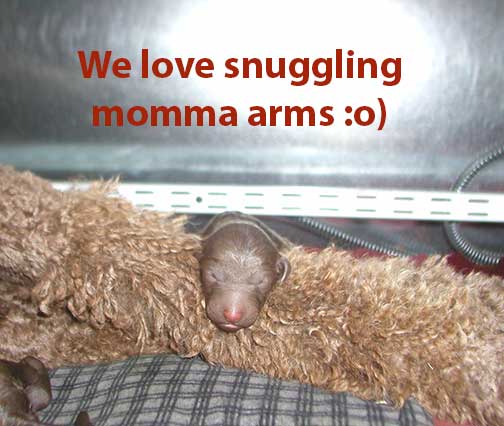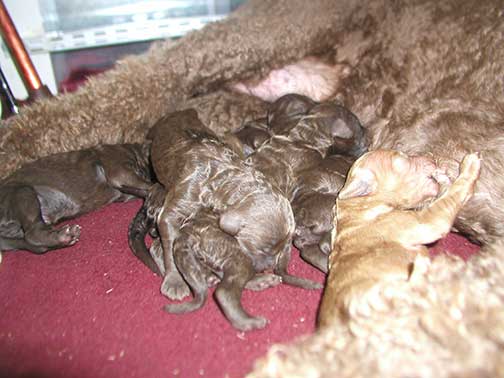 Wool blankets are used to wick away moisture and keep them dry and warm. Tes has a variety of colors, to make a more colorful page for you ;o) An electric pet heater is under the upper back right corner to keep us pups in an even warmer area for the first several days. Such scooters we are already climbing over each other to smell where our milk is.
*
Tes doesn't see any white mismarks on anyone. She'll keep an eye out as we grow and she has an opportunity to look closer.
We're all close to the same birth weight. Tes was certainly surprised to see the boys keep coming from Bruno. She knows they're Bruno boys because Draco has no brown to bring into the pups, black and red were potential, especially with Geo having red in her background. The same is true with Bruno, he has no red in his background that the red girl is Draco's. 
*
We did come 4 days early due to the rains and barometer fluctuations so we are a bit smaller to what we would've been full term. The ounces will start coming on though with lots of milk to go around being only 6 of us and 8 nipples :o)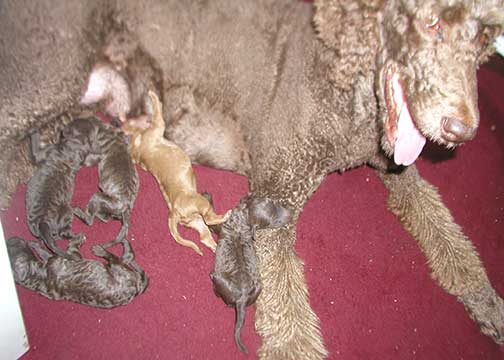 Here we keep coming, and coming, and keep coming!!! Tes has to be right here pulling the sack off to get us breathing, rubbing us dry and momma licking us to get us breathing and moving around. We can't excrete on our own right away, so momma warms our groins by licking us and away we goooo.....
* Geo x Bruno x Draco Royal Standard Poodles *
Here we come! Already trying to sniff out that nipple to start suckling as we dry off. Tes is always amazed how fast we go to find a teet and start suckling. Tes was going to groom me down today to be cool when I started whelping, she'll clean me up tomorrow :o)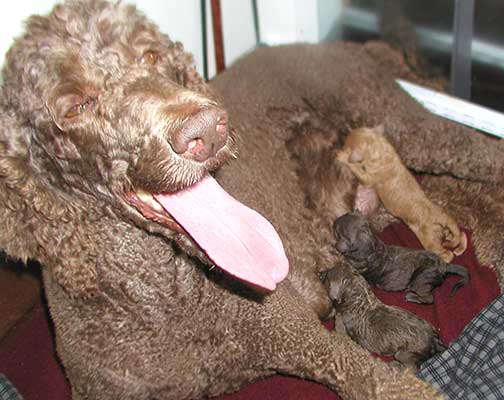 In raising Geo x Bruno x Draco Royal Standard Poodles Puppies For Sale, I hope to share a bit of what I do to bring you your next pet :o) My bedroom must be heated to 80-90 degrees as pups just come from the womb and they have no way to monitor their bodies being just born, especially the first week through the Woods of Mother Nature.
Start here and watch us grow up onto the page :o)

       Geo x Bruno x Draco         
Royal Standard Poodles