ZxD Royal Standard Poodles Spring litter 2017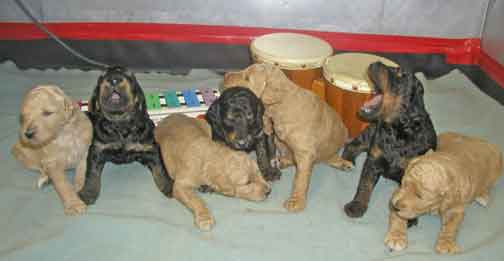 4 Females + 3 Males = 7 Zeddy x Daniel pups!
Born 4/6/17 - these will be some beautiful Royals with nice structure and size! That allows puppies to fly out on Thursday June 1st  please mark your calendars and plan accordingly. 
Next picture updates 5 wks 5/11/17, 7 wks old 5/25/17

Please scroll down to the bottom to watch puppies grow up onto the page as they are added for your enjoyment. 
Tracking Z x D puppies:
3 wks old nails clipped
2 wks old Pyrantel deworming (every 2 wks now with Momma)
1 wk old nails clipped
3 days old tails and due claws done. We have our due claws done and tails 1/3 from the tip per AKC breed standards.
born 4/6/17
*
To view our "TRY of videoing pups" on Youtube do this: 
Click on the youtube link below:
Type or copy and paste in:
Aperfectworldzd2017spring3wk01

Aperfectworldzd2017spring3wk02
*
Aperfectworldzd2017spring1wk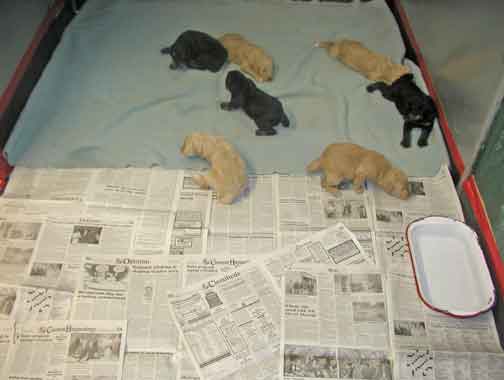 More space is added along with newspaper for us to potty on.  We are so smart that as soon as it was added we started to potty on it! :0)
*
We are really starting to make music with our voices ;o) Momma! Dani!! Don't forget to watch our videos where you can really see us in action!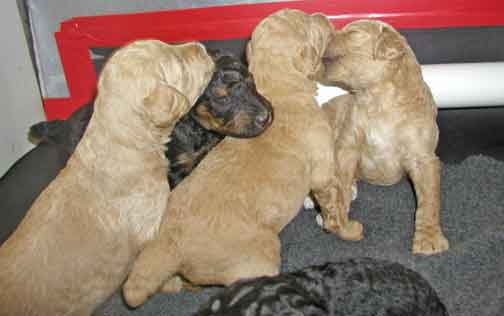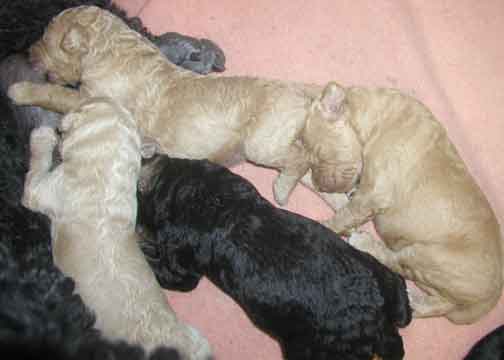 Some eat, some sleep
*
I am a phantom boy, look at those beautiful blue eyes!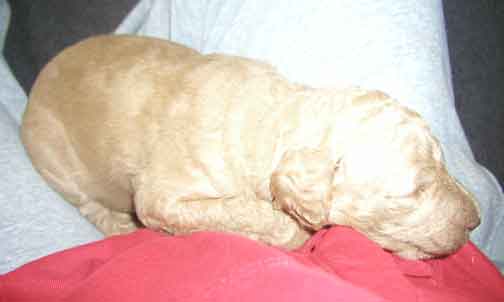 After playing we climb up on Dani to take a nice nap.... :0)
*
Or wherever we can find!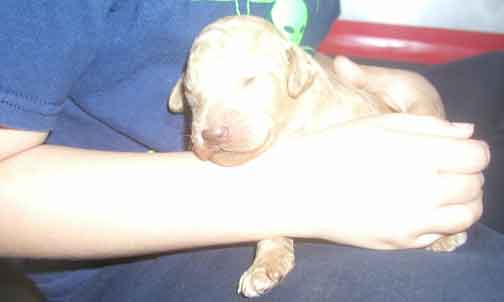 Happy, Happy
*
Momma is doing a great job at cleaning us up, soon Dani will add the newspaper for us to potty on.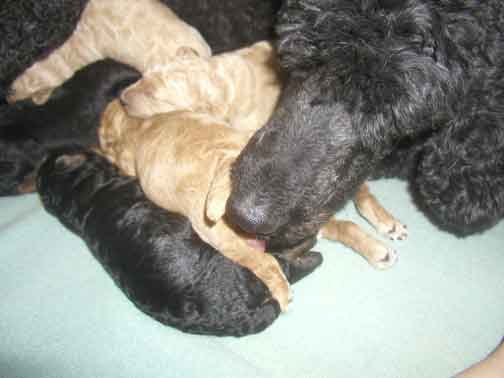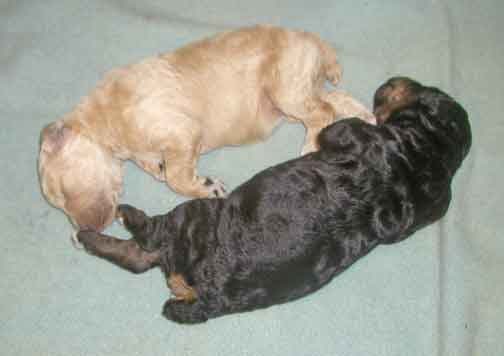 Look at those tubby bellies! :0)
*
We love you Momma Zeddy!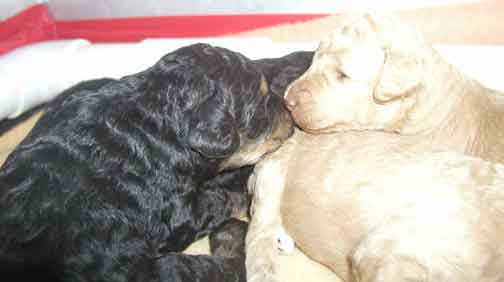 Putting our noses together :0)
*
We are getting our legs us under us and starting to play!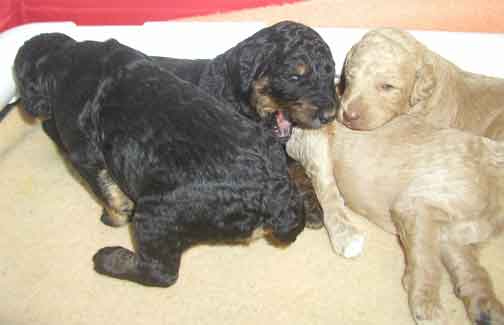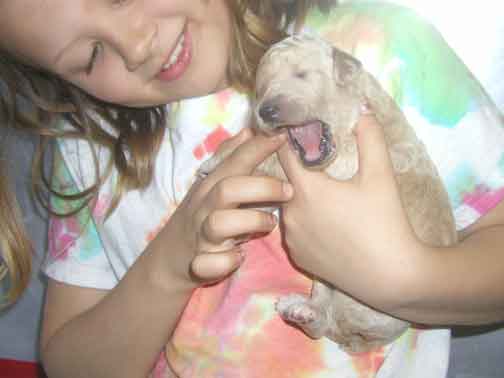 and yawn...Dani's kids are now coming in to socialize us as well.
*
A little tickle on the cheek......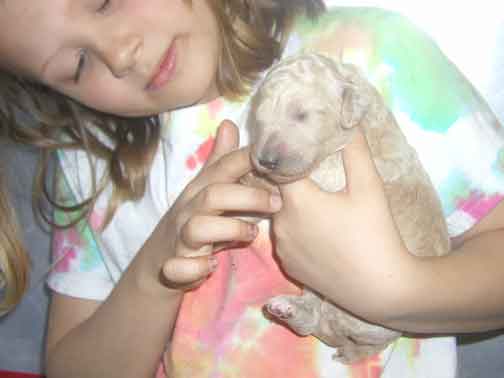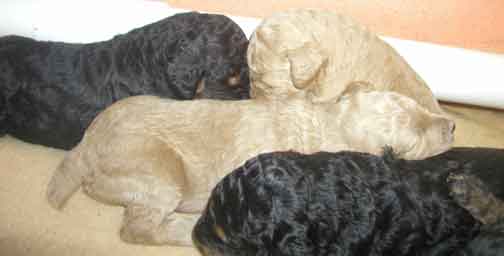 Let's put our heads together!
*
Momma, Momma, I am hungry! :0)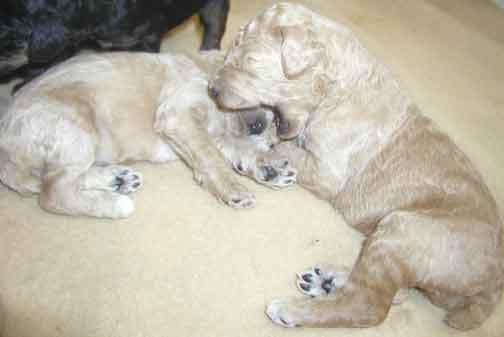 Look at our little bellies getting bigger, Momma Zeddy has plenty of milk for us!
*
Dani climbs in with us all the time to start socializing....hmmm....what is this smell? :0)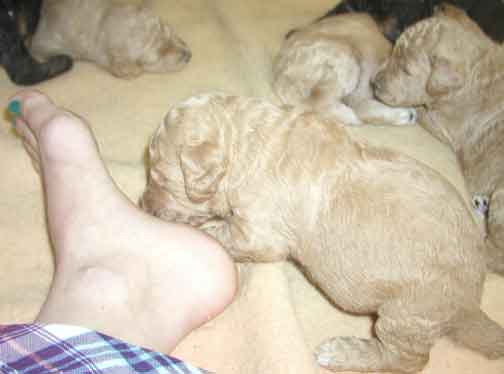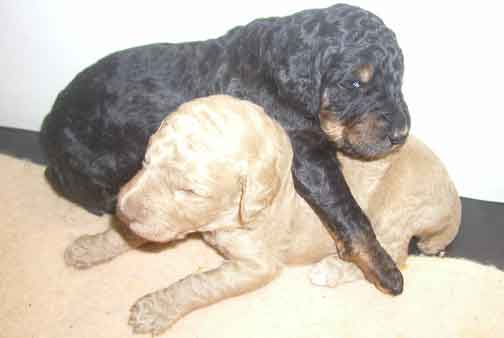 Eyes are starting to squeak open, I can see you Dani! :0)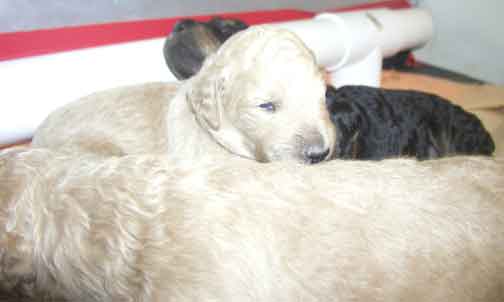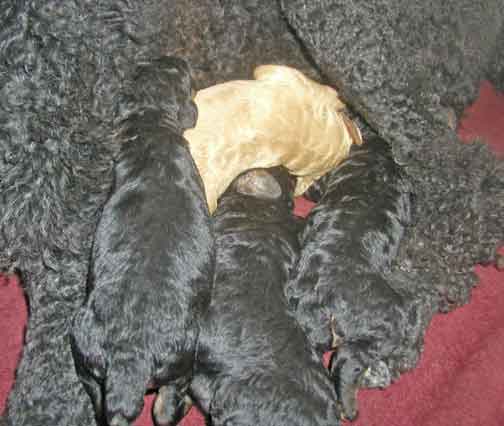 Let me get in there!
*
Snuggling with Momma Zeddy's leg!  Look at those black noses!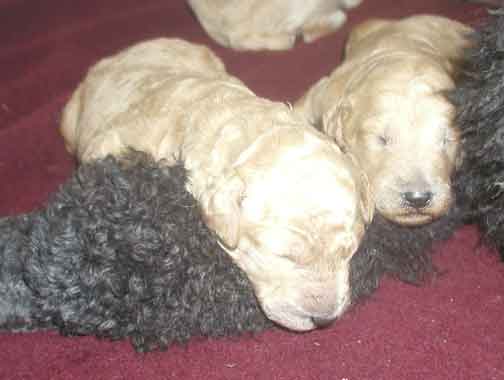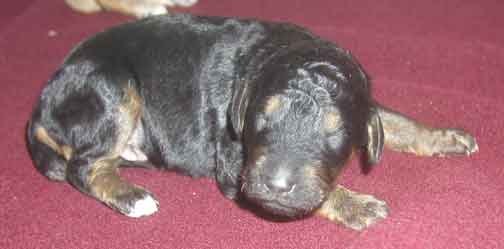 We all have white on our toes, some have more than others!
*
I am one of the apricot girls and both of my back toes are white tipped!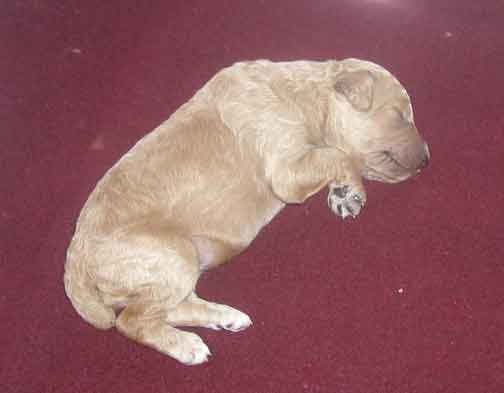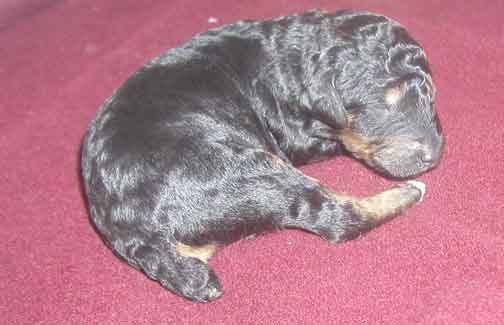 Above pictures we're going on 2 wks then 3 wks as our eyes open and we start to get our legs underneath us...okay, I am one of the black phantom boys, look close you can see I have white tipped toes :o) Temps are being dialed down...

*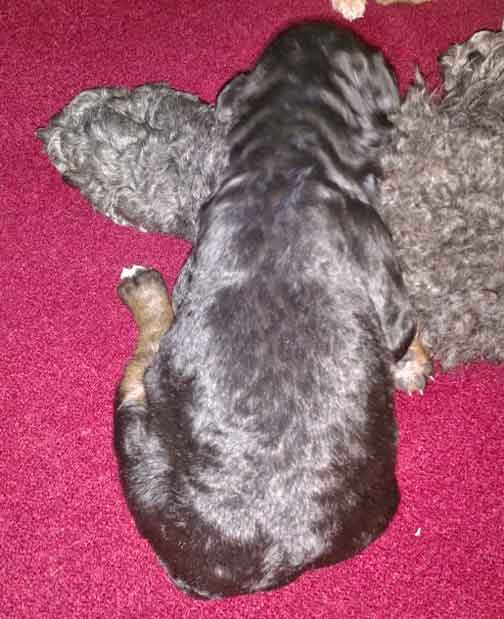 Phantom Male has white tipped toes on the back...All the phantoms have white on their toes....some more than others.
*
Look at my tubby tummy...I am a lighter cream female...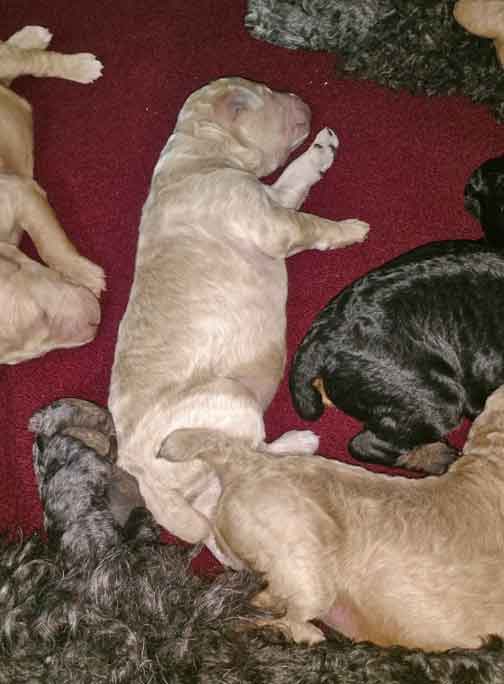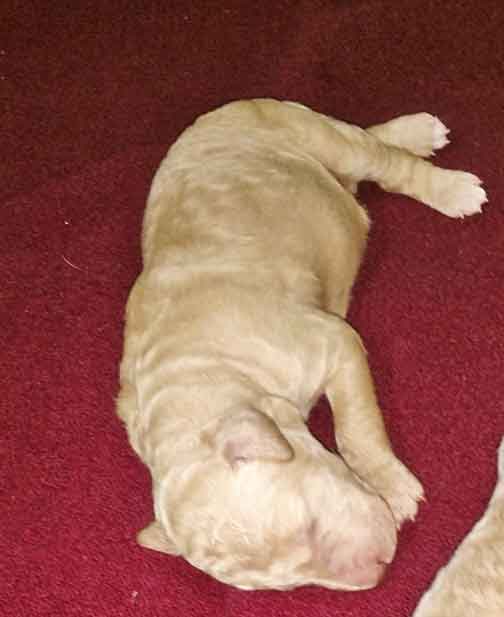 If you look close you can see my back toes are white tipped too.
*
working that milk out...nummy...see the white tipped toe?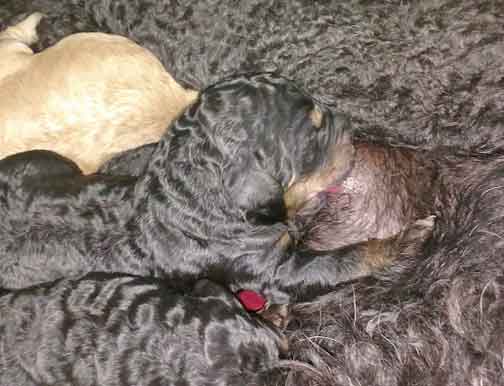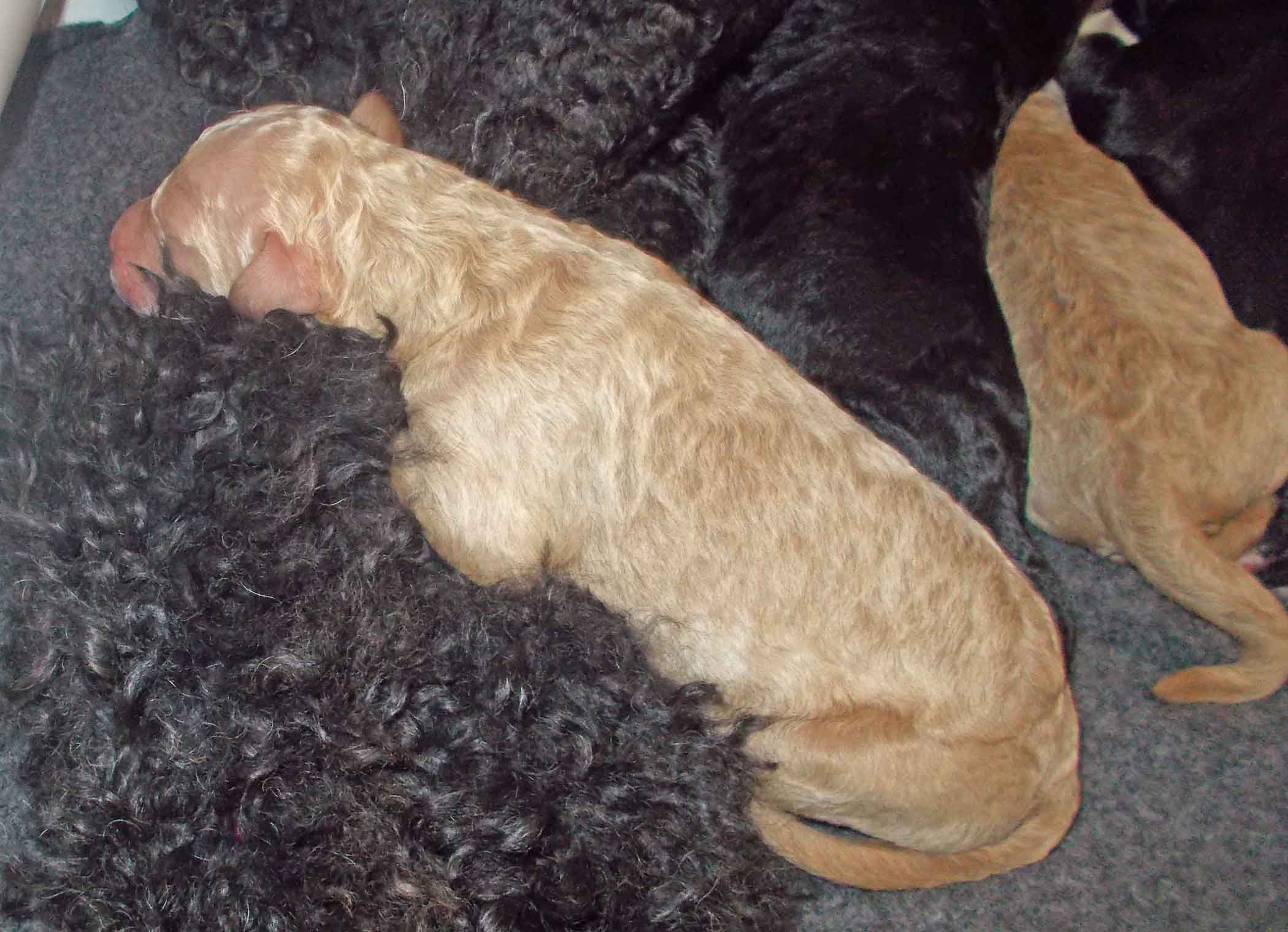 Such pretty red and apricot coloring...it will be interesting to see who darkens and who will lighten!
*
Puppy pile on a foot! Temps are slowly being dropped where Dani needs to keep them coming together for warmth that Zeddy can lay around them.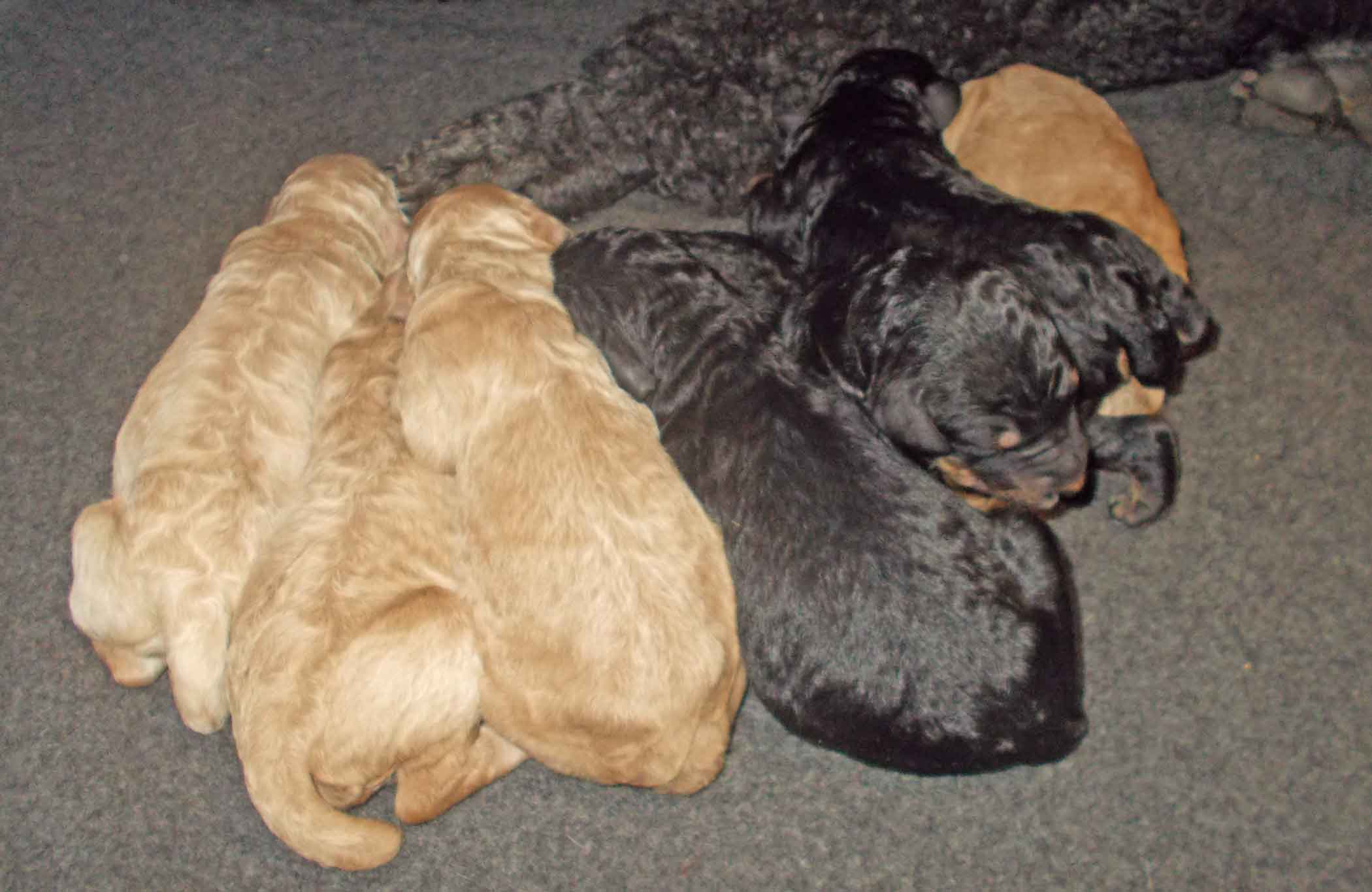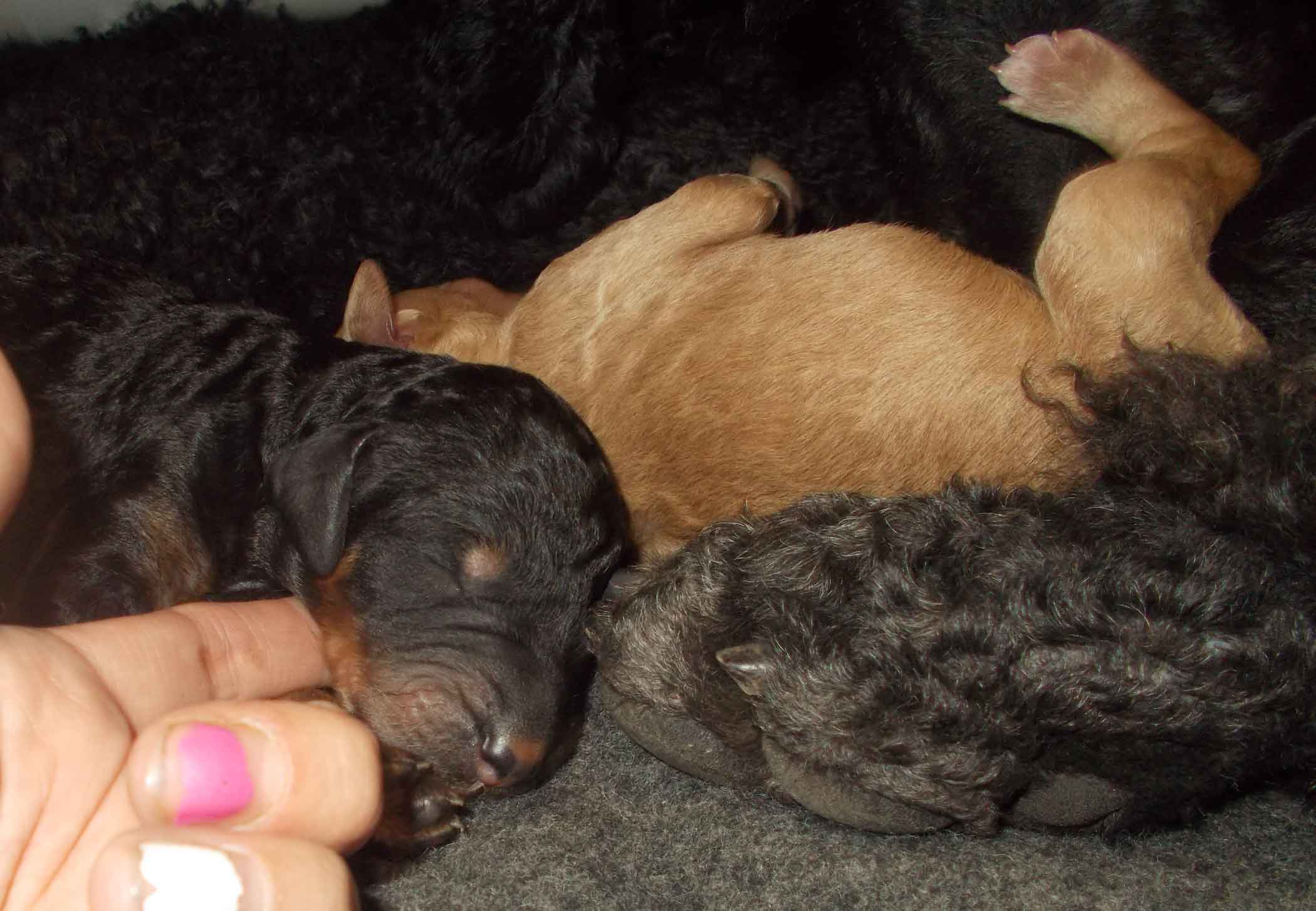 Phantom Boys face...and of course sleeping by a paw :0)
*
Suckle, suckle...the many ways to suckle...and sleep to look like it ;o)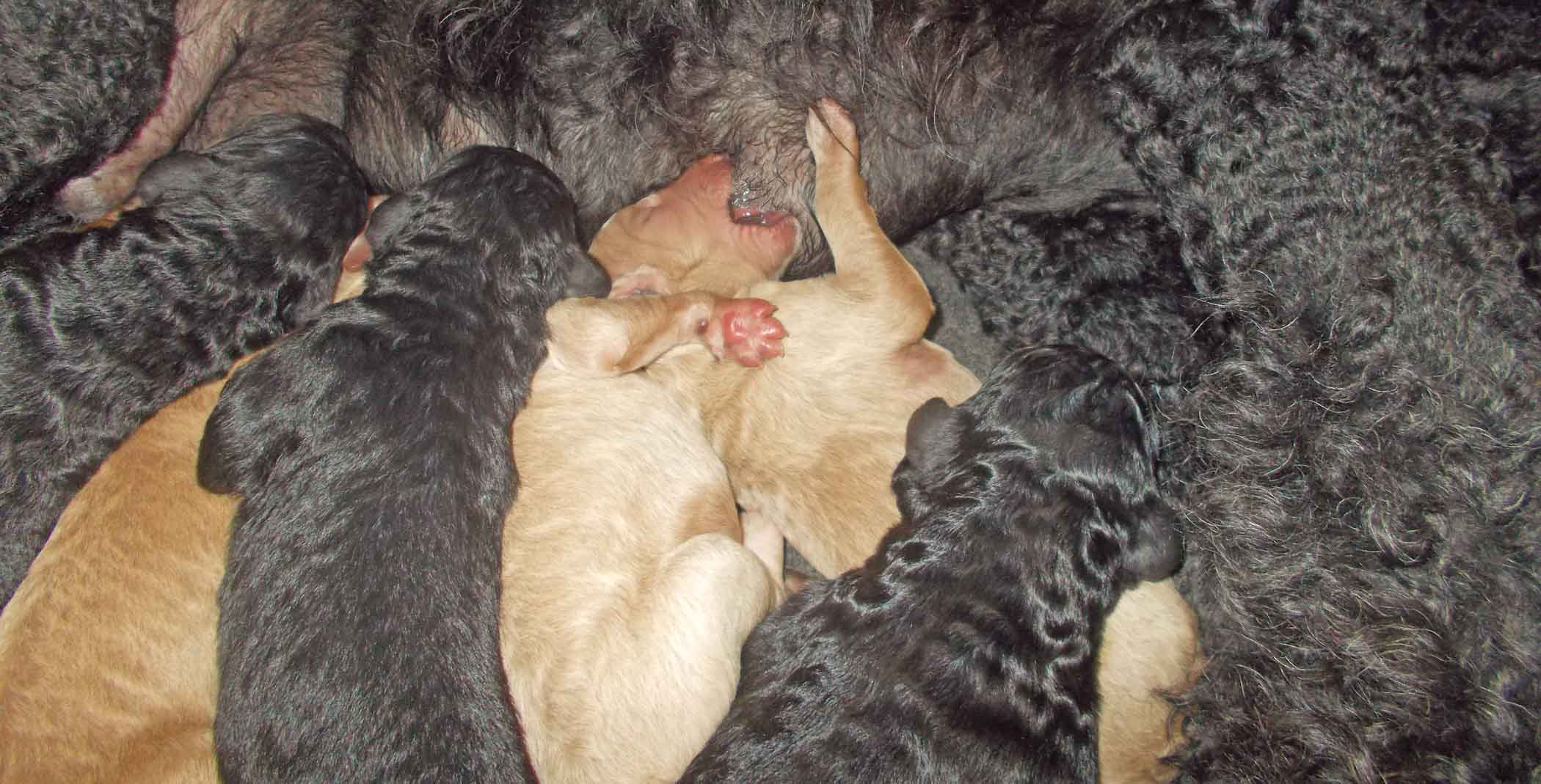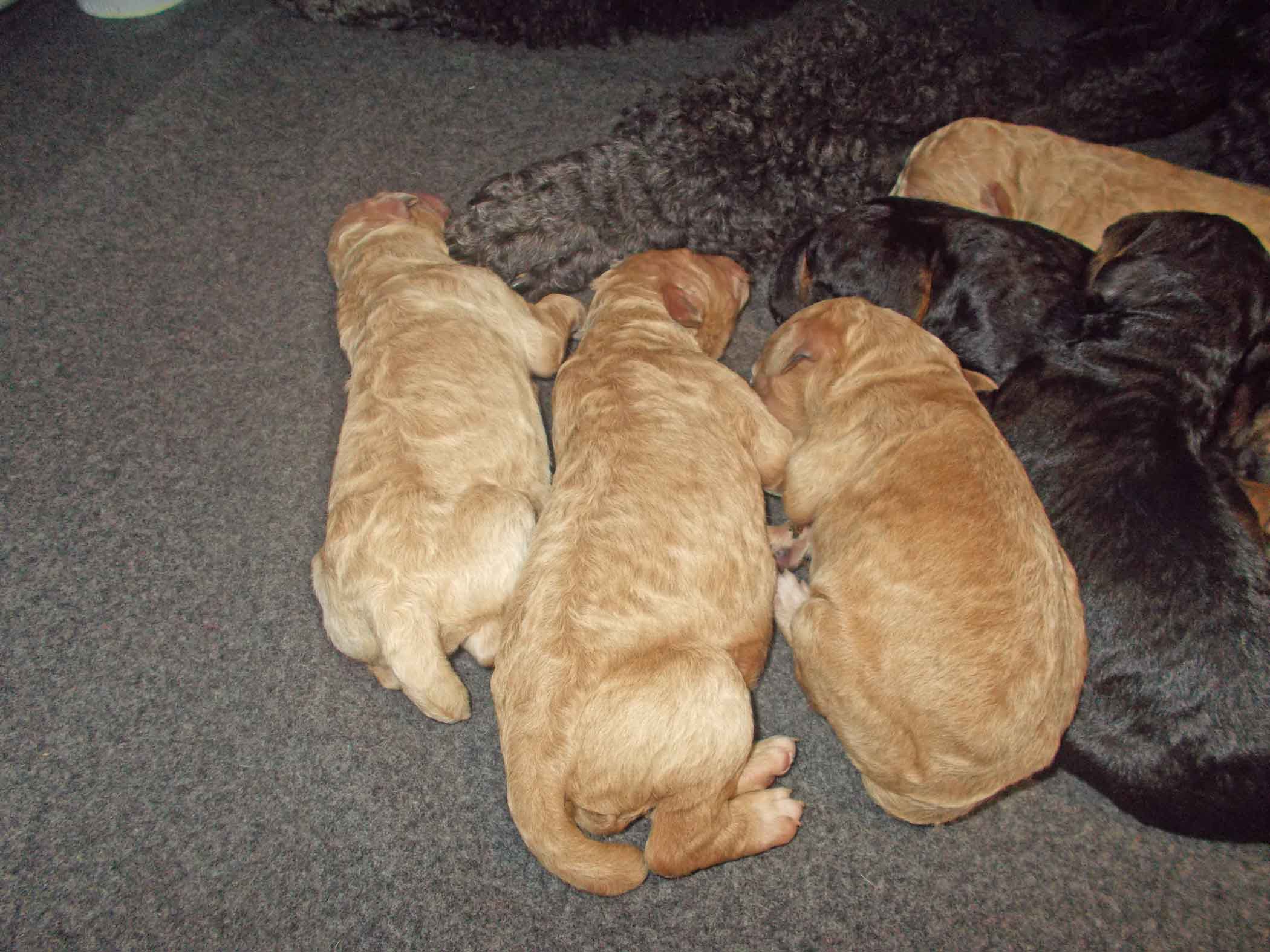 At 3 days old we're keeping warm in Dani's bedroom she has warmed up to 76 degrees as we don't have any body regulation yet, a temperature controlled heating pad is underneath a wool blanket. Wool blankets wick away any moisture that come from us, keeping us dry and warm. Dani will change them to show different colors in viewing your colorful pups in the coming weeks :o)
You can see our tails have now been docked along with our due claws removed.
*
Mmmm, look at our little bellies get bigger...let us count the ways to zzzzzzzzzzzzz....as we growwwww :o)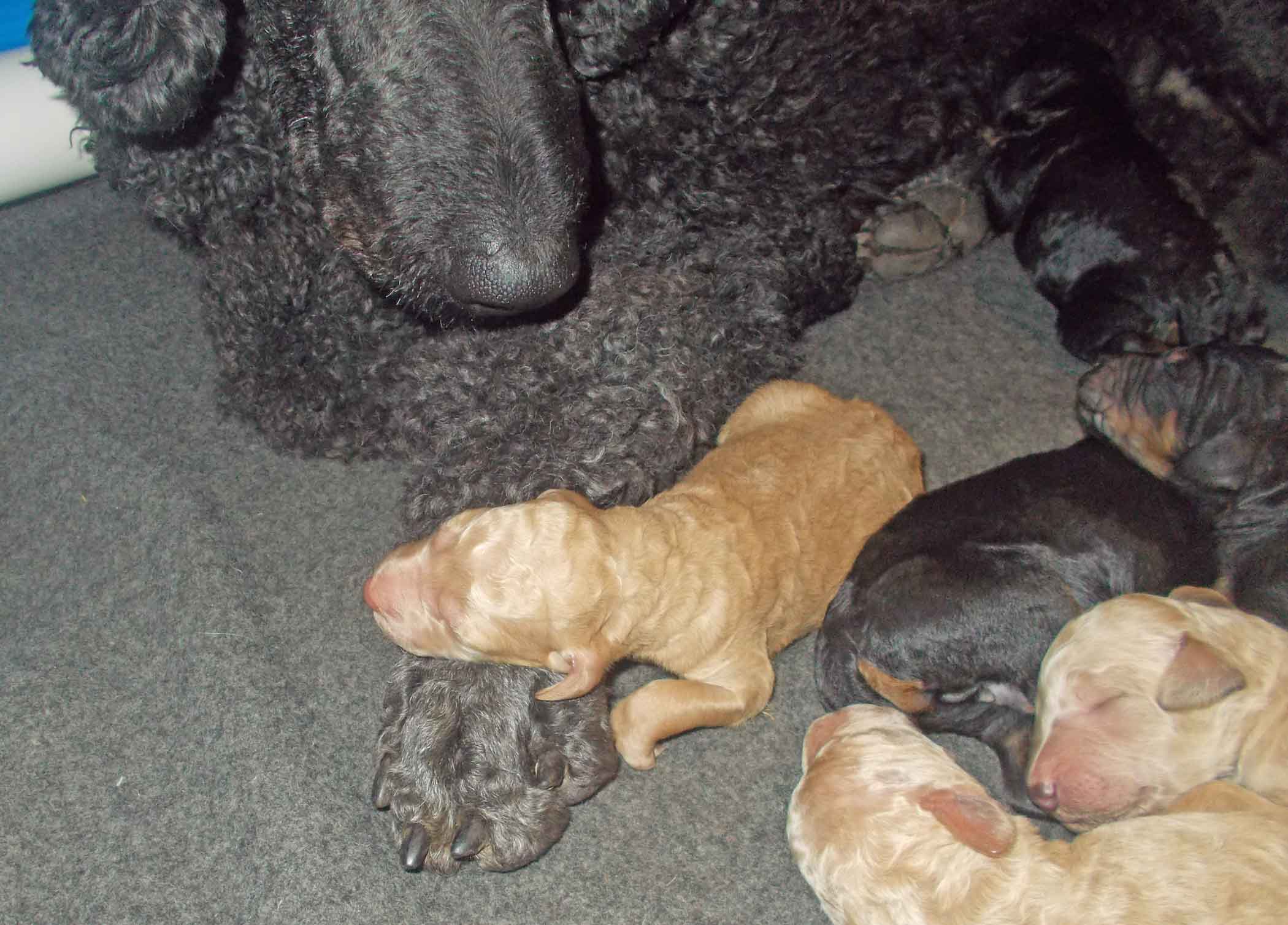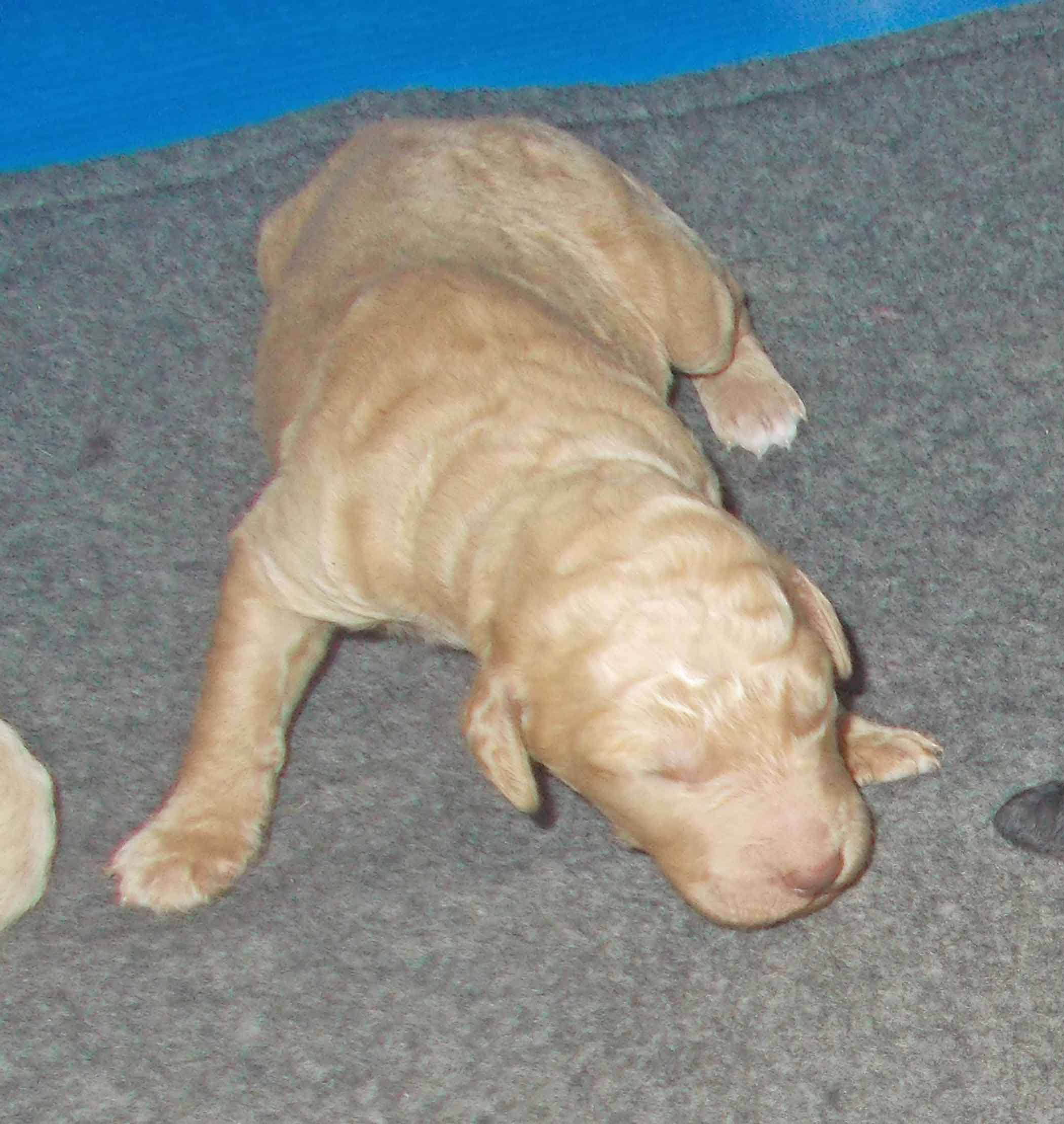 sniff...sniff...where is that nummy milk...
*
Let's put our heads together :0) Oohhhhh, Aahhhh ;o))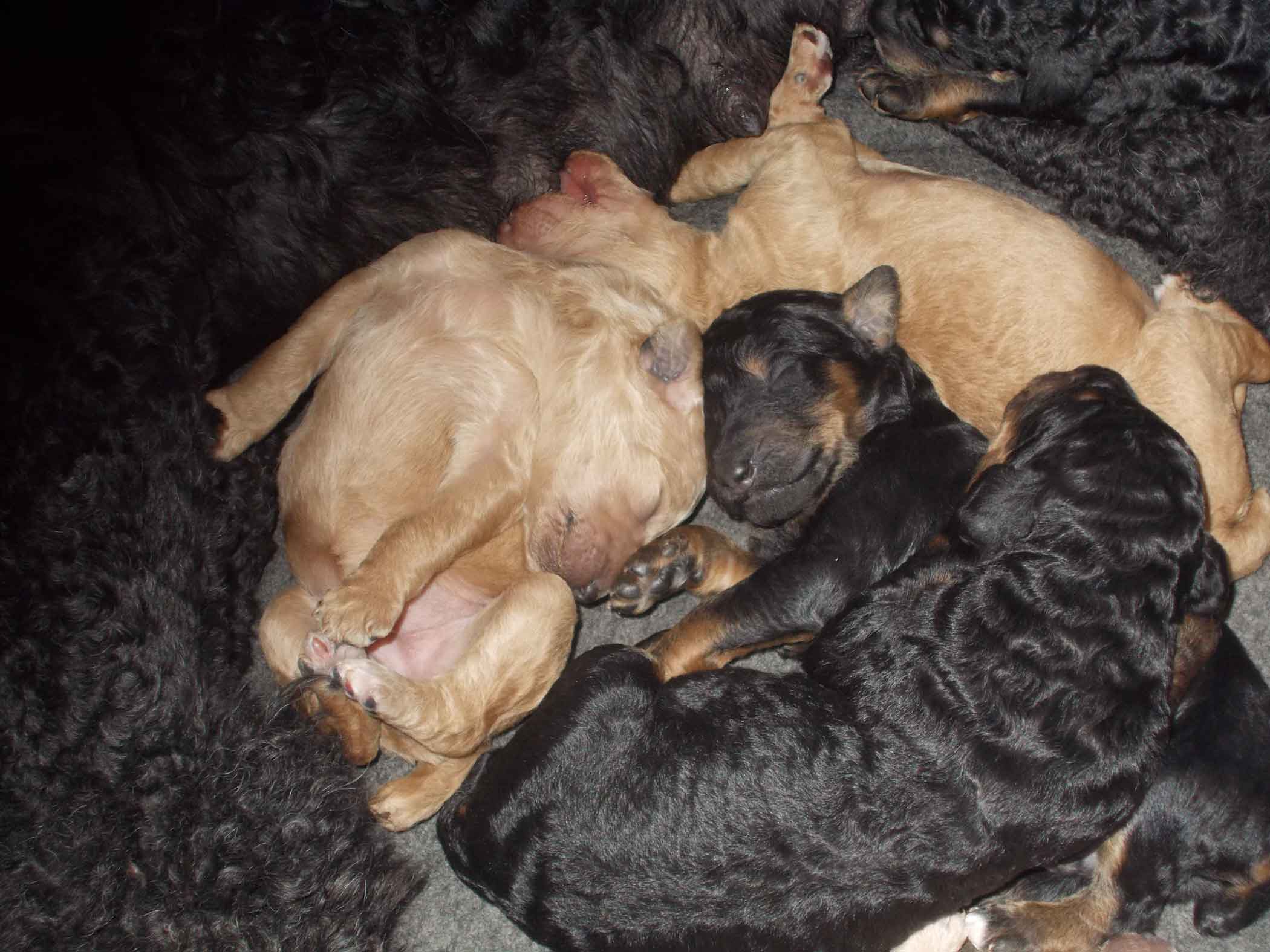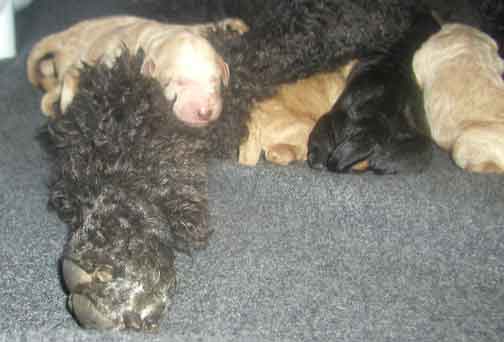 Some sleep and some eat...Momma Zeddy your so comfy! 
*
Here's what we do best...zzzzz.....zzzzz..nummy nummy...zzzz...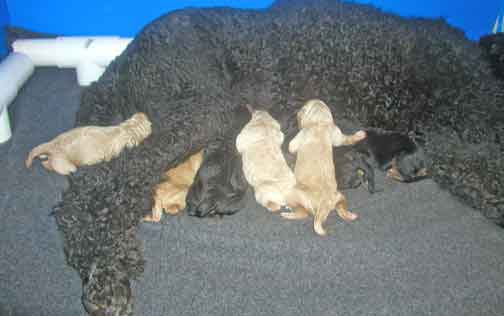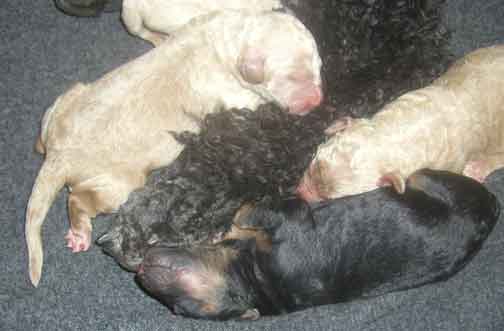 What the customers miss out on, I hope to bring to you in pictures and story boards...our protocol up to 3 wks of age is to provide a quiet atmosphere bringing a calmer pet for you :0) They do not hear, or have sight yet...only feeling vibrations from around them...keeping all calm and relaxed for Momma Zeddy is ESSENTIAL to the vibrations felt by the puppies.
*
Zeddy's puppies are a day old, still have their tails, and she is being very loving by being the instinctive Momma by licking them as they can't potty normally on their own without licking to stimulate the function.
* Puppy JUST born!*