Standard Poodle Puppies For Sale JD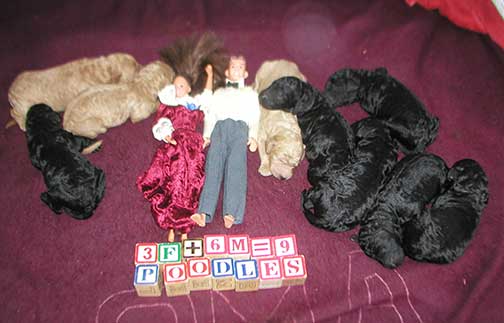 Standard Poodle Puppies For Sale JD (Juno x Draco) arrived - WooHoo! 3 Females (2 apricots, 1 black) + 6 Males (1 cafe au' lait, 5 black) = 9 puppies! They are all healthy and doing well :o)
Puppies born 1/6/22. Plan accordingly for travel home 8 wks later - 3/3/2022. Next picture update > 3 wk update 1/27/22; 5 wk update 2/10/22; 7 wk update 2/24/22. Their 6 wk pick out visit will begin after their 1pm vaccination on Thursday 2/17/22. Customers please call to set an appt according to your down payment placement on the list. I work with Zoom for choosing your pup if you're in a different state and don't want to travel at that 6 wk point.

Every litter has a theme, Juno x Draco puppy names will be Kings & Queens, born on all Kings Day (Epiphany), yet Kings & Queens from around the world. At 3 weeks old they'll get micro-chipped and given their theme name :o)
Tracking stats for Royal Standard Poodle Puppies For Sale JD:
5 days old Toenails clipped 
DOB 1/6/22
*
Standard Poodle Puppies For Sale


There are Black Males available For Sale! Fill out form on side tab for an interview today :o)

Remember to start at the bottom of the web page and scroll up to watch us Royal Standard Poodle Puppies For Sale JD grow up onto the page, as pictures are added upward every two weeks :o) Tes does her best to share what is done as a breeder in growing us up for you. Having 9 is a large litter so Tes wants to assure all stay healthy as well as keeping first time momma Juno in top health for caring for us.

Order your Nuvet supplements to keep us pups growing healthy and staying nutritionally balanced, especially our first year with you.

NuVet Plus​ Natural Dog Vitamin Supplements

Click Here To Order NuVetPlus Or Call 800-474-7044

#89093
---
At our 3 week picture update 1/27/22 you'll see our individual pictures with our micro-chip inserted and theme name given us for you to watch us individually change.
Our eyes will be opening, that starts around 10 days old and then going into 3 weeks old our ears open up and we start hearing our voices and making music for Tes ;o) She'll possibly have transitioned us to the Wing at 2.5 wks old...she evaluates warmth and comfort every day to see what should unfold for our best health and growth...we stay tuned...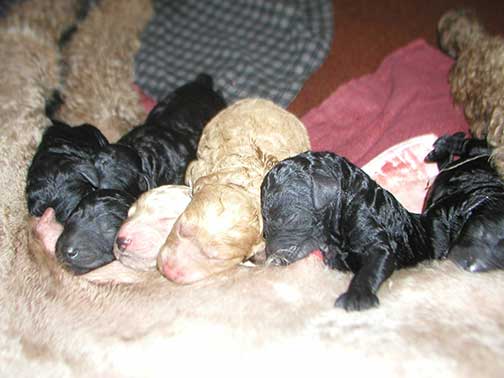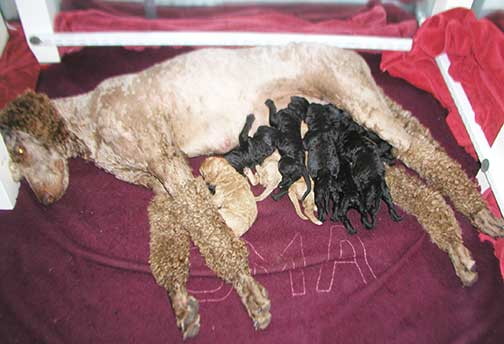 After a good suckling we drop and Zzzzz... Momma Juno's providing a wonderful supply of milk! We're getting to be little tubbies :o)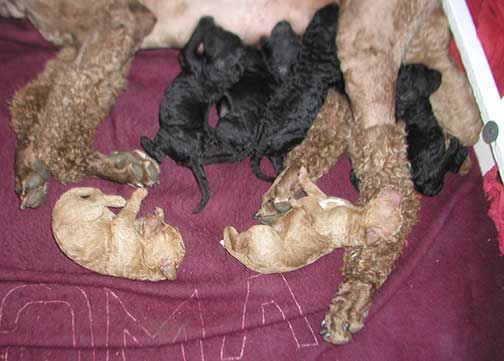 We're already starting to crawl...then drop and zzzz any way we can ;o)
* Royal Standard Poodle Puppies For Sale JD *

All the pups were of Royal weight at birth, Tes was VERY HAPPY! We'll watch that shift and change as they grow as momma Juno has lots of milk for us to grow :o) What you don't get to hear is when we get a good suckling going on the Mmmmm, MMMmmm, MMMMmm that goes on with a good grip and suckling drain happening, our tails do a quick back and forth flip to the drinking :o) Wish I could capture that for you.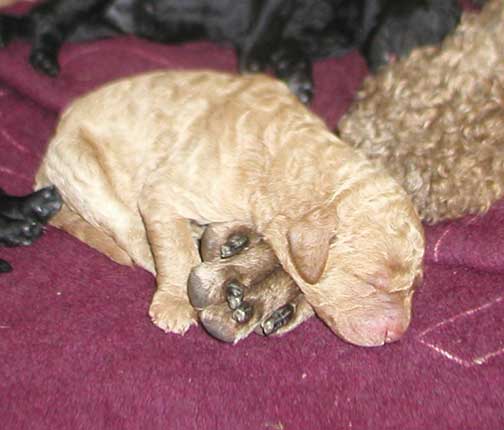 Every litter has us doing the leg thing. Momma's paws have a definite smell and of course her furry hair blanket legs are a puppy snuggling magnet :o)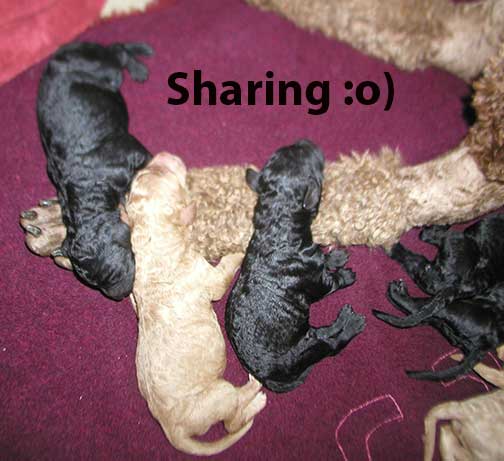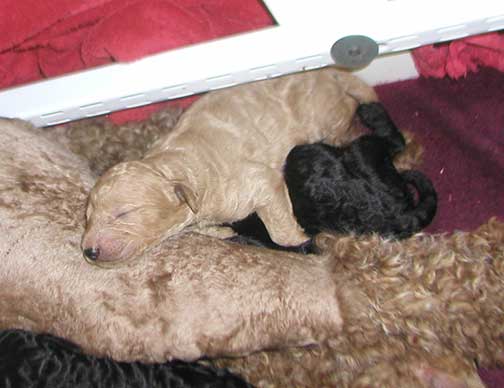 Above and below, I'm the male born a Cafe' au Lait. Check out other poodles born that color > Cafe' au Lait Standard Poodles . Great Great grandpa Kodi was a Cafe' au Lait :o) I have a very dark nose right away :o)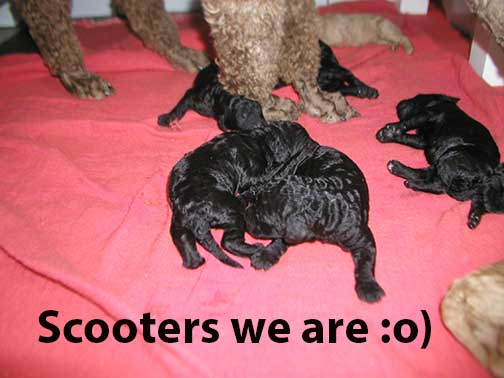 Below, I'm the Black male with a small white mis-mark on my chest. Pretty much that Tes can see, all my black brothers are solid color, as is the black female a solid black.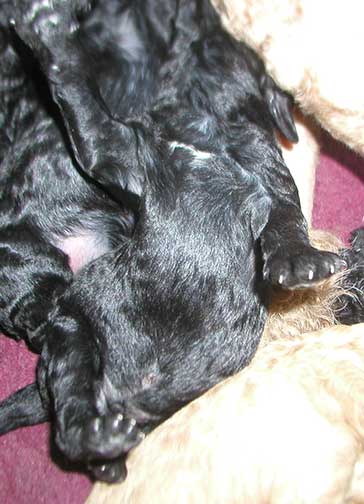 There are two apricot girls born, like grandma Enya. One has a lot of white abstract on her chest and some on her paws, above. The other has a tiny white spot on her chest.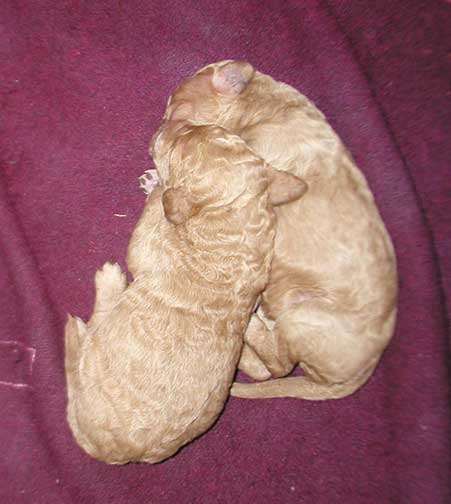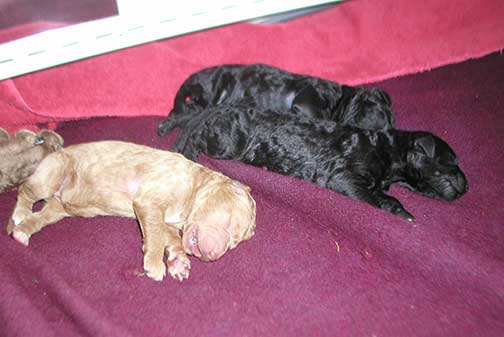 Having lots of room for momma to circle around us is important. Some of us nurse, some of us zzzzz....this picture tells Tes she can turn the heat down now to 82 degrees...cooling the room off more to keep us closer together, as you'll see in the next picture above once the room cooled down to a lower temp...and each week it will come down in temp for puppies. MMMMmmmm, that was nummy nummy ;o)

Wool blankets are used to wick away moisture and keep pups dry and warm. Tes has a variety of colors, to make a  more colorful page for you ;o) An electric pet heater is under the upper back right corner to keep us pups in an even warmer area for the first several days. Such scooters we are already. Tes could feel us scooting in the womb, we were so ready to scoot into the world :o)))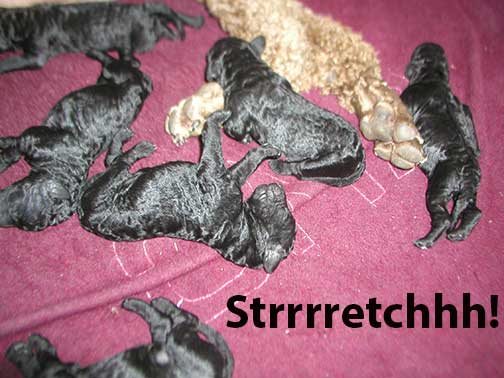 Here we keep coming, and coming, and keep coming!!! Tes has to be right here pulling the sack off to get us breathing, rubbing us dry and momma licking us to get us breathing and moving around. We can't excrete on our own right away, so momma warms our groins by licking us and away we goooo.....

* Royal Standard Poodle Puppies For Sale JD*

Here we come! Already trying to sniff out that nipple to start suckling. Tes is always amazed how fast we go to find a teet and start suckling. Momma Juno - "WHAT is HAPPENING!" Her eyes kept talking to me - Thank You Tes!
In raising Royal Standard Poodle Puppies For Sale JD, I hope to share a bit of what I do to bring you your next pet :o) My bedroom must be heated to 80-90 degrees as pups just come from the womb and they have no way to monitor their bodies being just born, especially the first week Through the Woods of Mother Nature. 
Start here and watch us grow up onto the page :o)
Standard Poodle Puppies For Sale JD