Black Royal Standard Poodles Molly Sadie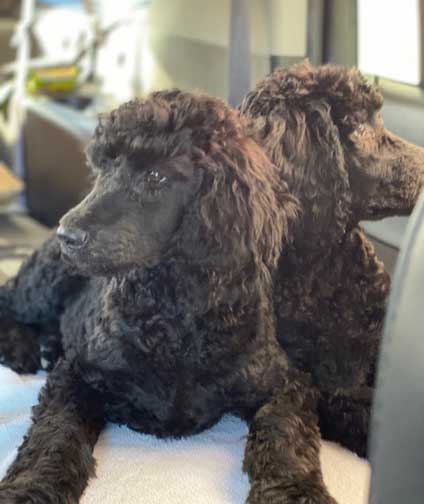 Last updated 5/3/20 Sisters Black Royal Standard Poodles Molly Sadie
Is this a mirror or is it two Black Royal Standard Poodles Molly and sister Sadie at home with BC and family in Fort Worth, TX. Molly & Sadie were born from Magic x Dash litter 11/1/2019. Now to tell us apart as we grow ;o)
I want to reiterate that he was (vet) very impressed with your dogs and obvious breeding knowledge.  He said that they are "impressive dogs".  He said they are in excellent health, great ears, great eyes, "just beautiful".  He said that he is accustomed to standard poodles having great temperament but not as common at such a young age, again very impressed.  The overall "tune" of the visit was "impressed".  I told him about our visit with you (the time you spent with us and the education), the amount of information and research that you provide and your requirements for ownership, again he was impressed.  He said "it sounds  like you all found a great breeder"!  ...

Thanks for all of your help and genuine interest in our continued experience!  We are very grateful!!
Growing stats for Black Royal Standard Poodles Molly Sadie:
6m Molly is 48.2 lbs and Sadie 45.8 lbs
4m Molly is 28 lbs and Sadie 29.2 lbs
3m Molly is 22.4 lbs and Sadie 24.6 lbs
wt 8 wks old 10 & 12 lbs

first vaccination 5 wks old

first hair cut 5 wks old

DOB 11/1/19 to Magic x Dash
Tes invites you to scroll down to the bottom of the page and watch the pups grow up onto the page :o) Their litter theme was on the constellations. 
* BC found a pet chiropractor in the Dallas/Fort Worth area, check her out > https://www.theequinespine.com/ *
Why buy two?
Because....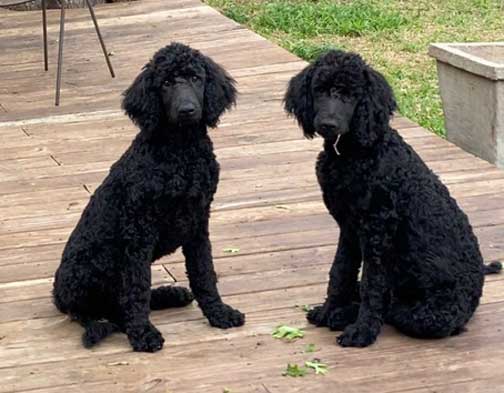 They'll
keep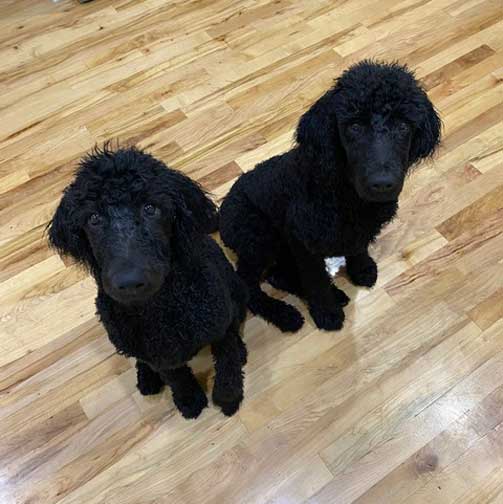 you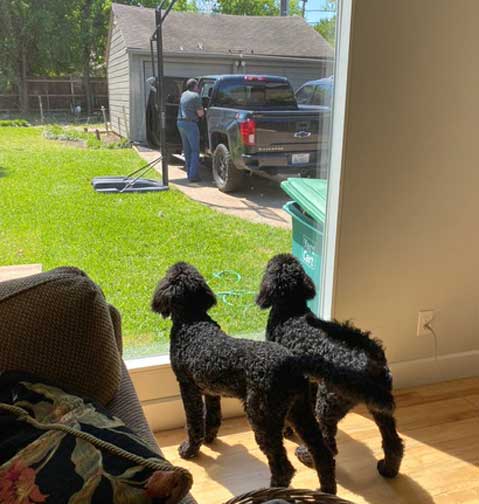 coming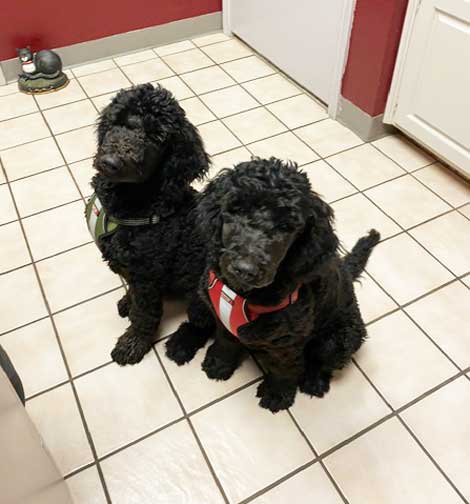 and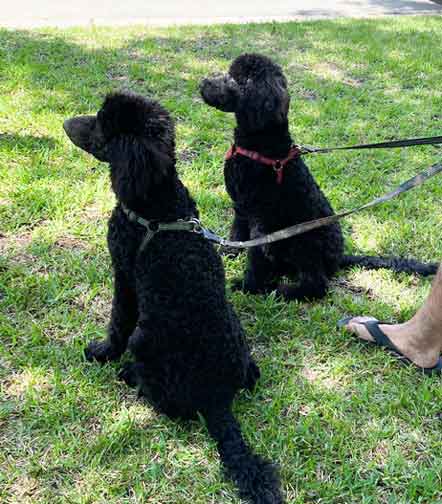 going...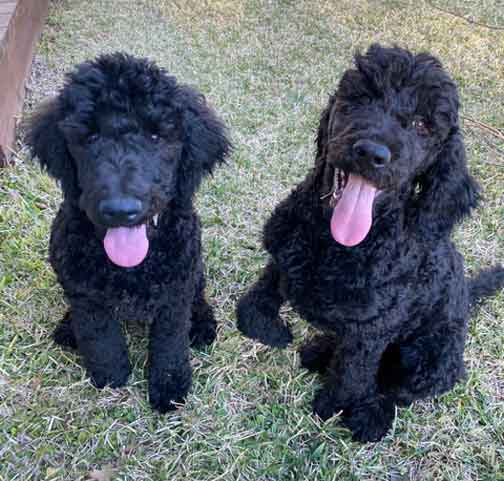 and coming, and going :o)))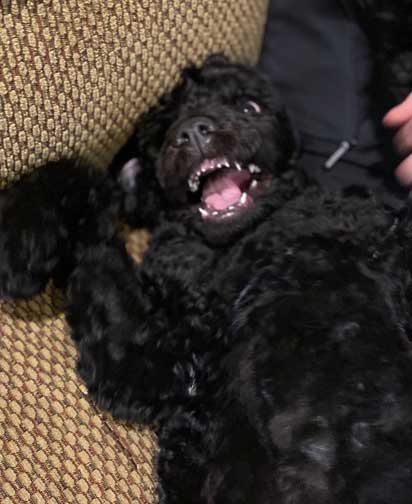 Then there's the laughter...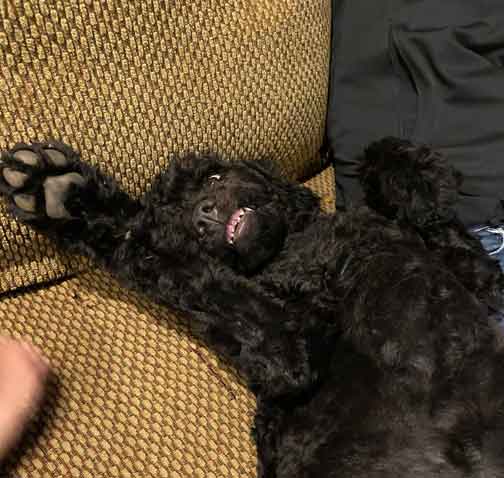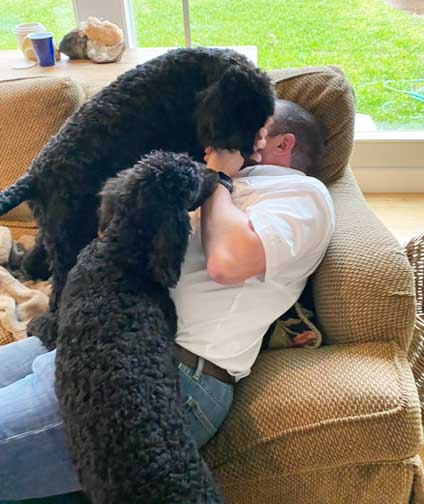 and double the kisses, and pride...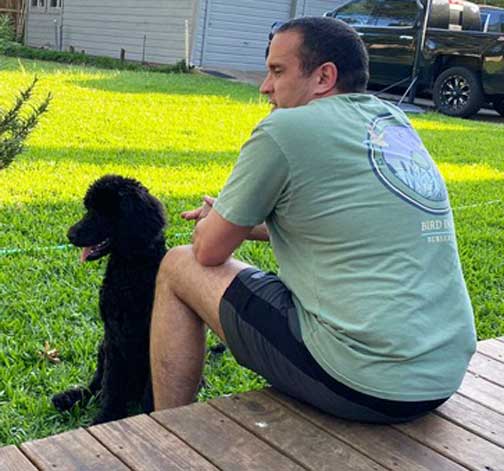 and hangin' out together...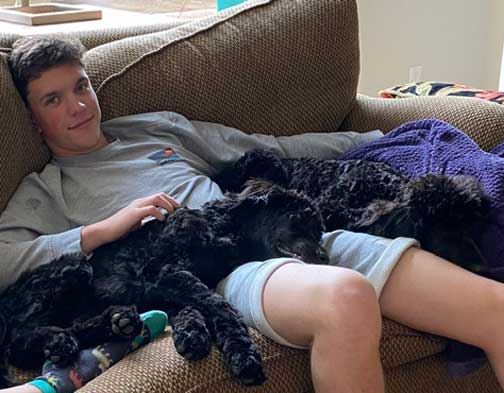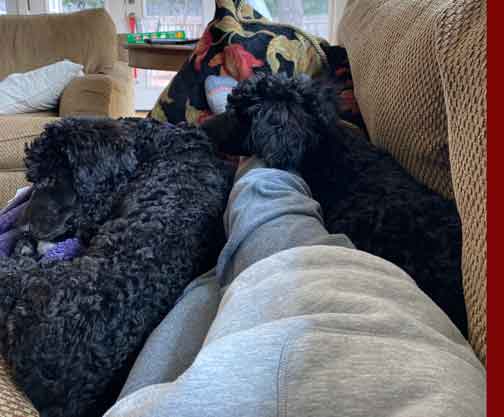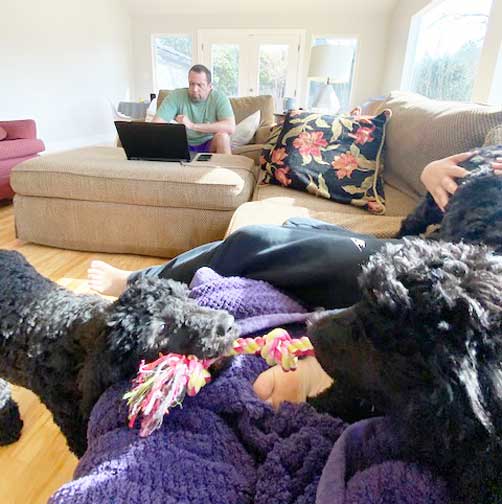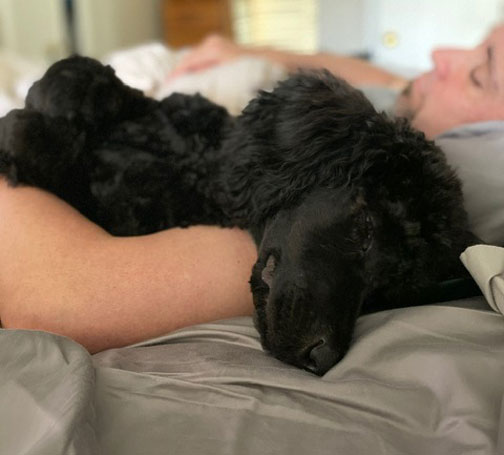 and hangin' in there...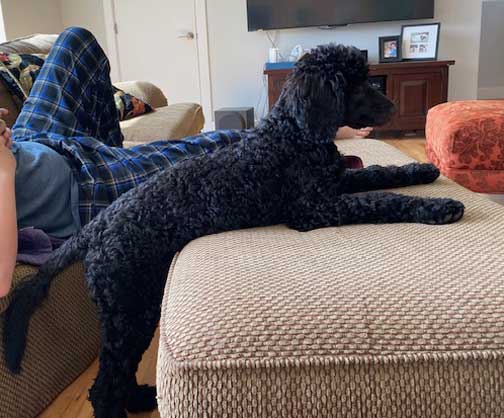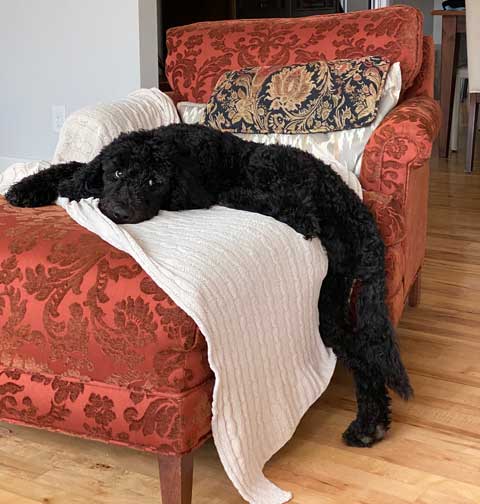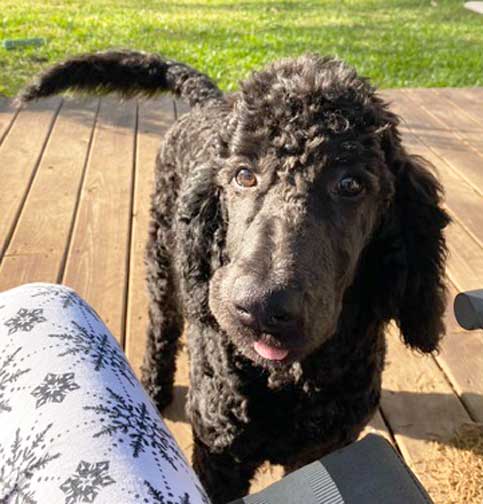 Sometimes they'll keep you tongue tied...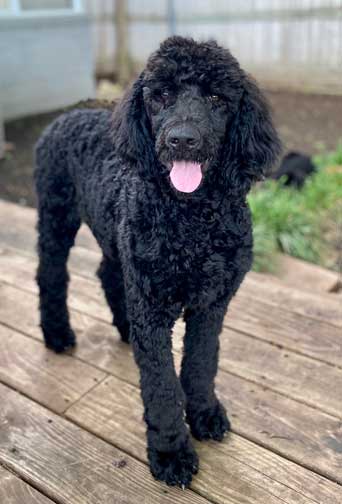 OH, that's not a tongue ;o)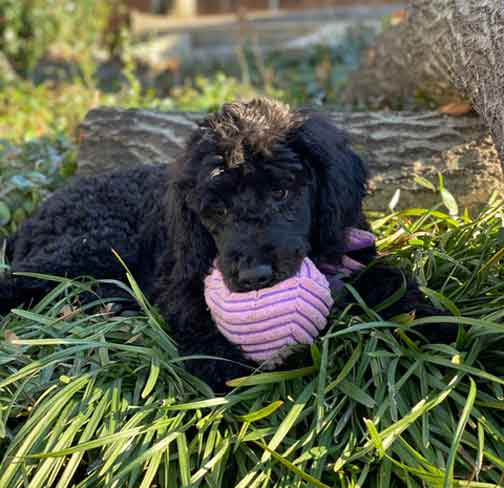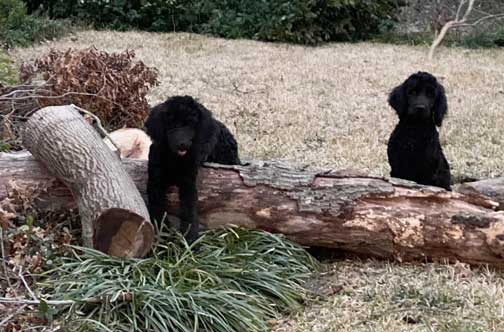 They have their time...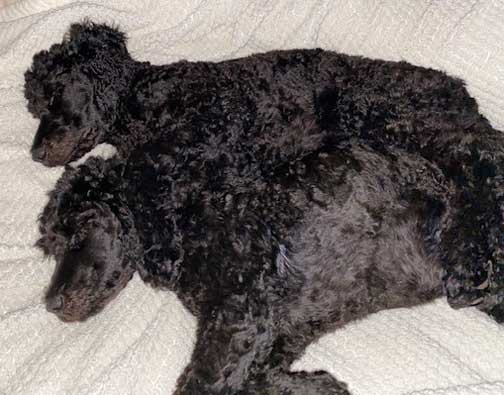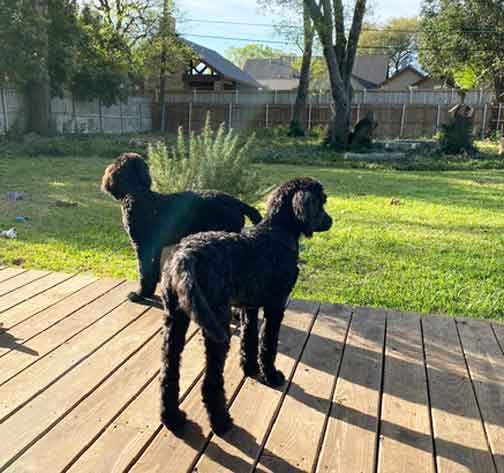 and they have Me time :o)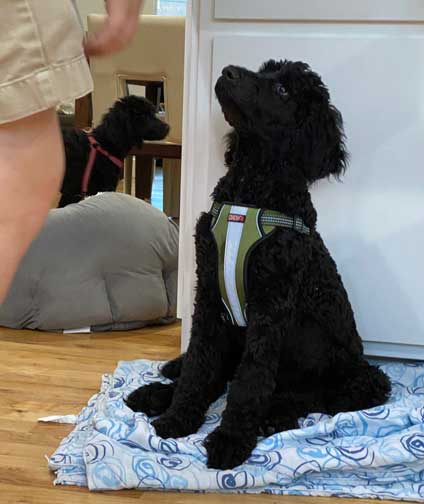 Oh soooo hard NOT to have two!
---
The Texas sun is giving me a red tint...yet Tes shares that's not just Texas sun..it's a global thing ;o)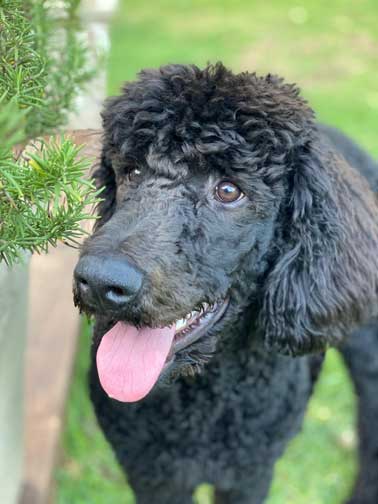 Balls...so much entertainment, PLEASE throw for me?!?!?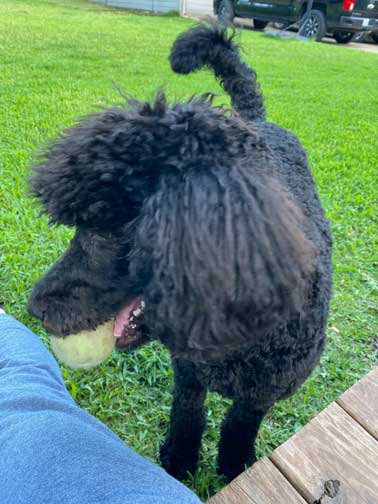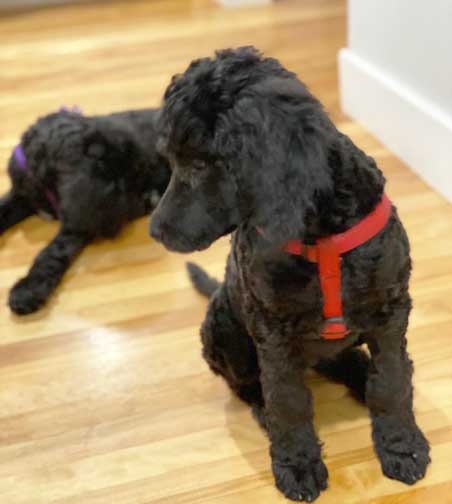 Wait! A banana chip flew over there! Should I move and get it?
*
Black Royal Standard Poodles Molly Sadie sisters: Molly is 22.4 lbs and Sadie 24.6.  We are working on the walks, staying next to us, not pulling us and not being scared by other dogs.  They do well being calm when there are dogs behind a fence but not as well with a couple of tiny, yappy dogs on leashes.  I have them sit and watch but don't force them to go near the dogs. 
We're heading for another vet visit...woo hoo...keeping us healthy and happy, all a part of growing Black Royal Standard Poodles Molly Sadie sisters. 
You mean to tell us these are puppies? So behaved, calm and quiet???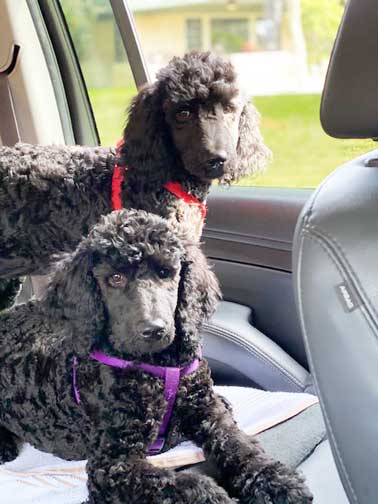 We've learned to ring the bell when we go potty outside...ringing it to come back in, not so much...we love it outside...wait until TX summer, then it'll be another story ;o)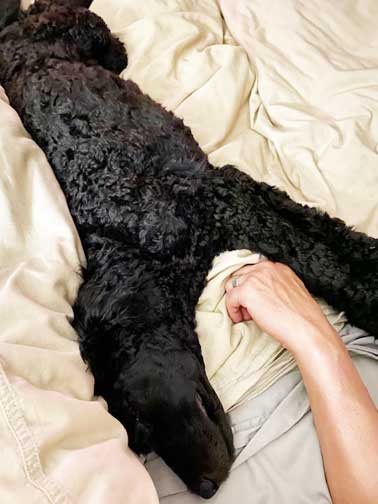 Let us count the ways to zzzzzz....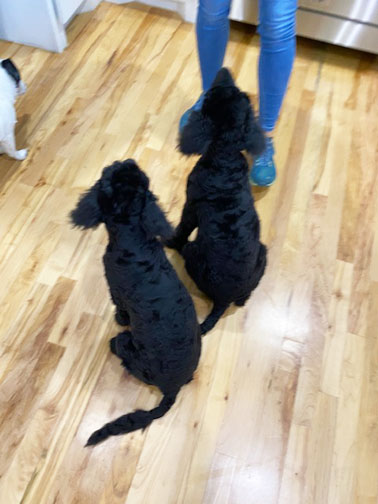 Looks like time for a treat! Sit oh so pretty pretty :o)))
Black Royal Standard Poodles Molly Sadie sisters with friend Duke.

Hey Duke, what's in here? I'm pointing to it...Ahhh she caught us...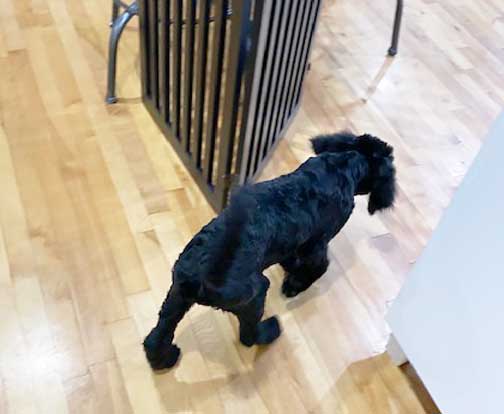 Okay, let's see what we can get into...hmmmm...wonder why this gate is open for us...hmmmm....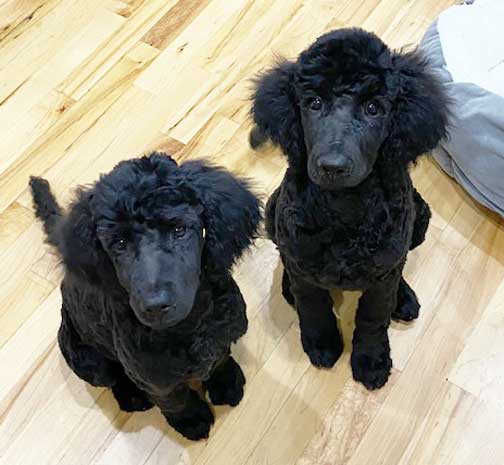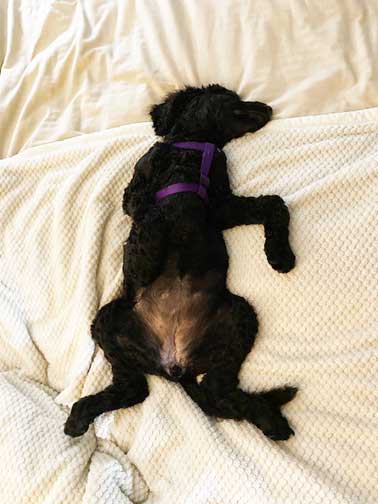 3. Four legs up...one more difficult picture to get for a mug/s...a smile :o) Tes shares their brother Red Draco is giving smiles now :o)

*
Tes says this groomer is GREAT! She did their anal glands, GREAT ear canal cleaning, and over all clipping - Woo Hoo - stick with them :o)
Does this count as 2. Ears flipped back toward a mug? Tes shares, okay it can, yet you have to get another for two girls ;o)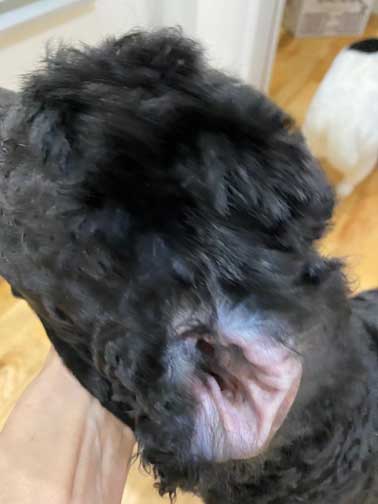 Now where are we going? Oh a haircut day! Okay!!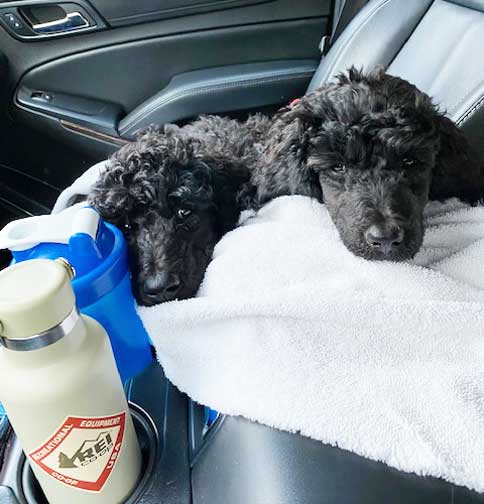 We're headed to Dr. G for our check up...why the towel...we're puppies and we do get car sick :o(
Dr. G says that the girls have a great temperament, you can tell they have been well socialized.  They were very laid back at the office.  They didn't really want to go in the door but once we were inside they did great!  I brought treats and used those for them to get on the scale.  Everybody loved them!  Dr. G says they are beautiful dogs.  He did bring up Molly's lower jaw and her occlusion, that it is not standard, teeth should be "teeth to teeth", not an overbite and hers is significant.  He said that wouldn't be ok for breeding or showing but if that wasn't a factor then he wasn't to worried.   
Aren't we just so darn precious ;o) We're patiently waiting for our banana chips.  
*
AWESOME! Another pet bed from Tes :o)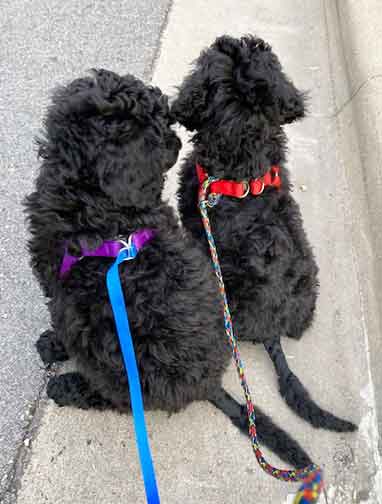 Black Royal Standard Poodles Molly Sadie and Duke :o) Let's go for that walk...it's time...didn't Tes get us started great!
*

This is how Sadie tries to convince Duke to play with her.  She gets close to him and then makes herself as flat and small as possible, on her tummy with all 4 legs out (submissive I think) and stares at him, like she is saying "please, please, please play with me"! ...Wait a minute! She fell asleep waiting ;o)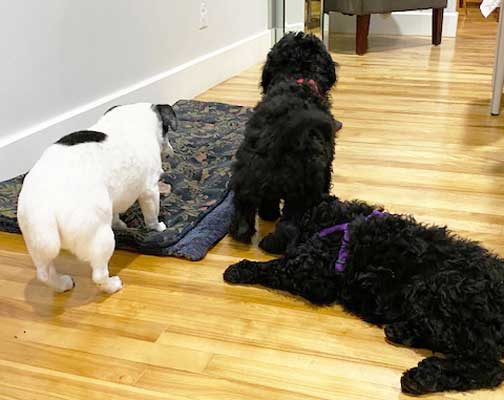 Black Royal Standard Poodles Molly Sadie; 1. Mug shots. We're on our way to earn our mug from Tes...if they're two of us, does that mean we get two mugs? 
Tuckered out after their walk today:o) Could they be any cuter?!?!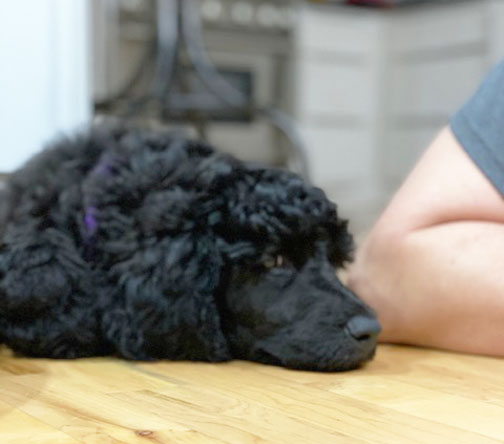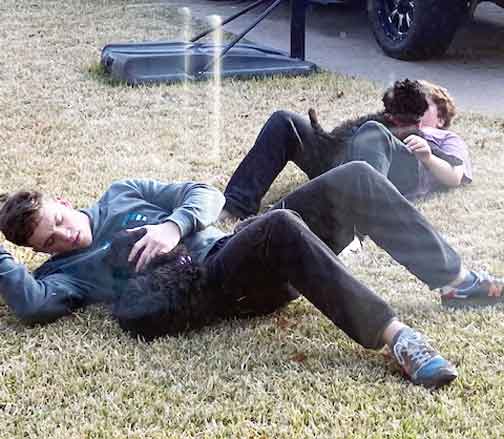 There fall down on the ground ... and couch in love with us ;o)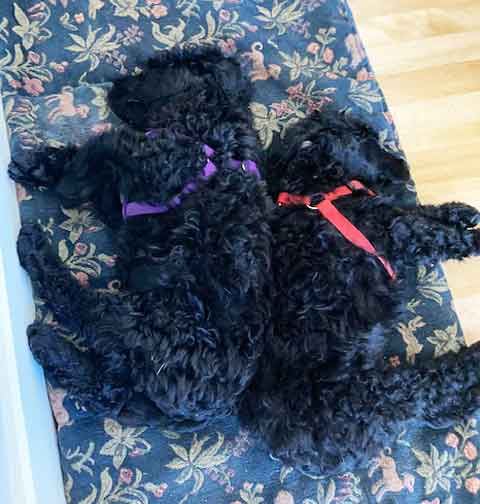 Bones, our pet bed with home smells from Tes...what more could we ask for? Zzzzzzz!?!?!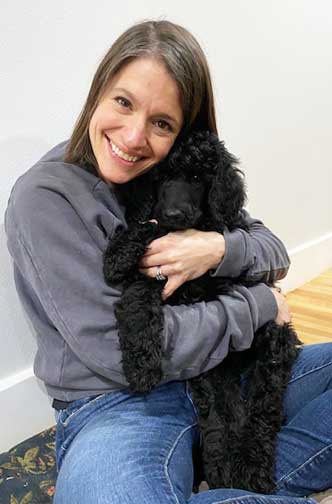 Lots of players and huggers in this new home...YEAY!!!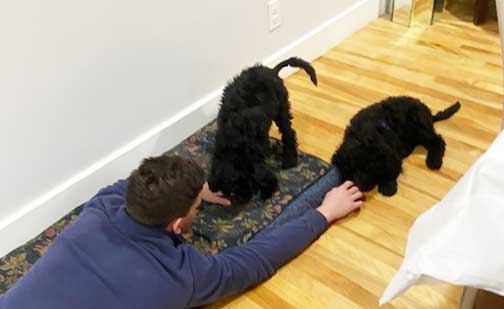 Better get use to these kisses ;o)

We made it home!  They seem happy and curious:o).  They are exploring the house and have been gentle and kind with Duke, who is tolerating them well (white spotted canine :o)

Thank you for a GREAT day, we couldn't have imagined it any more perfect!   Great company, great food and a wealth of information that we are so very grateful for!!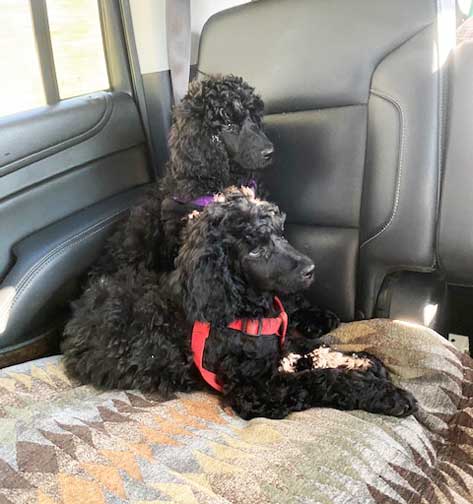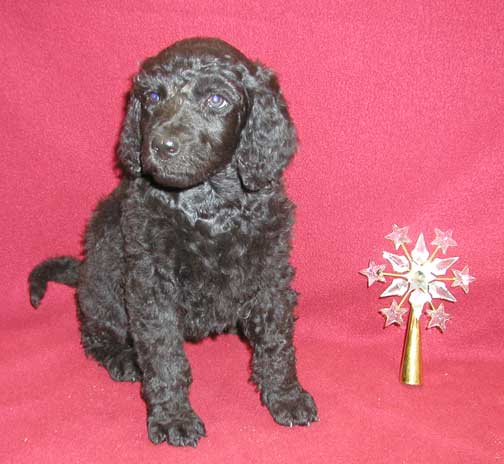 Molly; use to be Star with the constellation theme
*
Sadie; use to be Siri.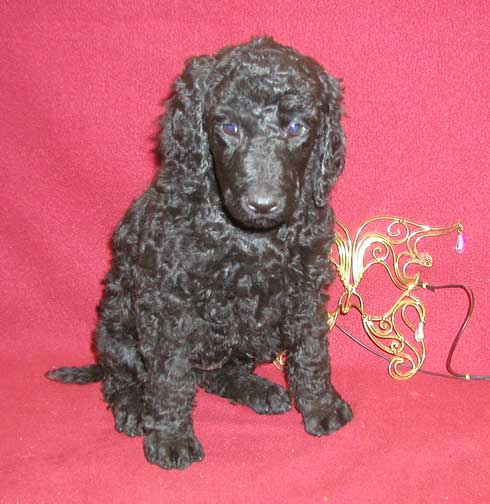 Black Royal Standard Poodles Molly Sadie -
if interested in a pup...or two, please fill out the form below for an interview.