Traveling Pets or Flying with your Standard Poodles
The Traveling Pets web page consists of the sections below:
1. Flying pup in Cargo
2. Flying pup as Carry-on
3. Over-all for 1. Cargo or 2. Carry-on
4. Driving for/with your pet
last updated 8/18/16
Dear People - I DO NOT do text messaging - DO NOT text message me! I email ONLY via the form below at which I will provide my email in return. Thank You. I do get your emails on my cell phone and can file the communication :o) Texting I cannot.
Customer pays for "Flight" ticket. Flying your pet in this day and age is not difficult. Though it will take your time to read through or print off this page to help you know what to plan and expect. Don't hesitate to contact Tes with questions after studying this page 218-414-0023.
Read the checklist I provide my customers. You will find the area to make notes for traveling. Mark your calendar for the flying date I post with your litter once born. When puppies all fly the same day, I do not charge traveling fees... Emails are sent weeks prior to the travel date to remind customers. Yet, please drill yourself on what is to go on :o)
---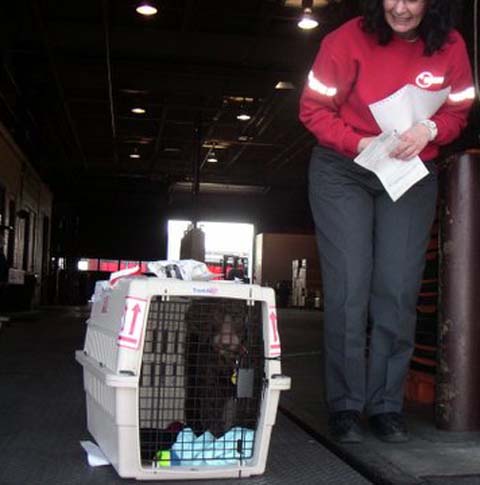 1. Flying pup in Cargo
Traveling Pets as cargo - above, as Standard Poodles are flying every day - Royal "Carlo" is being picked up by his owner in Maryland at their "cargo facility" or picking them up at "airport baggage pick-up area" as cargo arrives after normal hours.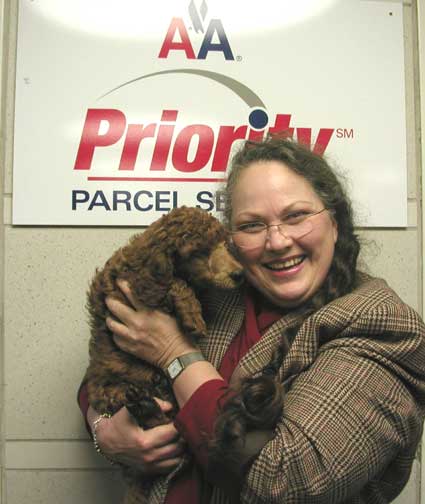 8 weeks of age pups may fly, by Dept. of Transportation - gov > paragraph 3 ...Dogs and Cats...:
https://www.transportation.gov/airconsumer/plane-talk-traveling-animals This is when pups may start flying. A health certificate is completed for any out of state travel, paid for in your pet purchase price. Crates are in the purchase price for 8 wk old flying pups. Much older pups I split the crate cost as they grow so fast a larger more expensive crate is needed (crate prices vary: $66 (small) up to $500 for full grown Royal Poodle).
Pup airline flight is paid for by customer.
Data to give airlines upon booking pup's flight are:
shipper: Tes Ingebritson > 24418 464th St. > Staples, MN 56479 > 218-414-0023
Or it could be: 
DANIELLE GOEDEN

 > 712 2ND AVE EAST > HEWITT US MN 56453 > Phone:  218 539 1006 
...we'll let you know which to provide as shipper
--shipping from-- MSP airport (Minneapolis, St. Paul airport) is where I fly pups out of, so when asked, provide "MSP airport". This is an 8 hour round trip for me, so coordinating everything is imperative – GOOD communication!
*
Below, Bodhi arrives at cargo in WA.
The following main airlines and their traveling pet links are what I have researched, with wonderful help of customers, in being able to fly cargo and as carry-on, please note my comments by each of them (you may research others that can work as well):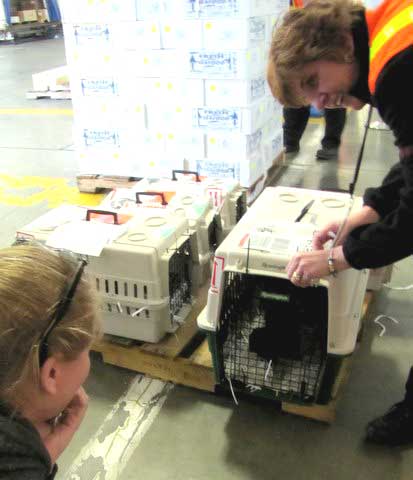 Crate Size:
1. 8 wks old cargo, this is the reference information for 90% of our puppies flying out: Crate size for our larger pups 28"L x 21"W x 22"H. Pup + crate will = 20-30 lbs estimated flying price up to $350-$375 - 8/18/16. Our pups on average at this age will range from 8-15 Lbs. As they grow, crate size must change with their weight, be aware the cost rises gradiently to fly larger pets.
2. Purchasing 2 pups at the same time: a) check with the airlines to know IF a larger crate (size 36" x 25" x 27") can be used to carry both pups together, that will entail finding out what size airplane will be carrying the pups. b) IF the plane won't allow the larger crate, the 28"x21"x22" will have to be used to either carry both pups in it (if they fit), or c) two crates carrying them individually flying out at the same time.
3. Smaller crate size for an occasional smaller puppy: 26"L x 16"W x 16"H - estimated flying price now up to $300.
4. Ask if you can pay for flight on your end! Otherwise, get an estimate at which you will need to pay me +$30 as it has always been more than they say with taxes and additional fees...actual crate wt upon arrival. If extra money left over I share that goes toward my airport parking and gas...my tip ;0)
5. Three major airlines are provided below that you can drill ahead to know which airlines will work best for your needs. You can find another airline if you so choose...always send me what you find and want to plan for a schedule. I must coordinate all of these for timing.
In working with your desired airline carrier, Ask them where you are to pick up your pup! Locate where the cargo or pet arrivals come in that you can drill ahead of time its location and be there when the pup arrives. Some come into the baggage claim area of an airport and cargo may come into a totally separate facility from the airport.
Summer - earliest morning flight bookings are IDEAL for cooler temps before they heat up! If it's too warm I rapidly go to another airline to book your flight with an airline that will have A/C and work with us...so we're in close comm that morning/day...
Winter - later morning flights for heating up of the temps in that day.
We will work on flying logistics depending on your traveling plans…it is the customer responsibility to do the booking of the flight, following up with the itinerary sent to me via email with its reference number that I call and validate everything has been established and check off of my checklist in your file here.
I must arrive three hours ahead of time for most airlines. I call you upon pups drop off, CAN BE VERY early morning hours, be expecting it :-) Then I expect customer to phone me within 2-3 hrs of pup's arrival that I know they are in your loving arms. I may not hear my cell upon different interactions so do leave a message and I will respond asap! Have water and rag available to wash your pet off as they may have gotten soiled in travel. I place a pee pad taped to the bottom of the crate with lots of shredded paper in for absorption. I have washed and groomed them at their 6.5 wk age so please don't over wash them with another detergent...warm water rinse is good enough.
Look for any final paperwork as noted per our emails taped under the pee pad.
---
Delta: Delta Airlines Pet web page
a) My preference is Delta in shipping cargo as MOST flights can be straight flights for the pup/s.
b) 1-800-352-2746 > 5 > to book cargo pet flight
NOTE: 11/22/2013 there is confusion by consumers of what age Delta will take a pup as "Carry-on." On 11/19/12 Delta changed pup "CARRY-ON" age from 8 wks old to 10 wks old, within the USA at the link above. See "The following restrictions apply to pets traveling as carry-on baggage:"...bullet 5...for Domestic and International. In a phone call to the USDA and being guided by that agent, the US Air Consumer government rules link in #1 at top clarified that INTRA USA flights MAY be done no younger then 8 wks old as carry-on as well as cargo. IMPORT and EXPORT are a minimum of 10 wks old. Airlines have the right to make their own rules and regulations for age as Delta did. I believe this walk through should help make clear what age Delta allows carry-on which is 10 wks old.
Note: our pups will range from 8-15 lbs at 8 wks old. At Delta's 10 wk age our pups would be too large to fly as carry-on thus a different airline is recommended to fly at 8 wks of age.
c) 8 wks old is valid in Delta "Cargo", with health certificate required.
d) Note: review their restrictions on the link above.
e) You may book flights with Delta 14 days prior to known ship date.
f) You pay for pup's flight upon its arrival at pickup. Make sure you have drivers license/ID in hand.
g) 8 wks of age is when I agree to fly all pups for free with no travel fee for my 6 hr round trip...I must wait several hrs until the pup actually flies out, so this becomes a full day for me.
h) Delta Dash to smaller airports: In the past years it was simply stated with DASH - "Breeder must pay on their end at time of drop off for flying of pet."
In the last several years, they have started to ALLOW owners to put their credit card on record as the "pre-pay". It isn't charged until breeder brings in pet. In Pre-paying by this manner, the customer is allowed to then book their pet's flight, not the breeder. The ONE thing I note on this way of pre-paying, I have had to call the customer at the DASH counter (5am in the morning, and depending on your location can be even earlier morning hours) to have the agents validate the credit card.  Any delay in this communication could mean your puppy misses their flight.
If they do not allow you to pre-pay, you must pay me for shipping before pup flies. With that I ask for an additional $30 from what they tell customer flight cost may be as usually the weight may be more along with taxes...any left over funds are used for gas :0) Thank You!
i) Customers in warmer states: Delta cuts off flying animals in cargo when temps reach over 85 degrees in summer months. If from a warmer state, consider the cooler months to purchase your pet or traveling with your pet as "Carry-on." Otherwise, United Airlines flies animals during summer months in temperature controlled environment.
j) With Minnesota winters: pups are not allowed to fly in cargo at 10 degrees or lower on Delta Airlines. So, there are windows of temperature flying time-frames that customers need to be aware of with carriers during specific seasons
---
United: United Airlines Traveling Pet web page
a) Carry-on pup age is 8 wks, health certificate is NOT clearly called out thus will always be provided.
b) 1-800-575-3335 or 1-832-235-1541
c) Generally United "cargo" has two stops at major ports for the pup/s, health certificate required.
d) Note: review their restrictions on the link above.
e) United can fly pups to warm and cold states with their Petsafe program, temperature controlled environment year round!
f) Can book as earlier as 2 months ahead.
g) 8 wks of age is when I agree to fly all pups for free, if in deciding to take pup as carry-on/cargo at a later time then I have established for the litter there will be an additional traveling fee of $100.
h) You must pay me for shipping before pup flies. Customer sends $330 for travel prior to any pup flying out.. Make sure you have drivers license/ID in hand upon pick up. This includes the average airline cost, plus taxes, and then any variable of me needing to handle the expense on my end.
---
American Airlines (AA) American Airlines Pet web page
a) Carry-on pup age is 8 wks, health certificate ARE required with American Airlines carry-on which I include in your pet price.
Their notes: Pet Carrier Guidelines for Cabin Pets > The maximum size for cabin pet carriers is 19" long x 13" wide x 9" high. Soft-sided pet carriers such as Sherpa bags may exceed these dimensions slightly because they are collapsible. Animals must be able to stand up, turn around and lie down in a natural position in the kennel. Soft-sided pet carriers are accepted as long as they are constructed of water-repellent, padded nylon with mesh ventilation on two or more sides.
I am researching to find a carrier that meets these dimensions. The one I currently use is taller then these dimensions, not as wide.
b) Generally their cargo has two stops at major ports for the pup/s, health certificate IS required.
c) Note: review their restrictions on the link above.
e) 8 wks of age is when I agree to fly all pups for free, if in deciding to take pup as carry-on/cargo at a later time then I have established for the litter there will be an additional traveling fee of $100.
f) You must pay me for shipping before pup flies. Customer sends $330 for travel prior to any pup flying out.. Make sure you have drivers license/ID in hand upon pick up. This includes the average airline cost, plus taxes, and then any variable of me needing to handle the expense on my end.
*
Below, Duchess has arrived at the airport cargo in LA, California, happy that her owners have arrived to get her :-))
*
2. Flying pup as Carry-on
*
What I provide you in the purchase of your carry-on pup,
CARRIER may vary...have wheels/or not...depending on size of your pup/airline...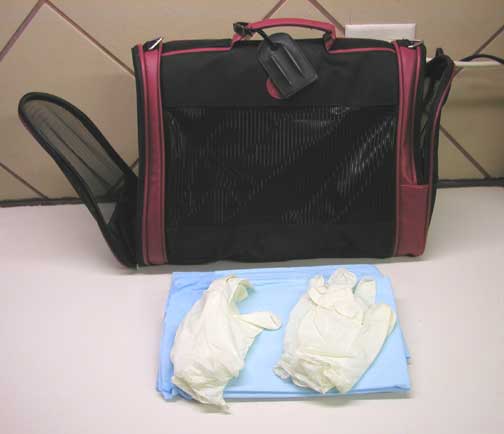 NOTES for Carry-on:
Note: the flying date is set for your pup upon the litter being born, 8 weeks old. Mark your calendar once known! Plan ahead and start to call the airlines to find which one will work best for you...drill, drill, drill :0)
Morning flights work best for me due to bringing other pups to fly cargo in the morning, yet will always do best to accommodate the customer.
Some customers like to catch a flight from the Twin Cities MSP airport (3 hr one way to my home) to the Brainerd, MN airport (1 hr to my home), both have car rentals and hotels of course...further down is a Bed & Breakfast one can contact just 4 miles away...only open from Spring to Fall. See Brainerd Airport by clicking here for link
See major airlines in section #1 above, each link will cover carry-on.
Some flights have limits of how many pets can be carried on a flight so important to study ahead.
Customer pays for pup's flight. Make sure you have drivers license/ID in hand. Health certificate is paid for in pup price, some airlines do not require it for carry-on, yet I will provide one at all times for flying your pup.
Pups can be taken on as carry-on up to a certain weight limit, so do not plan on an older pup to do this with as our Standard Poodle pups at 8 weeks old will range from 8-15 lbs.
I can pick you up and take you to the Mall of Am. for a walk around if there is a several hour time span in between the return flight. I take you back and assure you catch your flight without a hitch. After my long drive I always appreciate the exercise
Embassy Suites 1-800-embassy is a recommendation if you want to stay the night before. A shuttle bus to and from the airport is provided by them. It is just a mile down the road from Delta cargo and by the Minneapolis St. Paul (MSP) airport. It is VERY easy for me after dropping pups off for Delta cargo to come to the hotel and meet you, bringing your pup and covering final paperwork.
In staying over night, we need to plan at least a half an hour to finalize paperwork where I then give you and your pup a ride to the airport several miles away, assuring all goes well for your flight back if you do not take the shuttle bus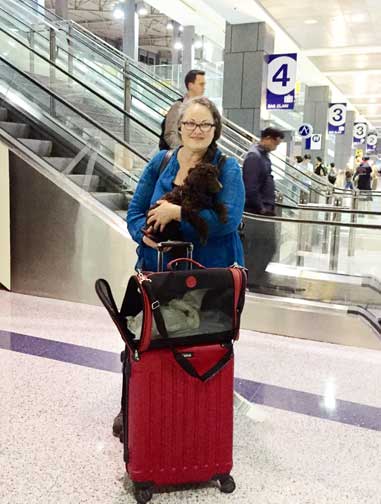 Health certificate is paid for in the price of your pup.
Customer will receive pup with the above style carry-on (may vary). Please understand, I have found this style to be the best in using as carry-on. Do not try to buy or send me a different style.
Carry-on dimensions of bag are around (these are somewhat squishable dimensions due to the flexible material for placing under seat) 10" Wide x 9" High x 18" Long. Once flight is in the air you may be allowed to place carrier on your lap at which the ends unzip and you can pet and comfort your pup.
4 puppy pads are provided, a folding water/eating dish, a washcloth, and 2 pair of rubber gloves.
Small bag of Vets Choice Health Extension food
Toy with lots of smells from home :-)
The step in harness is great for this travel experience
Collapsible water container
Below is "Hilo" with his owner traveling with him as Carry-on to New Mexico.
Next:
After flight decision booking made, you then 

inform/email me your flight plans/itinerary

 so I may plan accordingly.
I must get you to the airport at least 2 hrs ahead of flight.
Please call me upon your arrival home :-)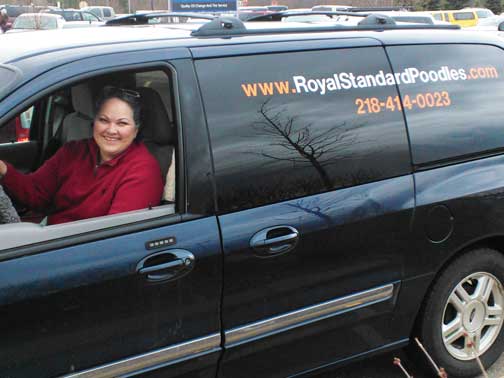 What customer needs to bring for their standard poodles:
Leash ... and your love :0)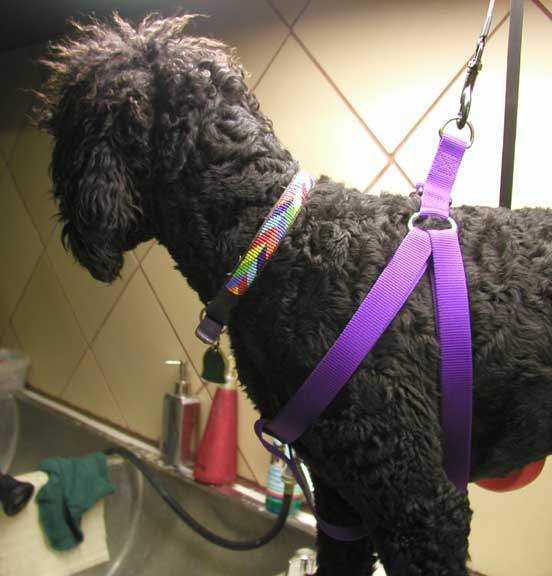 *
3. Over-all for
1. Cargo -or- 2. Carry-on
1. All flights are arranged and paid for by the new owner. I provide information here to help you along the way. This gives the customer knowledge to what their Standard Poodles must go through to fly as well as surety in knowing what airline choice is made and their rules.
I have flown MANY pups over the years of breeding...your planning and communication is key for this to run smoothly!
When pups are born, I post the "8 weeks" later traveling/flying your pet date for customers to know. This is going to be 

DURING

 the week so plan accordingly. Airlines do not "generally" fly weekends as easily as during the week. 6 hr round trip for me.
As long as everyone can plan together for the same day I will never charge travel expenses!
I pay the flying health certificate for your pup which must be done within 10 days of your pup flying.
Alaskan flights DO cost more.
If I have to ship your pup at a separate date than the others for your convenience, see notes in #1.
In shipping them at the earliest day-time hours, we generally beat any heat problem :-) 

Don't worry

 about me having to get the pups to the cargo area at 5am to catch your 7am flight out--NO PROBLEM. I will do what needs to be done for the health of the pup and to get your new family member to you without as much stress as possible. This is when the cargo area opens in the morning (5am) and the pups must be there 2 hours prior to flying out. It seems to work great for me as the pups sleep the early morning hours away as we drive :-)
The night before I go to bed at 6pm to get up at 1am so please do not call after that!
I use a dog's mother pheromone spray (fragrance of the nursing mother) just before they leave to help relax them.
It is a new age in the pet flying world today, feel comfortable in knowing that your pup is being taken care of on the trip.
Sometimes Mother Nature will throw a glitch in the weather for us, I do everything possible that day to get you your pet. Take a deep breath and we'll get through it :-)
Be by your phone and assure I have your cell phone number!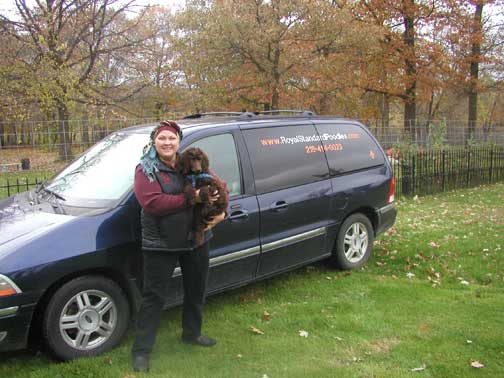 If driving into St. Paul to meet Tes on the flight date, one can meet at Delta cargo to pick up your pup that morning, we can coordinate everything...or I bring your pup to the hotel to you wherever you may be staying if driving in from out of town.
2. Good communication is imperative when working through the flight phase, that we can know what is to happen and when.
3. Overseas buyers; please thoroughly research who your transporter will be in understanding their requirements in #1 above, research your countries import animal rules. Example: Government rules and regulations, how old must the pet be to fly to your country, quarantines, and needed shots.
*
4. Driving for/with your Standard Poodles
If you are coming to pick up your pet in your car here are things to bring:
Water and food container
Towel, washcloth, and newspapers if long distance travel
Leash
car seat harness
Pet blanket/bed if you have not purchased one from me
I am not a crate person, that is why the car seat harness. If you crate your pets, of course bring your crate.
What I provide with the purchase of your standard poodles:
Health Certificate if out of state. By law this is required.
Lupine harness for their starting age See Lupine collars and harnesses web page to purchase an adult size later
Bone for pup to enjoy while traveling
Smelly toy from home
If long distance travel, dog food to travel with as well as a meal for the humans ;-)
Hotels in the area: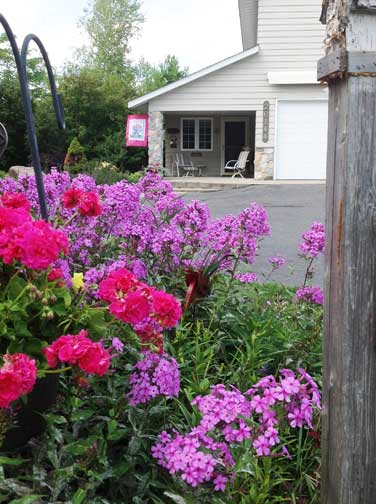 above - Carmel Apple Orchard Inn - 5 miles from Tes, a bed & breakfast is out here in the country open Spring, Summer, and Fall. 218-894-2796 .. 26144 State 210, Staples, MN 56479
Carmel Bed & Breakfast pictures
American Best Value Hotel - 7 miles from us - is located at 109 2nd Ave NW Staples, MN 1-218-894-3585
8/18/16 NEW HOTEL COMING TO STAPLES 2017...stay tuned!
Check the weather for your flying date. Weather.com is what the airlines use to check that day of flying.