Royal Standard Poodles - Keely
Last Updated 7/26/19  (PJ)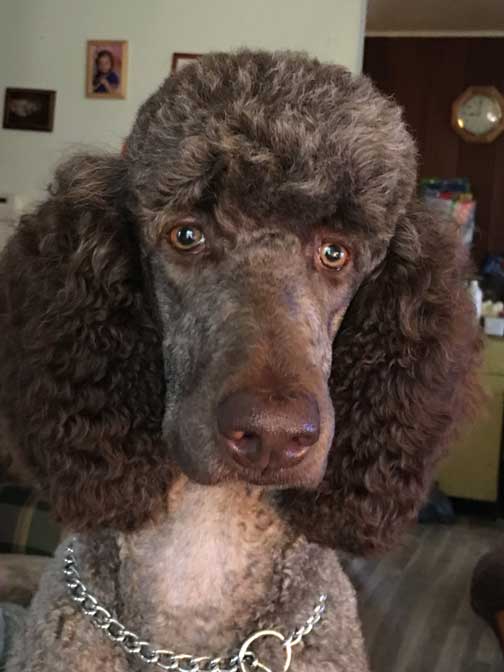 Royal Standard Poodles - Keely at home in Washington, IL. She has some great new buddies, Hattie I love snuggling into :0) 
Tracking stats of Keely:
1 yr - 69.6 lbs and 26 3/4" at shoulders
8 mo 63#, 24" at whithers - Ooftah - one giant girl already!
5 mo 53 lbs, 21" at whithers - Gonna be one Royal girl ;0)
17 wks 40 lbs
13 wks old 28.7 lbs
I have a non-docked tail - Thank You Tes!
born 1/2/13 of Brown Falcon x Bruno parents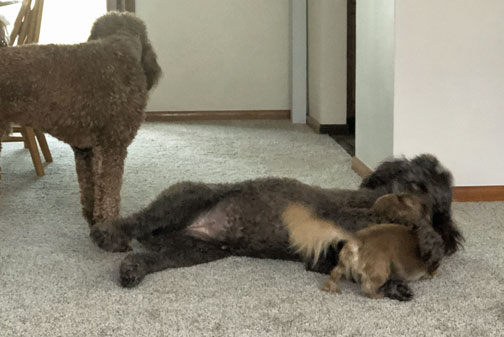 So, when I turn away does that count as 'selective hearing'?
*
I could simply gobble Doxie up; that dog has a lot of spunk taking me on.
Baxter:  "What? you said we could play with our toys. Oh, you didn't mean the live one... "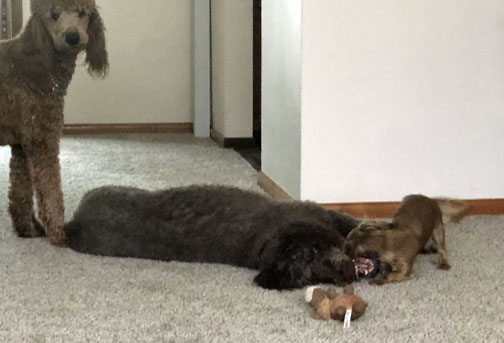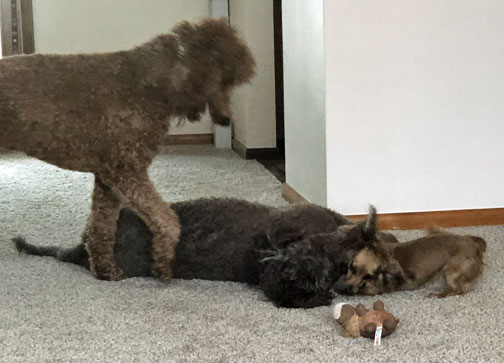 B thinks I'm occupied with Doxie and won't notice that impish grin on his face giving away his intentions
*
Oh, they're trying to gang up on me.  Hey, B, letgo my tail, that is Not a toy.
Yup, still comfortable while the youngster does all the tugging
We're great playmates.  Baxter's in his play stance.  And please note, I have yet made a move from my comfy position ;o)
*
Keely here, laying nose-to-nose to Baxter  with a toy between us...
Whoa, trying to be humble here...and I am one beautiful Royal Standard Poodle...  Out on a walk looking quite elegant  :-)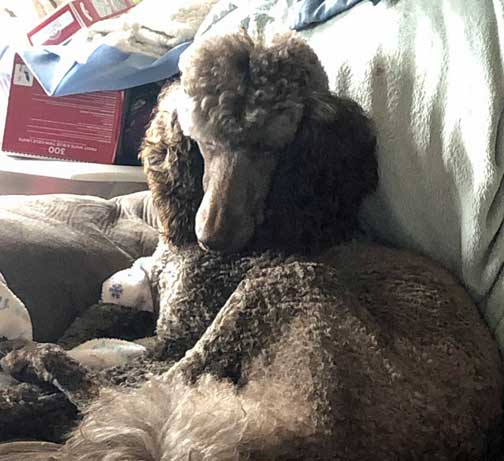 The sun coming through the window, it's so nice and warm, and being curled up on the sofa, I don't believe I shall be able to keep my eyes open much longer.  Label me "Sun Snoozer"
*
Four legs up, doesn't get any better than this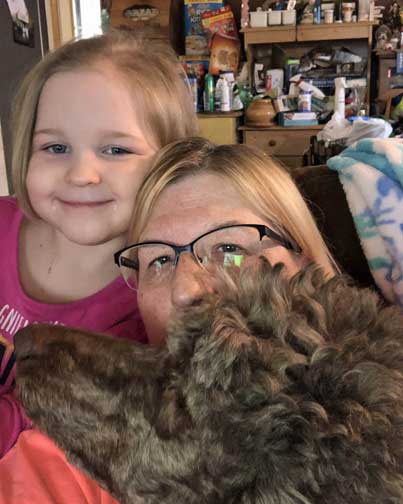 Love - comes in many different forms.  One day it's a bone on my dog bed, another it's from my humans.  Life is grand!!  ;0)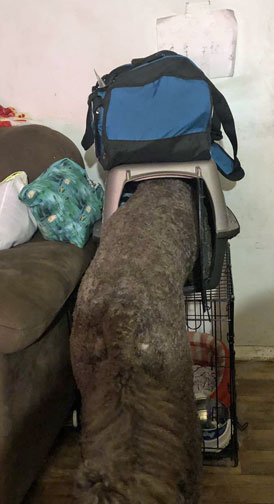 Whew, have I grown!  I used to fit in here....I stashed a toy  in here, how can I lose anything in this carrier?
*
HAPPY NEW YEAR 2019, Everyone!  L and I send our best wishes for a fun-filled 12 months ahead.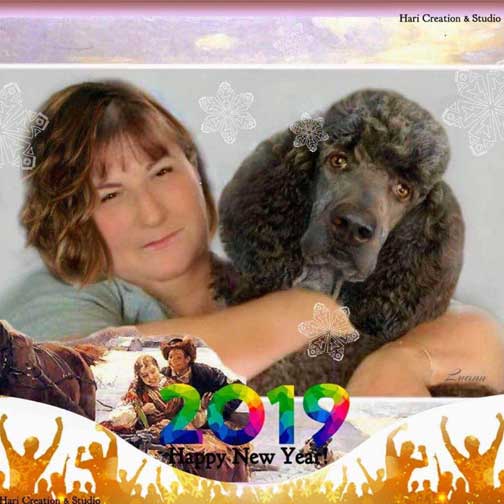 Geez, Baxter, spoiled with toys much?  (No, these are not hand-me-downs).  Me and my other friends did all those in a long time ago.
*
This is my new friend Baxter.  He is a red standard poodle, nice guy, and I'll always be older = wiser, and bigger.  I can teach him a lot of fun things to do and how to be a gentleman around us ladies.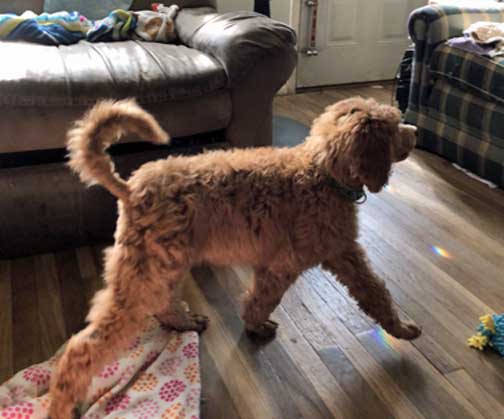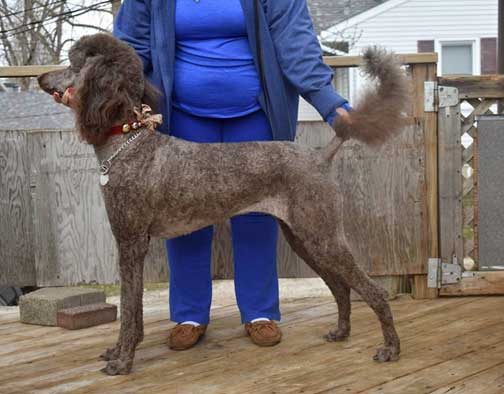 Just look at this confirmation!  Can we all agree, wow, simply wow ;0)
*
I stand tall next to my mom.  Zero accusations of two left dancing feet!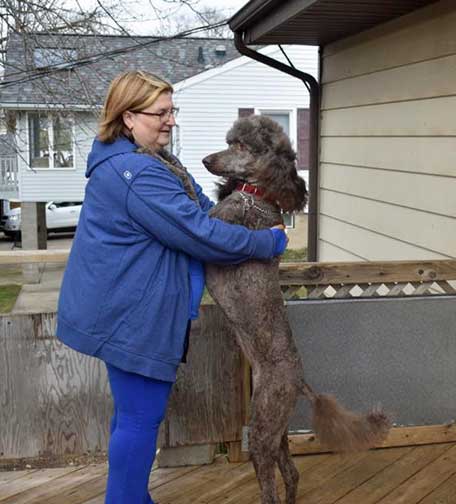 I told you I'd fit in it :o)))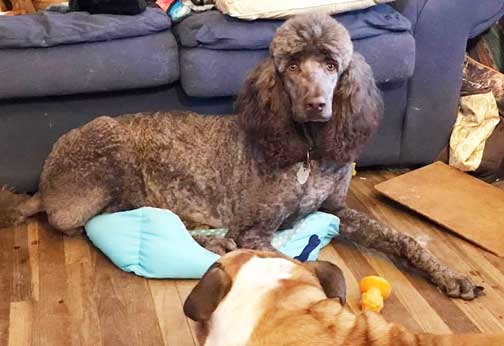 This is one of my bulldog buddies...always believing he needs to be on top of me!
*
GREAT Mug shot for you ;o)
Time for a hair cut...I know that's what they're going to do!
*
And girl do I look smart ;o)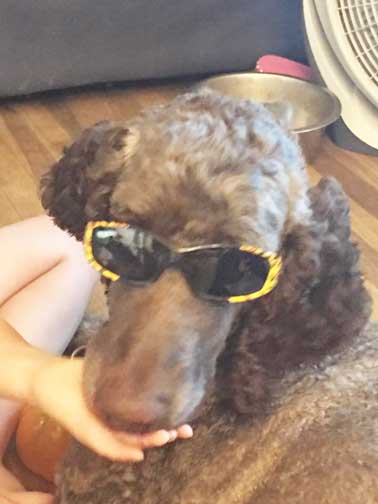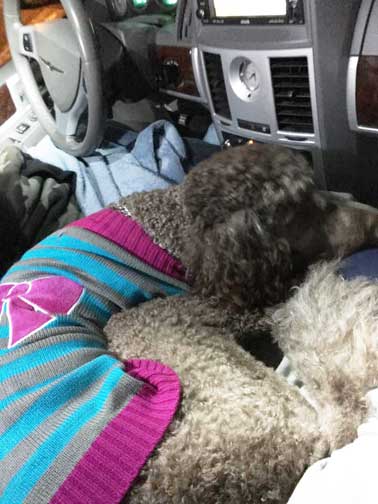 Getting cold outside...
*
It's up there, I know it!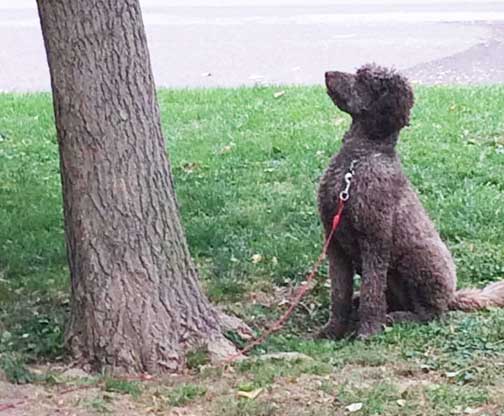 There you are!
*
Oh so pretty pretty :o)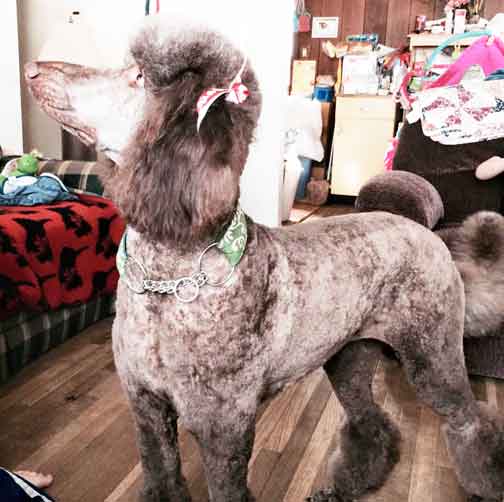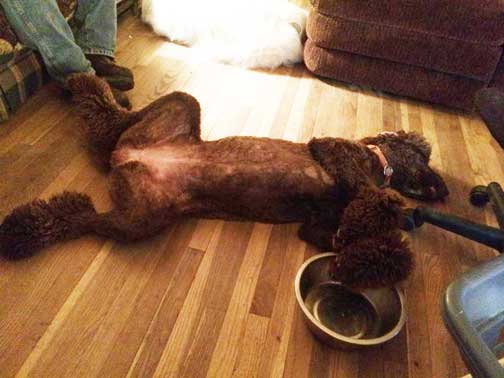 Hmmm, no food? 4 legs up then ;o)
*
We love playing in the great winter snow :o)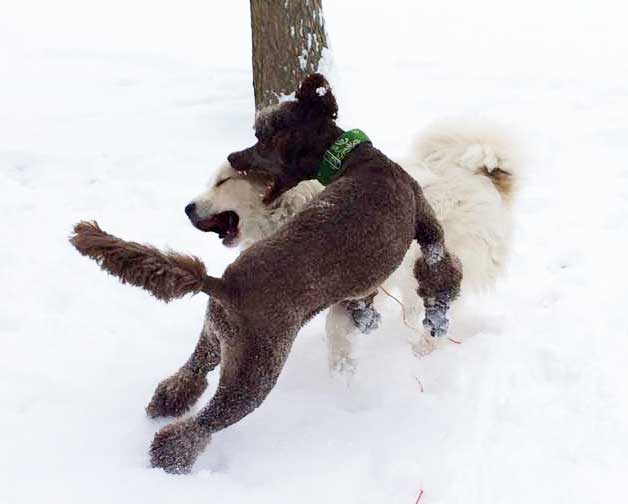 Play time for sure..how come i'm the one tied up?
*
Dogs on TV - WOOF!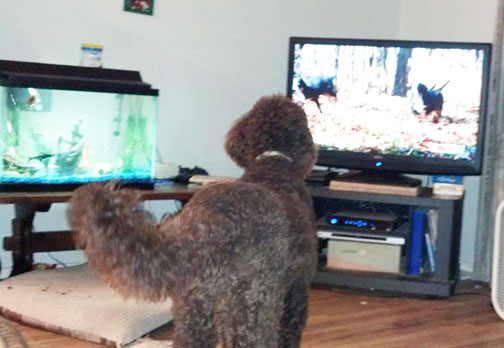 Yep this is the most comfortable position to sleep in, you should try it!    4 legs up :0)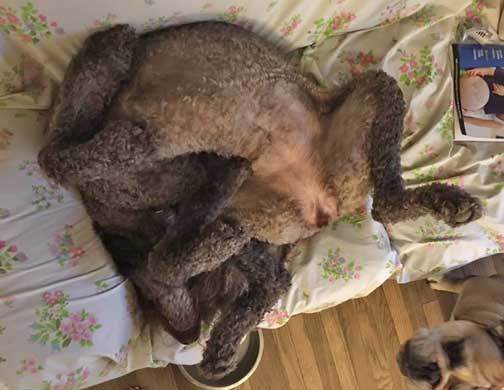 "This is a painting a friend did for us, I think we look fantastic!" AND what a FANTASTIC JOB!
*
"I am giving mom the stink eye for putting this hat on me, she thinks its fun!" :0)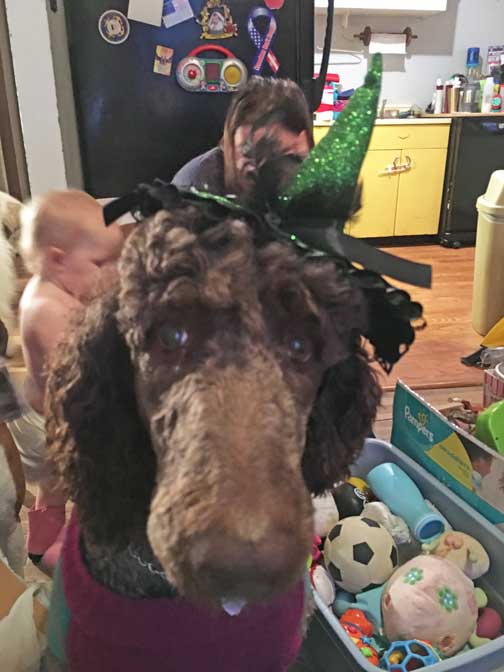 "I am trying to hide, do you think they can see me?" :0)
*
"If I fit, I sit!"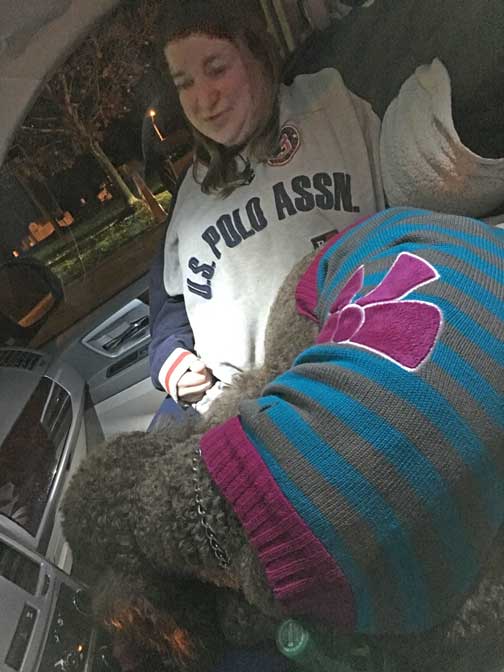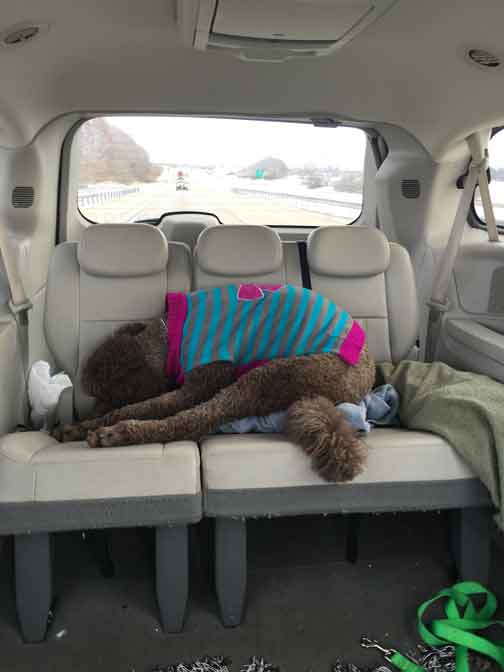 "This is how I rode on my trip to NC, my mom isn't sure why I am laying like this but I think it's comfortable!" :0)
*
"What better way to spend you birthday then sitting on the deck eating a bone!"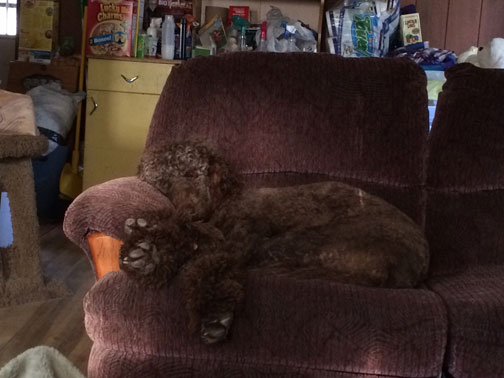 "My new chair! Can't get any better than this!" :0)
*
"Look I will even share my new chair with my cousin Sarge, please don't drool on me." :0)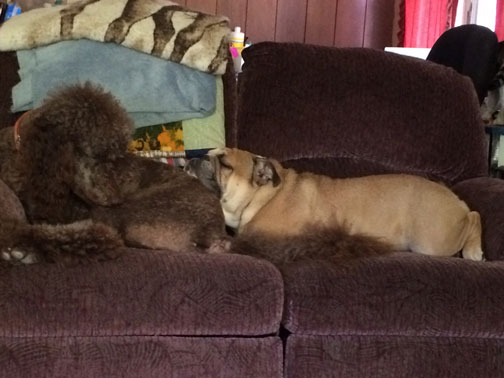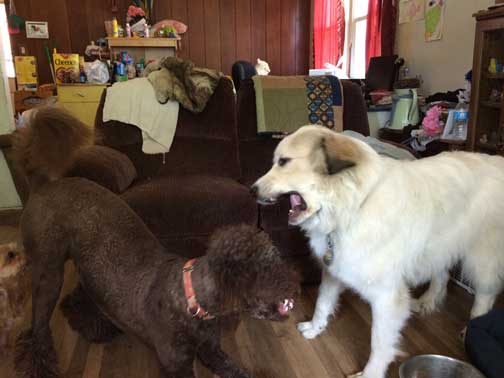 "Looks fierce but oh having so much fun!"
*
"And after play time we both need a nap!" :0)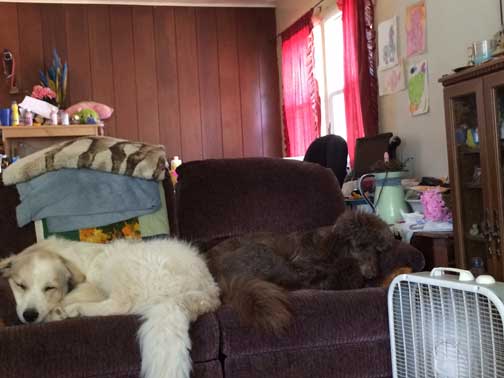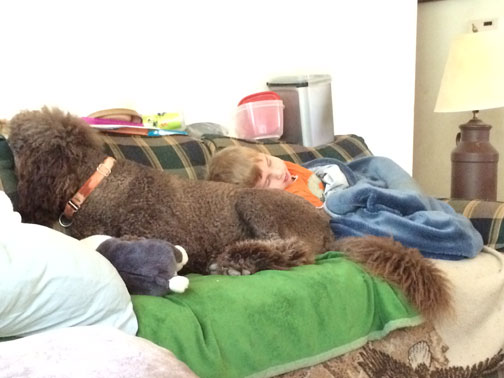 "Keely n Aiden snuggle time, this is a normal thing to find them curled up together!" :0)
*
"Just hanging out in the grass."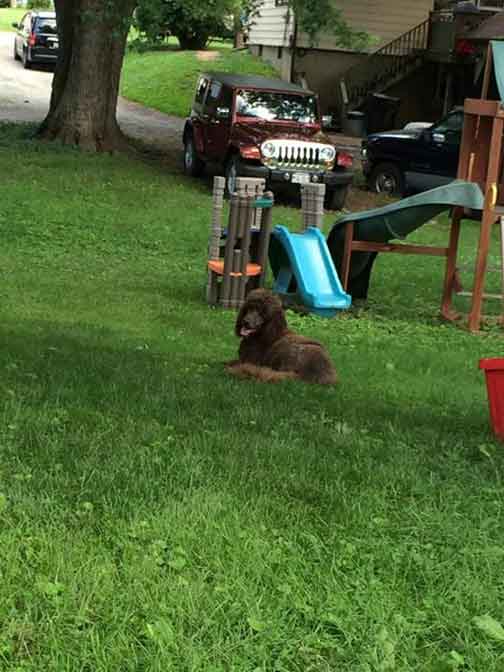 "I have the best posture ;0) This is what a lion cut looks like. I'm still debating this cut ;0)"
*
"Cuddle time with the grandson, my second best bud. :0)"
"Some family time, lots of attention coming my way. :0)"
*
"I see something, not sure what it is.. But I want it! :0)"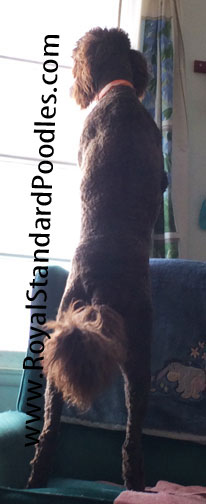 "Ahhh, this is so good." :0) Tes calls this "All 4 Up"
*
"I see something, I just don't know what it is..."
"Now that's some petting" ;0)
*
"I like to climb all over my mom" :0)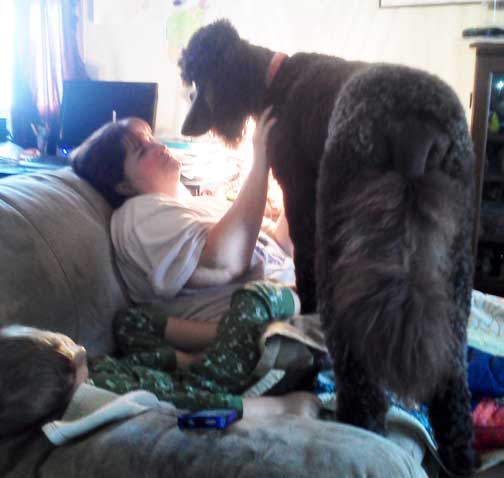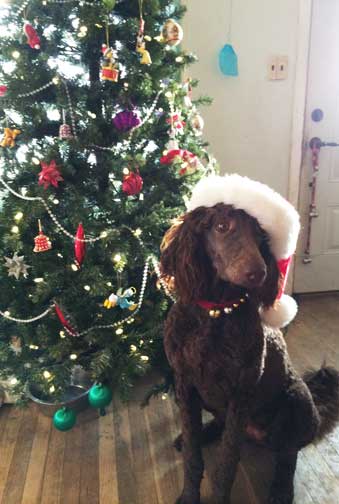 I'm ready Christmas!! :0)
*
I just got brushed out and my toenails clipped, give me some sympathy :0)
I'm playing tug-a-war with my Cousin Sarge
*
Looks like I've got the advantage from way up here :0)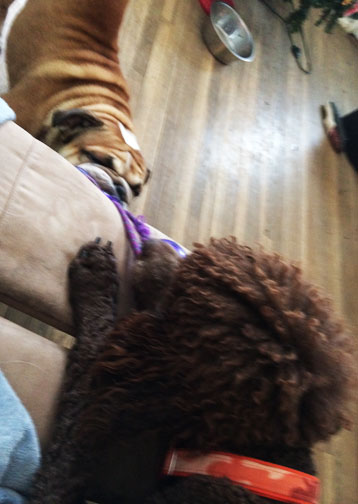 "Keely's Chair"
*
There we go, that's the best way to end a night :0)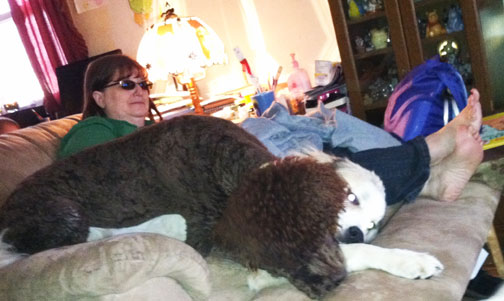 Hattie's got to move. It's my spot next to mom :0)
*
Hummm, that was nummy got to get it all off my lips :0)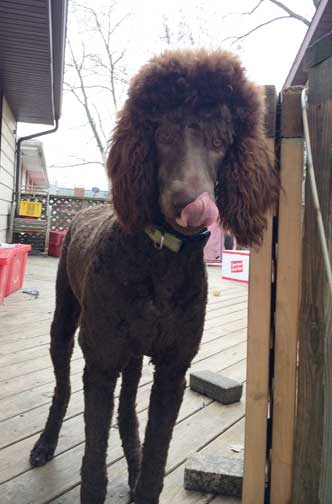 Say Cheese!!! Mug shots we love :0))
*
I've a shorter haircut this time for going into being spayed...great body under all that hair!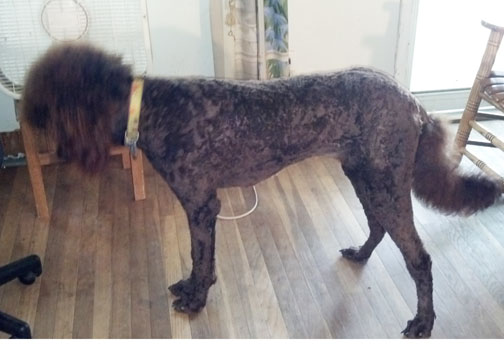 Fresh haircut, all a part of being a poodle...little long in the bangs yet ;0)
"Keely is fabulous and she is wherever I am in the house, at night she lays right next to me on the floor getting up at times to move to another spot but not for long always comes back to my side. I am so happy with my big girl and can't imagine a life without her. I know I want another royal spoo but not yet. Someday!!!"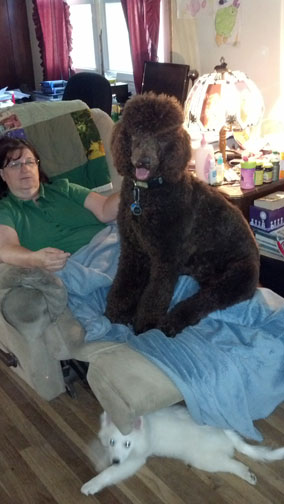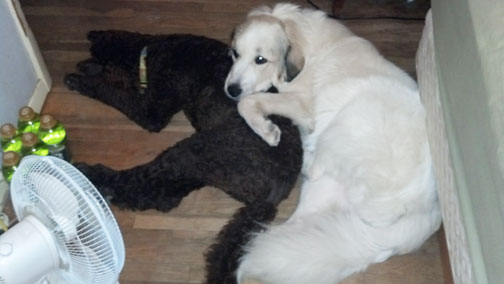 After a long day of playing, it is nice to have a nap with those you love, Angel, Hattie...such good friends... 
*
Play, play, play with Angel...that's what I do best now that I'm big :0)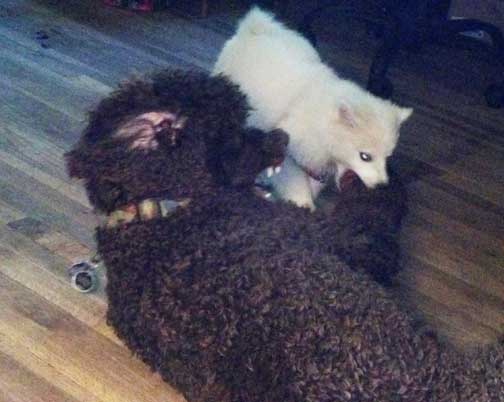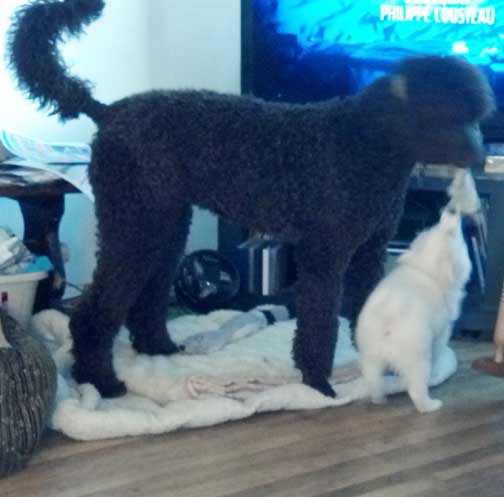 It's mine!
*
What in the world are those things!!! It's a poodle pedigree ;0)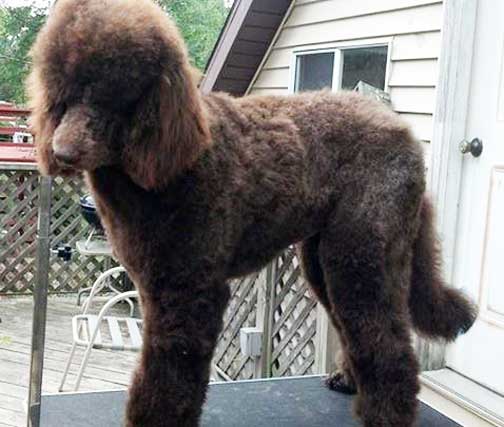 "I just got a grooming table and I love it already. I put Keely on it to brush her out and she was so well behaved up there not like when I try to brush her while she is standing on the floor."
*
I love to get kisses!! :0)
I love to play hide-and seek with Angel!  FOUND YOU!! :0)
*
It's a swimming pool shake a shake :0)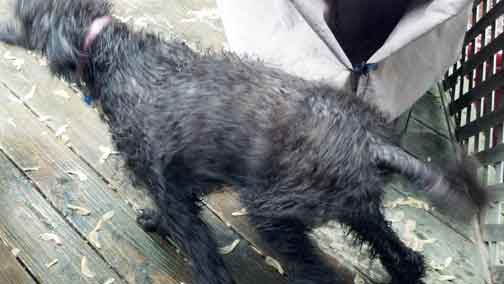 "She is so fun n her n Hattie have great fun playing in the pool out on the deck. She loves her pool and is always totally soaked when it is play time. She is so funny as she takes this big hop into the pool almost like a pounce. Her n Hattie have fun playing in the yard as well. She does somersaults over Hattie or sometimes underneath her. She is very good when outside."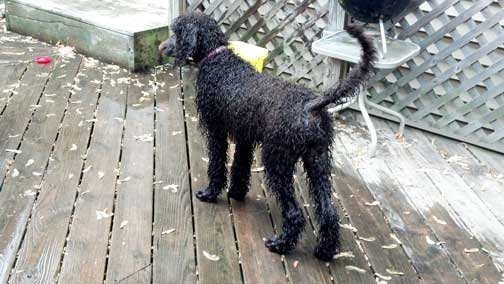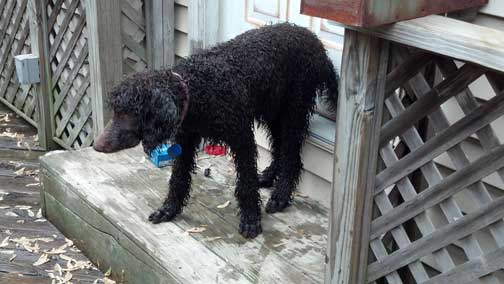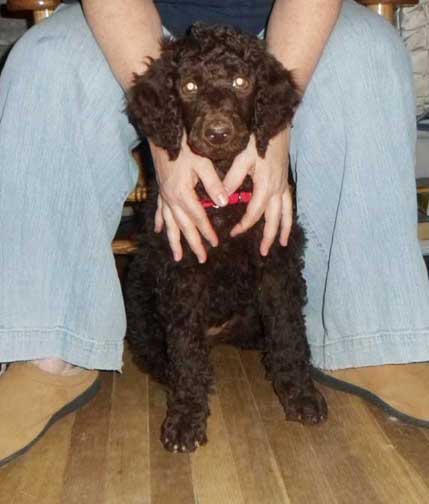 My Mom!!
*
My Chair!
Look at this great profile ;0)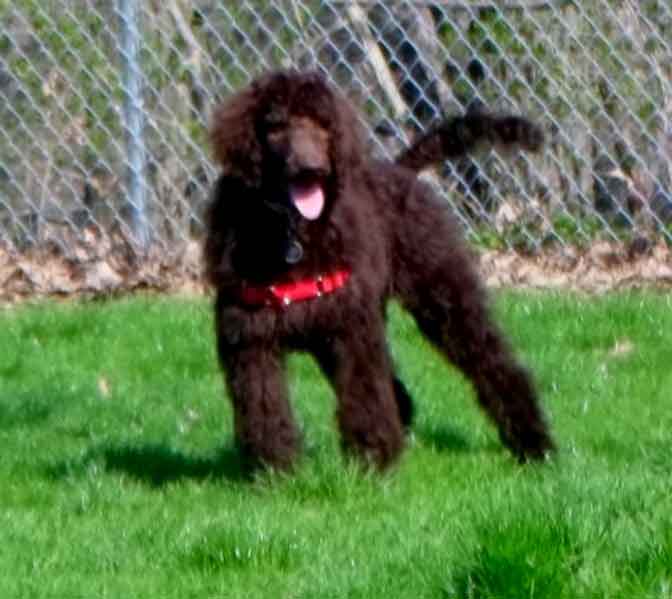 Keely at puppy park, running to mom because of the much larger great Dane coming to play with her...
*
Oohhh, I'll snuggle next to mom's leg for protection...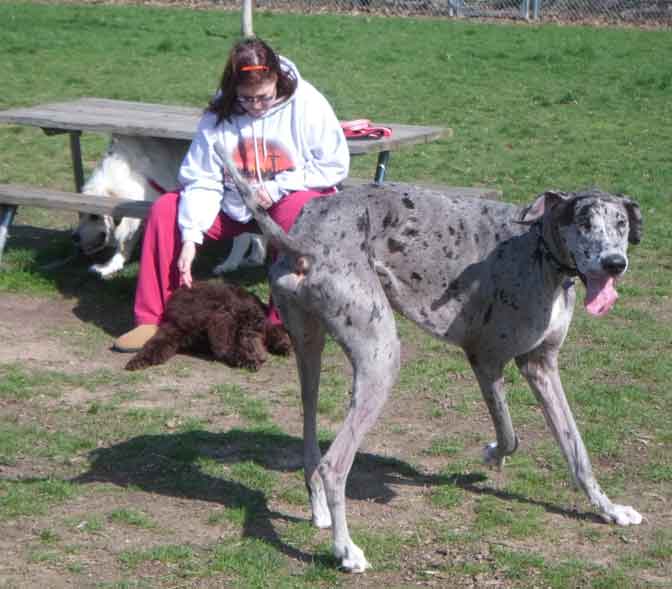 Run Hattie, RUN!!!
*
Mom - we're having fun at this doggy park :0)))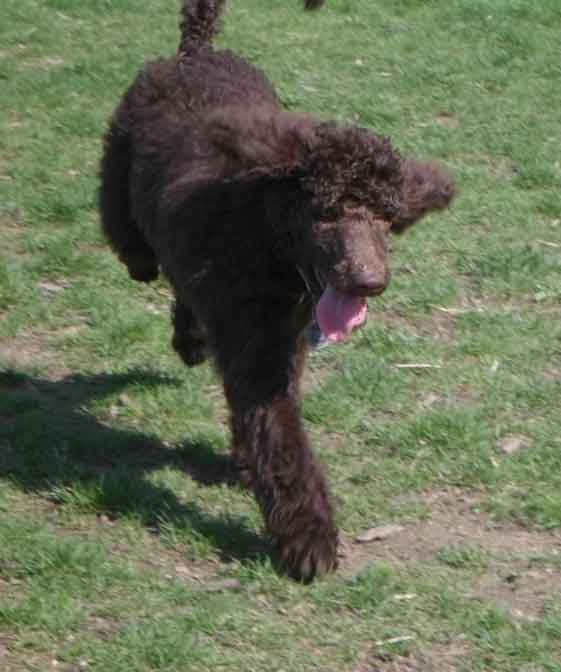 Hey Hattie, you wanna go another round?
*
Thanks for being my snuggle buddy :0)
Here's my 4 legs up pose that's so popular among spoos :0) Here's what some of what my owner shares: "She is such a love I can't believe how much she means to me already and how much I mean to her. She continues to just astound me with how smart she is and how well she is doing with her training."
*
Hattie and I have made good work of this toy...she's my bud in all things fun!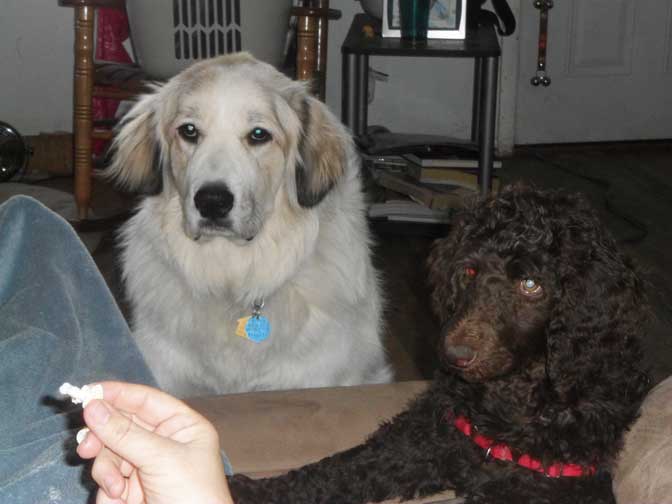 We know popcorn is a great treat...TREAT US ;0))))
*
Sometimes a pup starts out with a delayed closure in the umbilical chord area...as the pup grows it may close or develop into a small umbilical hernia as seen here on Keely. One's finger helps push the hernia back into the abdomen and can be repaired upon being neutered/spayed.  
Life is good!
*
All my new pet friends want to snuggle in with me :0))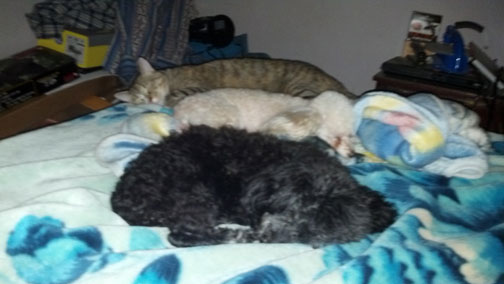 Here and below are pictures of me while at Tes's home. Above I am 6.5 wks old.
*
Here I am at 5 wks old.
I'm scooting around pretty good now at 3 wks old.
*
We're little scooters...my tail was not docked at request of my owner. I was really able to be easily picked out of the litter because of this.
Royal Brown Standard Poodle Keely
Visit this web page to see if there are others like Royal Standard Poodles - Keely pups available.
*
I thought I'd develop the form below to help with pet updates. Here you can fill in the weight, height, and what you two/family enjoy doing together. Upon sending it, you will receive an email from me that you can reply with new pictures attached. Hopefully this will be an easy trigger instead of trying to find my email address.
Everyone loves to see your pages - honestly!