Royal Standard Poodles-Contract

New contract update 5/8/17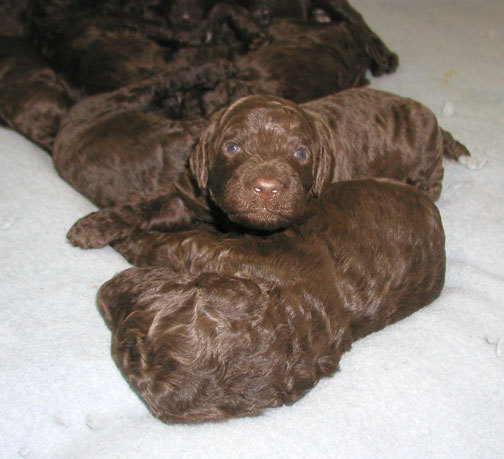 A Perfect World AKC Standard Poodle Puppy Contract
 Preamble: If potential purchaser is not willing to work on a high professional level of communication, integrity, and ethics please do not move forward with this contract.
1. All points covered in the MN Pet Lemon Law (MN PLL) are a part of this contract even though some pups come out of TX with no Lemon Law. It is the right thing to do. Contract will be signed by breeder once your signature below signifies you have read the law.
I have read the MN PLL and understand my rights. Signature _______________________
2. Travel Date is date established to go to your home. Flying starts at 8 weeks of age. This puppy/ies will have a health certificate issued prior to flying, paid for in price of pup.
3. Flight ticket is agreed to be paid by purchaser. Crate, pet weight and airline average $300 (Alaska $400) at 8 weeks of age (4/4/16). At 8 weeks old travel to airport is paid in pup price. After that a gas charge may be assessed depending on situation (6 hour trip to MSP airport).
4. Puppy is micro-chipped no later than 5 weeks old ($100 value). Purchaser will receive papers to file registration with AKC upon final payment of pup.
5. Purchaser takes full responsibility at Travel Date and agrees to establish a relationship with a reputable vet to keep up to date health care. Purchasing a puppy/ies should not be an impulsive decision; he/she is not sold on a trial basis. You are making a decision for its life time.
6.  It is agreed this puppy/ies will never be placed in a shelter. Purchaser guarantees TI/DG that they will work with/return this puppy so a loving home may be found.
7. As a "PET ONLY," purchaser agrees to spay/neuter or ligation/vasectomy no sooner than 10 months, no later than 12 months old, unless other agreement made. Hormones are important to a healthy pet. Once completed, copy of vet documents must be mailed to TI/DG.
8. It is agreed this puppy/ies will be registered with AKC along with the pup's micro-chip information for tracking if lost, papers will be provided in order to do so.

9. TI/DG conditionally guarantees until the age of two years, against *congenital defects or have known DNA tested markers that will interfere with the pup's ability to lead a normal life. TI/DG DNA tests all parents above breed standards and will guarantee those markers, as other diseases come about from many variables: environmental poisoning, too early spay/neutering depleting healthy hormonal development to integral glands that produce the needed body's balance, as well as the following…
Conditions:
A) Food: TI/DG recommends a 5 star rated product found on www.dogfoodadvisor.com , preferably an "Organic Grain Free" product to assist alleviation of chemical health ramifications, less flatulence, and overall health. Research has TI/DG using various dry dog foods which will be shared in puppy email tips and notes and the current checklist provided at time. Low grade dog foods are found to cause health issues with your standard poodle.
B) Supplements: TI/DG recommends and has found her standard poodles periodically supported with NuVetTM Plus Canine supplement has led to a healthier life, unless other agreed upon. Nutritional supplements help during times of spiritual stress, growing bone nutrition, and eating irregularities. You agree to have supplements in place at pups Travel Date to assist the transition to new home and bone growth up to 1 yr of age.
v  NuVetTM Plus Canine supplements ordering code #89093. They are a great treat, order via internet www.NuVet.com , or toll free 1-800-474-7044 from 8am-6pm Pacific Time.
C) Notification: A veterinarian's letter must be received explaining congenital defect, and you agree to humanely put this pet to sleep, as TI/DG does not want to cause any financial or spiritual burden on you or your pet. A copy of the euthanizing must be sent to TI/DG at which she will reimburse you for this cost.
D) Ownership: You must be puppy's original owner, sending pup's AKC papers to TI/DG.
E) Exclusions: This does not include hips. TI/DG standard poodle parents are tested for hip dysplasia to be Fair, Good or Excellent.  PennHip is also done at an early age and must be 50% and up, Chiropractic pet care is used on all parents to maintain healthy bodies, as TI/DG recommends customers do the same. Puppies get their first adjustment around 7 weeks of age. A pet's tumbles in life, spay/neutering growth change or other physical factors can change even "Excellent" results if not properly cared for.
Be Aware:
·        In making a down payment before a pup's birth, TI/DG hereby notes your "INTENT" to purchase one of our pups. TI/DG sends this contract to be filled in with your "INTENT" to buy. Your individual puppy/ies is "offered for sale" to you only after:
a) TI/DG has a vet examine each pup within three days of birth. It is the time frame in which tails are docked and dew claws removed.
b) At 6 weeks of age the pups are examined again when they receive their first set of vaccinations at which time you may decide on your pup.
c) TI/DG "offers the pups for sale" now at 6 weeks of age according to your down payment "intent" order 1, 2, 3...
d) Choice of pup must be made by 6 wks of age with full payment at that time. TI/DG signs the contract and returns with other registration data with receipt of your pup.
Your pup has now been examined by a vet twice. In flying or traveling across state lines your pet is examined a third time for health certificate.
·        With your down payment, TI/DG is committing time and money to do her best in communicating and working with you. TI needs to know you are committed in receiving a pup/s, thus there are no refunds once a down payment is made. IF one needs to cancel, the down payment will always be available for your return when you are ready for a pup from TI/DG at which you will be given priority accordingly as long as TI/DG is still breeding.
·        Adult size, confirmation, color, and temperament are not guaranteed. TI/DG assumes no financial responsibility for the puppy after leaving our premises for medical expenses due to accidents, injury, behavior, or for any other non-contracted issues.
·        Providing adequate exercise and human contact is a necessity in owning any puppy or dog, especially the larger breed. Cesar Millan the dog whisperer show will help you be the Leader!
9. It is agreed this puppy/ies will be registered with AKC along with the pup's micro-chip information for tracking if lost, papers will be provided in order to do so.
Price:                                                                  
10. _______________________(Purchaser's name) agrees this puppy is purchased as a "PET ONLY" (surgically fixed to have no offspring) and offered under AKC's Limited registration: 
                           $________ X ___ Puppy/ies $____________
11. Pet purchases are a luxury item in MN/TX. TI/DG will pay sales tax of pet over $1,001.
MN $2,000                                     Tax ______% $____________
TX $2,500                            any Travel Expenses $____________
                                                                  Total $______________
12. If this puppy has been bred, intentionally or not,                          the 2 year guarantee is canceled, at which the                         purchaser agrees to pay an additional price of      $______________                     
13. Included in pet price: Micro-chip ($100 value), health/flying certificate for out of state travel ($40 value), first vaccination - Parvo ($40 value), crate for flying at 8 wks (up to $70 value).
Receipt #1. _________Date down payment received:______$______
              #2.__________Date final payment received: ______$_______
Litter Born:_______Breed: Standard Poodle TRAVEL DATE: ______
From: (Dam)_____________#___________(Stud)_____________#_______  
# of puppies  ____: Male  ___or Female  __   Color/s________________
AKC Registration #: __________   Micro-Chip #_____________
Other agreement/s entered here: _________________________________________________
__________________________________________________________
PURCHASER'S STATEMENT:
By signing below, I acknowledge that I have read, understand and agree to the above contract.
Purchaser's name (please print): _______________________________
Purchaser's Signature:_____________________________________
Address:___________________________________________________
__________________________________________________________
__________________________________________________________
Two Contact Telephone #s 1._________________________2.___________________________
Driver's License # (when checks are payment form): ____________________Exp. ___________
(Why driver's license number? In signing this contract, it is TI's right to assure the contract is followed.  With our chagrin to a few, court action is sometimes needed to follow up.)
Breeder's Signature:________________________________Date:___________