Royal Standard Poodles-Bentley and Bijou
Royal Standard Poodles-Bentley and Bijou large Cream & Brown at home in Highlands Ranch, CO. Watch us grow and love! Bentley was born first at Tes's then Bijou came a bit later from her next litter.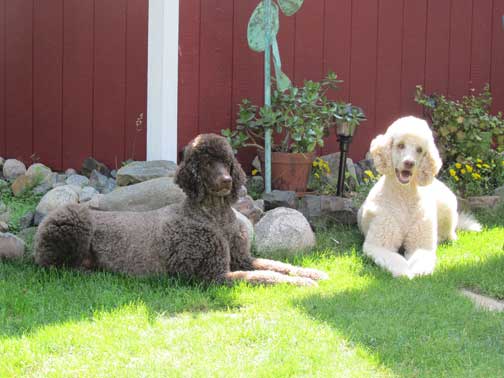 Here are a few more pictures of the "kids'"for 2013. We just got back from our annual trip to Ely, MN. Bentley, Bijou and Sebastian travel so well. We stayed at a hotel in Omaha and when I brought the dogs in, the woman who checked us in went crazy over the poodles! LOL - She asked if she could take their picture since she had never seen such big poodles. We then stopped at a rest area along the way and a young man came up to us and asked if he could take Bentley and Bijou's picture for his Facebook page. He just couldn't get over how big they were...ha ha ha. He wanted to pet them but every time he tried to touch Bentley's head (everyone always wants to touch their "fro"), he would turn to try and smell him...I think the guy thought he was going to bite him but I told him it was ok and that he won't bite....but the guy just couldn't bring himself to actually make contact. I guess some people are just nervous around dogs....I can't relate.....anyway, he seemed thrilled to take their picture. We then took the dogs for a walk downtown Ely and a family with 4 little girls came running over....asking if they could pet the dogs.....again....going right for the top of their heads....ha ha ha. We felt like we were traveling with celebrities....ha ha ha.
Life is good :0)))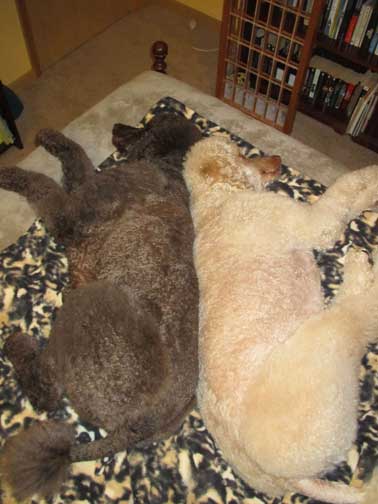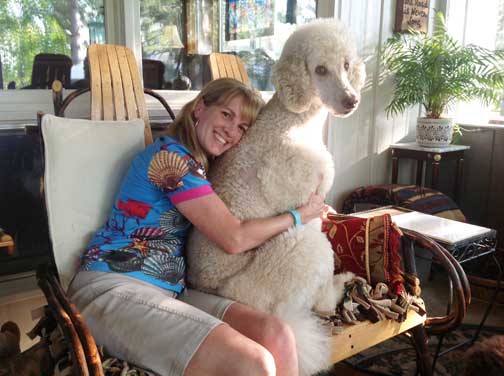 Royal Standard Poodle Bentley - visiting Ely, MN and getting lots of hugs from Mom :0)
*
The cabin in Ely is so relaxing, nice break with the family :0))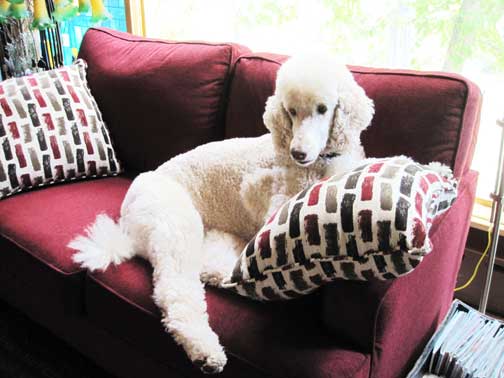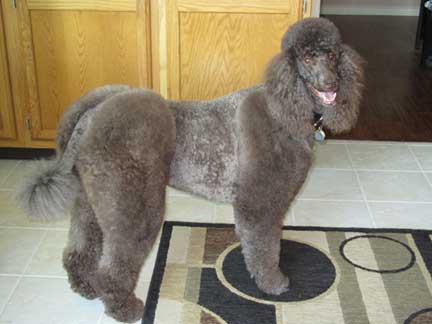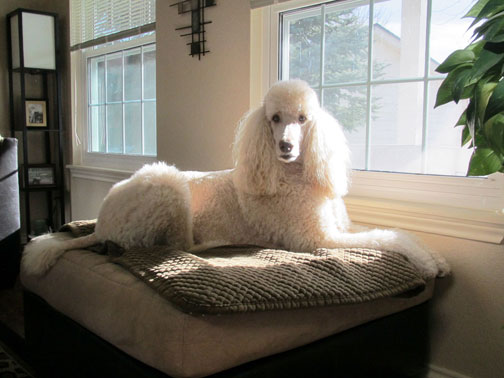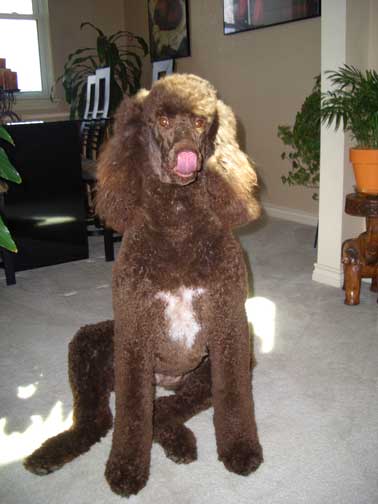 Yummmmy!!! Lickin' my chops :0)
2012 - 5 yrs old...Ahhh, so gorgeous aren't we with our fresh haircuts ;-)
* Royal Standard Poodles-Bentley and Bijou with their cat friend Sebastian
We're getting ready for Winter 2012! Sebastian should come out and play with us!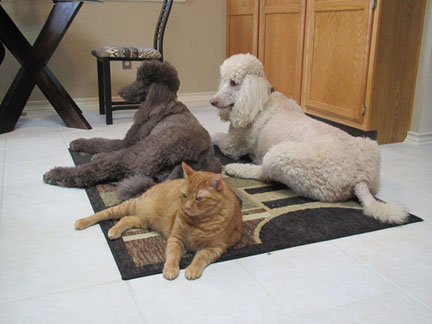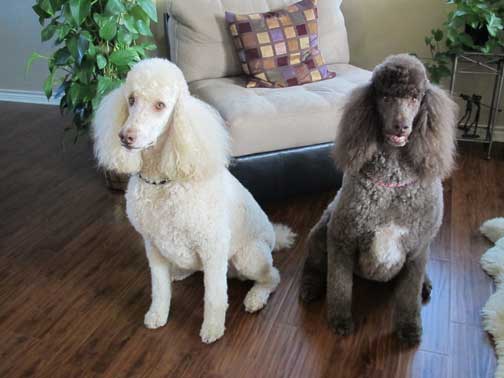 We have a fresh snow to take away our beautiful fresh haircuts to be curly hair from getting wet in the snow :-))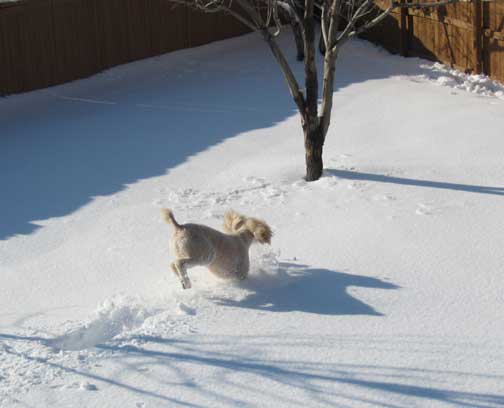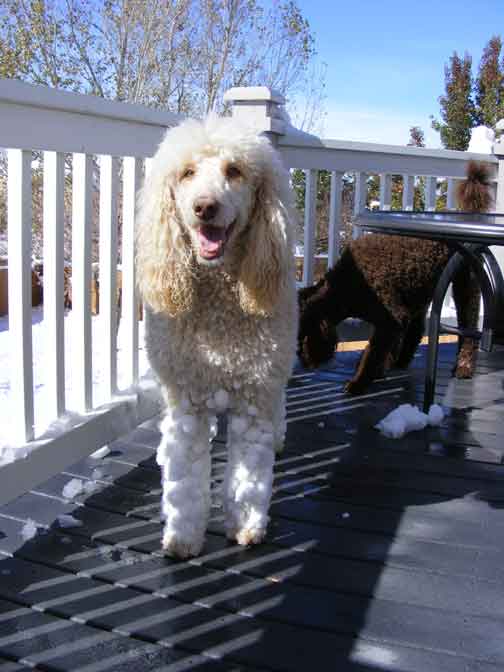 Sooo much fun! These days in 2012, what do we call them...snow boots, leg warmers, my very own snow cones - those are tasty Vanilla ;-)
*
Bijou says "I'll just watch from the window with Sebastian."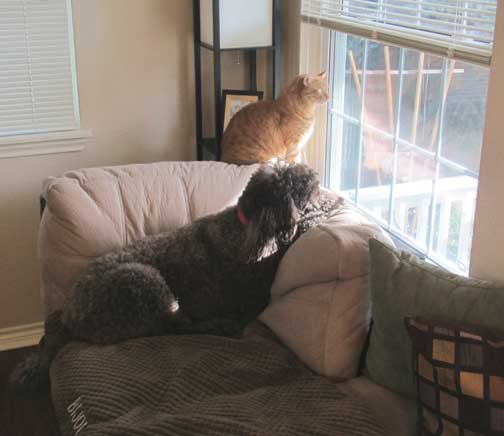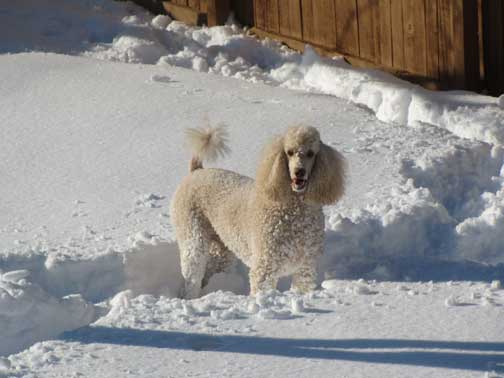 I'm camouflaged! You don't see me do you ;-) I know you don't :-))
*
My ball - what fun we're having! Come On Bijou - Sebastian!!!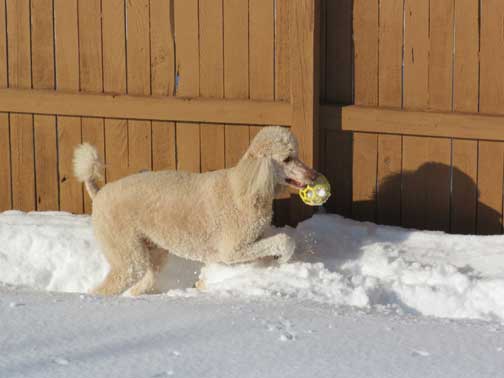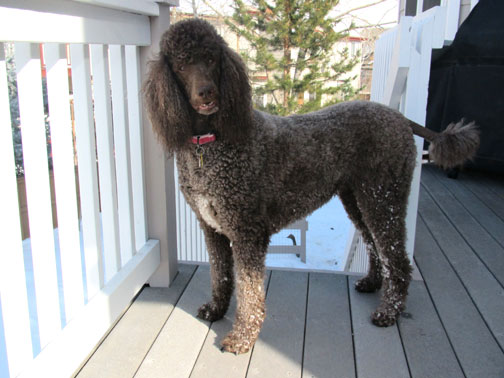 Good for you Bijou - Come on now and enjoy the snow!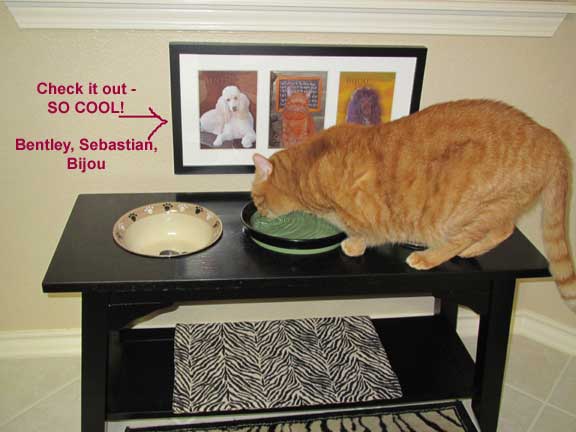 We are truly loved - Look we get portrait pictures to look at...lookin' good ;-)
*
"We are spoiled aren't we Bentley?"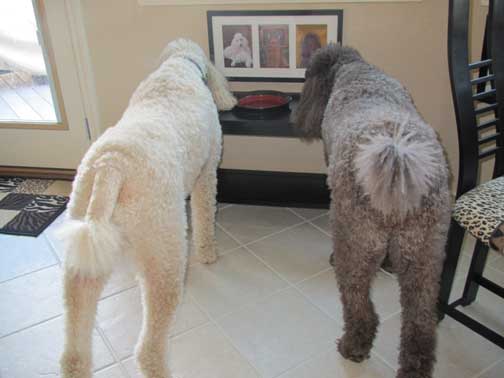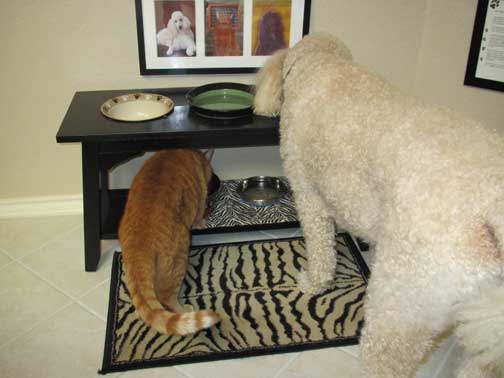 Time flies...from 2011 to 2012...
* Royal Standard Poodles-Bentley and Bijou
We will start calling this "The Chair" like on Tes's family spoo pictures of their "The Chair" :-)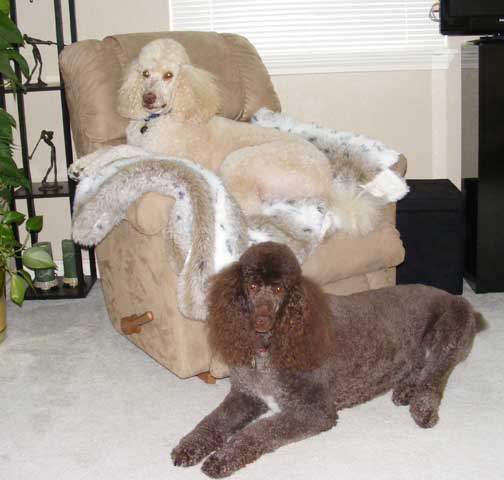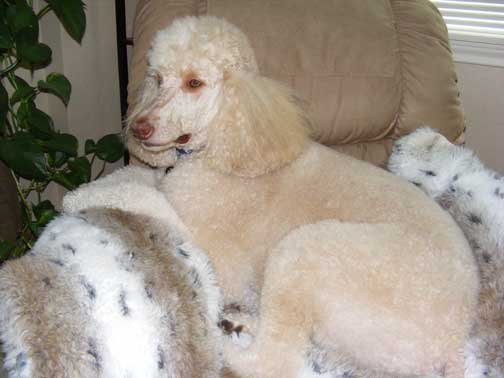 It's 2011 and we're going on 4 years old! I still have my favorite chair :-) How time flies!!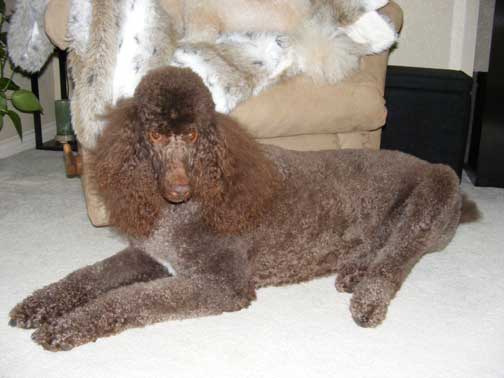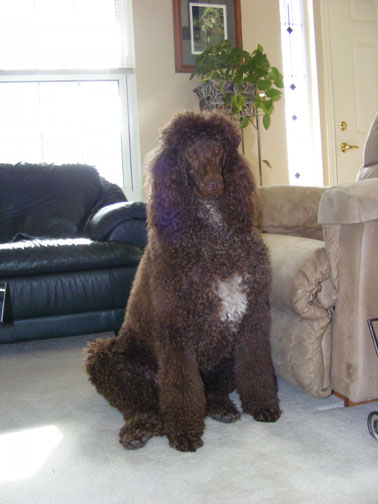 I, Bijou, still believe it's all about me ;-)
These are our swamp cooler jackets that really help to keep us cool in hot weather. My master soaks them down with cool water and then puts on us for walking or when we rough it up.
I wanted to go after my dad in the boat....but....water! I've never swam in it before!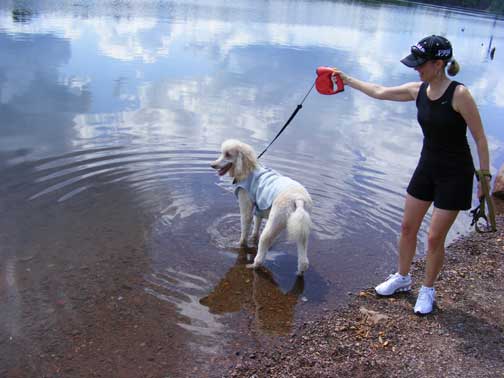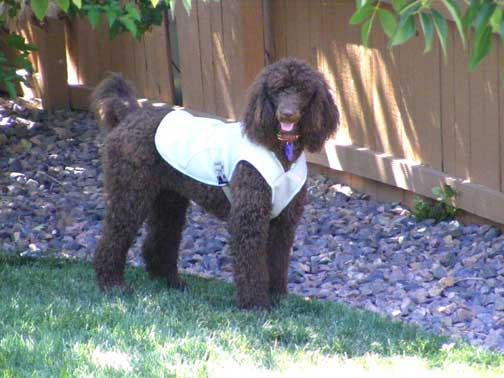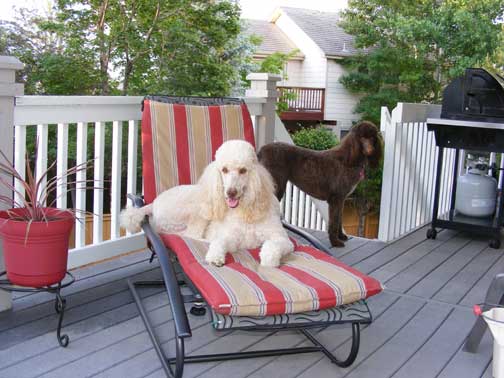 We know how to take it easy the "right" way ;-)
And don't I, Bentley, look handsome doing it!
Royal Standard Poodles-Bentley and Bijou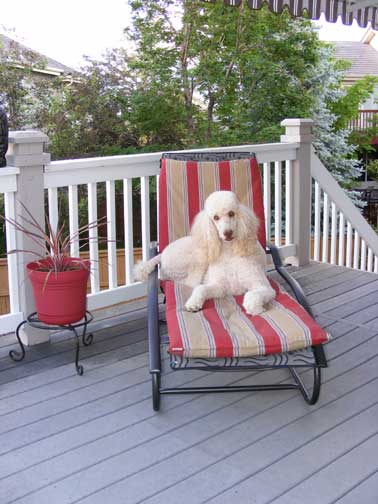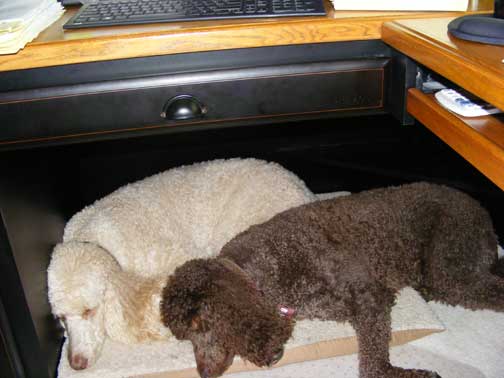 Here we joined mom at work in the office - and yes of course we're working...working to get a good nap in before we take her exercising ;-)
* Royal Standard Poodles-Bentley and Bijou
Guess what! We've a new member to the family - Sebastian! and he knows how to follow our cue...napping :-))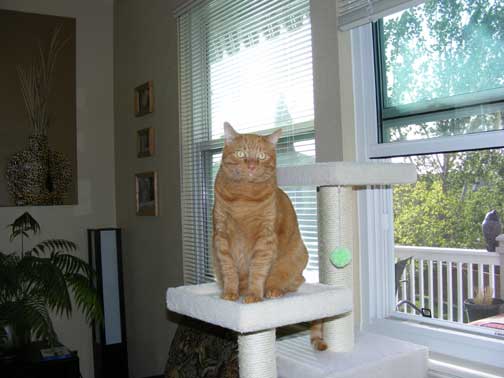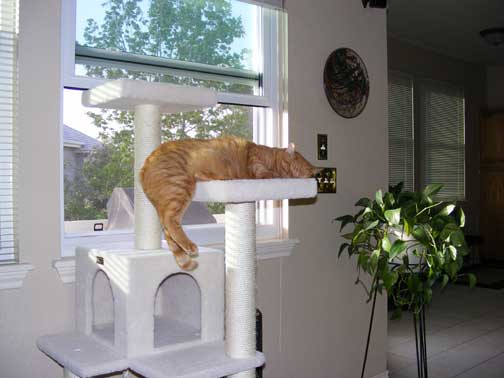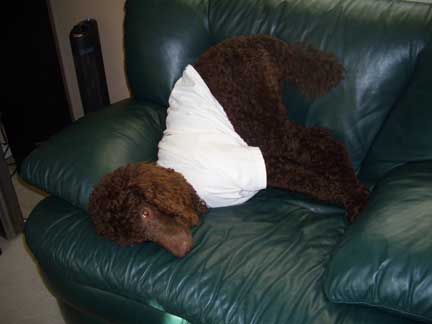 "Yes, you did tell me to sit :-)"
*
"Today is October 28, 2009 and guess what we got all in one day! 2 - We say two foot of snow!"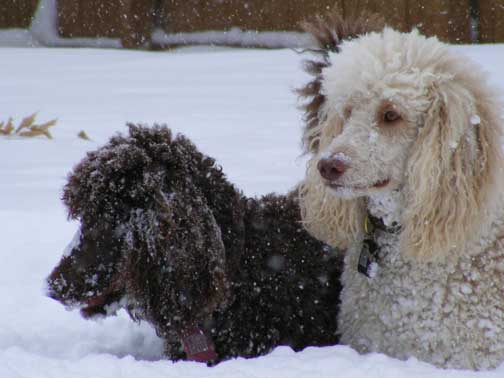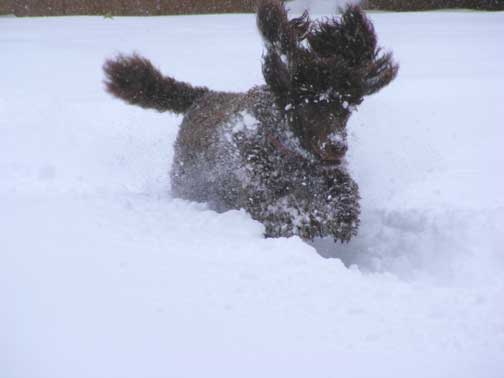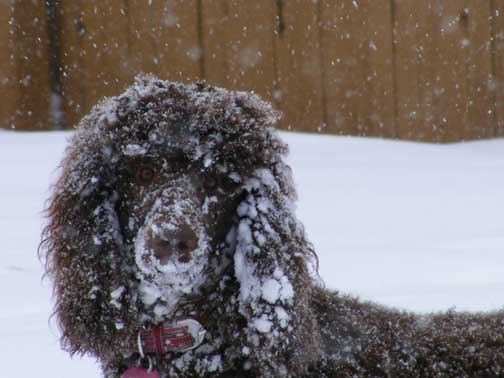 "It's time to plaaayyyy!!!"
* Royal Standard Poodles-Bentley and Bijou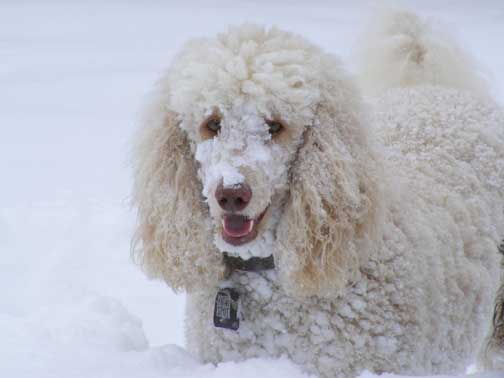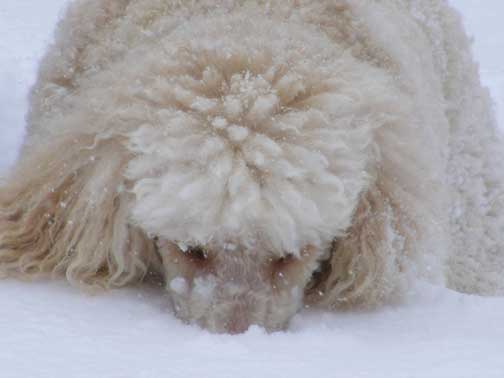 "I know my ball is down there somewhere - I can smell it :-)"
*
"I want the ball!"
"No - I get the ball!!!!"
"Take it outside!" mom yelled.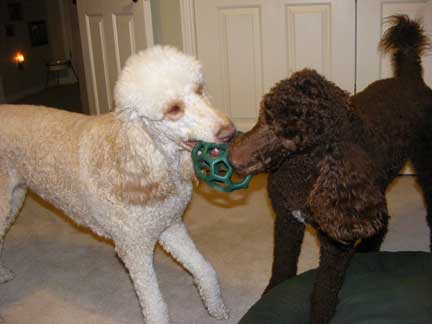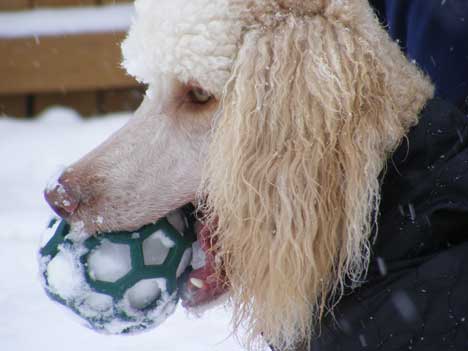 "Ahhh, this is cooler!"
++
"Check out our new mug shots :-)))"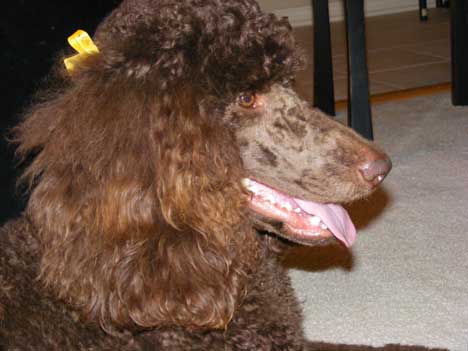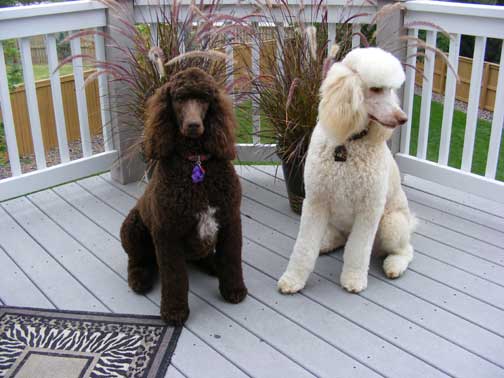 "We're freshly groomed - aren't we booteeful!"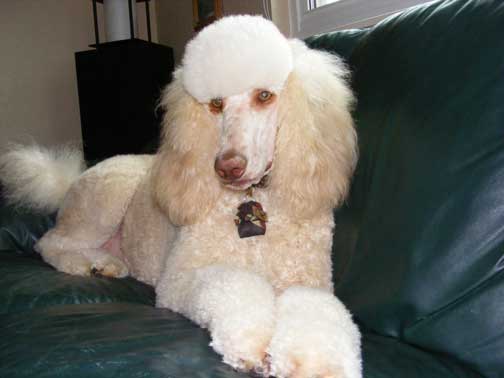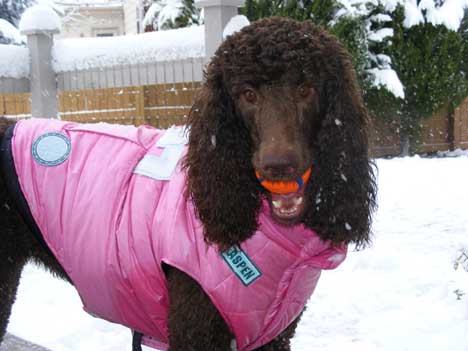 "Just so you know...I always get the ball in the end :-))"
+++
"Yes, it's all about me FOR SURE!"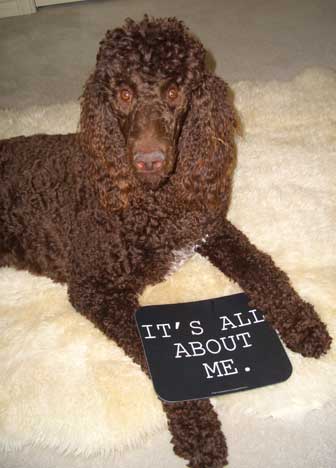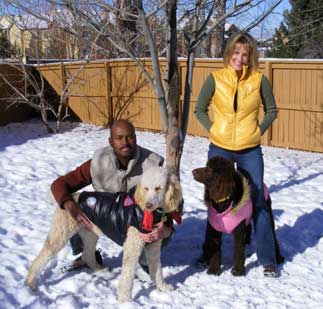 "Now we're ready for winter!"
++++
"Relaxing...before the snow!"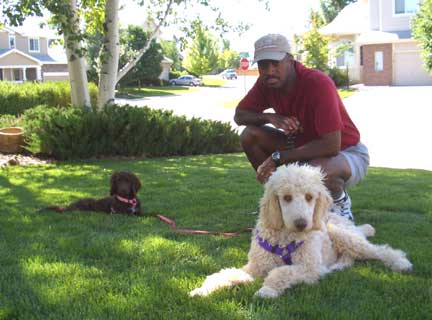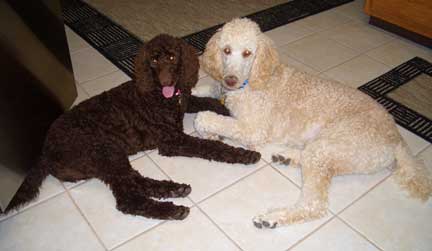 "Look at us GROW! L@@K at my Legs GROW!"
Bentley and Bijou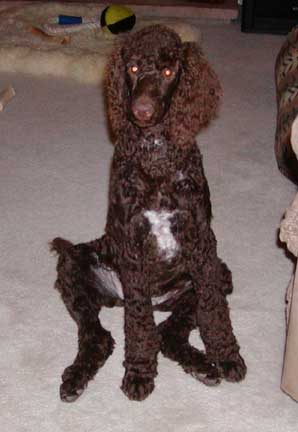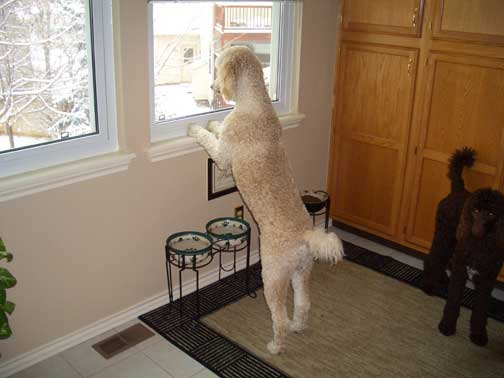 "Squirrels always captivate us!"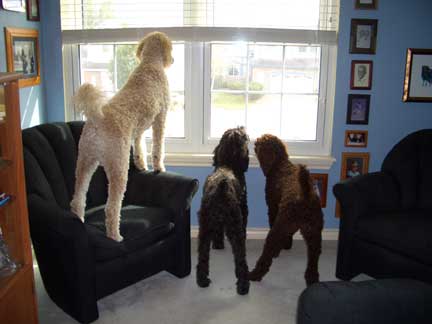 "We're watching over you! In memory of our good loving friend Lexus."
+++
"Peek - a - boo, now I'm teaching him where to sneak naps :-))"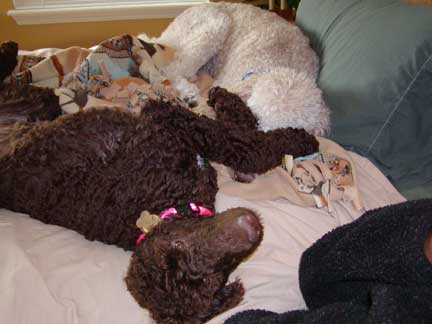 "All in the family!"
*
"What spoos do best..."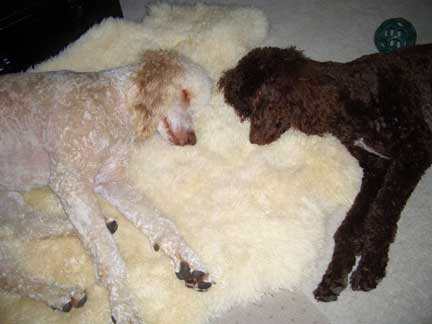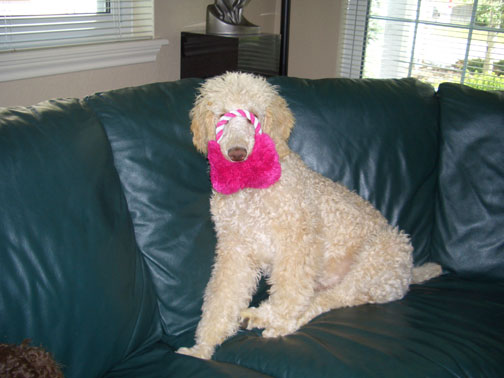 Ready for shopping now ;)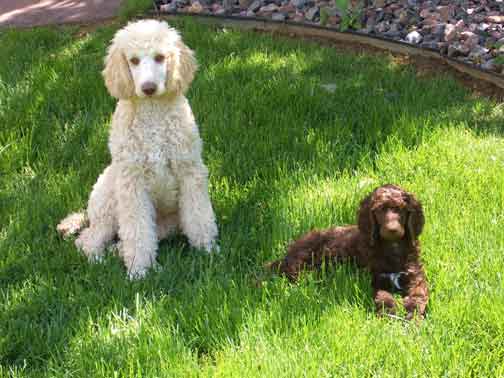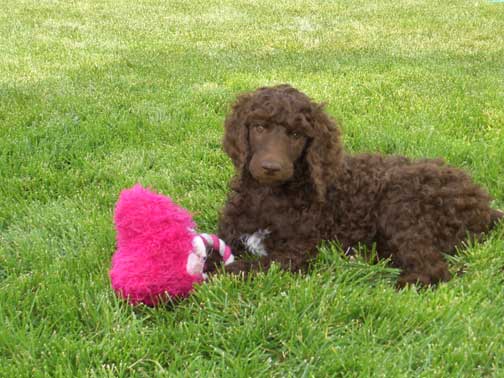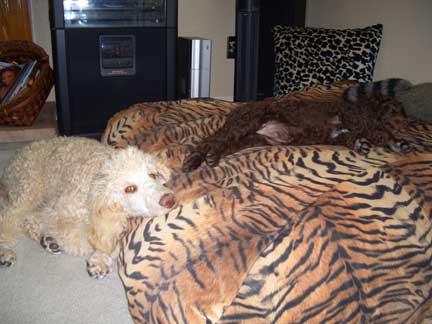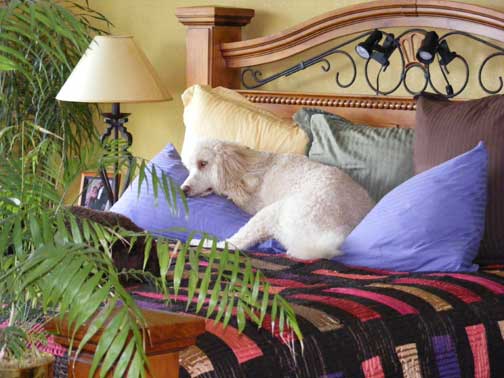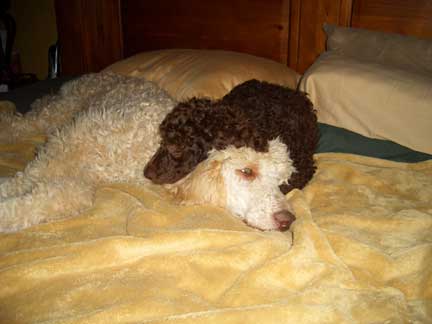 "Bijou is here! I'm teaching her where to relax ;-)"
++++++
"Below are my star parents who I'm spoiling. See--I'm letting them use the chair and bed ;-) Bijou will be joining us soon, I wonder how they'll spoil her?"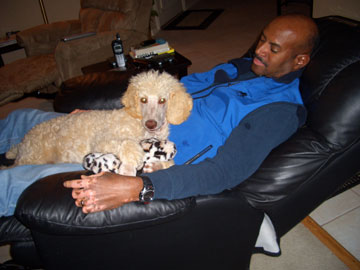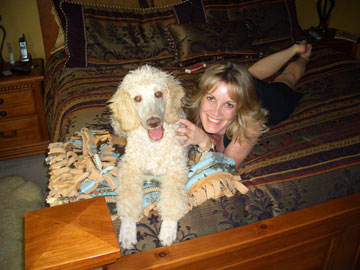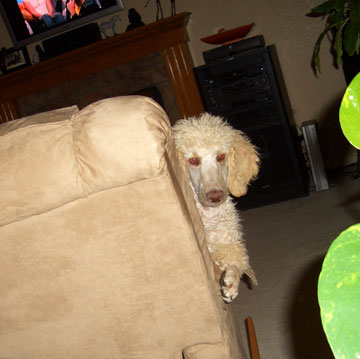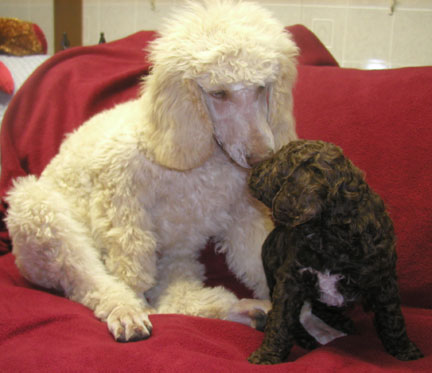 Royal Standard Poodles-Bentley and Bijou still at home with Tes, before we went to our new home.
+
Puppies for Sale like Royal Standard Poodles-Bentley and Bijou *
I thought I'd develop the form below to help with pet updates. Here you can fill in the weight, height, and what you two/family enjoy doing together. Upon sending it, you will receive an email from me that you can reply with new pictures attached. Hopefully this will be an easy trigger instead of trying to find my email address.
Everyone loves to see your pages - honestly!