Large Cream Standard Poodles  Zada
Last Updated 11/16/16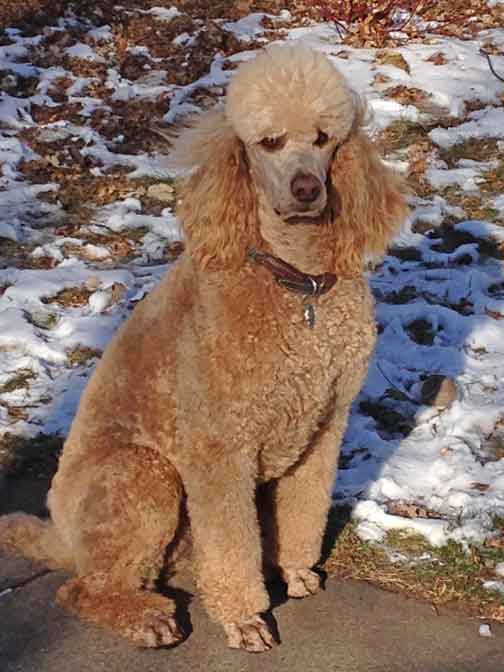 Large Cream Standard Poodles - Zada at home in Minneapolis, MN - parents Black Zeddy x Red Daniel
Her owners Share: "Zada is still smart, beautiful and a great companion. She is light apricot, not cream and weighed 60 lbs at her 2 yr 2 mo vet visit. Once walking her a man stopped us and asked to photograph her- he said her structure/ conformation/ walk are great. I enjoy her and thank you."
Tracking Zada stats:
2 year 2 mo. 60 lbs
1 year 2 mo. 59 lbs
1 year 57 lbs and 24.5" at shoulder
7 mo 49 lbs and 24" at shoulder
6 mo 46 lbs and 22" at shoulder
5 mo 40 lbs and 21" at shoulder
4 mo 32.4 lbs
3 mo 23.8 lbs
"She is doing very well - happy, energetic, smart and charms everyone wherever we go."
*
Her owners share: "Zada (Zeddy x Daniel 8/8/13) enjoys the cabin in Northern Minnesota. I am glad to see Zeddy's last litter will likely be with Daniel since I think Zada turned out so well! :0)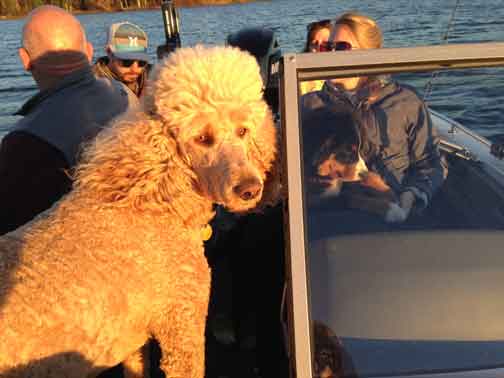 I am a beautiful 3 year old girl!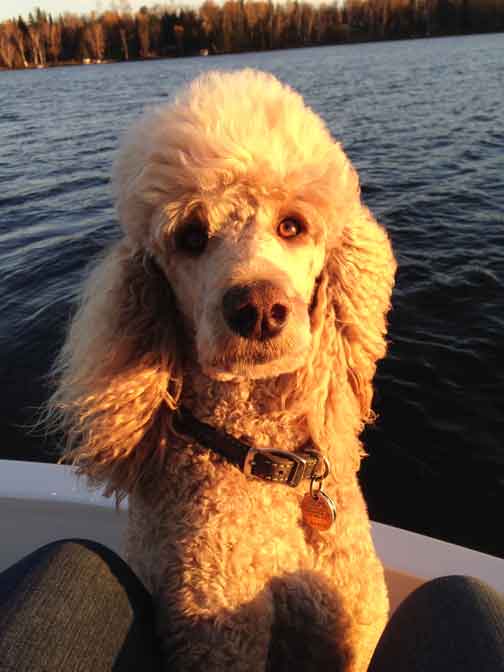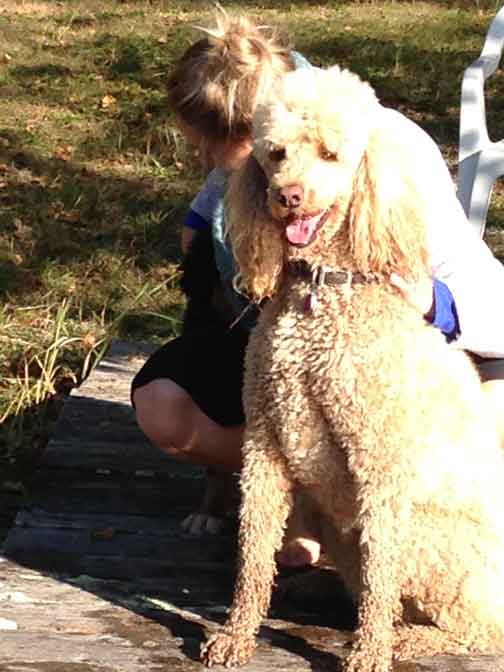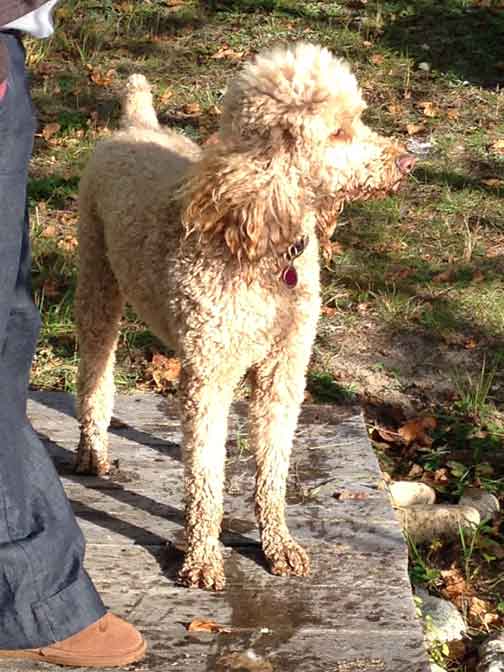 Wet dog!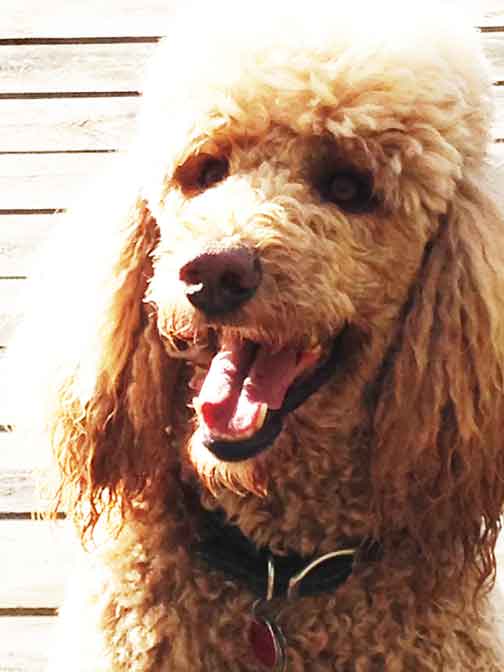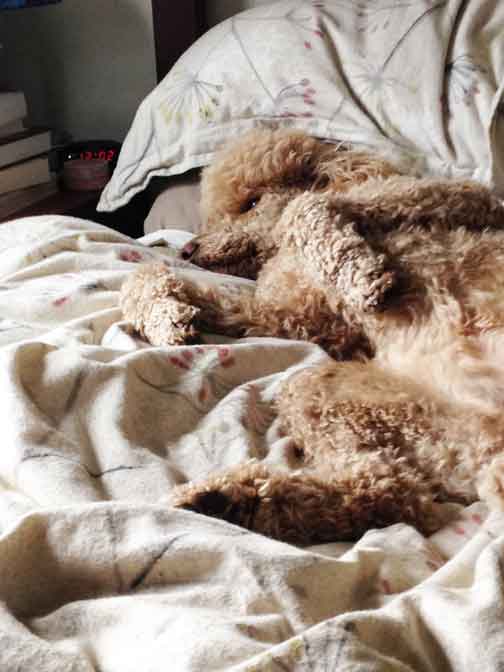 I'm exhausted! :0)
*
Happy, Happy, Happy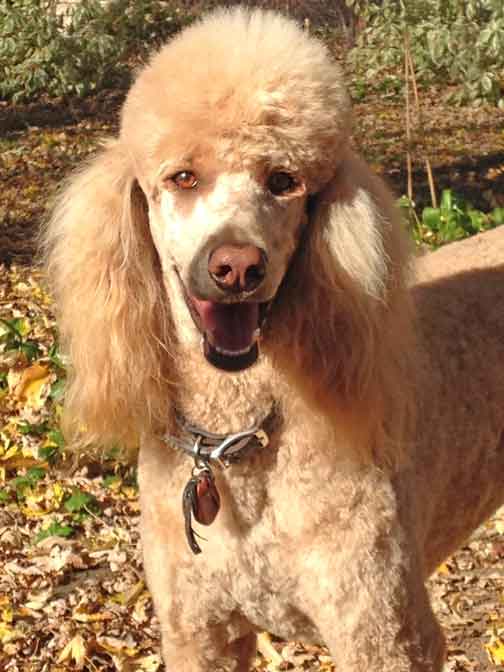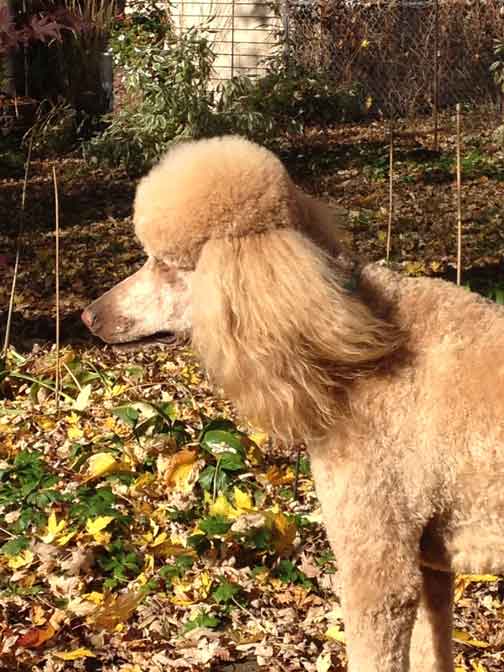 "Look at my beautiful color!"
*
"Here I am in Missouri Woods. I love it here. No more snow and plenty of room to run! :0)"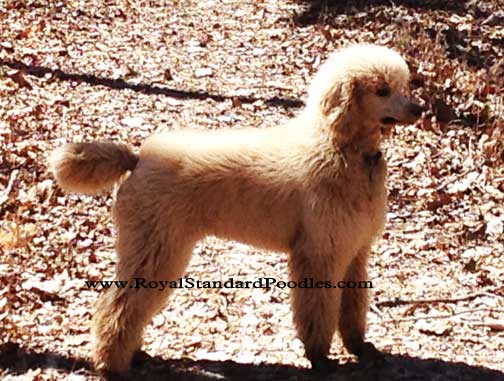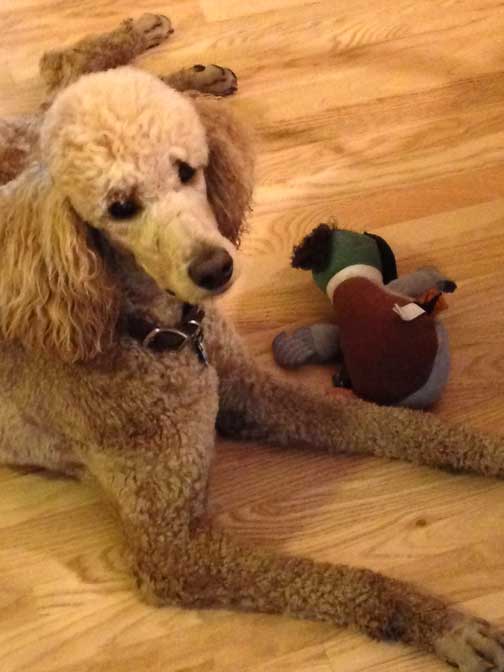 "I am such a pretty girl!" :0)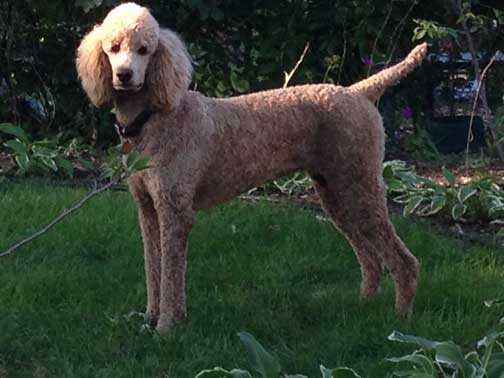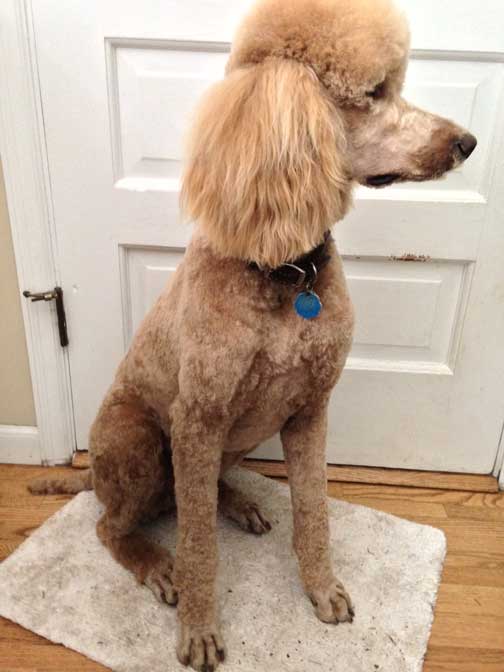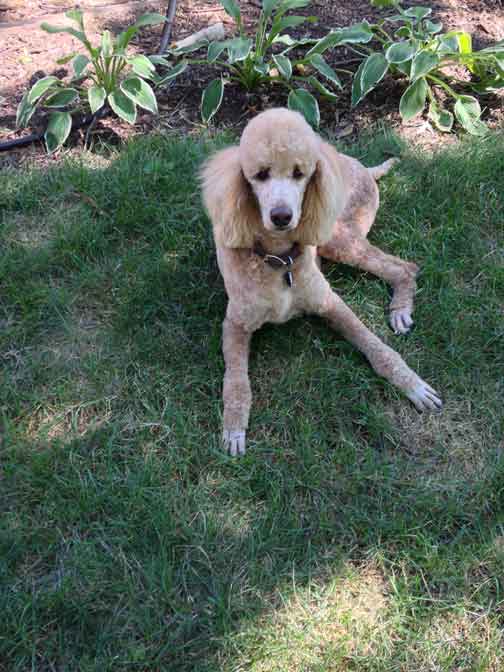 "Time to cool off and relax in some shade."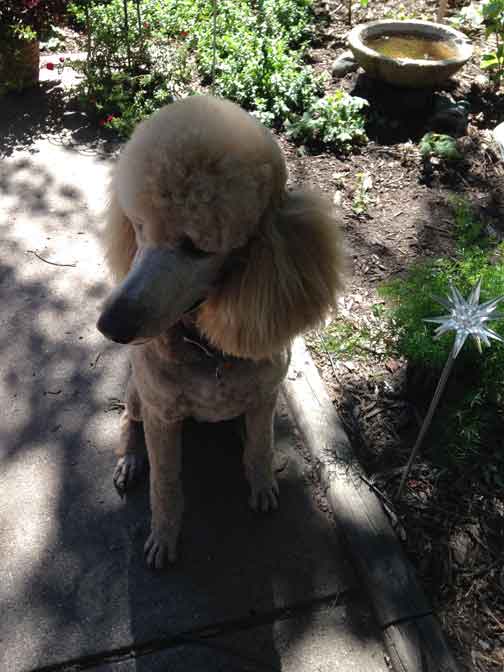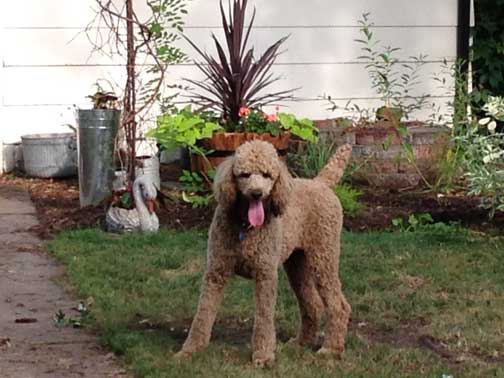 "I love to play outside, so much to explore!"
*
"I am one beautiful looking dog!" :0)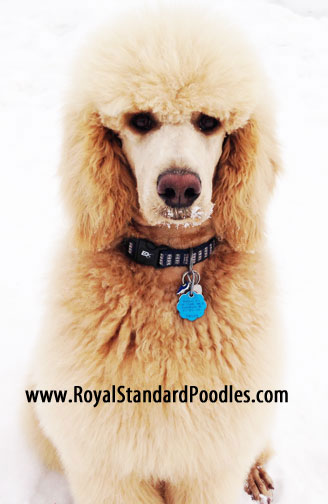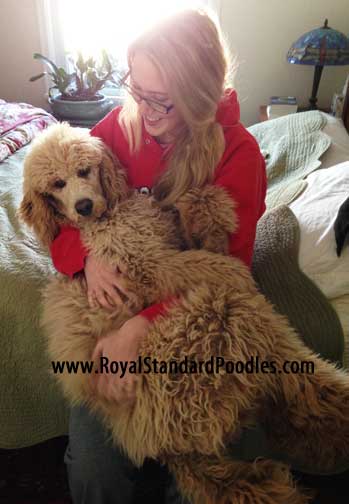 "I hardly fit on my owner's daughter's lap anymore :0)"
*
"Abby must be shrinking... Since when did she get to be so small?? ;0)"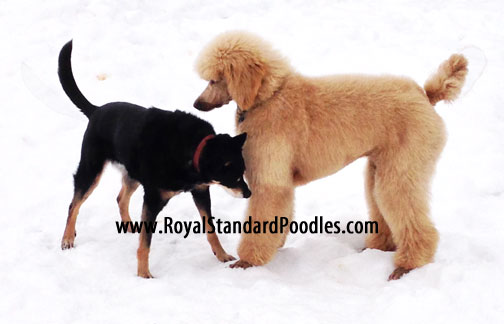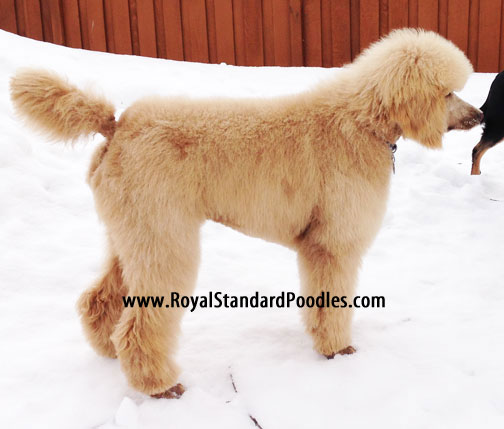 "I am looking sooo good. Age is beauty. My groomer is thinking of using me in competitions because I am that good ;0)"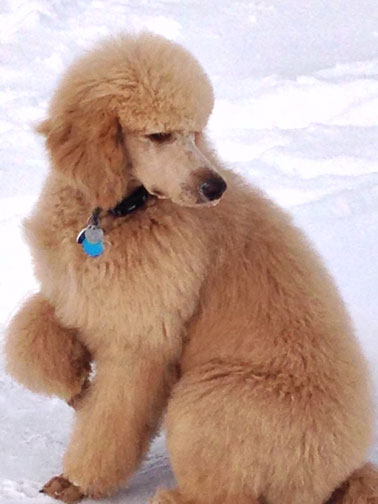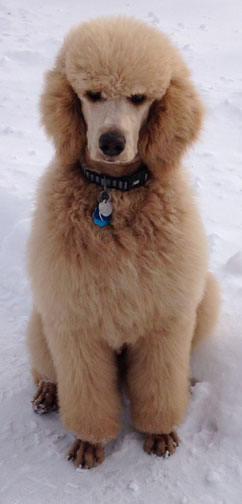 "Ahhh the snow, my favorite :0)"
*
"Yeah, I'm still laying. I only moved spots."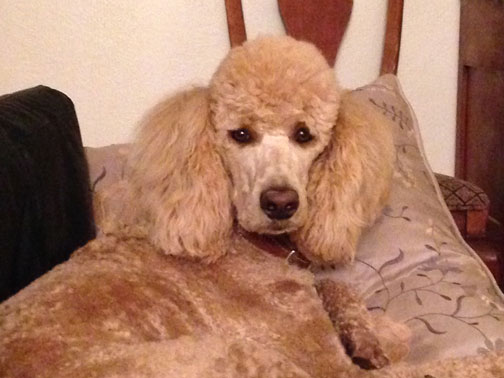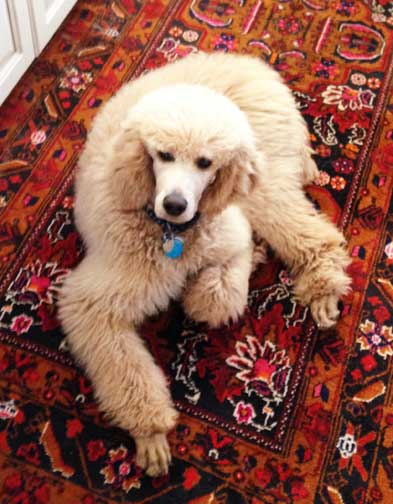 "I'm tuckered out, I'll just sit here so calmly."
*
"I've got a thicker coat of fur, I think I can win this one just by staying outside longer :0)"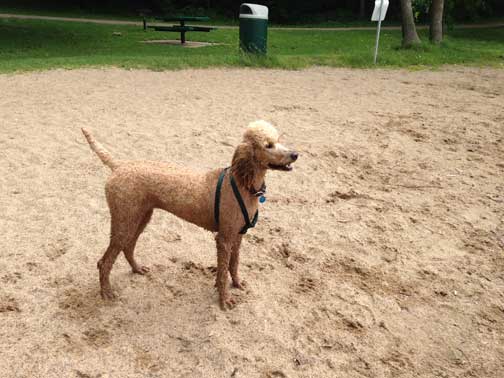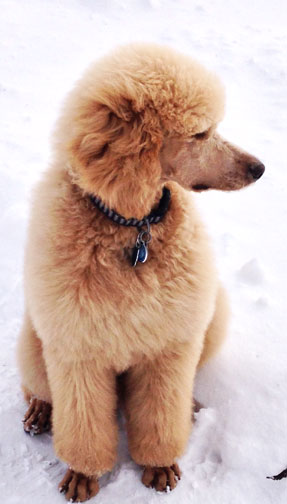 "I'm just so photogenic. Come on, keep that camera flashin' ;0)"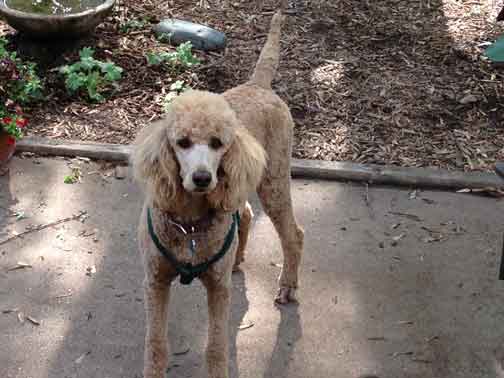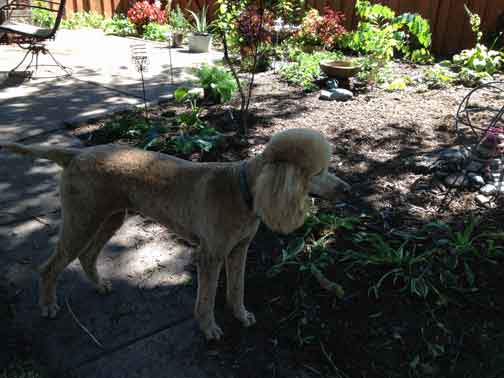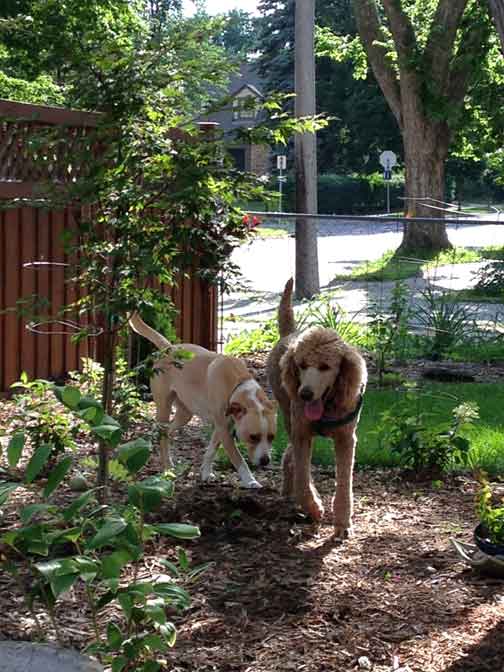 "Come on let's explore!"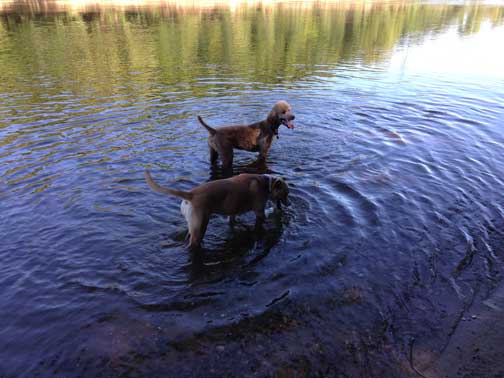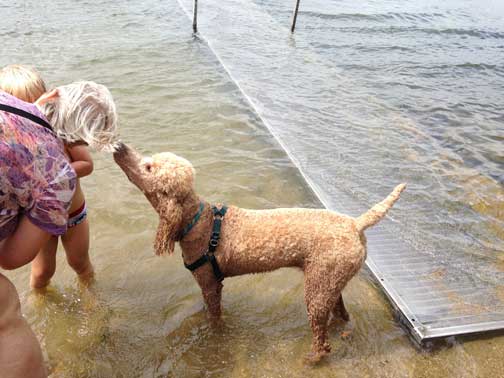 "So much fun playing in the water!" :0)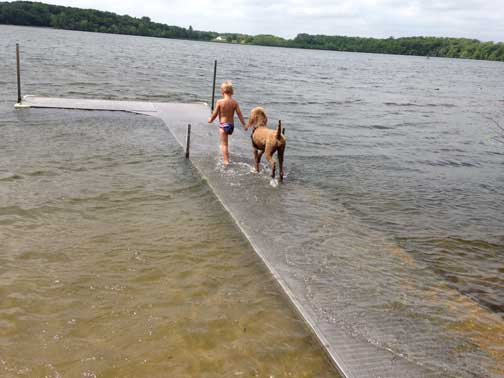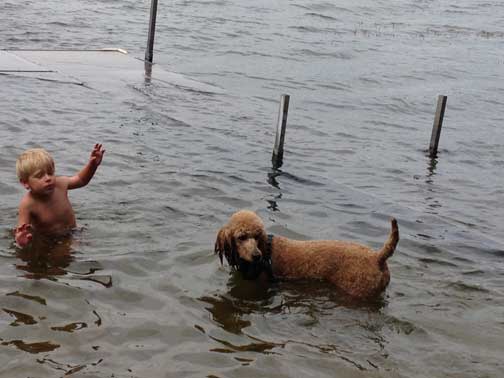 "Mom, I know you've got work to do, but cooome play with me! :0)"
*
Zada's outside running around, doing her most favorite activity.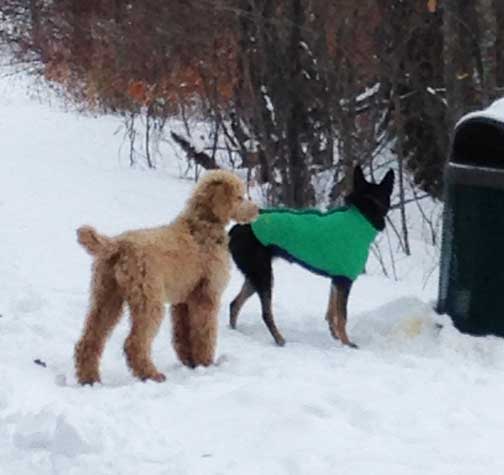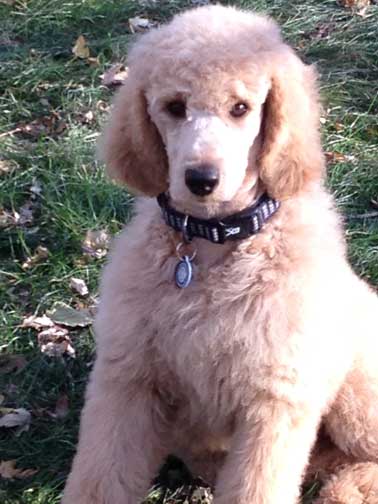 Zada is getting so big and loves to be outside :0) 
*
"Before you know it I'm going to be taller than my owner!"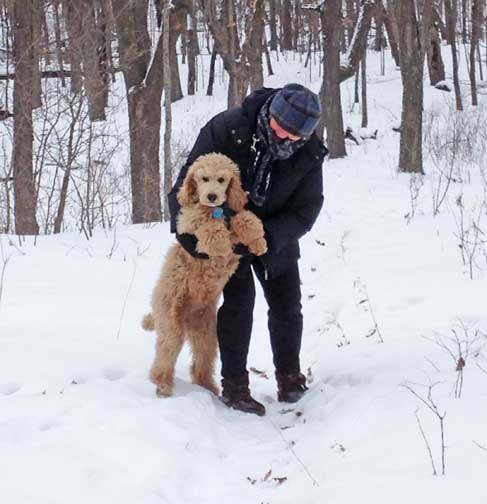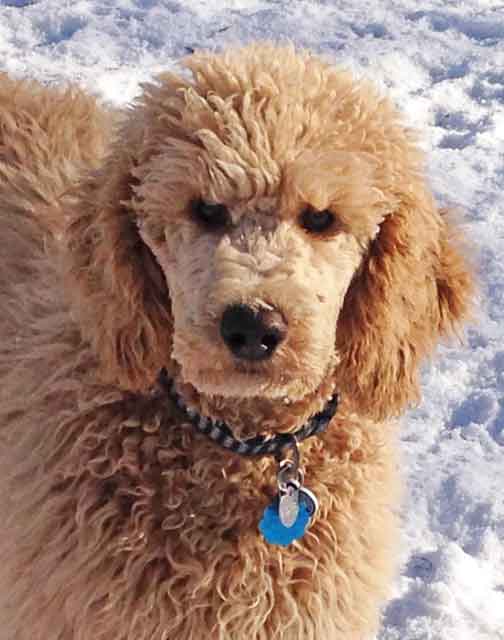 Zada running like the wind with her pal Piper. Good way to stay warm in the Minnesota snowy winters!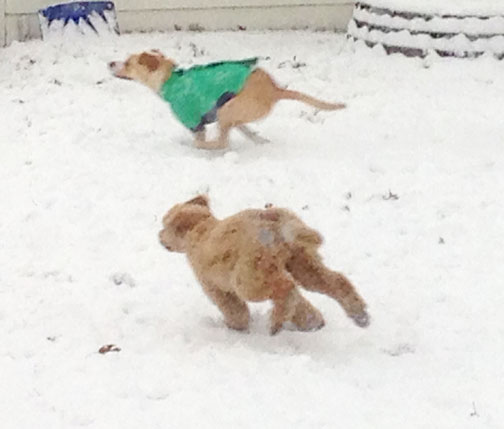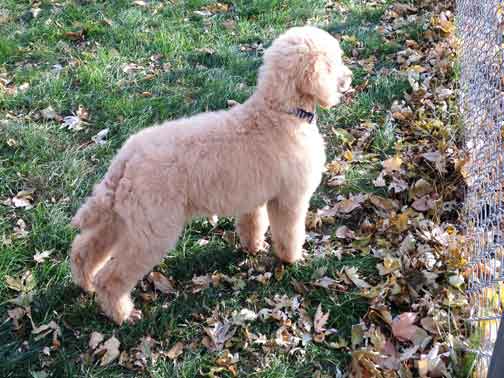 My Pack Leader shares "Informal and random yet does show confirmation" - this is what, we as breeders, should strive for our customers, health and structure, structure builds a healthier spoo in the long run :0) See the rear angulation, natural stance with rear legs back...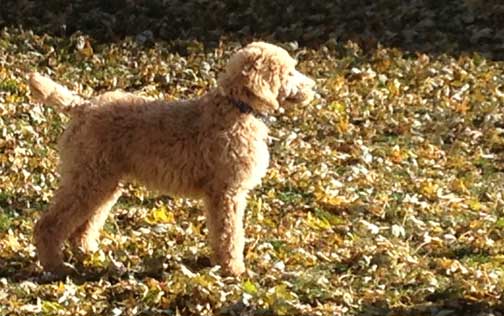 Below...Zada started climbing on furniture today and ended up on my lap on the couch...couldn't resist :0) Isn't that the cutest face :0)))?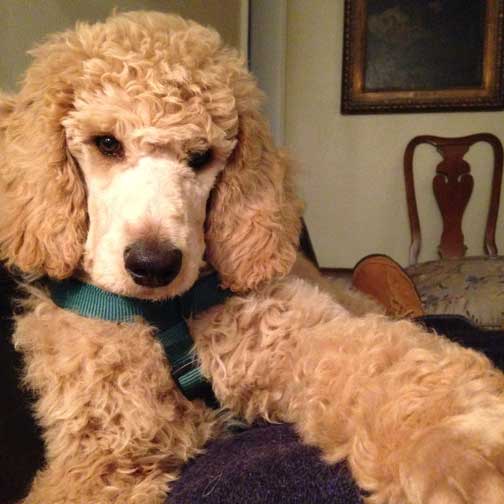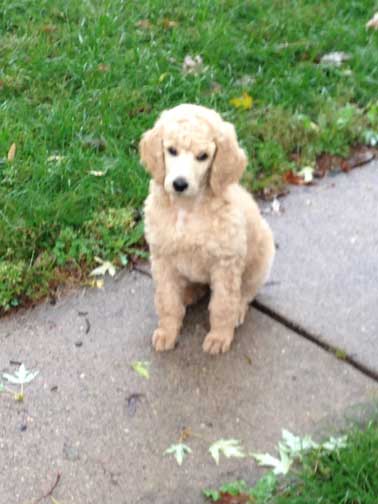 "Enjoying the sunshine....and tearing around my fenced in back yard."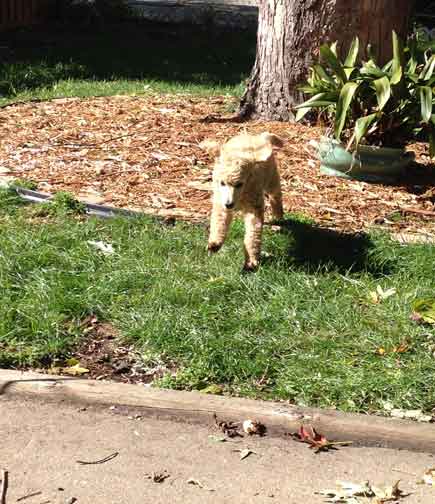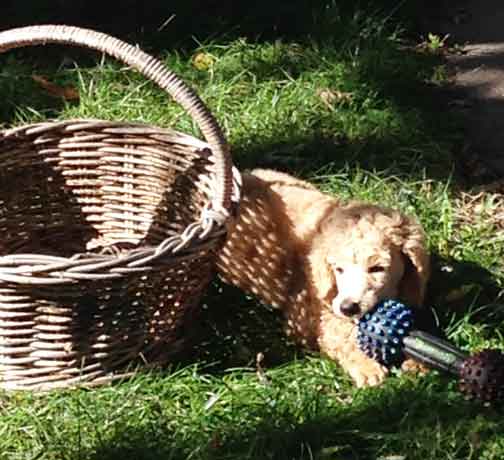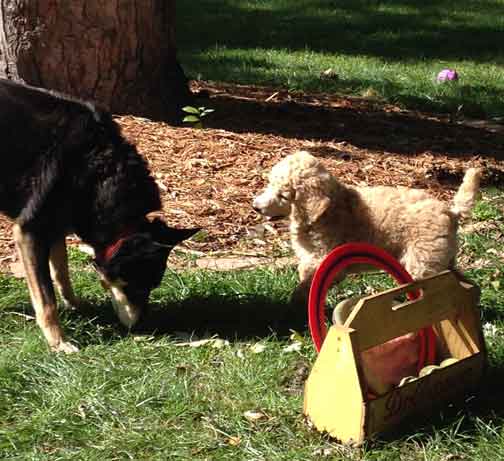 Here's my new friend Abby...let's play! Even at 15 yrs old I give her youth again ;0)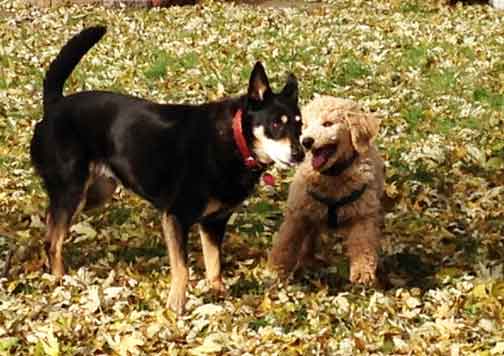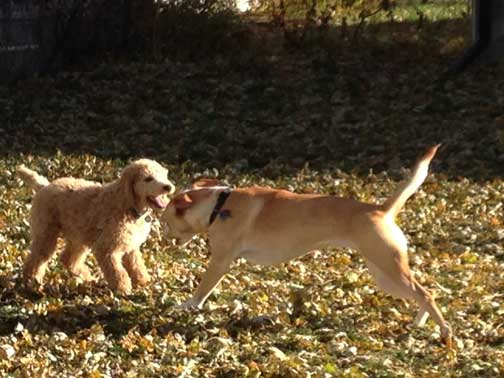 And if Abby won't play, I'll get Piper to wrestle with me :0))
*
"I give Zada a raw knuckle bone once and a while for a treat. I keep them in the freezer. This morning while making my oatmeal and getting walnuts out of the freezer, she kept barking at the freezer and at me. It finally dawned on me she wanted her bone that I have neglected to give her in several days!"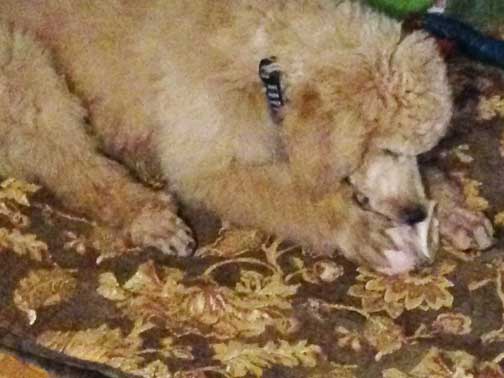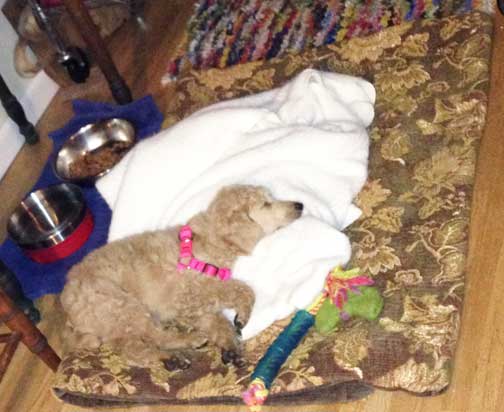 "She does love her bed you made! She smelled it and instantly made it home base."
Zzzz...my security blankie, pet bed from Tes's...mmm...good smells from brothers and sisters...zzzz...that's what dreams are made of...
*
Zada below at Tes's 6.5 wks old...Star of the show ;0)