Home 4 Sale 7+ acres
Home 4 Sale 7+ acres $229,900 > also 73 acres for sale $1,950/acre of cropland, hunting, and pasture $142,350 - buy separate or together.
Getting ready to retire!
Much has transpired in the past several years and I'm now ready to retire...and that's going to be in TX as soon as I sell my home and land. Don't worry, I will continue my Bruno and Falcon lines, just on a smaller scale. Dani will continue to collaborate with me here in MN, keeping red Daniel and some of the girls for us to work back and forth between each other. We'll assure the lines continue for everyone.
 So, I won't be moving until everything sells here (up to 1 yr, 2? must sell first), then any particular current litter has gone to their new home and everything lines up. We'll just all keep in good communication and plan accordingly...don't hesitate to call for any questions.
The following several dozen pictures will be of the home...the rest have been of the parks over the years of working to bring them to where we are today...do share this web page if you know of anyone interested...
4 bedroom
1 + 3/4 bath
kitchen, pantry, tiled and wood floor, dishwasher
louvered wood window treatments throughout home
New all electric furnace added 2010, propane backup
Central heat and air conditioner
2014 new heated garage added
all new LP Smartside 50 yr prorated warranty siding 2014
Stain glass entry doors
Anderson windows
Space age added ceiling insulation added 2015 with solar vents on roofing $6,000
All new seemless rain gutters and leaf gaurd 2015 $2,000
WAVE Moisture control lower walk out level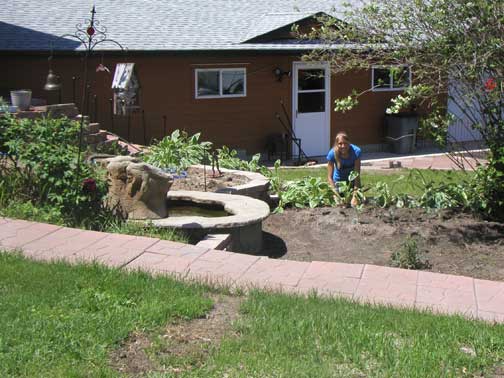 The new heated garage was added in 2014, wide open to work in or have several litters of pups staying warm in the MN winter, learning to go outside via the doggy door :o)
*
Fresh tarred 1/2 driveway 2015.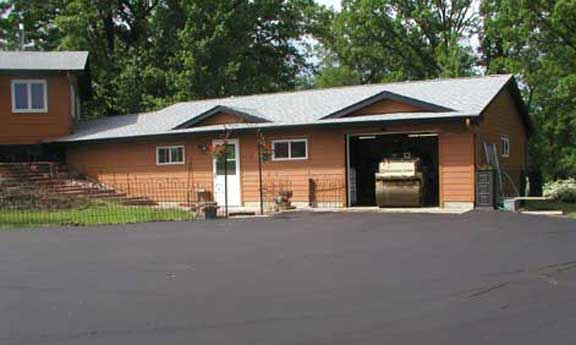 Outdoor buildings include a large shed over an old barn base to house tractors, trucks, 4 wheelers, trailers, lawn mowers and more.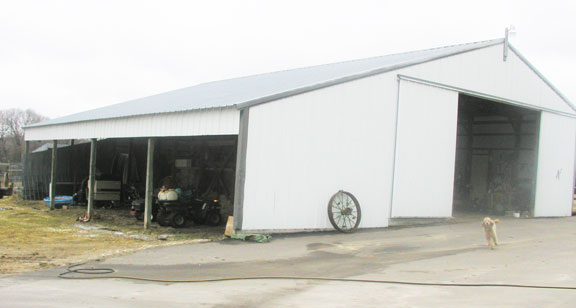 As you drive in from the country road there's a shed that we moved in with stucco siding. Pine trees were planted and are now going on 10 yrs old. The acres are surrounded by lilac bushes bringing delightful fragrance every Spring.
*
This was the original garage on the property, where we added the side entrance. Used for parking vehicles, work, or storage.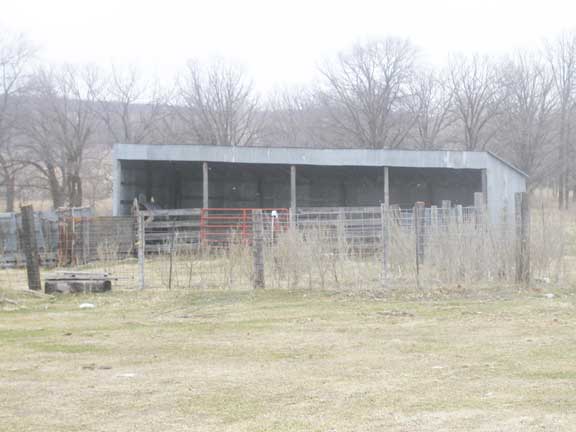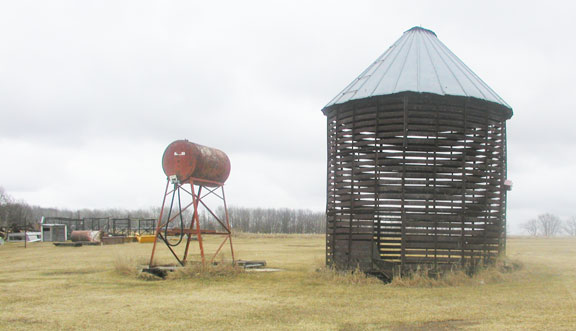 A gas barrel, in use for tractors and lawn mowers, an antique grain bin both on a cement base.
*
Welcome! Main entrance, kitchen has Jenn-air stove with grilling, tiled counters, lots of cabinets for storage, pantry, in drawer garbage bin and recycling. Tiled and wood flooring. Wood louvered window treatments.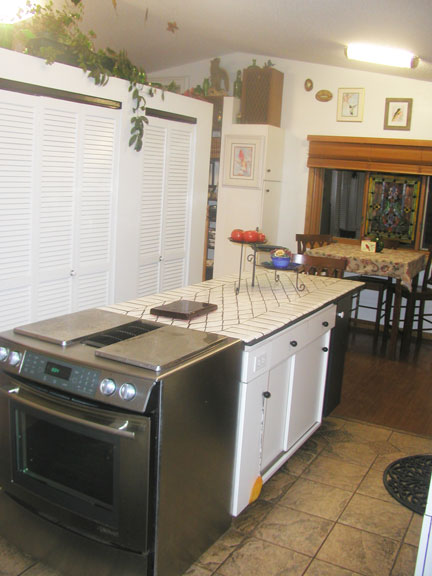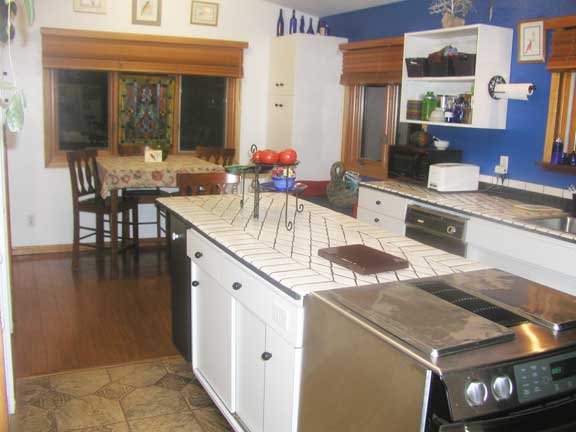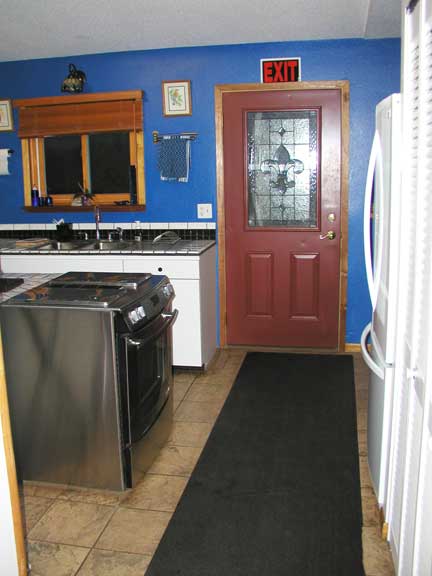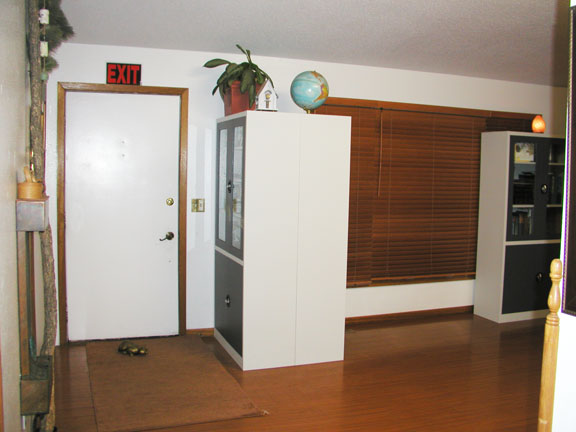 From the kitchen you enter the living room/dining room. Built in book shelving and window bench with lots of storage inside...wood flooring with cork underlayment which prevents mold and mildew, as well as sound proofing.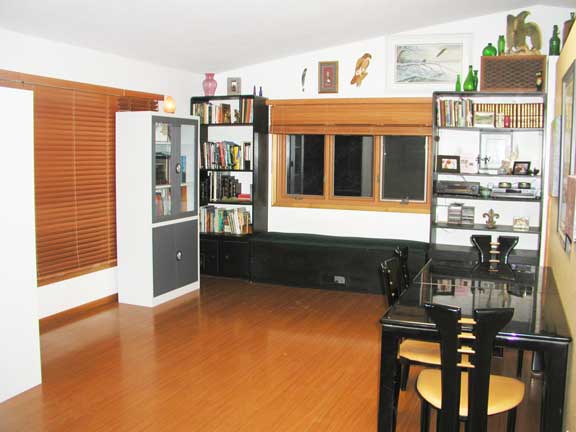 Off the dining room/living room the hallway leads to 3 bedrooms...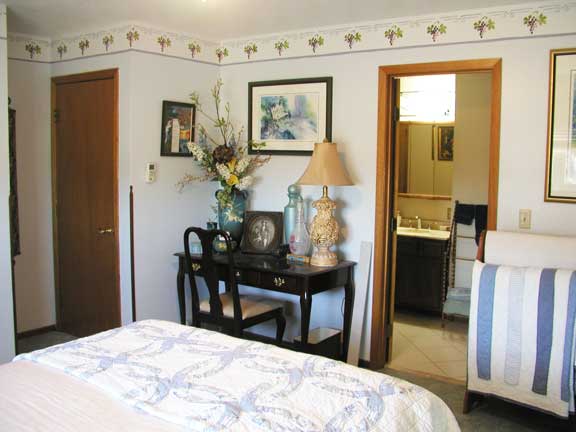 The master bedroom has hand painted ceiling trim, carpeted, and door to full bath. Wood louvered window trim.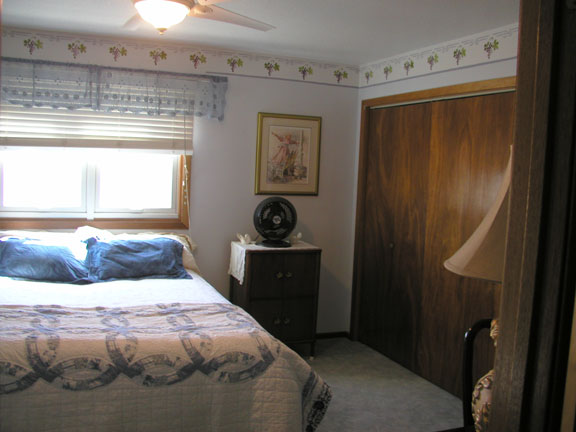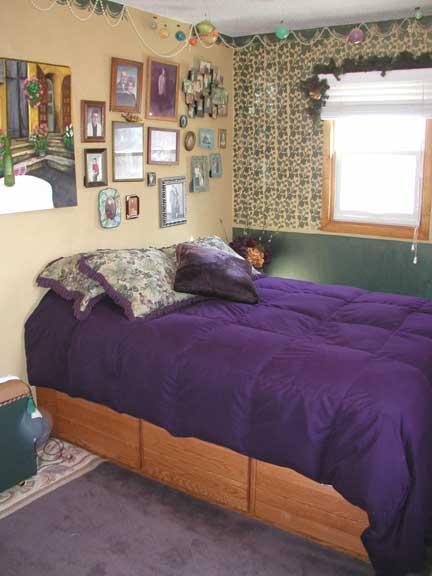 The next bedroom has wood louvered window treatments, hand painted wall stenciling, Ralph Lauren gold and green paint.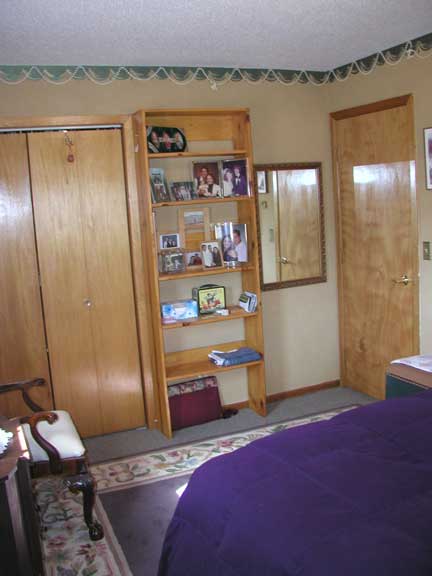 The third bedroom has wood flooring, and wood window treatment.
*
Upstairs walk around bathroom, tile flooring, tiled bath and shower, art neauvou hand made light cover.
Heading to the lower level walk out basement, tiled steps, sliding door, laminated wood floor look...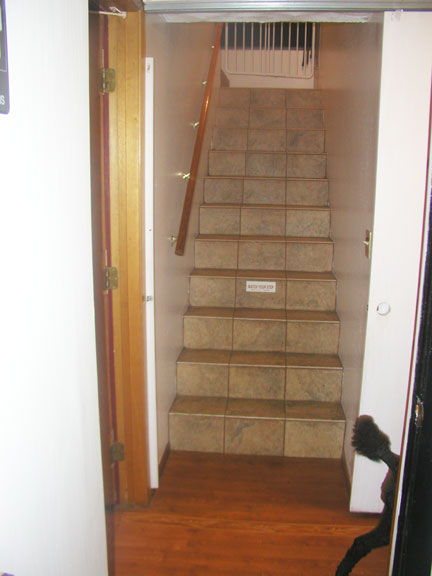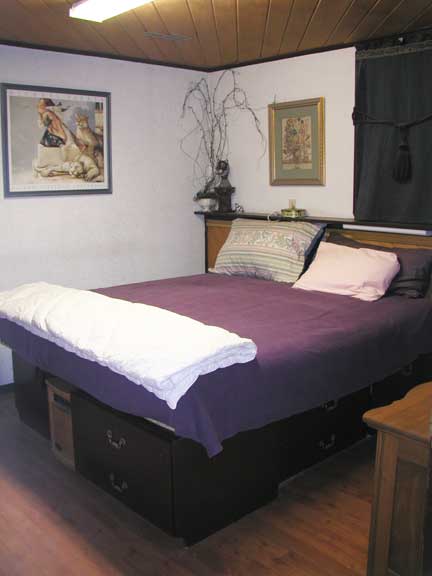 Downstairs bedroom with laminate wood floor design, wood ceiling, built in cabinets.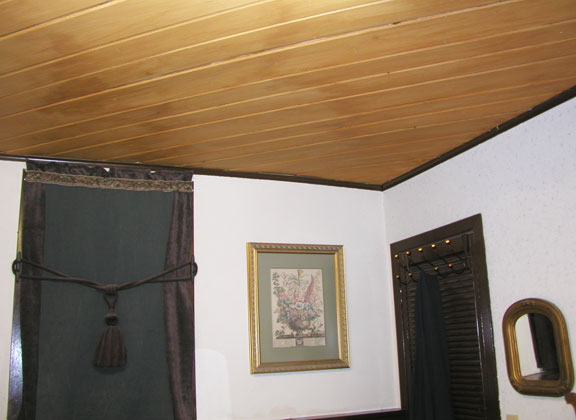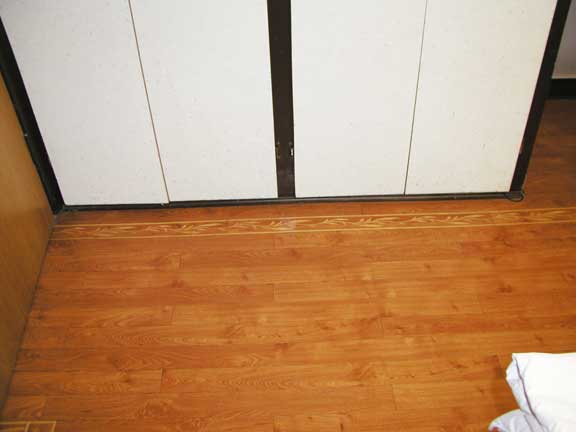 Bathroom with shower, tiled floor and half tiled wall...deep pocket cupboards with vintage lighting and mirror built in.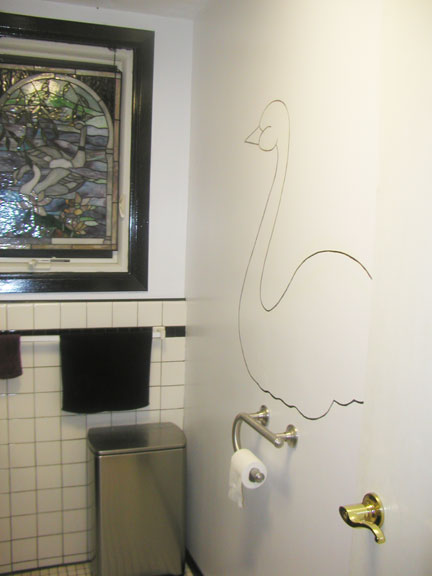 Stepping into the working office, double door walk out to parks...sliding insulated window into work room/family room...overhead book shelving wrapping around room...extra above heater...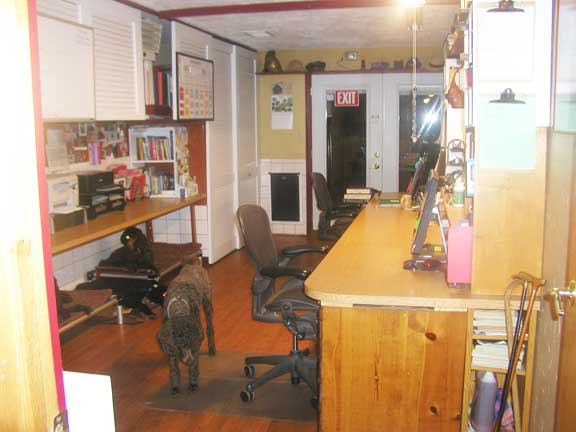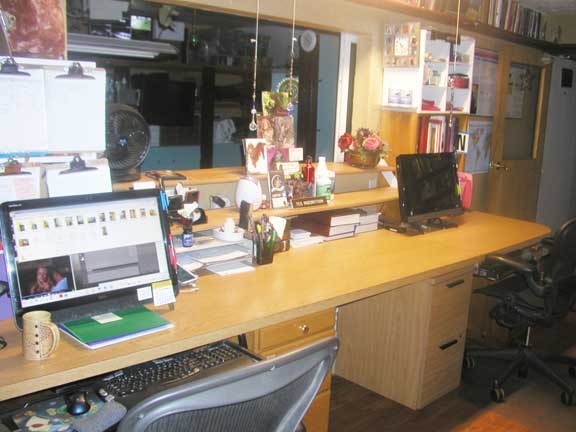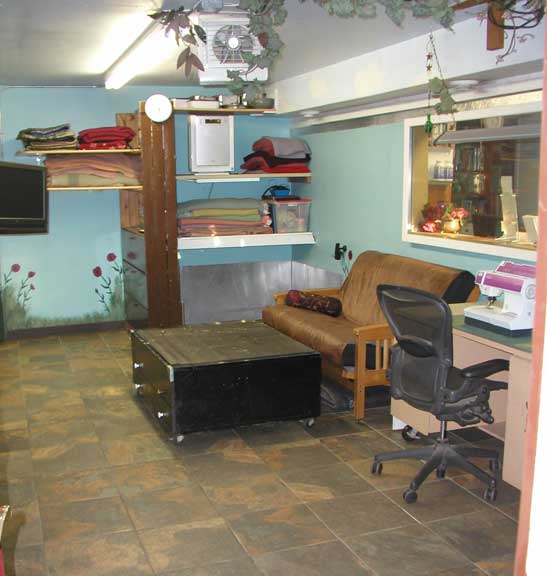 Fully tiled family room, double vintage sink, lots of shelving, backroom storage closet under steps...walk out to heated garage...extra above heater...lots of working storage space...tiled backdrop over sink...Security Camera can stay or not...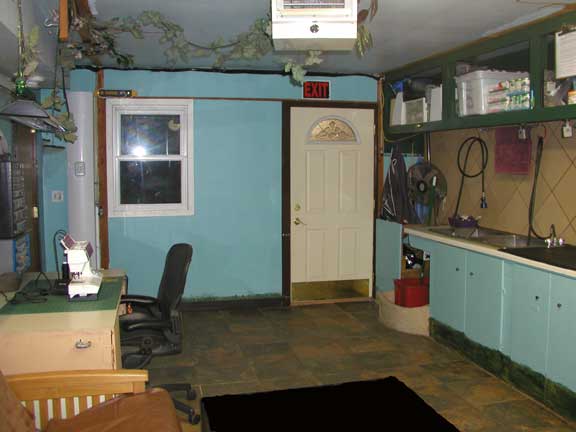 Next is the laundry, furnace, and storage room...pine hand made storage doors, gun storage with lock, drawers...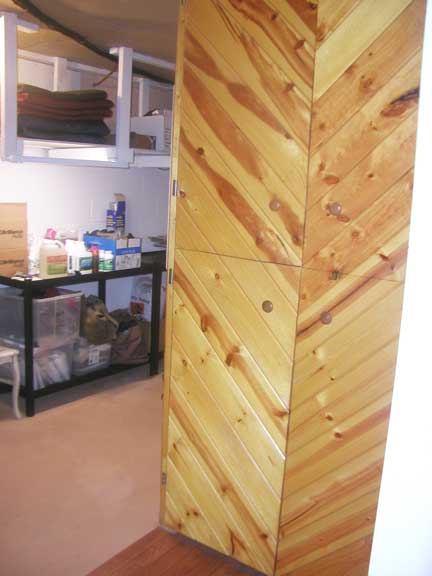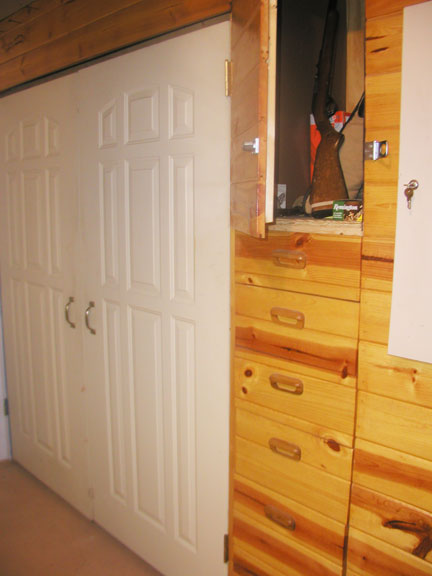 So you can see there's lots of storage room, lots of working space, for a family home, or working home office and business.
*
Fully fenced 4+ acres, currently divided, can take inner fencing down...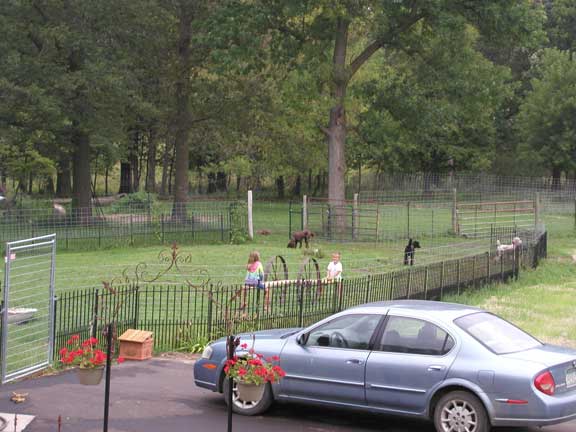 Play area built 2015...or can be taken...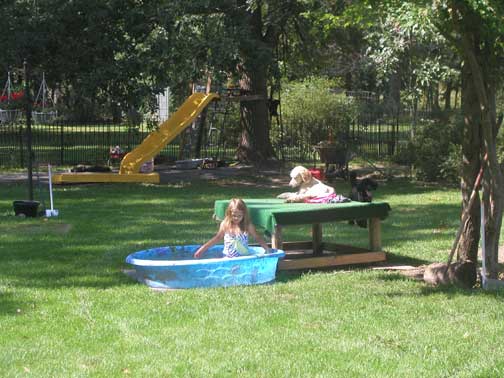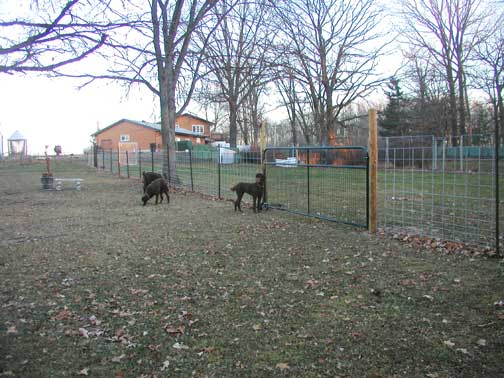 Welcome to our home South of Staples, MN!
There's a lot that happened 2015 at RoyalStandardPoodles.com
Here you'll see the new heated garage built by Shane Ludovissie - Ludovissie LLC in 2014, to allow us to breed year round, where before we could only breed during favorable warmer months in MN. 
You'll now be able to see 2014 before pictures of our 30+ year old home and the 2015 after work completed. 
*
The cement terrace I built 2013 Fall where our kitchen garden could be easily enjoyed is still there. Note the large orange bush by the right corner of the house.
Here is the old Puppy Park off of the house...
...now all gone for the new heated garage...
I truly wanted to save that 20 year old orange bush that aroma filled our Springs with :o)
*
It took me a good eight hours to maneuver and support the bush to an area we could continue to enjoy outside our kitchen window below. Good ole' 560 tractor training from my wonderful husband :o) I dug out the garden area to create an area for the future "Viewing Park" outside the new garage.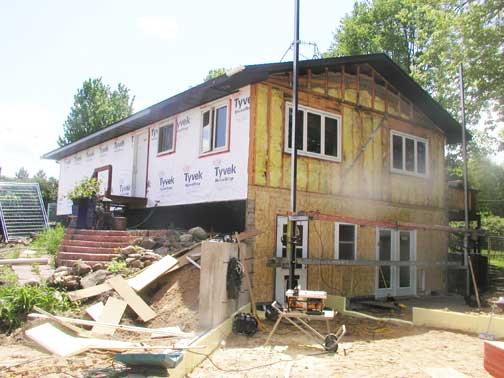 Construction began taking off the 30+ yr old siding that had begun rotting and preparing for new siding and the new 28' x 50' garage at a 45 degree angle.
*
The cement floor framing/siding has been completed by Busker's Concrete, the new sewer line is being placed by Bjerga.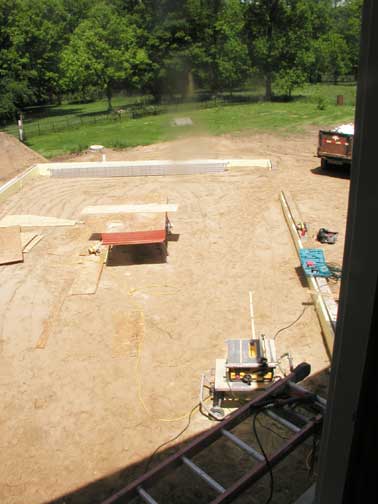 The sand has covered the sewer lines and packed for the new flooring, but first...
*
...the garage siding and roof goes up!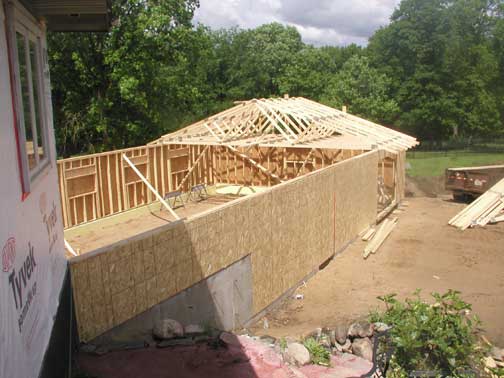 This is the connecting overhang to the walk out office and double door entry to the garage to match the office. (pictures to come to show this new area once completed)
*
The roof is on and framing completed.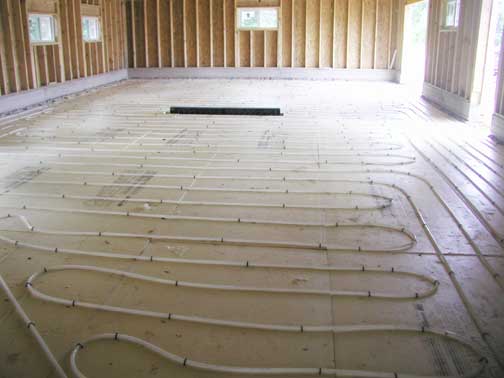 With the framing in place, the laying of the tubing for the heated garage gets placed. There is a drainage field in the middle of the garage that is placed to allow for the washing of the floor from puppies.
*
Cement is poured!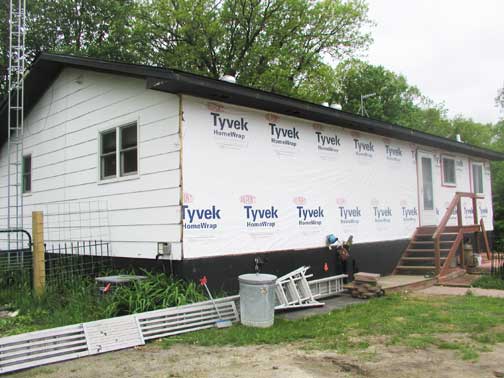 The old siding is coming off the house and getting ready for all the new cedar colored siding.
*
Up it goes!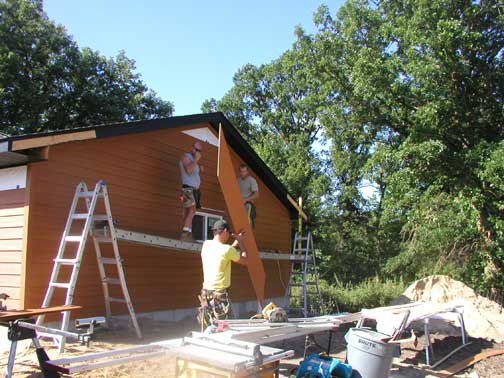 Now that the garage is framed, they can finish the new much larger up to date sewer system.
*
The siding is now completed!
With that - LOTS of Landscaping must be done...adding onto the terrace I had built in 2013 to flow toward the new garage door access. (more to come once completed)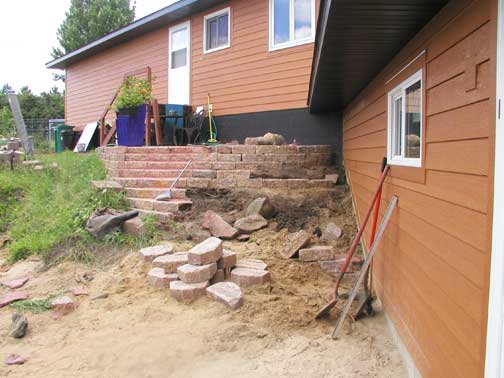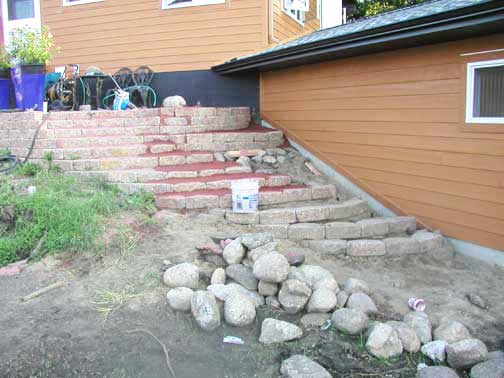 Before 2014
Slowly being designed as I work into what I call my "Organic Design." An organic design is something that grows from my slowly envisioning how the art of it can come together with the environment. It doesn't look super "professional" yet it is my hard work, my organic work :o)
*
After 2015
This is called the "Viewing Park". Grass is seeded where people can either walk up the hill or use the steps...hosta to go in yet.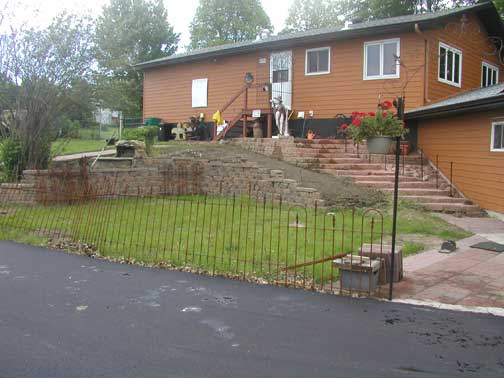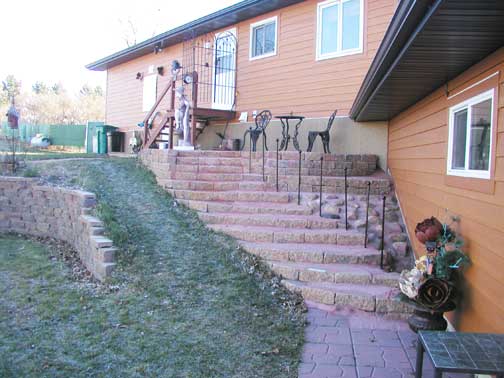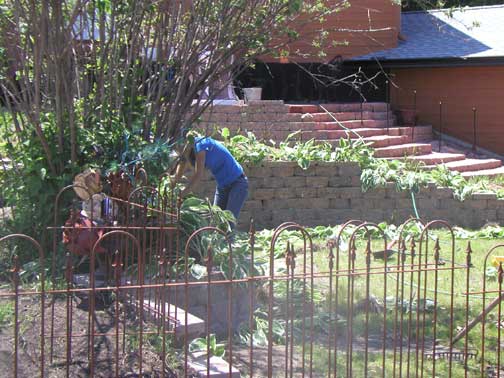 Dani's adding hosta all around the Viewing Park...the hosta came from an area that no longer was safe for their survival with big spoos now digging them up...we've worked up the much smaller garden area that she can have veges to take home :o) 
"Viewing Park" is where we bring puppies out to the customers to get ready to go home...usually taking a "Potty Outside" before they head home :o)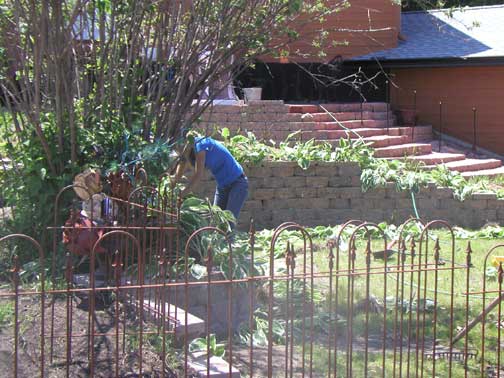 Getting ready to tar the driveway...that I no longer have to have Grand Canyon wash outs when it rains down the driveway hill.
Getting the driveway tarred...
They have sloped it that when it rains it will run midway down the center then halfway out the bottom...
NO MORE Grand Canyon wash out! Woo Hoo!!!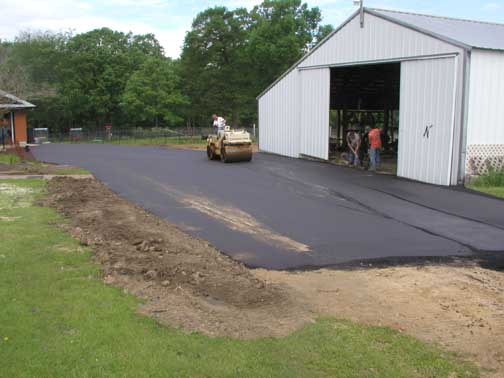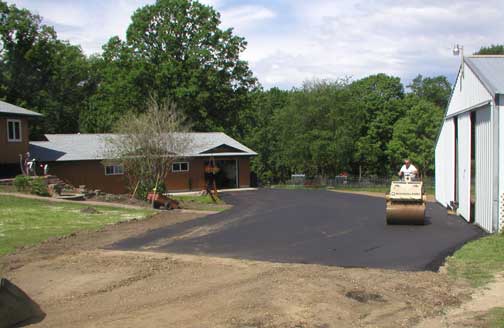 SOoooo, after that was done, the rain water washed down the slope to wash out the new sewer area :o( 
SO - I bought a skid loader to do the landscaping work myself that would cost thousands to have someone else do...I can resell it and get my money back when I'm ready to retire :o)
I started scraping the dirt to funnel the landscape away from the sewer system, down to the cattle pasture...that's me in there having SO much fun :o)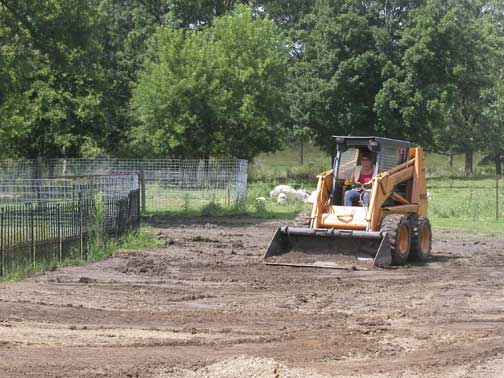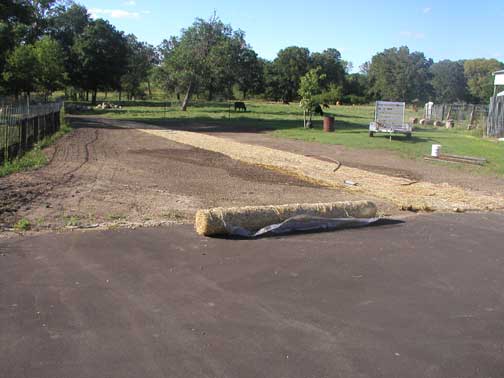 Grass seed and oats went down, then landscaping fabric to keep the rains from washing it all away...which did happen before I got the fabric down :o( So much to get done...
*
...see the streak where no landscape fabric? So I thought it would be fine and the grass would grow as we watered it over the summer...
Before 2014
In the back of the new garage, the new "Puppy Park" divided by the new "Youth Park's" bridal wreath bushes, a retaining wall must be built so I don't have to pull out the 20+ year old bushes. Yes, I continue to do all of this work myself :o)
*
After 2015
Our neighbor poured this sidewalk for me, I finished pouring the far end and laid the brick down...brick allowed me to slope on the hill as mowing and grass would not work in this area...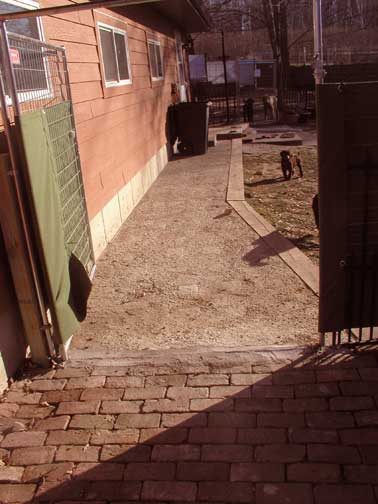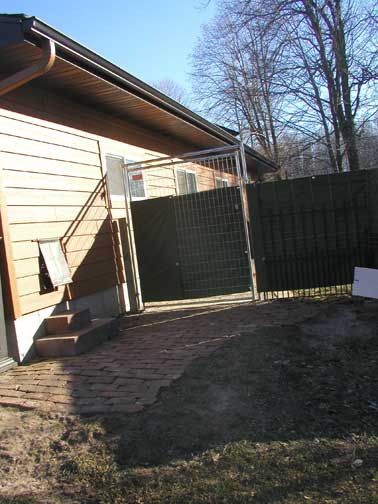 I built an in wall double pulley system insulated door for the spoos to go in and out of...GREAT Pfaff sewing machine used to sew together rubber sandwiched over aerospace insulation for the flaps on both sides! Trimming of these doors will be done to match windows. Huge landscaping blocks are laid for their steps.
Tarp is hung to keep the older youth spoos from barking at puppies in their "Puppy Park".
*
This is around the corner to the above brick and the spoos want to dig around the sand of the garage base, thus the brick sidewalk will be laid in 2016 on the North end...ran out of time 2015 before the ground froze. The brick came from an old railroad roundhouse torn down in the 80's in Staples, which we bought bricks to do the front of the house with.....which one may now consider the back of the house.
I purchased rain barrels to eliminate Grand Canyon wash outs and they have faucets on the bottom to water plants, fill water containers etc :o)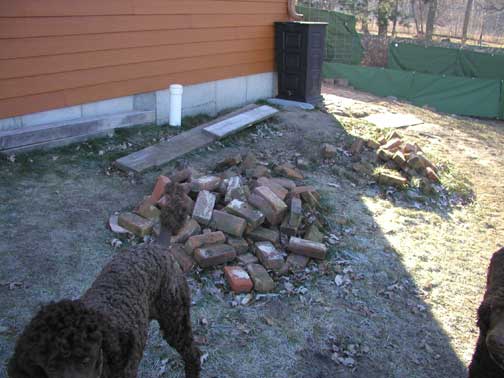 Central Park before 2014 work
The 30+ year old rotting railroad ties were pulled out and the new retaining wall is going in. A wood wall will be going up where a mural will eventually be painted :o)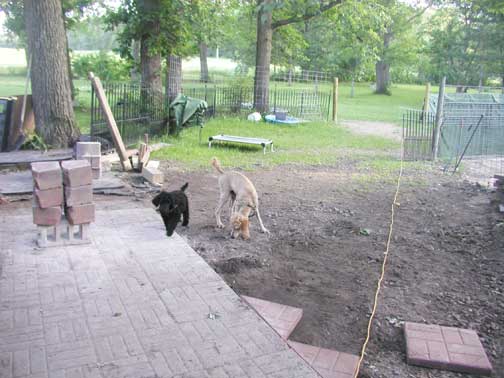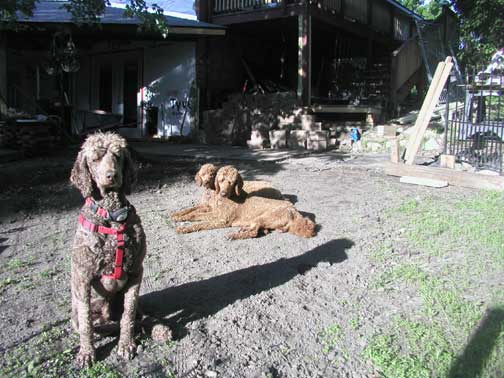 The old Central Park area off of the office will extend to the fencing with pea rock that mud will be kept at a minimum from coming into the office. The square brick face walkway is being prepared...lots of spoo helpers...testing the ground ;o)
...next After...
Here I can watch the spoos come up the path to observe their structure to assure if doing well or if limping I can take care of it right away. The old railroad ties that held back the deck etc I removed and replaced with retainer wall blocks shown in the above picture...next year 2016 hopefully the mural will get on the wall. My office where I answer your forms sent in and watch the puppies directly in their park and everyone else on the security camera in their various parks...where are the spoos, all around me trying to keep my attention :o)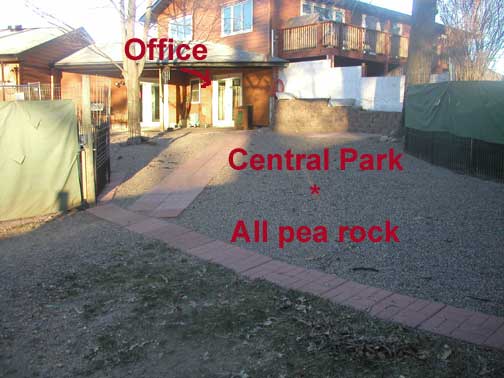 The spoos signed off on my work :o))) They couldn't help themselves!
This size block was no longer made in our area, thus I had to fill with cement to match up with the new size blocks.
*
Updated Parks
Here are some views of...A WHOLE lot of landscaping to go on in clearing and preparing the half acre added onto the back park, adding Momma Park, updating Puppy Park with play equipment and more...
Here is the Old Youth Park to be the new Puppy Park...puppies will have a lot more room to seek their curiosity senses sooner...
Dani starts by digging up the poppies that were here,  always being demolished by the puppies, and plant in the new Youth Park...we'll see if they come up in 2016...
*
Then Tes gets Dani's kids helping build the play equipment. Lots of learning and team work :o)))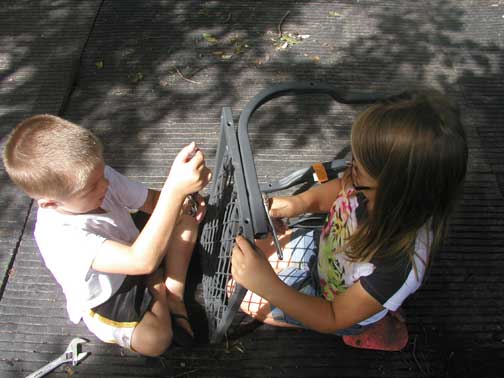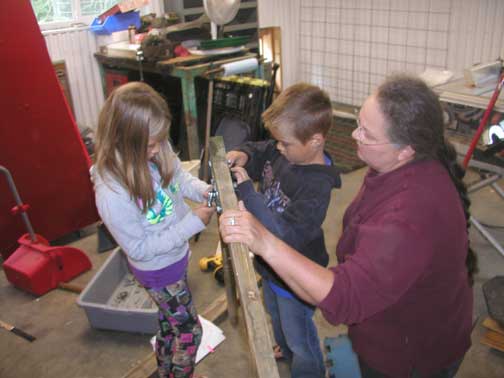 It's all coming together :o)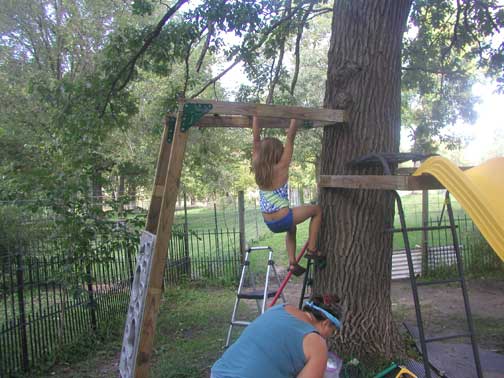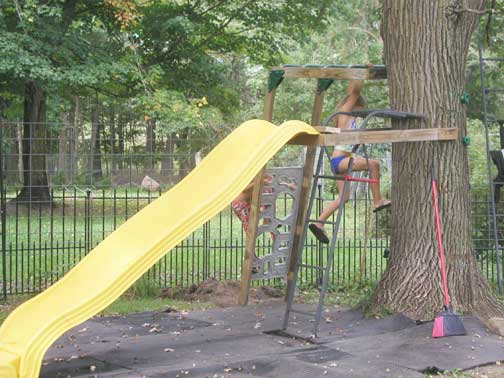 Add water and Woo Hoo!!!!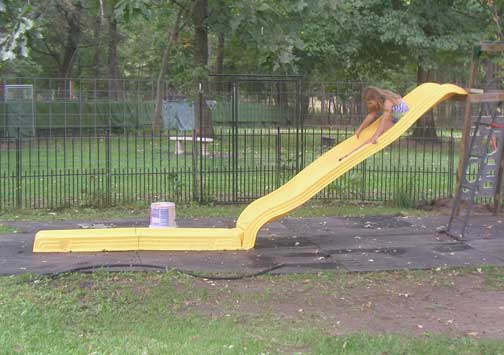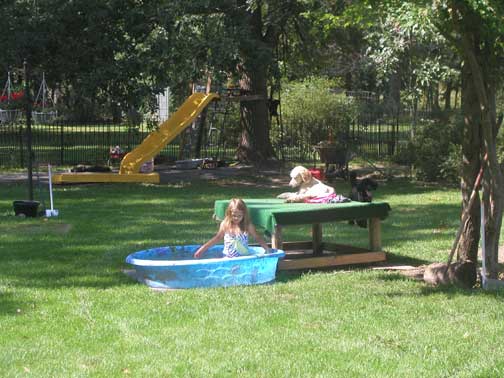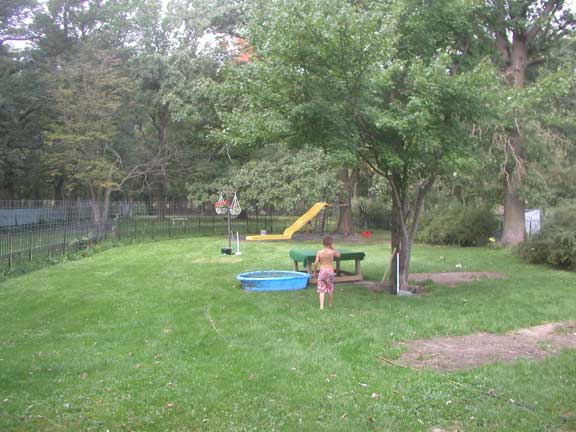 The new long view of the updated Puppy Park from the garage...a swing was added to a Front Park tree...
...then you turn around and you'll see work and landscaping getting done on the back side of the garage looking out to the Puppy Park...I placed a doggy door in the screen door for puppies to learn how to go out on their own...will get one in the wall before Fall...grass and seeding coming up...
The new in wall double pulley system doggy door is in...now I'm placing the small cement steps for pups into place...
...first layer...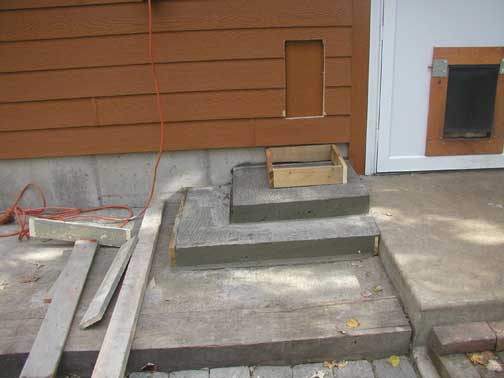 second...third...
...ta da! Here we come!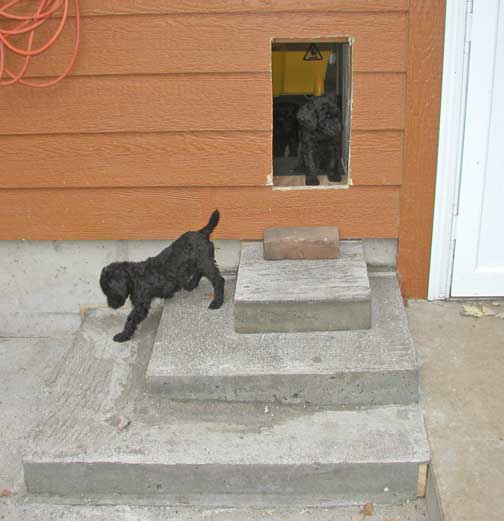 I have finished cementing the end of the sidewalk and placing my organic brick finish to help puppies not fall off cliffs to their size...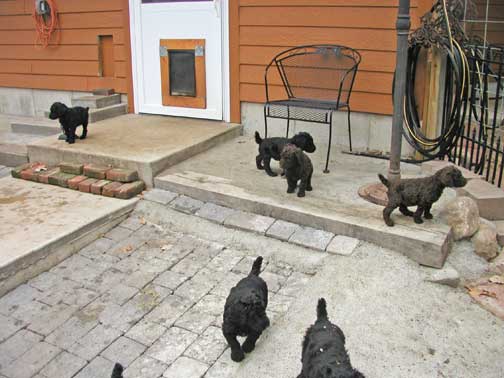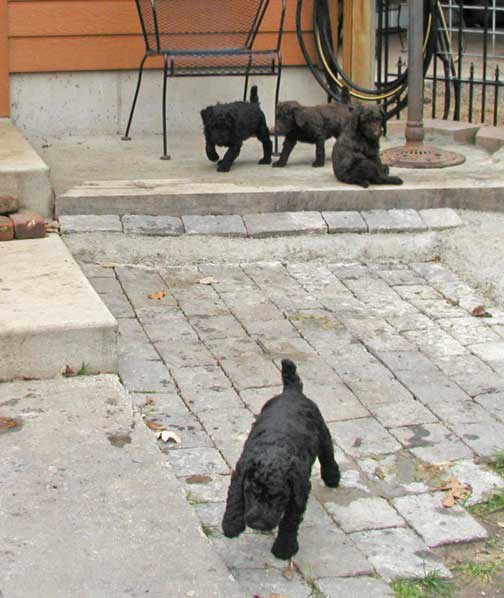 From the inside, Tes is building a double pulley system into the wall making one for the adult spoos and one for the puppies. A mock doggy house look for the puppies ;o) On the outside, they will be trimmed to match the windows outside.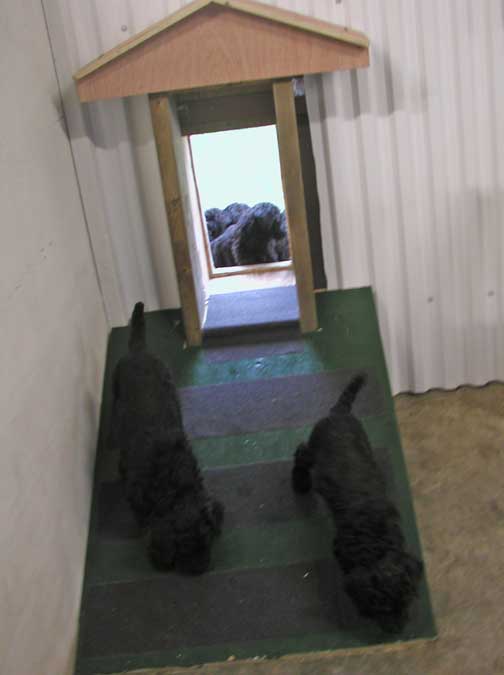 Let me go first...please...please!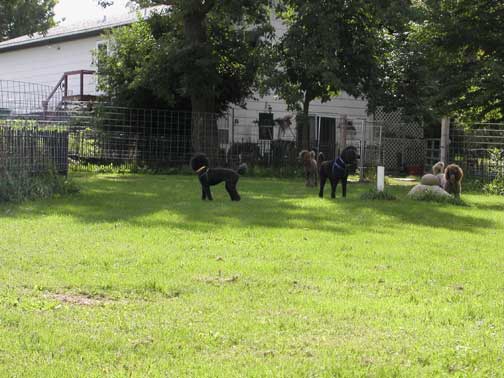 Before...Back Park, then Puppy Park, then came Central Park, 2014 ...the 2 large oak trees had to come down for the garage to be built, old sewer system location that was replaced with new...
*
...The below new Youth Park is the area where the new very large sewer was built...hybrid mulberry raspberry bushes are transplanted in the background that we can stop and enjoy the fruit of our labor ;o)
This antique farm plow, with only the wheels left, I turned into a teeter totter for the kids.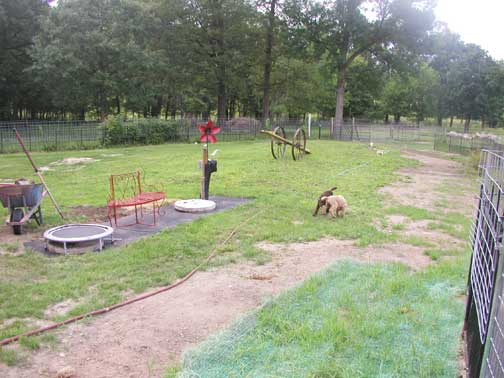 2014 saw the rains wash off the top layer and grass of the sewer area...working hard Spring 2015 I laid another layer of dirt with landscaping fabric along the sides to keep it from washing away again...grass came up...more work...sprinklers awhirling to moisten the sod and help the seed...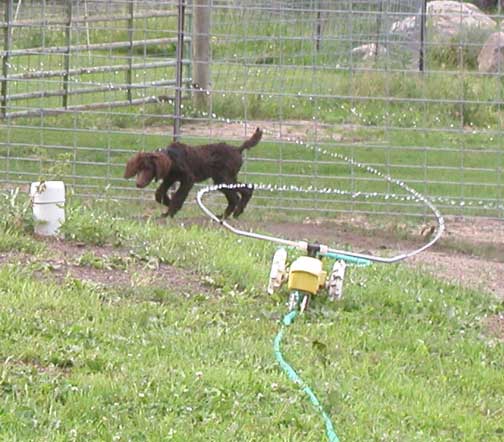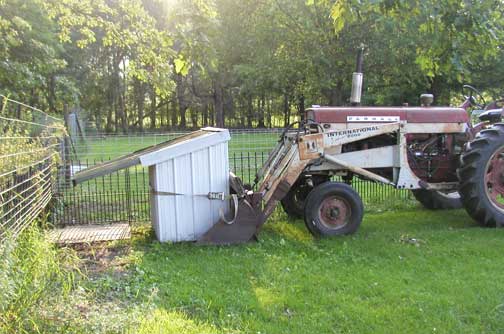 I'm moving the dog house I built way back when into the Youth Park.
*
The landscaping fabric and watering worked! Woo Hoo!! The Youth Park opens up into the newly extended Back Park. With the new funneled area off the drive way it no longer washes away the sewer area and I've planted bridal wreath bushes along the fence line to help.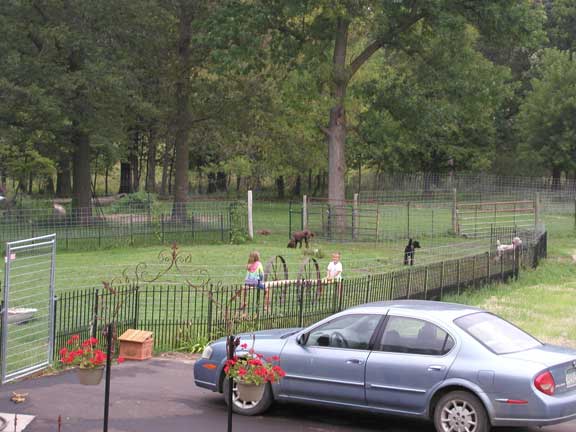 ...2015 after...Youth Park opens up to Back Park for them to have lots of running, trees to check out, and holes they can dig...Momma Park aligns these two parks that she can get away when she wants...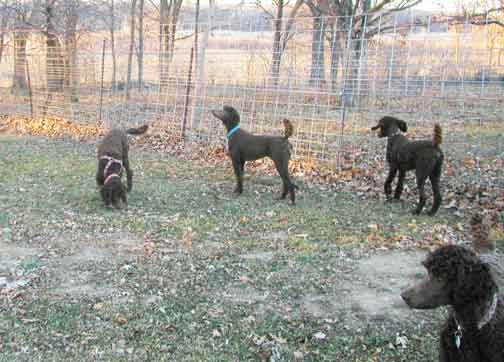 Youth spoos always searching the new half acre fence line, smelling checking out the squirrel trails...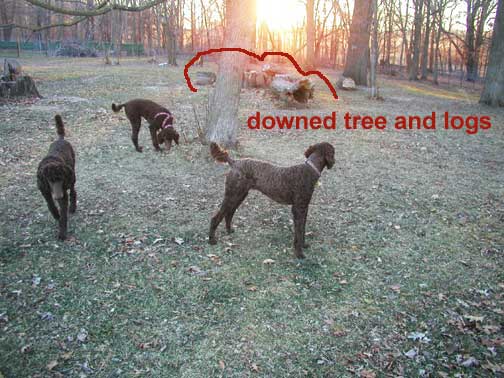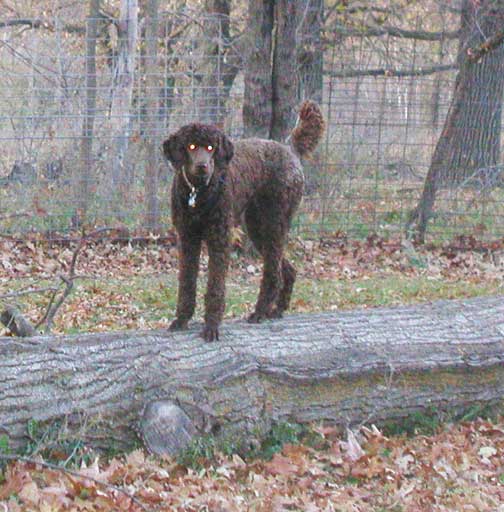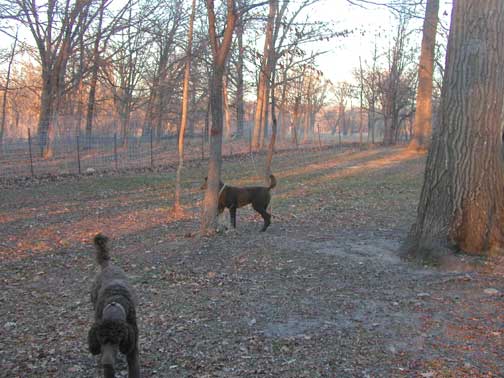 LOTS more room to run, smell, and instinctively be spoos!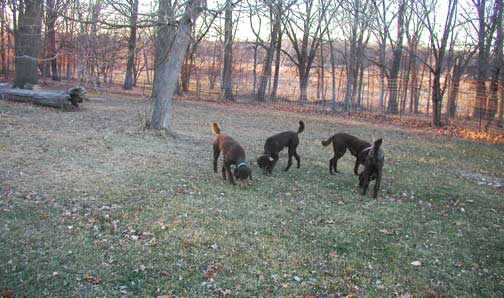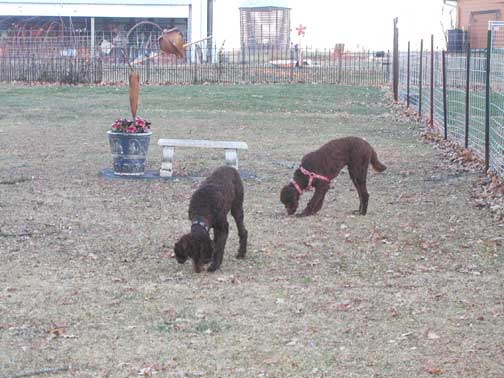 Below, the 2014 flowering bushes planted in Front Park are really taking to bloom in 2015 :o)