Standard Poodle Contact Us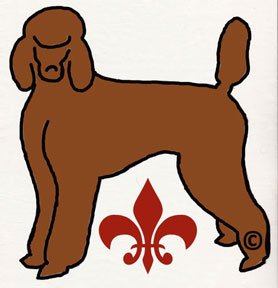 Standard Poodle Contact US -
Interested in Purchasing a Pup from Tes or Dani
This form is sent to Tes Ingebritson for your start of communication.
* Stars are required input in the form below.
If you do not receive a response that your form has been sent, double check the starred items. If you place random letters (some do) it won't recognize it. 
 If you're email is set up to block incoming emails, you won't get my response, they are kicked back to Tes. Call Tes if you don't get her response in 24 hrs! You ARE IMPORTANT :o)
Did you look in your junk mail? 

We will ask that you fill out the form at some point if moving forward. 

Do not contact us if you are a large breeding kennel or puppy mill. I only believe in loving family environments for my AKC potential breeding Standard Poodles. Note: Bruno offspring will never be sold for breeding rights inside the USA. Yes, to other countries :o)

DO NOT Contact me if you are planning to cross breed...It is not my policy to do so with the years of accomplishing what we have. I do not apologize. I do not know of any good standard poodle breeder that would do so, thus I cannot refer you to any.
Contact Tes at 737-932-5030 > cell phone (no land line)
People with blocked numbers leaving a message: I cannot get back to you :o( Please leave your contact number in the message. If you don't hear back from me shortly - CALL AGAIN PLEASE - You ARE IMPORTANT :o) 
...Or you called and we have a bad connection and I say I will call you right back - OOPS you have a blocked number I can't get back to you! PLEASE call me back in an hour as I always respectfully respond within minutes. You ARE IMPORTANT :o) 
So many variables like these have come up - You ARE IMPORTANT. 

Do call back please.
Thank You for your interest in
A Perfect World Royal Standard Poodles! 
---