Royal Standard Poodles - GxV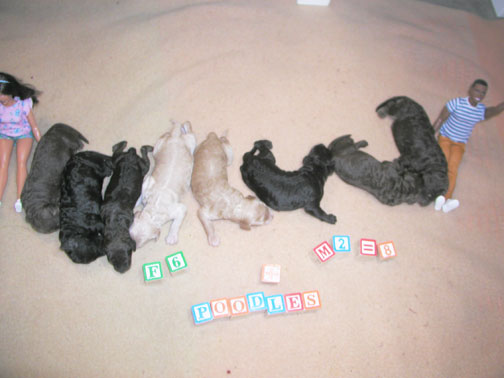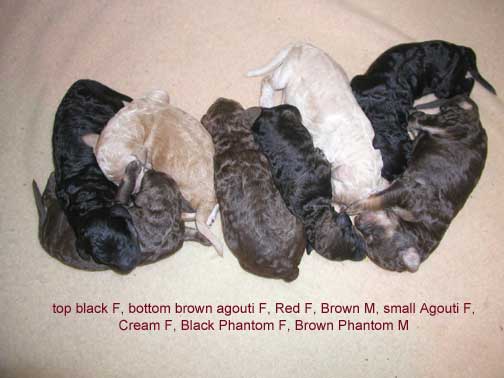 Geo x Vyke Royal Standard Poodles - GxV puppies arrived! Pups born 7/28/18, ready for homes 8 wks later. Set your calendar! Fly out date: two opportunities right now > 1. 9/22/18 Saturday fly out from Houston, TX with Sue D'Antonio as agent (my very good friend). 2. 9/24/18 Monday fly out from Austin, TX with Tes as agent. *Travel Plans - Try to find direct flights where possible.
Picture updates: 1 wk pictures through the first week of the Woods of Mother Nature 8/4/18; 3 wks old 8/18/18; 5 wks old 9/1/18; next 7 wks old 9/15/18...stay tuned...
Geo had 6 Females + 2 Males = 8  Lots of Colors - Several Females still AVAILABLE :o)
Remember to go to the bottom of this page and watch Royal Standard Poodles - GxV puppies for sale grow up as pictures added to the top with each update. Enjoy, Enjoy ;o))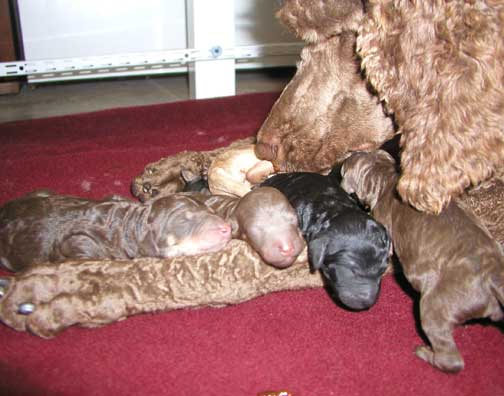 Theme: Standard Poodles with Famous Owners. Geo is named after my Hollywood producer customers who have two of my poodles, Seven and Sunday. Her name is Geovanni and husband Jeff with Black and White Productions. I loved her name and asked if I could use it for Geo, thus Standard Poodles with Famous Owners was a fun theme...as I hope you enjoy their growing up page :o)
Tracking Geo Puppies: 
Toenails clipped
Full Tails and due claws :o)
Born 7/28/18
*Royal Standard Poodles - G x V puppies for sale*
Remember, start at the bottom and scroll up as they grow up onto the page in the coming weeks :o)

Royal Standard Poodles - GxV
Next is the 2 wk update Saturday 8/18/18 where eyes will be opened, and ears opening up more...stay tuned...
*
The temp is dropped to 78 degrees and the heating pad now removed to keep them in their puppy pile so momma can curl around them ;o) Getting to be little tubbies as you can see :o))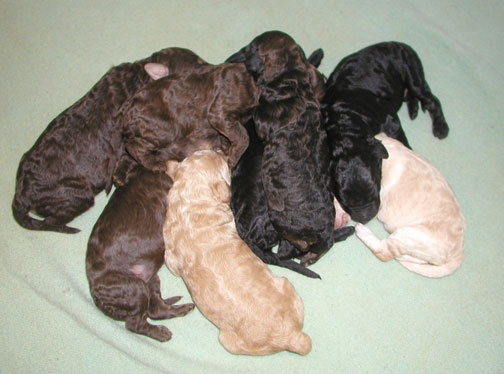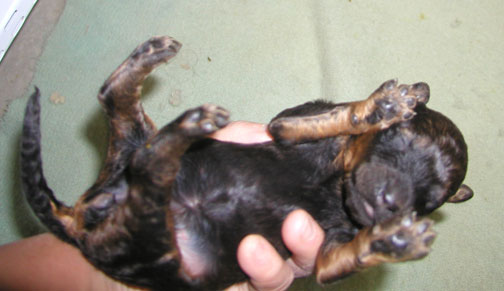 Agouti very black with brown under color and red markings Phantom Female "Tiffany."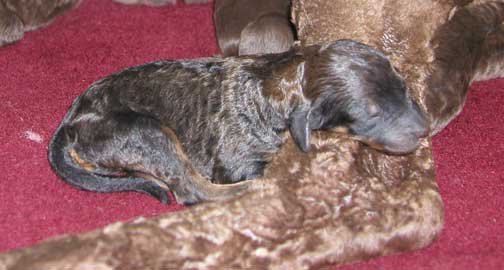 Mostly Black Female pups: Bottom Phantom with little markings is "Jackie", top left all Black Female is "Angel", right "Tiffany"
*
Agouti brown Male "Ken"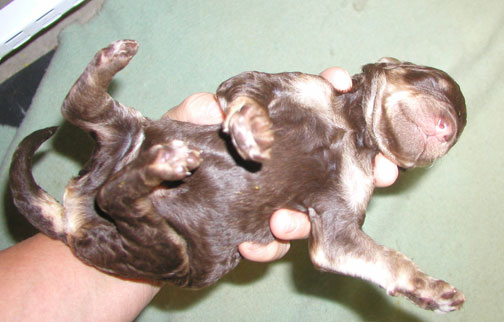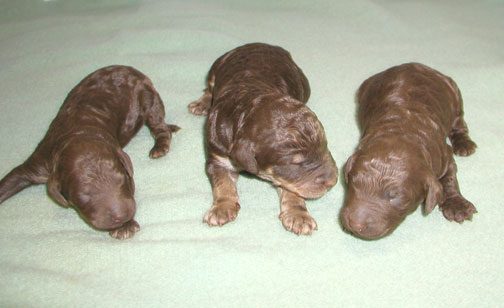 So, among the browns we have from Left to right: Female Brown Phantom "Barbie", Male Brown Phantom "Ken", and Solid Brown Male "Elvis" who loved his poodles :o)
*
Left is "Genie", right is "Grace"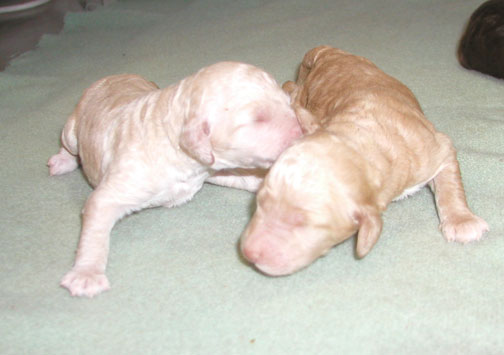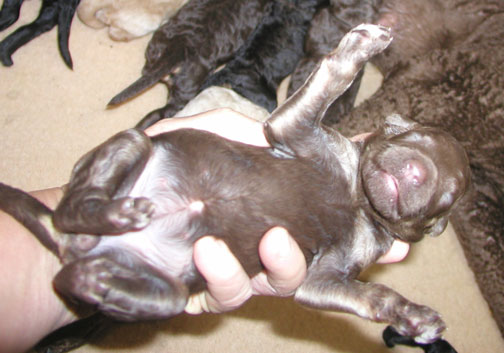 The Brown Phantom Female below could turn out Agouti as well. Her name for now is "Barbie" ;o) Nice markings for those looking for color variation.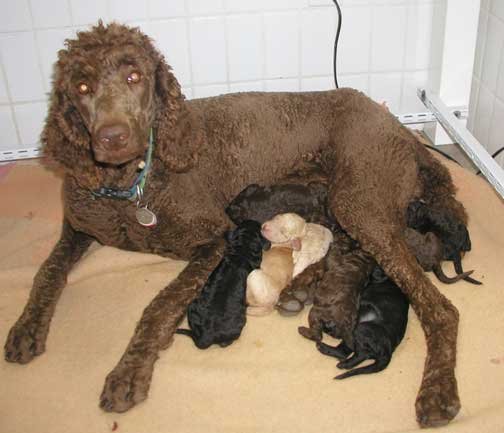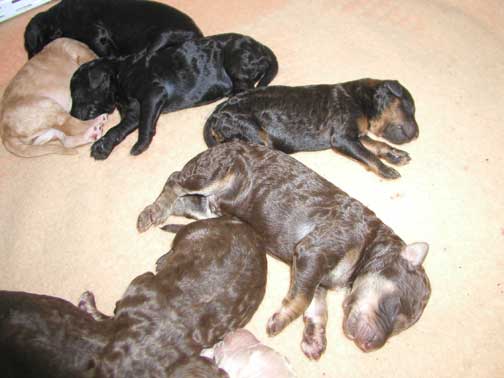 There's always time to nurse nummy nummy and time to zzzz....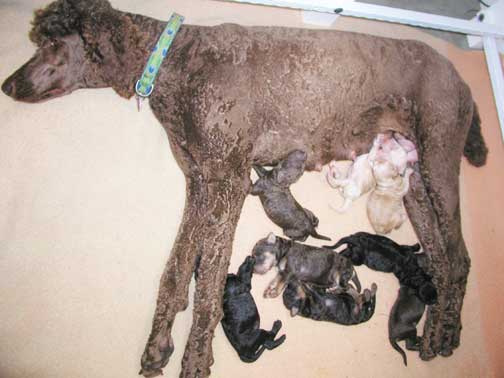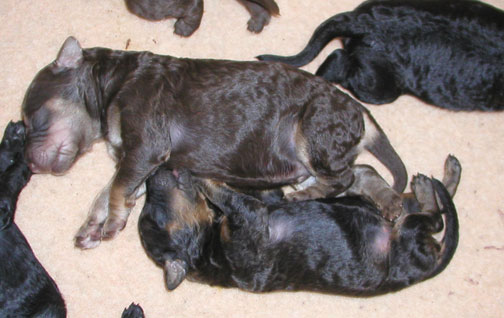 Size comparison: Top pup is the Agouti brown Phantom Male, largest right now of all the pups. His name for now is "Ken" as I'm using dolls for their props, the famous Barbie and Ken dolls have their standard poodles ;o) Bottom small Agouti black/brown Phantom Female will be named "Tiffany" after Audrey Hepburn's famous movie Breakfast at Tiffany's. I estimate the female to become 55 lbs as an adult? Smallest of all the pups.

*
2 females, cream/apricot I'll be calling "Genie" for Barbara Eden who owned a poodle and red/apricot "Grace" for Grace Kelly ... ....zzzzzzz.....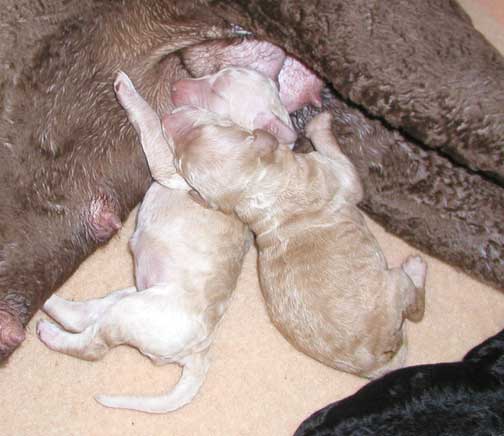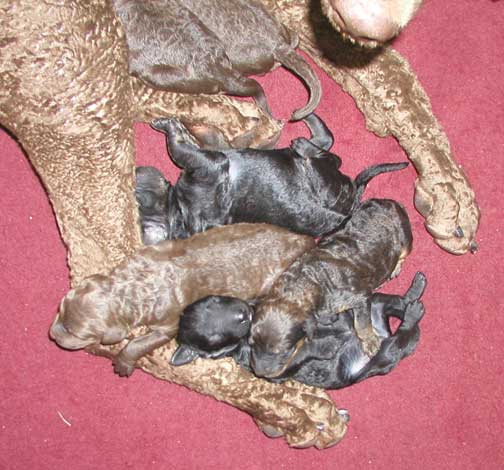 It's a puppy pile! One wants to keep the temps just right that they aren't too hot spreading all over that momma Geo can circle around them to lay down and let them nurse :o) With the warmth here in TX, it's nothing like my concern in MN where I thought 80 degrees was hot....I've become use to it now and think by looking at the pups below, it's a bit cool for them...LOL, how my life has changed ;o)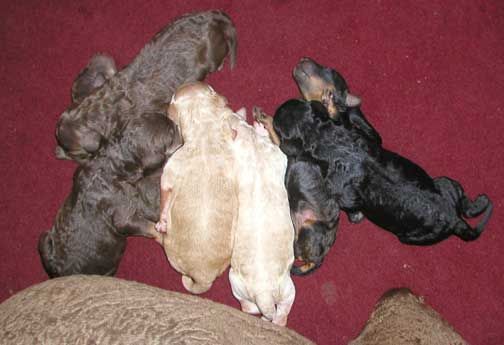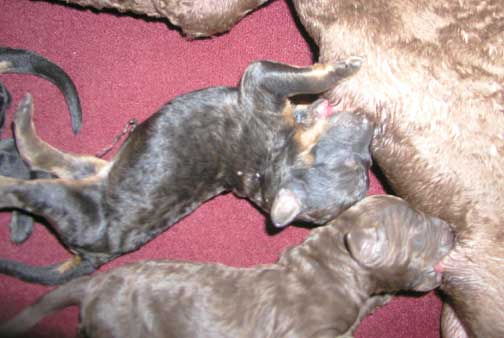 ALWAYS time to snuggle in and zzzzz....what puppies do best...zzzzz...and nummy nummy nurse ;o) Their first sense is smell. They come out ready to smell for the nipple and start nursing. In 11-14 days the next sense is the opening of their eyes, then around 3 wks old their ears open up to start hearing sounds...at which THEY start VOICING sounds to let me know things aren't as they use to be...Quiet...
Take a look at some of the pictures with their ear leathers back, one can see they're closed down tight.
What they do sense, are vibrations, thus I do everything I can to keep life relaxed and calm for them :o))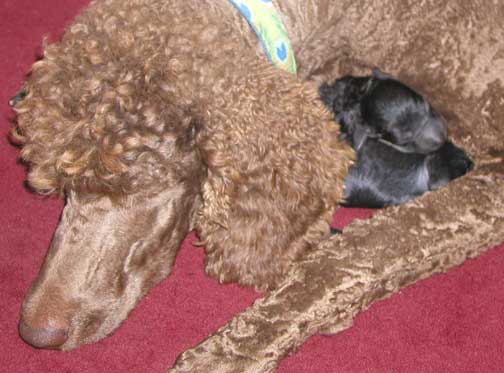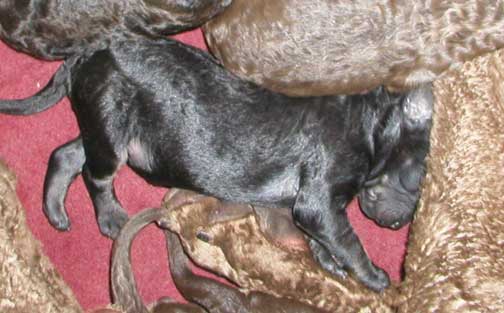 Solid Black female born will get the name "Angel" from Charlie's Angel actress Jaclyn Smith who owned standards.
*
Black Female born with barely red Phantom markings, mostly black. Her name will take on the name "Jackie" as Jackie Kennedy Onassis had a phantom standard poodle :o)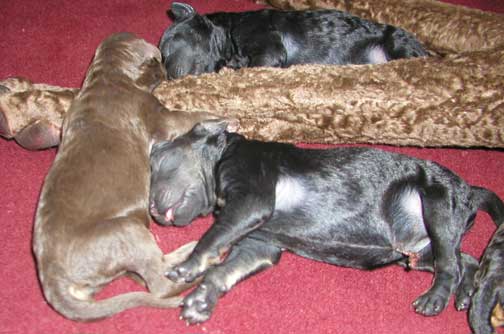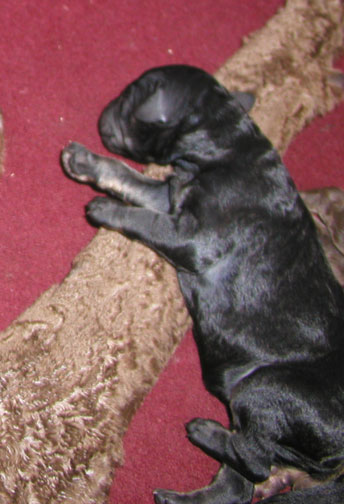 As pups cannot pass their bodily fluids yet, it's momma Geo's responsibility to lick them, warming them, creating their passing of fluids until it becomes a pup's natural excretion.
*
I'm soooo happy I did not dock tails or remove dew claws, usually done at 2-3 days old. Why? The past 14 years, it was not uncommon that I would lose a pup from the stress on having it done (and other variables)...that's why I always wait one Week Through The woods of Mother Nature to let people know numbers. And especially being born early due to 90-100 degree temps this July in TX, it causes animals to go into labor early as humans do too. That would be like being born 1 month early to a human in comparison. This gave pups the opportunity to not have stress and keep focused on their nourishing milk to help them recoup - and they're ALL doing GREAT:o)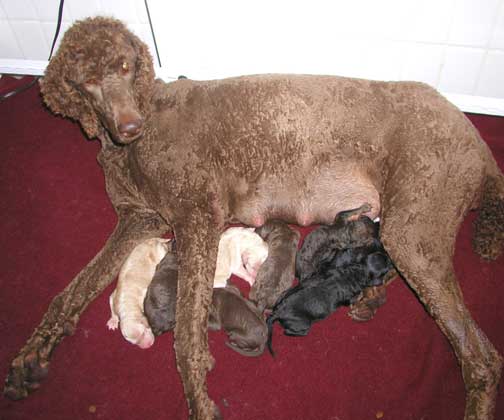 Momma Geo is doing great and has good milk for them. When I occasionally need to pull a pup off from nursing, the milk pours out of their mouth, thus I see she's doing great as are they...and I am always checking teets to assure they're all being taken down so mastitis doesn't occur. This is the brown male and possible agouti brown male...why possible...as I won't know for sure until his hair grows out more to see black tips, yet am believing this is the case, an agouti brown male :o)
*
It's vital that pups begin nursing within the first hour to get their colostrum to help their immune system. The picture below, the motion and nuzzling of the pups starting to nurse help bring the other pups forward to be born...and, I of course, can see their doing well in just having been born :o)
In raising Royal Standard Poodles, I hope to share a bit of what I do to bring you your next pet :o) The room must be heated to 80 degrees as pups just come from the womb and they have no way to monitor their bodies being just born, especially the first week Through the Woods of Mother Nature. Wool blankets are used to wick away moisture and keep them dry and warm. I have a variety of colors, to make this a colorful page for you ;o)

*
If you're interested in one of my pups, please fill in the form below. I would look forward to hearing from you :o) See my Customer page to observe how many have grown with their loving families.
Your first paragraph ...